Gardening is a joyous hobby that rewards you endlessly if you take good care of your plants. While there are plenty of beneficial insects you welcome into your vegetable garden, numerous others wreak havoc. Companion planting herbs with your veggies helps to attract essential pollinators while still keeping away dangerous ones.
So, what herbs grow well together? Knowing what herbs to plant together takes some gardeners years to comprehend. Instead of guessing which herb makes a good companion, we compiled a list of herb garden companion plants that keep your garden bed healthy and pest-free.
On top of having a successful harvest at the end of the growing season, you'll also have a diverse herb garden to use throughout the entire year. If you follow this advice, your beds will be full of veggies, flowers, and herbs that protect the plants around them.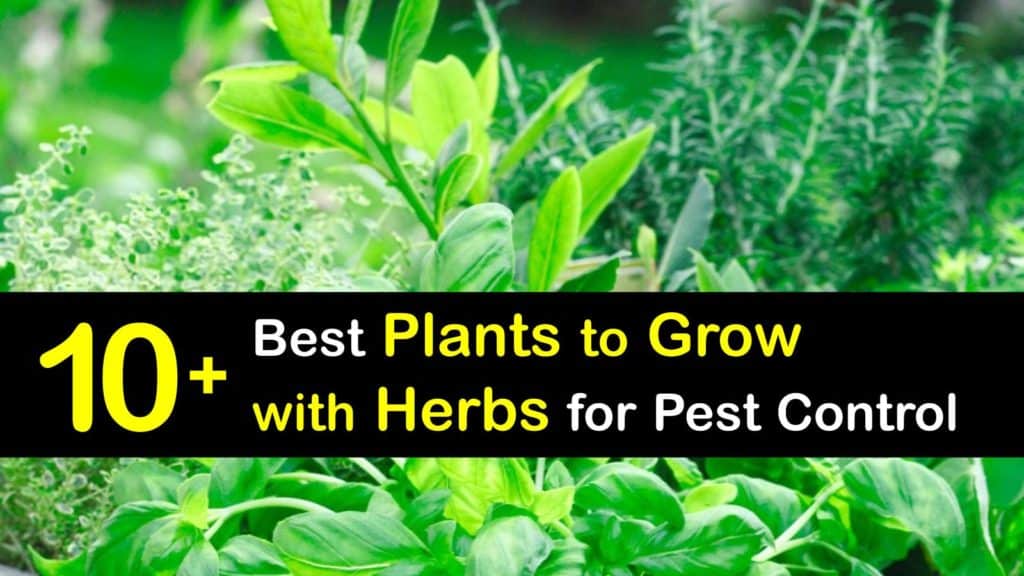 About Companion Planting
Whether you are companion planting herbs with veggies, trying to find the prettiest flowers to plant with herbs, or are looking at vegetables that grow well together, many different plant combinations benefit each other as they grow.
Companion planting is the practice of growing different plants close to one another in a mutually beneficial way. It does take a few rounds of trial and error to see what works best for you.
However, understanding that your garden is a biodiverse network helps you make better choices when learning what herbs to plant together.
What herbs grow well together? What are the benefits of herb companion planting? Plants attract beneficial pollinators, deter pests, and fend off predators and other wildlife. Herb companion plants play a significant role in the fertility of the soil by increasing the supply of nutrients.
Some plants simply create a more suitable environment for others. For example, tall plants like corn produce shade to protect other crops that don't do well in the summer heat, like brassicas. Corn also works as a support system for vining plants to climb.
You even create better use of your garden space. An example of this would be planting fast germinators with shallow root systems, like radishes, alongside ones with deeper roots and more extended germination periods, like kohlrabi or lettuce.
Mistakes When Companion Planting Herbs
There are dozens of plant combinations that work well together, which means that there are also plenty of others that are more detrimental than helpful.
In general, you don't want to put two plants together that compete for the same things, whether nutrients, sun, water, or space. Refrain from planting crops that attract the same types of diseases or pests.
Various plants do best when they have their own spots in the garden. Fennel is one of the plants that thrive with their own space and should be planted far away from all the other crops in the garden beds.
What Herbs Grow Well Together?
Before you even consider companion planting herbs, make sure you follow some basic rules about crop rotation. Do not plant the same plants for consecutive years in your herb or veggie garden.
Repeat planting leads to pests, diseases, and nutrient problems, some of which won't go away for decades. While companion planting isn't an exact science, there are a few facts that you should know.
Do not plant allium family members, like onions, leeks, garlic, chives, or shallots alongside legumes like beans and peas. The onion family members release a substance into the soil that kills some of the beneficial bacteria that the legumes use.
What Herbs to Plant Together
Now that you understand a few basic rules about companion planting, we can dive right into information on what herbs grow well together.
Remember that beneficial insects usually include honey bees, ladybugs, and parasitic wasps, and pests that cause damage range from cabbage worms to bean beetles to spider mites.
Basil
Basil is one of the most sought-after choices for an herb garden. It has flavors similar to cloves and mint and is thought to repel pests like mosquitoes, spider mites, squash bugs, and whiteflies in the garden.
Try to companion plant basil alongside other herbs like oregano or chervil, or close to veggies like lettuce, tomatoes, and peppers. Basil makes one of the best companion plants for tomatoes. Use it in your kitchen after harvesting in a variety of recipes like pesto, herb butter, and dressings.
Let the butter soften. Finely chop all the herbs and stir them into the soft butter. Once combined, set the herb butter on a piece of plastic wrap. Roll the room temperature butter into a log and store it in the fridge until ready to use.
Chives
Chives have a slight oniony flavor, although it is a lot more subtle than real onions. These are super easy to grow, are excellent herbs to grow in autumn, and they repel aphids, flea beetles, slugs, and the pesky cabbage moth and carrot fly.
Plant chives next to dill, hyssop, parsley, tarragon, anise, and marjoram. Chives are great companion herbs for growing potatoes, too. Use chives as a garnish in dishes with potatoes, eggs, and cheese.
Marjoram
Marjoram is an herb that has a warm, slightly spicy taste to it. It goes well with poultry, fish, eggs, cheese, and veggies.
These are good companion plants because they grow well beside basil, oregano, parsley, rosemary, thyme, sage, and catnip. It's also one of the best companion herbs for zucchini, too.
Mint
Mint, like spearmint or peppermint, is a flavor that almost everyone can identify. Although it should never be planted next to parsley, it does well near peas, brassicas, and tomatoes.
In addition, mint helps deter pests like tomato hornworm, aphids, Japanese beetles, and flea beetles. If you are looking for what herbs to grow in fall, consider mint varieties. Use mint in the kitchen by pairing it with fish, lamb, poultry, or fruits.
Add the listed chutney ingredients to a food processor. Process everything until it starts to form a paste with no chunks. If the chutney sauce is too thick, add more water until you reach your desired consistency.
Parsley
Parsley doesn't do as good of a job at deterring pests as it does attracting good insects. Parsley has a light and peppery taste.
Most gardeners plant it next to carrots, asparagus, tomatoes, and chives. It welcomes parasitic wasps, damselflies, and ladybugs so that all of the other fruits and veggies in your garden can thrive.
Anise
Anise is a plant that people with particular taste buds like to grow, as the licorice flavor isn't for everyone.
Still, it is helpful when baking cookies, cakes, and loaves of bread. Planting anise with coriander is a simple way to boost its germination and encourage more growth.
Dill
Dill is slightly similar to anise but with a more lemony flavor and a smell close to caraway seeds. Dill is a fabulous companion to peppers, eggplants, cabbage, and tomatoes. It's also an ideal companion plant for corn and many people find that dill is one of the herbs growing well with cucumbers as well.
Use dill for deterring hornworms and aphids in your beds. Sprinkle it into your pickling jars or toss it into chicken or tuna salad when using dill in the kitchen.
Add your cucumber slices to a clean glass jar. Add the white vinegar, dill, and salt to the jar and close the lid. Shake all of the ingredients so everything is wet and mixed well.
Set the glass jar with the top intact in your refrigerator and shake it every three or four hours. After a full day, snack on these simple DIY refrigerator pickles.
Summer Savory
This herb isn't as popular as some other plants here, but they are one of the few plants to improve the growth and the flavor of onions and bean plants. Savory is one of the herbs you can plant with garlic that is mutually beneficial.
If you don't know how to use summer savory, try stirring it into your favorite stews, soups, and stuffing. Another uncommon yet tasty herb that goes well in a stew is borage. Plant borage next to tomatoes and squash. Borage also makes excellent strawberry companion plants.
Marigolds and Nasturtiums
If you're looking for some flowers to plant with herbs, try using marigolds and nasturtium. These two flower plants are some of the few that get rid of nematodes in the soil. Nematodes, also called roundworms, are tiny worms that feed on live plants.
The most common plants to get attacked are potatoes, peppers, corn, carrots, and lettuce. If you're having problems with these pests, add in some fun pops of colorful flowers to help.
Rue
Rue is yet another uncommon plant that you might not have heard of that still helps your garden in many ways. Rue is a perennial shrub that grows above ground.
The oils are used for making many different types of medicine to relieve anxiety, headaches, and cramps. Rue is a natural insect repellent, especially when placed next to roses, raspberries, figs, and strawberries.
If you're lucky enough to reside somewhere that grows these long-season fruits, then you might be pleasantly surprised to witness how it affects your garden beds this summer.
Chamomile
Many people use chamomile tea as a sleep aid. They usually buy the dried flowers from the store and steep them in hot water. Don't be afraid to grow these cute flowers at home as well.
They are excellent companions next to cauliflower, broccoli, kale, and Brussels sprouts. If you keep them trimmed, the plant stays full and fills your yard with a pleasant aroma.
You also get to make tea with flowers straight from your garden. What's not to love about companion planting herbs like chamomile?
Harvest your fresh chamomile flowers right before you're ready for a cup of tea. Remove the stems from the head. An infuser teapot works best for this recipe.
If you don't have one, cheesecloth works fine as well. If using the cloth, turn it into a makeshift tea bag by putting the flowers and mint sprig inside and wrapping the sides of the cloth around it. Secure the fabric with a piece of string.
Fill your tea kettle with 8 ounces of water and allow it to boil. Set the makeshift tea bag inside the boiling water and let it steep for about five minutes. Pour the hot tea into a glass cup and drink up!
Types and Uses of Herbs
There are three different types of herbs, including annuals, biennials, and perennials. The difference between them is based on their life cycles.
Annual herbs complete their entire life cycle in one growing season. Biennials mature after their second year of life. Perennials live year after year and die back in the winter seasons. Perennials bloom every growing season.
There are not many biennial herbs. Annual herbs include cilantro and basil. Most other herbs are perennials.
Aside from making your garden blossom with healthy life, there are plenty of other uses for growing herbs in your garden. Sure, we can use them for culinary purposes, but what else do they have to offer?
Garden herbs have been used for many centuries for medicinal reasons. Many are known to have healing effects on a variety of different issues. Even the smell of some herbs has been known to cure things like anxiety and headaches.
Some people also enjoy using herbs for cosmetic or ornamental purposes. Herbs are the main ingredient in most perfumes.
There are plenty of herbal plant options to use in landscaping as a ground cover or hedge plant. Lavender is often planted for their visual interest as well as their addicting smell.
What herbs grow well together? Hopefully, this article has opened your eyes to a world of gardening possibilities. Gardeners are always on the hunt for clean, organic ways to rid their beds of pests.
The best gardening solution is usually right in front of you, and knowing what herbs to plant together will make the gardening experience even more enjoyable.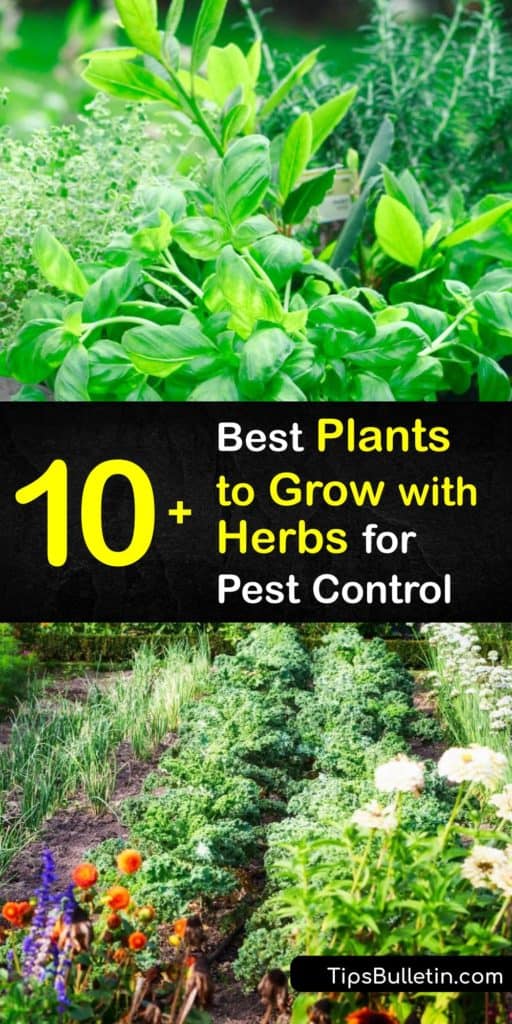 If companion planting herbs in your garden beds has made your veggies thrive, share this information on what herbs grow well together on Facebook and Pinterest.