Using eggshells for plants offers many benefits while being economical and eco-friendly. Many growers make their own homemade eggshell fertilizer for plants and use it on their indoor decorative plants and vegetable gardens.
As the popularity of organic and natural gardening increases and many people wonder are eggshells good for plants, it's vital to understand what they offer. DIY fertilizers improve your gardening experience, whether you're involved in organic gardening, avoiding food waste, or conserving money.
Eggs are a naturally occurring item that are safe for beneficial pollinators, children, and pets and pose no threat to aquatic life. Eggshells are potent fertilizers and provide crucial nutrition to many plants. Eggshell fertilizer is easy to make and use to enrich the soil quality in your garden.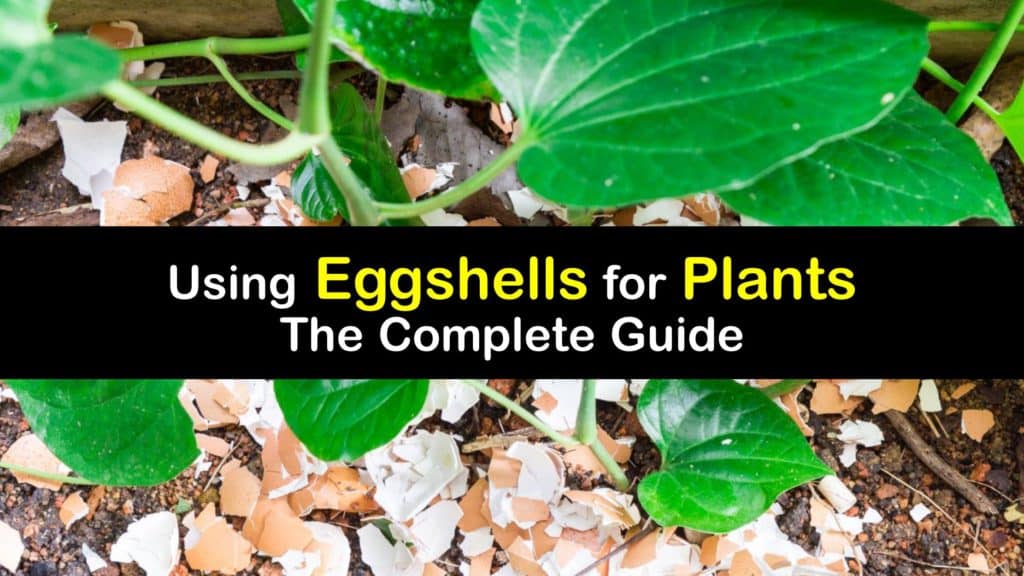 Creating Homemade Eggshell Fertilizer for Plants
If you've ever wondered, are eggshells good for plants, the answer is yes. Using eggshells for plants is a smart way to save money, increase fruit and flower production, and keep your garden free of harsh chemicals and toxic substances.
Meeting your crop's nutritional needs ensures your plants stay healthy, free of diseases like blossom end rot, and generate their maximum fruit or flower yield. Making homemade eggshell fertilizer for plants is simple and adaptable in its application, whether you will use eggshells in potted plants or a garden bed outside.
If you prefer a liquid fertilizer, make eggshell tea or eggshell water, or if you choose a granular option, use crushed eggshells to provide nutrition to your plants.
Are Eggshells Good for Plants?
The benefits of eggshells for garden plants are vast. When you crack a raw egg for breakfast, don't discard your leftover eggshells. They are a valuable tool for nourishing your houseplant or garden after you upcycle them into eggshell water or crushed eggshell fertilizer.
Crushed eggshells provide calcium and other nutrients to your potted plant, vegetable patches, and fruit trees. Using eggshells for houseplants, those outside or even eggshells for pepper plants and tomatoes is an easy way to deter unwanted bugs and fertilize without harmful chemicals. Ground eggshell powder is safe and non-toxic for pollinating insects, pets, and children.
Use Eggshells for Plants
Many gardeners are eager to know how to use eggshells for plants in their garden. Make eggshell water for plants or apply the shells directly. Eggshells supply calcium to the soil, which your garden needs to develop fruit or flowers.
Eggshells are repellent to slugs and snails, so they're smart pest management tools while providing extra nutrients. Allow the broken eggshells to dry before grinding them into a powder for fertilizer. Before watering, sprinkle the eggshell powder around the base of each plant or make eggshell water.
Pour enough water to cover the crumbled eggshell and leave the mixture overnight. The following day, the way to fertilize vegetables and other plants is to strain and use the liquid to water as usual.
This simple and effective homemade eggshell fertilizer for blueberry bushes, roses, and a variety of greenery in the garden costs pennies and really helps.
Essential Plant Nutrients
Enriching your garden soil or potting soil provides your vegetable patch or potted plants with improved nutrition. The three major macronutrients found in chemical fertilizers are NPK. Eggshells offer some of these nutrients.
Nitrogen is the most important since it promotes plant growth and fruit or flower production. Potassium enhances a plant's root structure and makes it more resilient to illness and pests, while phosphorus improves its ability to store and absorb energy.
Whether you prefer a homemade or store-bought fertilizer, it's important to understand which nutrient it offers and when to use it. Eggshells contain calcium and magnesium, which are other nutrients plants love, and smaller amounts of nitrogen.
Pest Control Benefits for Outdoor and Indoor Plants
Eggshells offer a border control method of keeping pests off your ornamental or food plants. Eggshells may be used as a deterrent, thanks to their sharp edges, but only if washed and dried thoroughly first. Soft-bodied insects like slugs and snails don't like to move over the sharp shell shards and avoid your plants, making it the best slug repellent.
When peeling an egg, remove the inner membrane and rinse the egg. Roughly break down your eggshell. The goal is not to create eggshell powder but tiny sharp shards. To use crushed eggshells for tomatoes or another type of plant, make a ring of eggshell pieces around them for protection against incoming predators. Eggshells lose their protective properties more quickly if it rains, which softens the shell pieces.
Improve Soil Quality with Eggshells
In addition to providing nutrients, crushed egg shells improve the drainage and aeration of the soil. Dry and crush your shells to the consistency you prefer, add them to your garden or potting soil, and ensure they are thoroughly mixed.
Adding eggshells gives potting soil good drainage and lots of air spaces for plant roots making it an ideal seed starter. Eggshells, once crushed, provide an additional source of calcium as they disintegrate and moderate acidic soil.
Mulching with a layer of eggshells is also beneficial. Crushed eggshells on top of the soil help with water protection and provide nutrition to the soil as they degrade. Ideally, apply a two-inch layer of mulch, though this necessitates a large number of eggshells.
Eggshells in the Compost Pile for Fertilizer
Compost is a nitrogen-rich, phosphate-rich, and potassium-rich natural fertilizer. Many use compost as a soil supplement or fertilizer regularly. Adding eggshells to your compost pile increases its nutrient density and makes your final product richer in calcium and magnesium.
It's a great time to build a compost heap or fill a compost bin with yard trash when cleaning up outside. Leaf litter, grass clippings, and old branches from your yard may be mixed with food scraps from your home, such as eggshells, veggies, fruits, coffee grounds, and even leftovers.
Composting reduces food waste and increases the size of your vegetables and fruits. Add eggshells to your compost pile for calcium and magnesium-rich compost to strengthen your pepper plant. Use eggshells for roses and a variety of other plants in your yard.
It's also possible to sprinkle used coffee grounds for plants or combine them with water for a liquid fertilizer. Add banana peels or eggshells for even more effectiveness.
Eggshell Liquid vs Granular Fertilizer Options
Most growers have a preference for liquid or granular fertilizer; this selection is unique to each gardener and their environment. Powdered eggshell is a granular fertilizer, a fine powder, while egg shell water or eggshell tea is a liquid fertilizer.
Because granules are dusted directly onto the soil's surface and watered in, many growers trust them more. Liquid fertilizer is appealing since it only requires one step: spraying it on the plant. It is more important to ensure your plant receives the nutrients it requires to grow than to be concerned with the application method.
Support Wildlife While Using Eggshells
Unlike many chemical and inorganic substances added to the garden, eggshells are safe for wildlife and pollinators. Birds, bees, and other beneficial insects assist in pollination and seed spread and are generally considered an asset to the home garden.
Using eggshell fertilizer, mulch, or soil enrichment allows growers to care for their garden without disadvantaging these welcome visitors. Eggshells in the soil provide food for wild birds, which consume the shells to obtain calcium to lay eggs.
Use Eggshells Safely
Eggs carry salmonella, and it is impossible to determine whether or not it's still on your eggs after a thorough cleaning. Heat and an arid environment are surefire ways to eliminate salmonella and other microbes.
If your eggshells are going somewhere other than the compost bucket, give them a thorough washing with soapy water and lay them out to dry on a windowsill that gets plenty of sunlight. UV rays plus dryness aids in destroying any bacteria, including salmonella. This should be sufficient for you to handle the shells safely.
Is it okay for your dog or pets to eat your eggshells from the garden? Eggshell is often used to supplement calcium in pets, though they must be sterilized first. Sterilize your shells in an oven at 200°F for 30 minutes. The prolonged heat kills any salmonella present.
After the eggshells have dried, either smash them with a mortar and pestle or put them through a coffee grinder to break them down for use in the garden. Eggshells that have been crushed and placed in an airtight container should remain safe and ready for use for a long time.
Making your own plant fertilizer with eggshells is inexpensive and allows you complete control over the compounds you introduce to your garden. Eggshell fertilizers help your plants thrive while reducing hazardous chemicals and food waste and keeping your garden organic.
Broken eggshells are simple to repurpose to avoid food waste, eggs are available at many stores, and their shells have considerable benefits in the garden. Natural fertilizers like Epsom salt, banana peels, and eggshells are increasing in popularity.
Taking care of the nutritional demands of your plants ensures they stay healthy and produce more flowers, fruit, or veggies. Whether you have a droopy tomato plant, yellowing tomato leaves, or a struggling sunflower, give eggshells a try.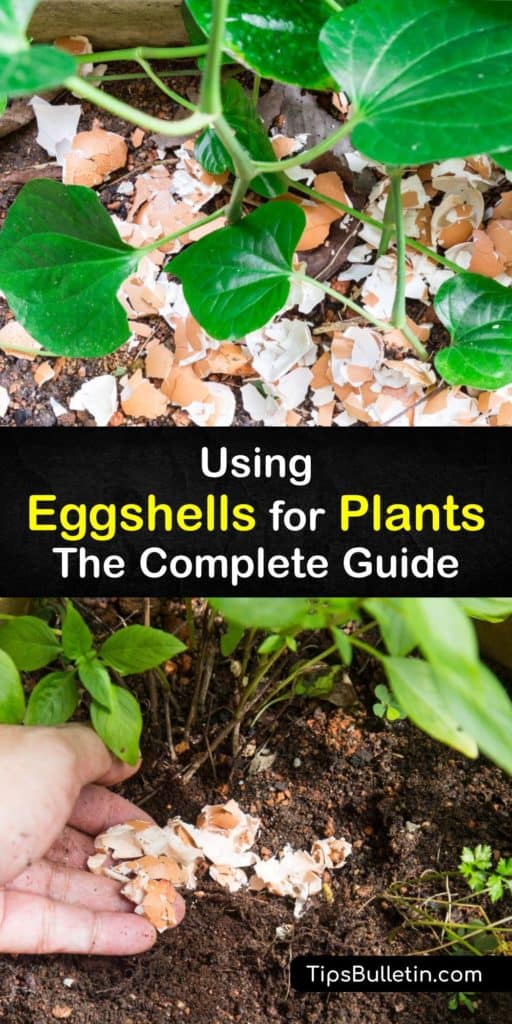 If you loved this article on eggshells for plants, please share this brilliant information on using homemade eggshell fertilizer for plants with your friends and family on Pinterest and Facebook.