We love to see our lawns spread out in front of us like long, green carpets, all lush and beautiful. Weeds all too often can ruin that view with ugly patches of crabgrass, tall fescue, and quackgrass, unfortunately. When you encounter weeds and don't want to expose your lawn and family to harsh chemicals such as glyphosate, it's essential to have a few Epsom salt based homemade weed killers ready to deploy.
Using a DIY herbicide such as a vinegar and Epsom salt weed killer will keep your lawn green and your loved ones safe. This guide provides some tried-and-true recipes for weed killers that include Epsom salt. Unlike regular table salt, which is also called sodium chloride, Epsom salt, or magnesium sulfate, is a proven weed eradicator and is perfect for attacking invasive grassy weeds in your yard.
We give you a recipe that pairs Epsom salt with boiling water to provide the plants with a double whammy of physical and chemical attacks, and you'll also get a crackerjack recipe for weed killer using vinegar Epsom salt and Dawn. No weed will be safe from your reach when you use your homemade Roundup.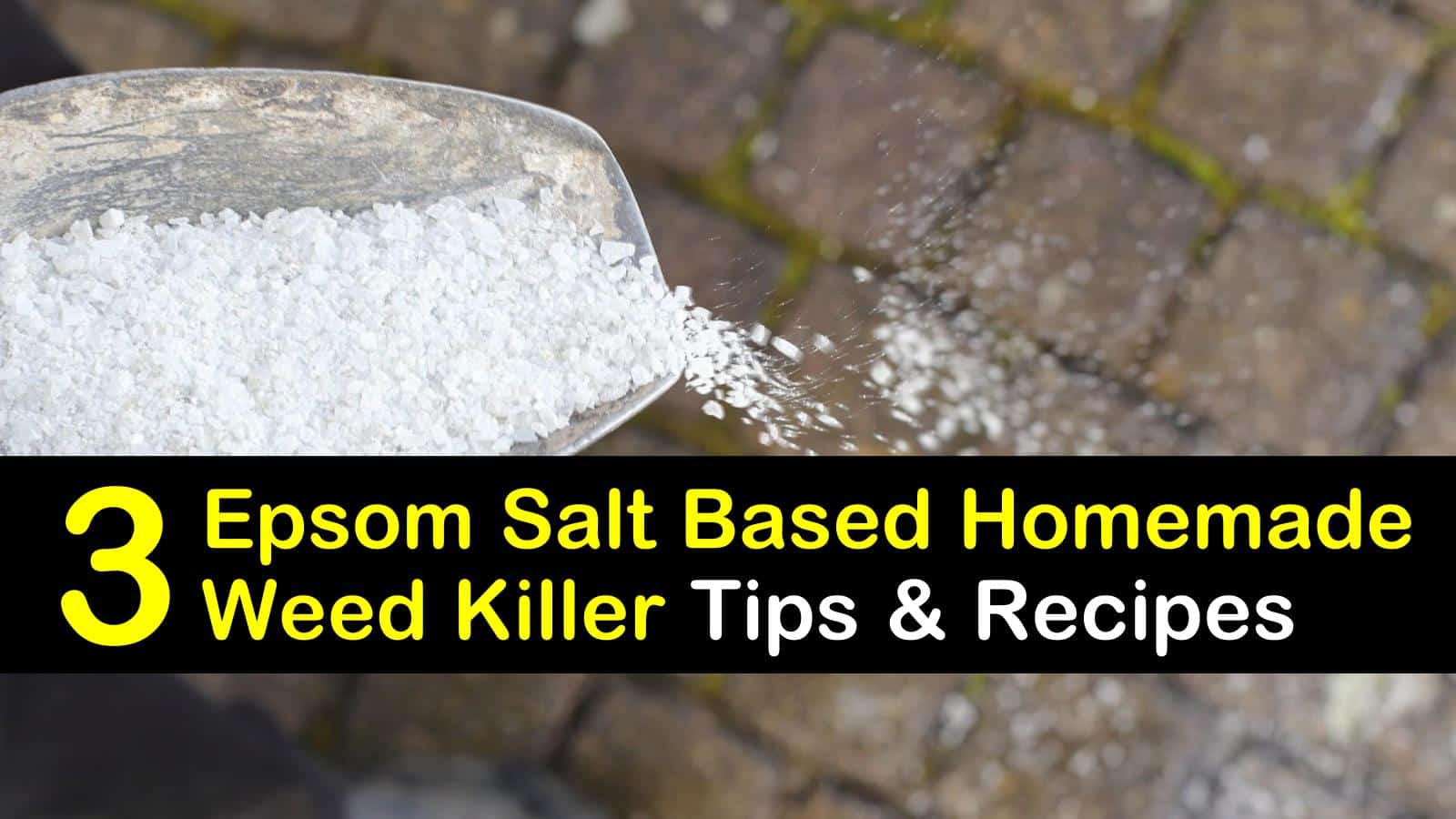 Epsom Salt Based Homemade Weed Killer
Epsom salt is magnesium sulfate. When introducing magnesium sulfate to plants, you prevent the plant from taking in other essential nutrients, such as calcium.
Over time, the lack of nutrients causes the plant to wither and die, and it won't have the energy to put into reproduction. It's an excellent remedy for getting rid of quackgrass and other undesirable weeds from your property. The question is how to deliver the Epsom salt to the weeds.
Recipes with Epsom Salt and No Vinegar
This section looks at methods to use when you have Epsom salts but no horticultural vinegar handy for weed killing. Vinegar is an effective medium for the Epsom salts, but you can put together a highly effective herbicide without it to make a homemade creeping Charlie killer or to get rid of virtually any other type of weed.
With our assistance, you won't have to let a lack of vinegar or chemical weed-killers prevent you from achieving your goal of a perfect lawn.
Kill the Weeds with Boiling Water
Boiling water is an adequate substitute for vinegar in your weed killer because it replaces the physical effect caused by the acid in the vinegar with the physical effects caused by heat.
Some plants can be very invasive. If you want to do a little weeding, but don't have the right kind of vinegar available, give our boiling water concoction a shot. Don't use this method if you're tackling pesky weeds that are in flower beds or near a plant you wish to preserve as it will probably get rid of that growth, as well.
Combine the Epsom salt and boiling water in a sprayer or large spray bottle. Don all safety gear, and spray down the weed from top to bottom. Try not to spray on a sunny day to reduce evaporation.
Spray the plant with enough water so that it soaks into the roots as well and pour additional water directly on the ground around the weed to make sure you get the entire root system. The plant will begin to die the first time you spray, and it'll wither away entirely if you continue the treatment.
Repeat every day until the weeds wither and die. Use this homemade solution as the ideal way to kill dandelions and other weeds spread throughout the yard. If your Morning Glory plants have taken over rather than adding beauty to the yard, use this easy home remedy for removing bind weed, too.
You can even use this recipe for removing grass from a gravel driveway. Using a sprayer is probably more effective for this type of problem. It works fast and takes little effort.
Vinegar Based Weed Killer
While you can use other liquids to get the Epsom salt to the weeds, you're still better off using vinegar to get the job done right. While household vinegar, such as white vinegar from the grocery store, contains acetic acid in low concentrations and won't eliminate weeds, horticultural vinegar has acid levels of between 15% and 20%, making a significant difference in the plants.
If you want to assemble a recipe that uses Epsom salt and takes care of your weed issue quickly, include vinegar. These recipes are appropriate as a homemade thistle killer and for a variety of other pesky plants that have no business in your yard and garden.
Fight Weeds Using Vinegar, Epsom Salt and Dawn
This section includes Epsom salt and other home made weed killer recipe options that feature vinegar. In this section, you'll get a top-notch recipe for a natural weed killer with Epsom salt and vinegar that uses dish soap as a secondary agent.
We also give you our favorite Epsom salt herbicide formula, which replaces the dish soap with essential oil for a bonus fresh scent and extra weed killing power.
Hit the Weeds with White Vinegar and Dish Soap
Dawn dishwashing soap is useful for a lot more than getting your dishes and glassware sparkling. You can eat through all kinds of greasy solids and liquids with dish detergent, and it's perfect for gently cleaning kittens or puppies who have flea infestations.
It's also ideal for weed eradication, thanks to its tendency to coat any surface it touches with an impermeable layer that inhibits plant respiration. This method kills grass and weeds permanently; it can be especially useful on dandelions.
To make this homemade quack grass killer and to eliminate other nasty weeds, first put on the safety gear and all protective clothing. Fill a sprayer with the ingredients, and mix well.
Ensure that all the Epsom salt dissolves or it will clog the sprayer. Don't spray the weeds unless it's been over a day since the last rain and rain isn't forecast for the next day.
Spray all weeds in the yard, and take care to soak them from top to bottom. Pay special attention to getting the spray on the underside of leaves and near the bottom of the stems of small weeds. Repeat every couple of days for two to three weeks.
Knock Out the Weeds with Essential Oils
This recipe performs weed control similarly to the previous one, but the essential oil improves the vinegar scent with a refreshing fragrance. The oil also coats the plant and inhibits respiration in the same manner as dish soap, but with a less sticky residue and spillover in the yard.
We love the way this recipe smells and works for killing weeds, and you will, too. This formula is an excellent spray for removing bind weed or thistle from Bermuda grass and works well in large areas.
Combine the weed killer ingredients in a garden sprayer. Get into all the safety gear to protect yourself from the acid in the weed killer. Don't spray weeds if it's been less than a day since the last rainfall or if you're expecting rain within the next day. Spray each plant from top to bottom.
Pay extra attention to the area near the ground and the underside of the leaves. Clear mulch out from the bottom before you spray so that you hit the entire plant. Repeat every day or so for two or three weeks.
Instead of weeds, if you need to get rid of a tree stump or two, Epsom salts can also help you there. Drill as many deep holes as you can in the stump and pour in Epsom salts to the top. Add water and cover the stump.
This Epsom salt tree stump killer will slowly deteriorate the stump and serve as a homemade root killer for pipes located in the area. Note that it will take some time to completely destroy the stump, so this is not the best method for removal if you are in a hurry.
We hope you had a fantastic experience reviewing our weed killing recipes and tips. Our lawns make us happy, but a few invasive plants can spoil the yard in a hurry.
Our guide shows you the tricks to making a DIY weed killer using Epsom salt as the active ingredient and helps you keep your grass looking pristine. Next year, you'll be ready to face the weeds with a smile.
Recipe for Epsom Salt Based Homemade Weed Killer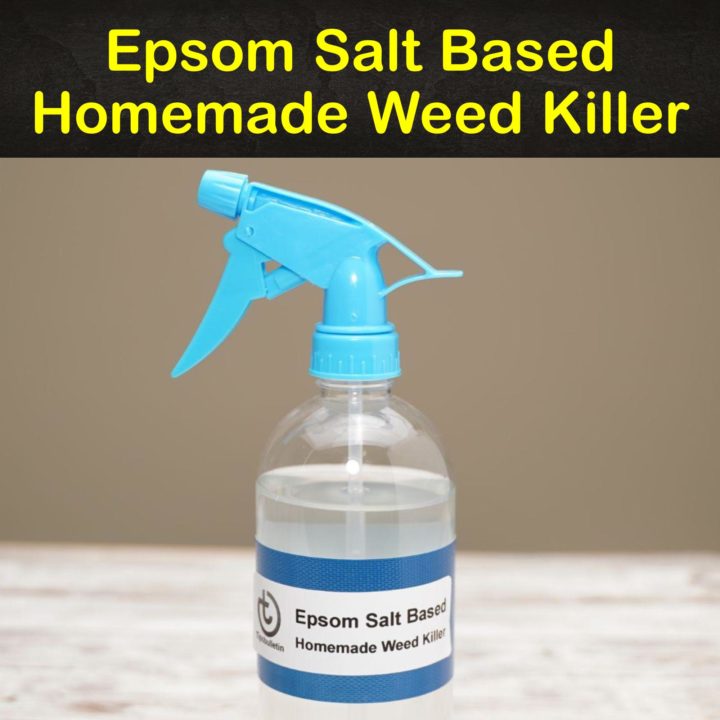 Epsom Salt Based Homemade Weed Killer
Destroy weeds with this strong but natural solution!
Materials
4 tbsp dishwashing liquid
1 gallon of horticultural vinegar
12 ounces Epsom salts
Tools
Funnel
1-2 gallon pump sprayer
Rubber gloves
Tablespoon
Instructions
Put on the gloves.
Slowly add dish soap, Epsom salts, and vinegar via the funnel to the sprayer and avoid splashing.
Shake or stir the mixture to completely dissolve the salt.
Generously spray all weeds. This solution kills all vegetation, so direct the spray carefully.
Repeat the process every few days for several weeks.
Notes
Note that horticultural vinegar is different than regular vinegar. You can substitute regular vinegar in this recipe but it requires more frequent application to be effective.
Use on dry weeds when it has not rained for at least 24 hours and is not expected to rain for at least 24 hours.
Mix this weed killer outdoors.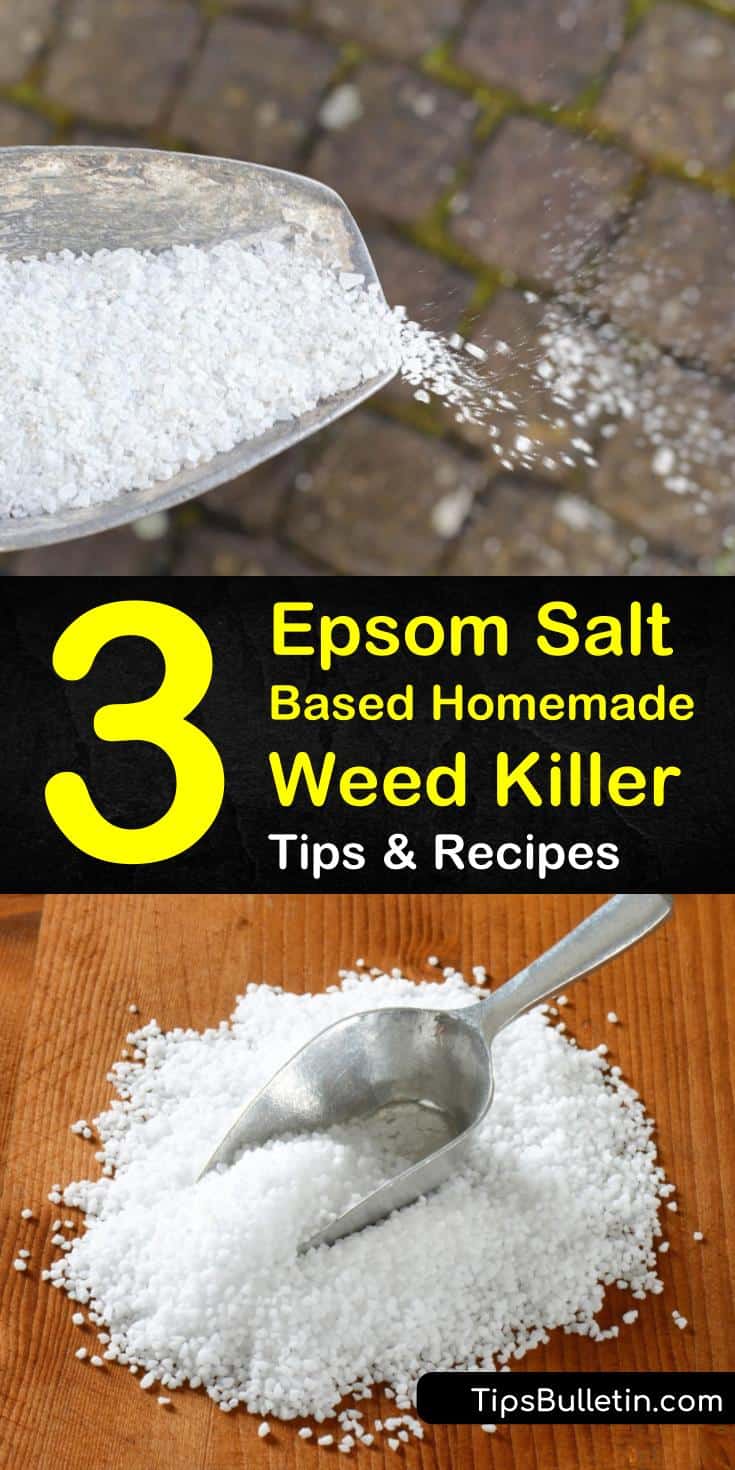 Thanks for reading our Epson salt weed killer recipes. Help others learn how to make Epsom salt based homemade weed killer recipes by sharing this informative article about Epsom salt herbicides on social media outlets like Facebook and Pinterest.