With their colorful blooms and leaves and strong scent, azaleas are sure to grab the attention of your garden's visitors. Evergreen azaleas that smell good add both visual and olfactory interest to your yard.
This member of the Rhododendron genus is native to Asia, Europe, and North America and is a popular plant to grow in the southern United States. It's even the state wildflower of Georgia. American native azaleas tend to be deciduous azaleas.
Distinguish azaleas from rhododendrons based on their flowers. Rhododendron flowers are bell shaped with up to ten stamens, while azaleas have funnel-shaped blossoms with up to five stamens. Read on to find help choosing azaleas that bloom all year to keep your home looking colorful.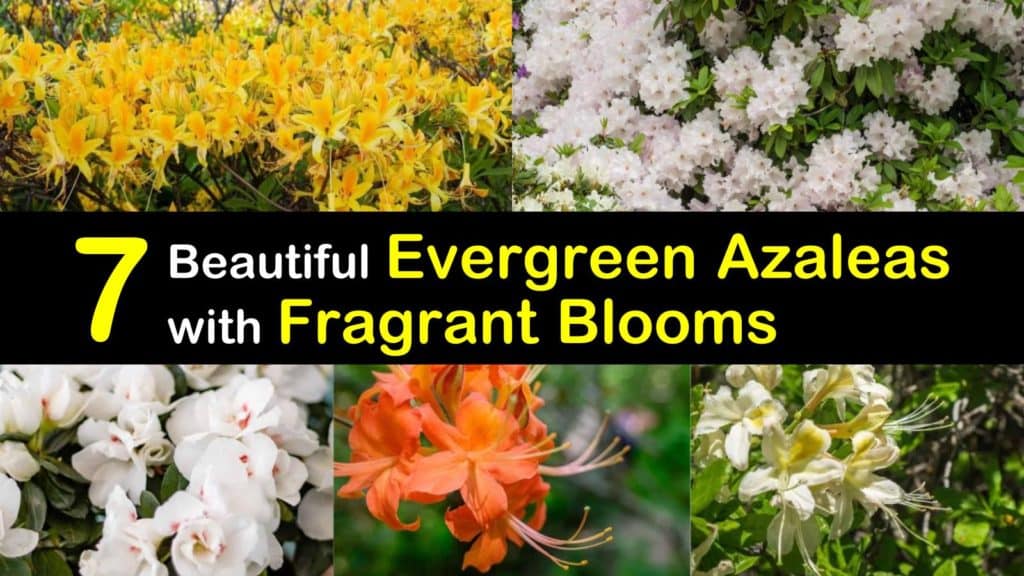 Pleasant-Smelling Evergreen Azaleas
It's easy to find an azalea with blooms and a scent that you enjoy that also suits your garden's hardiness zone.
Once you've made your selection, it's time to get started planting. The good news is that the recommendations for planting azaleas are relatively consistent across different types.
Where and When to Plant Evergreen Azaleas that Smell Good
Azaleas tend to prefer soil that's acidic, fertile, well-drained, and moist but not wet. Aim to plant your azalea during cool weather in the spring or fall.
Azaleas prefer either dappled sunlight throughout the day or sun in the morning and light shade in the afternoon. If the sun is too hot or bright, their leaves burn and become more vulnerable to pests, while too much shade prevents this shrub from blooming.
How to Plant Azaleas
Dig a hole that's as deep as the plant's root ball but a little wider. Make sure the azalea's root ball sticks out slightly above the soil's surface.
Water these strong scented flowers thoroughly after planting, making sure to water both the roots and the leaves since it absorbs water through its leaves.
After the azalea finishes flowering in the spring, apply a thick layer of mulch, leaving a small gap around the plant. Also, give it a controlled-release, acid-forming fertilizer such as azalea food.
Sweet Azalea (Rhododendron arborescens)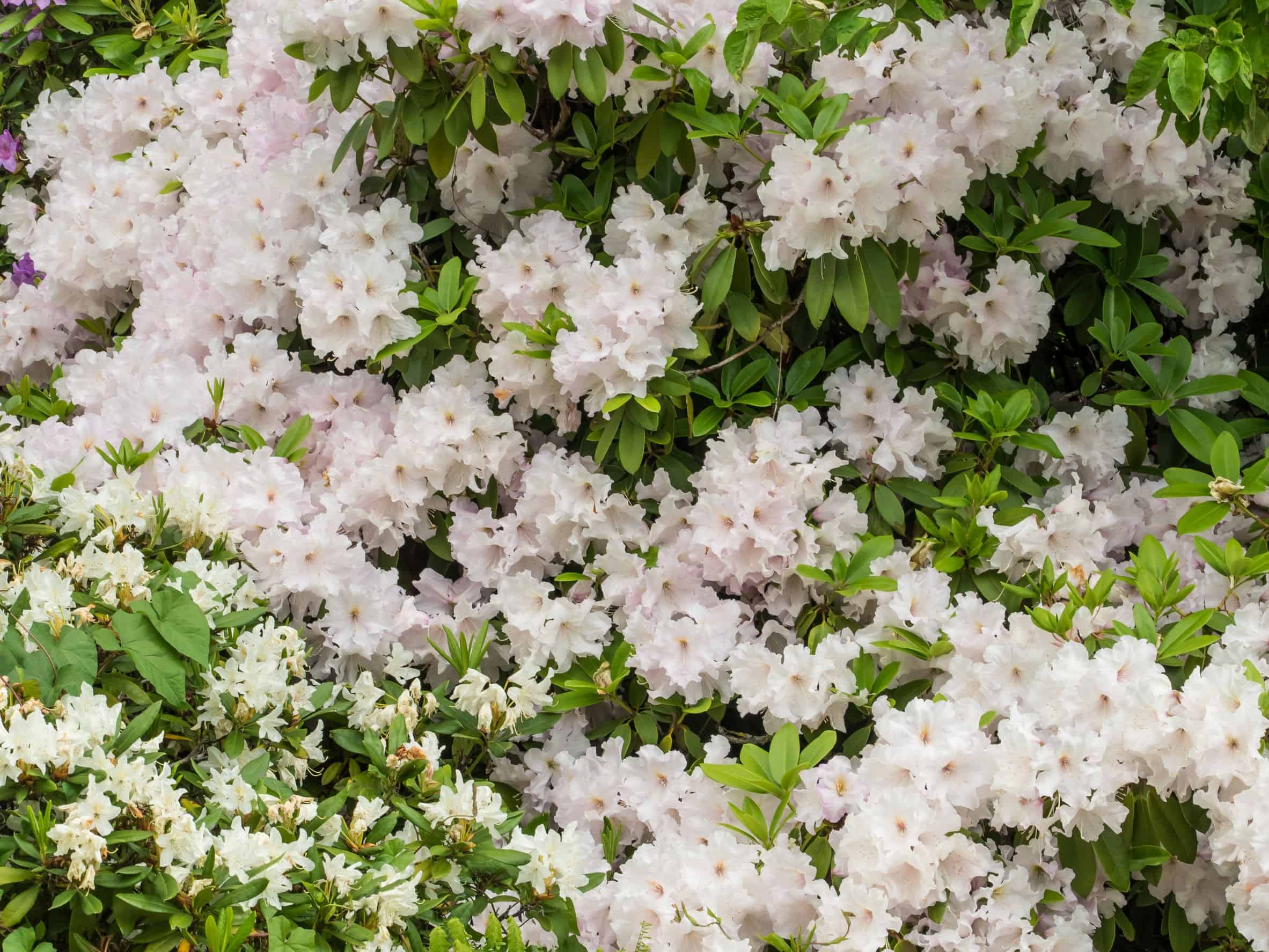 In early to midsummer, this strong-smelling azalea produces clusters of flowers that are white with red stamens and often a pink tinge. In the fall, the leaves become deep red or even purple.
Despite its delicate appearance, sweet azalea, as with other members of the Rhododendron genus, is toxic if consumed.
Grow this cold-hardy azalea in full or partial sun in a border or shade garden. The sweet smelling shrubs do best in humus-rich, acidic, moist, well-draining soil, including loam or sand. Water your sweet azalea regularly, and apply a layer of mulch.
Florida Flame Azalea (Rhododendron austrinum)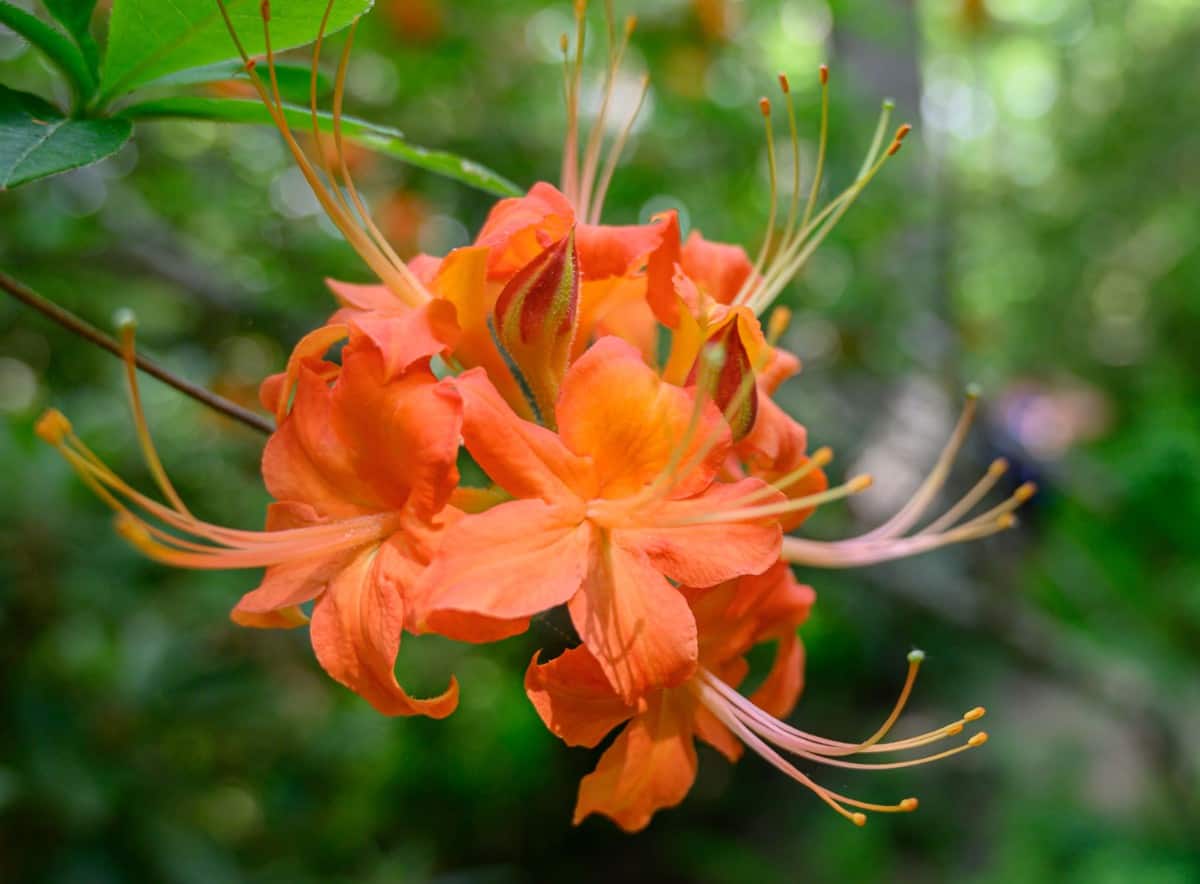 This azalea boasts vivid golden-yellow flowers with red stamens and often a hint of red or peach at their base. It has an early to mid-spring bloom time. Its green leaves turn yellow in the fall.
With its honeysuckle smell, this azalea is sure to impress whether you use it as a hedge or foundation plant or place it in a border or shade garden. This plant enjoys partial sun and resists mildew.
It benefits from frequent watering and an annual application of mulch. Plant Florida flame azalea seeds in late fall or cuttings in late spring in humus-rich, acidic, moist, but well-draining soil. Clay, loam, and sand are all acceptable.
Alabama Azalea (Rhododendron alabamense) – A Sunny Sweet-Smelling Azalea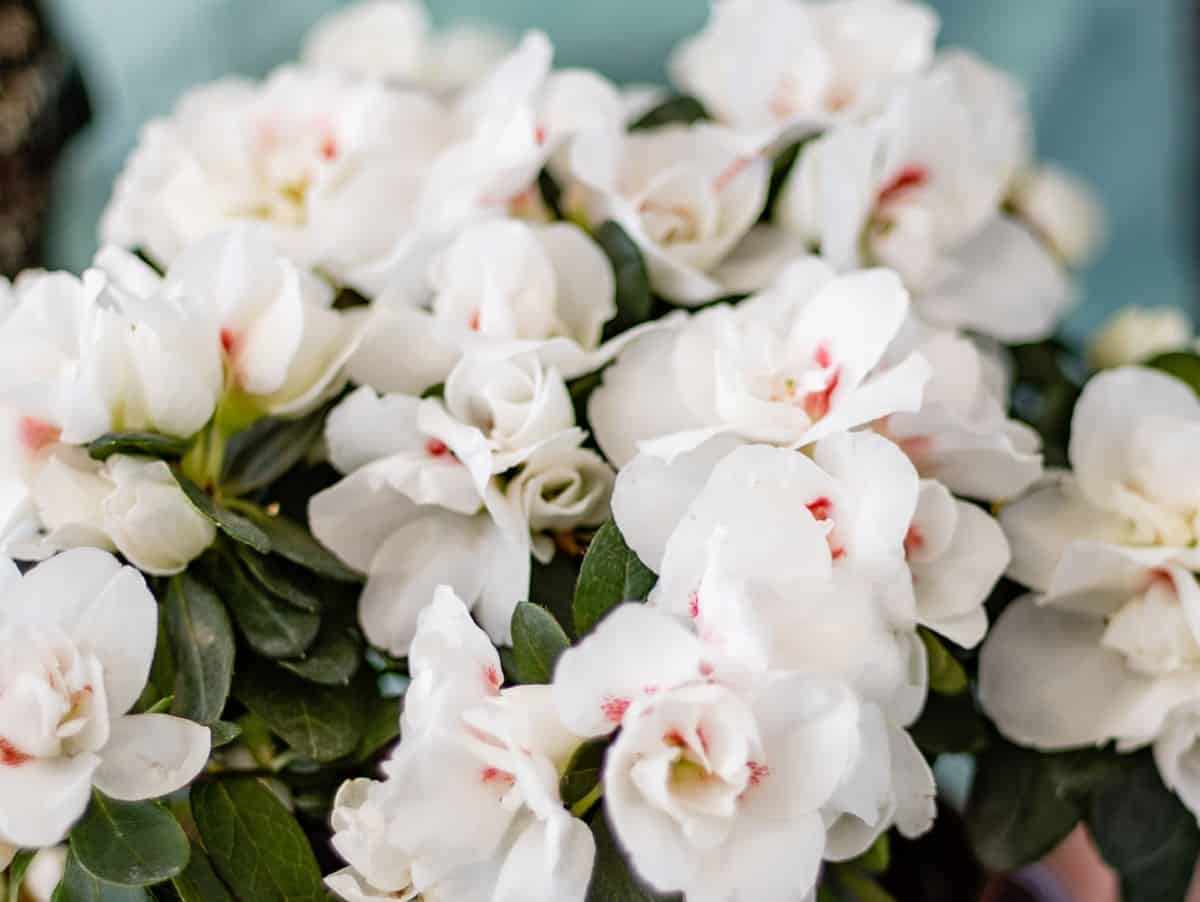 This deciduous azalea has large white flowers with a bright yellow blotch and lemon scent, which bloom in mid- or late spring through early summer. Its smooth dark-green leaves stand out against its creamy flowers.
This innocent-looking variety is another one to watch out for since it is poisonous. The Alabama azalea is drought tolerant and thrives in full or partial sun.
Propagate it using softwood cuttings as a woody shrub or in a forested area. Plant these attractive, low maintenance flowering bushes in well-draining yet consistently moist soil.
Honeysuckle Azalea (Rhododendron luteum)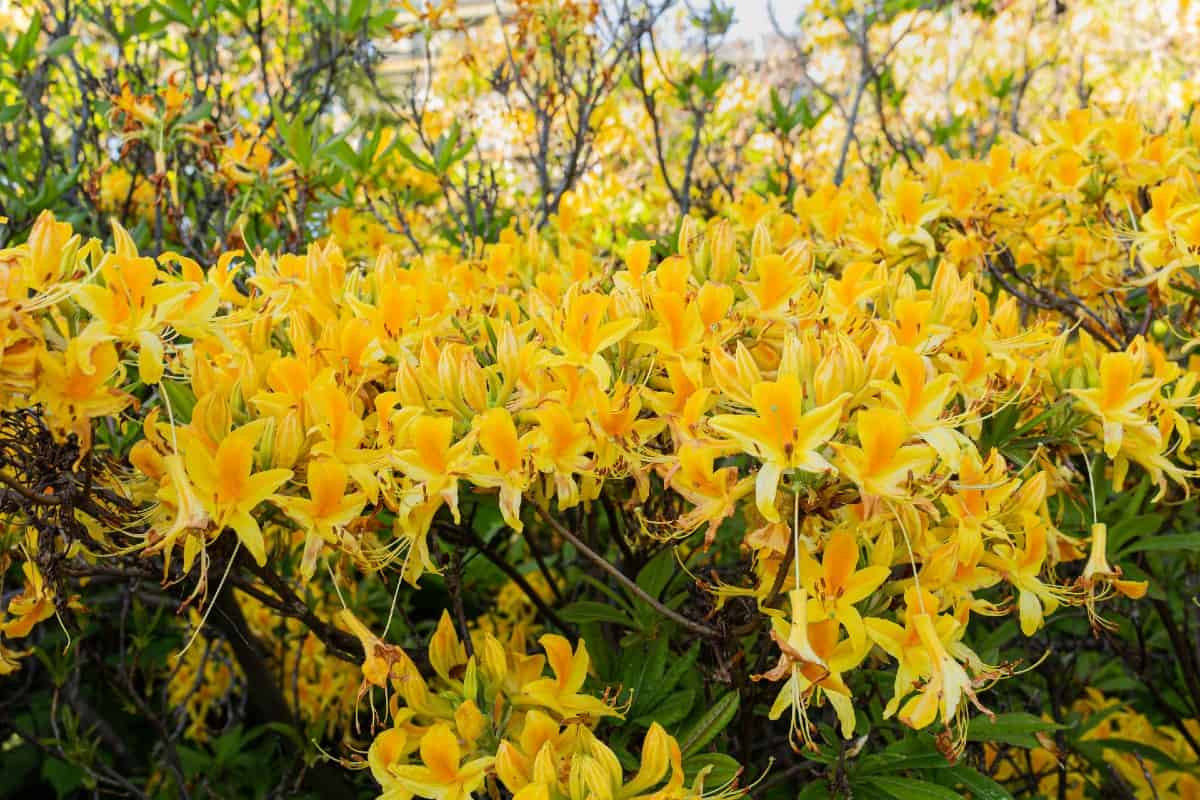 In the spring, this azalea's cheerful yellow flowers smell like honey. In the fall, the scented plants' leaves turn yellow, orange, and red. It's an excellent option for borders, hedges, shade gardens, and foundation plants. The best way to start a honeysuckle azalea is in a greenhouse in the fall.
After it's had the chance to grow indoors for one year, plant it in partial shade in moist, well-draining, slightly acidic, humus-rich soil. Ideally, choose earth that is sandy or loamy. Water the azalea regularly, and give it mulch for the most consistent and brightest blooms.
Exbury Azalea (Rhododendron)
This hybrid azalea has bi-colored flowers in the late spring or early summer in some combination of yellow, orange, pink, red, and white. In the fall, its leaves turn red, orange, or golden.
Plant Exbury azaleas seeds in late winter or early spring in a woodland or on the edge of a flower bed. This plant prefers areas that are not too hot and grows in either partial or full sun.
Plant these evergreen perennials in moist, well-draining, acidic soil and apply peat moss, leaf mulch, and compost. During its first growing season, water your Exbury azalea weekly. After it's done flowering, use a rhododendron or acidic fertilizer.
Western Azalea (Rhododendron occidentale)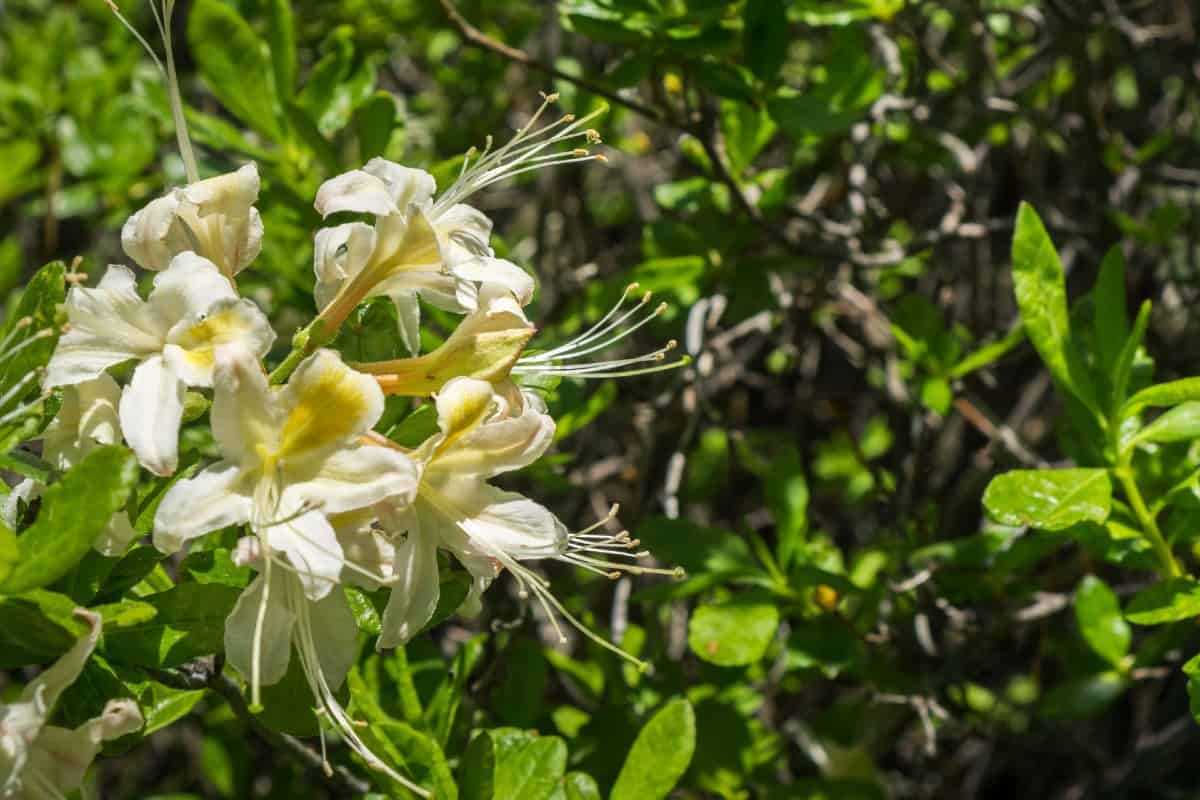 This variety produces leaves in the spring and blooms in May and June. It has white or pale pink flowers, sometimes with a yellow or orange mark. Its branches start reddish-brown but turn grey-brown.
This azalea is notable for being native to the American west coast and for growing in moist areas like the beach and streambeds.
It also prefers serpentine soil that contains magnesium and iron but is low in calcium. The Western azalea does best in full or partial sun.
Swamp Azalea (Rhododendron viscosum) – A Hardy Sweet-Smelling Azalea
In early summer, swamp azalea produces long-tubed white flowers with a pink tinge and clove-like smell. They make an excellent cut flower. As with other azaleas, swamp azalea's leaves start dark green but turn yellow, orange, and even purple in the fall.
Plant this cold-hardy specimen in a border or shade garden in partial or full sun, and water it regularly. Choose a site for these low evergreen shrubs with humus-rich, acidic, moist, and well-draining soil. Loam and sand both work well, and a little mulch is always helpful.
The azaleas that we've discussed in this article have several traits in common. As these azaleas are native to the United States, they tend to be deciduous.
They produce colorful, pleasant-scented blossoms and often change the color of their leaves in the fall, though they can also be toxic.
Azaleas often require specific sun and soil conditions, such as full sun or moist but well-draining soil. With careful site selection and adherence to care instructions, evergreen azaleas that smell good add brilliance to a yard.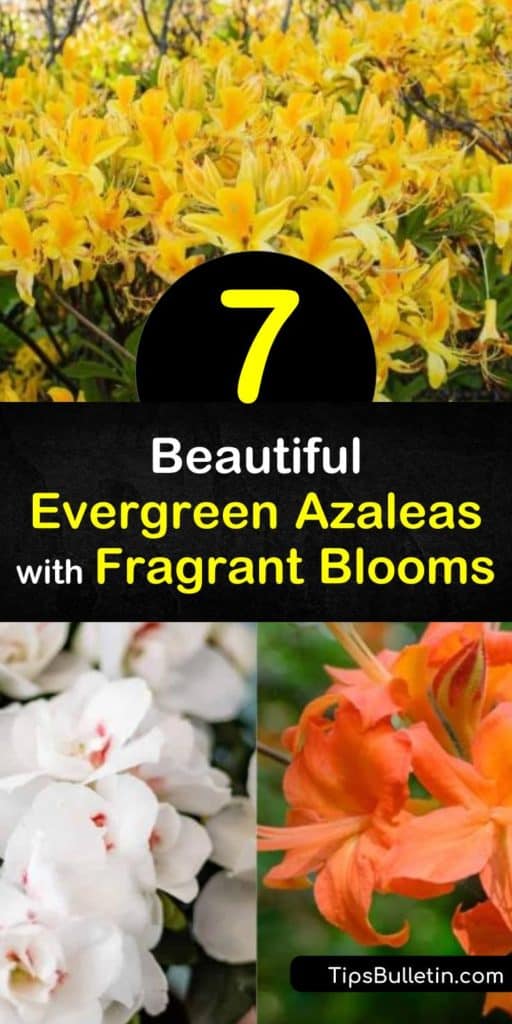 If you liked our azalea recommendations, please share these fragrant garden tips with your friends on Pinterest and Facebook.