Cabbage is a modest vegetable that doesn't get the attention it deserves. This versatile veggie is an ingredient in a variety of side and main dishes throughout many regions of the world yet, how long does cabbage last?
There are a few factors to think about when determining the storage life of cabbage. How fresh it is and how it is stored are two primary considerations. Storing fresh cabbage in the refrigerator helps it last approximately two weeks unless it is old when purchased.
On the other hand, there are several ways to store cabbage for long term use, and its all a matter of the amount of work you are willing to put into the process. Not only is cabbage stored in the root cellar, crisper drawer, or freezer, it is easy to save by using one of many different recipes.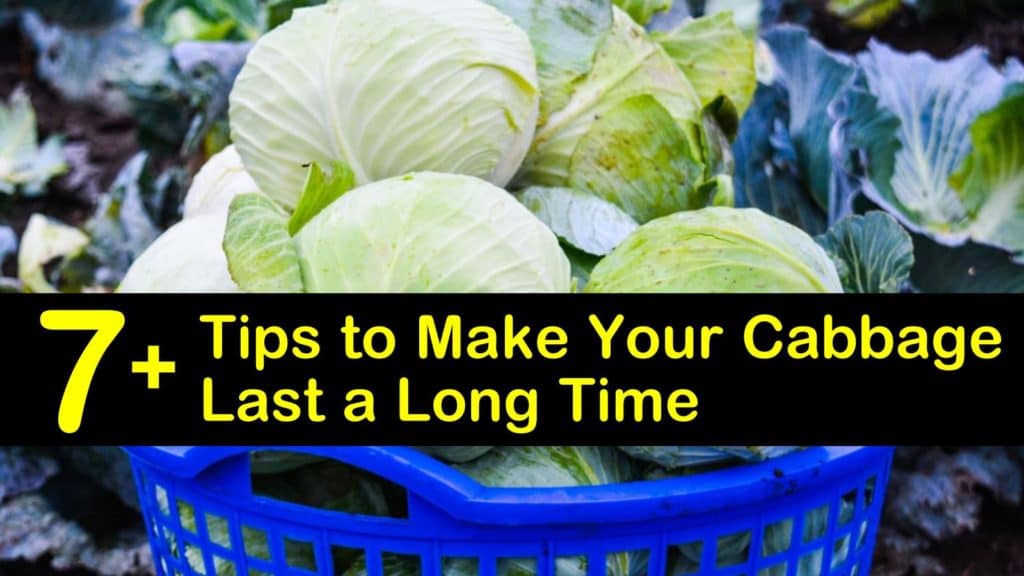 How to Keep Cabbage Fresh
Whether you are growing cabbages from seed or buy them from the store you need to know about keeping your veggies fresh. There are various preservation techniques for cabbage and all other types of fruits and vegetables, and each style has a different storage length. How long are cucumbers good for? What about carrots? The storage technique greatly affects how long you can expect to use your favorite veggies.
While one important question is how long does cabbage take to grow, it's also necessary to ask how long does cabbage last before it begins to get slimy and unusable? Don't worry, we've compiled a list of unique and straightforward recipes for preparing this veggie, along with the storage life for each technique.
Selecting Cabbage for Optimal Storage
While browsing at the grocery store or farmers market, picking your cabbage may seem straightforward, yet there are a few things to check for while picking up your produce. Choosing the right cabbage is vital for optimal flavor and storage, whether you select Savoy, Napa, or other variety of cabbage.
Selecting Healthy and Tasty Cabbage
Cabbages are available in both green and red shades. When choosing green cabbage, make sure that the leaves have bright and shiny green leaves that are almost the color of limes. If picking red cabbage, select ones that have a deep, maroon-purple color.
When do Brussels sprouts go bad? What about cabbage? These veggies do best when stored properly.
Make sure the head of cabbage or sprouts are dense and that the outer leaves are firm to the touch. Avoid soft or spongy cabbage, since this means they may be rotten on the inside. Inspect the leaves of fresh cabbage for loose leaves. A few loose leaves are fine, but if many leaves are coming undone, the cabbage tends to have a weird flavor and texture.
Avoid discolored heads of cabbage or any that have blemishes that indicate worm damage. Another thing to look for when choosing your cabbages is size.
While most cabbage has a taste similar to brussels sprouts, the small, compact cabbage heads have a robust flavor, while large heads of cabbage have a mild taste. Fresh cabbage picked after the first frost also has a sweeter taste.
How Long Does Cabbage Last in the Refrigerator?
Once you cut cabbage, it begins to lose vitamin C, so it's best not to slice up your cabbage until right when you need it. Here is how to keep cabbage fresh as a whole head in the fridge.
Refrigerating Cabbage
Keep all leaves on the head of cabbage before you refrigerate them. The outer cabbage leaves protect the tender inside and help retain moisture. Don't wash the cabbage head until you are ready to use it.
Place the head of cabbage into a plastic bag to hold in more moisture and place it in the crisper of the refrigerator. It lasts anywhere from three to four weeks in the fridge. Discard the outer leaves when you are ready to prepare the cabbage.
Keeping Cabbage Fresh in the Root Cellar
Keeping cabbage fresh by storing it in the root cellar is the best way to increase the shelf-life of this vegetable. Root cellars have a cool temperature and high humidity that is ideal for keeping these tasty veggies fresh for a long time.
Cabbage Root Cellar Storage
Do not wash the cabbage or remove any of the outer leaves before storing it. The outside leaves are essential for helping the vegetable retain moisture. If the heads still have their roots, leave them in place while storing.
Place the cabbage heads stem-side up on the shelf in the root cellar, or wrap them in newspaper and place them on the floor. Make sure there is ample room between each head.
If you do not have any shelf or floor space, hang them upside down in the cellar. This type of storage keeps cabbage fresh for up to three months or more.
Freezing Cabbage to Prolong Shelf Life
Did you know that you can freeze cabbage to use later? Freezing cabbage is an easy way to give you plenty of time to enjoy cabbage a lot longer than when it's refrigerated.
Blanched, frozen cabbage lasts up to a year and it's ready for your favorite main or side dish recipes. It's possible to freeze cabbage without blanching, but the storage life decreases to four to eight weeks.
To quick-freeze cabbage, place the wedges in a single layer on a baking sheet and place it in the freezer for approximately twelve hours. Put the frozen wedges into plastic bags and press as much air out as possible before sealing and setting them back in the freezer.
For longer-lasting frozen cabbage, blanch the wedges for a minute and a half. Allow them to cool before putting in freezer bags or an airtight container.
How to Store Cabbage after Cutting
While it's better to store a whole cabbage, there are times when there is still cabbage left after cutting it for a meal. Cut raw cabbage does not store as long as whole cabbage, but it's easy to preserve cabbage in the fridge for the short-term.
Storing Cut Cabbage
It's okay to prep ahead when learning how to store cabbage. If you'll be making sauerkraut, stir fries, or stuffed cabbage, complete some prep work ahead of time as long as you eat it within a day or two after storing it in this manner.
Wrap the cut pieces of cabbage tightly with plastic wrap and place them in the crisper drawer of the refrigerator, or store shredded cabbage in an airtight container.
Use Leftover Cabbage to Make Coleslaw
You bought a head of cabbage, but only needed a small amount for making stir fries. What to do with that leftover cabbage head? Make coleslaw, of course.
Here is a basic coleslaw recipe that is not only delicious but easy to make. Use combinations of green and purple cabbage to make it even more colorful.
Finely shred the cabbage into a bowl and add the carrots. Toss the veggies and set them aside. Combine all of the other ingredients in another bowl and whisk them together.
Pour the dressing into the bowl of veggies and stir well to coat them evenly. Add salt and pepper and enjoy. Homemade coleslaw lasts three to five days in the refrigerator.
Making and Freezing Cabbage Rolls
Cabbage rolls are a hearty and delicious dish made with ground beef and tomato sauce. It's also an ideal way to use leftover cabbage before it spoils. Make a batch of cabbage rolls for this evening's meal or freeze them for later enjoyment.
Take out the core and outer leaves of the cabbage. Pour water into a large pan until it is half full, bring it to a boil, and place the head of cabbage into the boiling water, core-end-up. Use tongs to move the cabbage up and down while it boils for two minutes.
Remove the cabbage and allow it to cool slightly before pulling away twelve large leaves. Remove the thickest part of the center vein from each leaf by cutting a v-shape. Combine the tomato sauce, lemon juice, brown sugar, and Worcestershire sauce in a bowl and set aside.
Mix the ground beef, onion, half cup of tomato sauce, rice, and seasonings in another bowl. Be sure that you don't use bad onions as they will alter the flavor of the cabbage rolls – and not in a good way.
Lay a cabbage leaf on a board and scoop a quarter cup of the meat mixture into the center, and spread it across the leaf. Fold the two ends of the leaf in and then roll it around the filling.
Repeat with the remaining cabbage leaves. Pour half the tomato sauce into a roasting pan or casserole dish and place each roll on top. Pour the remaining sauce over the rolls. Cover the dish and put it into an oven preheated to 350°F for 60 to 90 minutes.
Pickling Cabbage for Refrigerator Storage
Another way to store cabbage is by fermenting sauerkraut in Mason jars. If you feel like that may be too complicated (even though it's not), it's easy to make cabbage last longer by pickling instead.
Quick-pickled cabbage is a sweet and zesty condiment that goes great alongside chicken or pork or as a topping on burgers, brats, and hot dogs. This versatile dish is easy to personalize by adding peppers, green onions, and other veggies.
Cut the cabbage into thin slices, place them into a large bowl, and set aside. Bring a large pot of water to a rapid boil and then remove it from the heat. Add the vinegar, sugar, and salt and mix well. Pour the brine over the cabbage slices and stir the ingredients.
Fill the jars with the cabbages and brine while alternating with layers of garlic, peppercorns, and coriander seeds. Put the lids on the jars and set them in the fridge for two hours before enjoying them. Quick-pickled cabbage lasts several weeks in the refrigerator if unopened.
Cabbage is packed with many nutrients, including vitamin C and vitamin K, and has many health benefits such as improving digestion. While there are only certain times of the year to obtain fresh cabbage, there are ways to extend the storage life of this tasty veggie so that you enjoy it year round.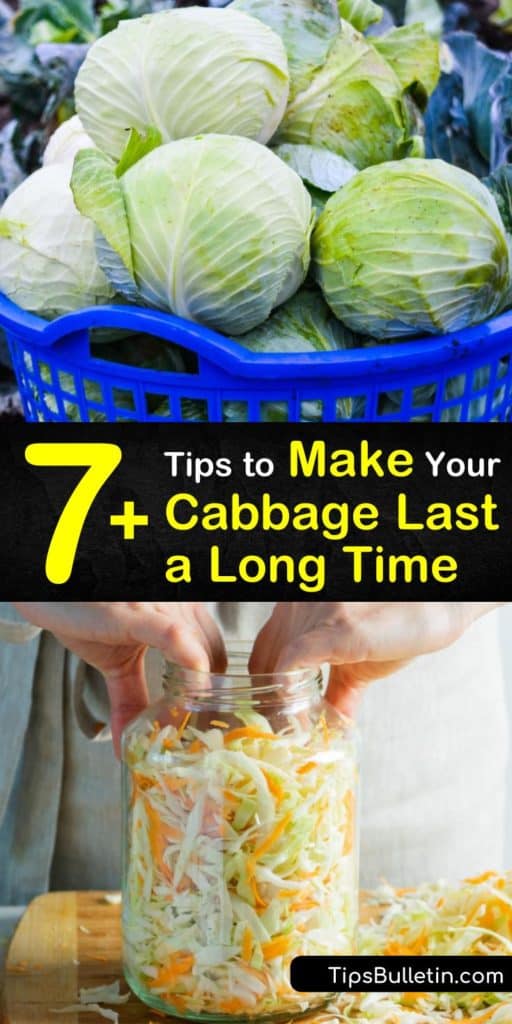 We're happy we could answer your question, how long does cabbage last, and we'd love it if you'd share our cabbage storage tips and recipes with your family and friends on Pinterest and Facebook.