A whirlpool bathtub is a marvelous addition to any home and provides luxurious pleasure and relief to sore muscles. However, when your tub jets get dirty, they can start producing black gunk that can pose a health hazard to your family. Knowing how to clean bathtub jets using household cleaners will keep the dirt at bay.
When you know how to clean Jacuzzi tub jets, you can enjoy your hot tub all year long without worry. This jet cleaning guide walks you through the process of cleaning bathtub jets from start to finish. "Getting into a routine with your cleaning can make all the difference," suggests Annabelle Beck, a knowledgeable professional in home improvement, "and it ensures you're always ready for a relaxing soak."
If you follow our guide, you'll be able to take your whirlpool tub from gross and dirty to clean and healthy in no time. It's easy to get your jet tub looking like new again, and you'll be ready to keep it fresh throughout the year.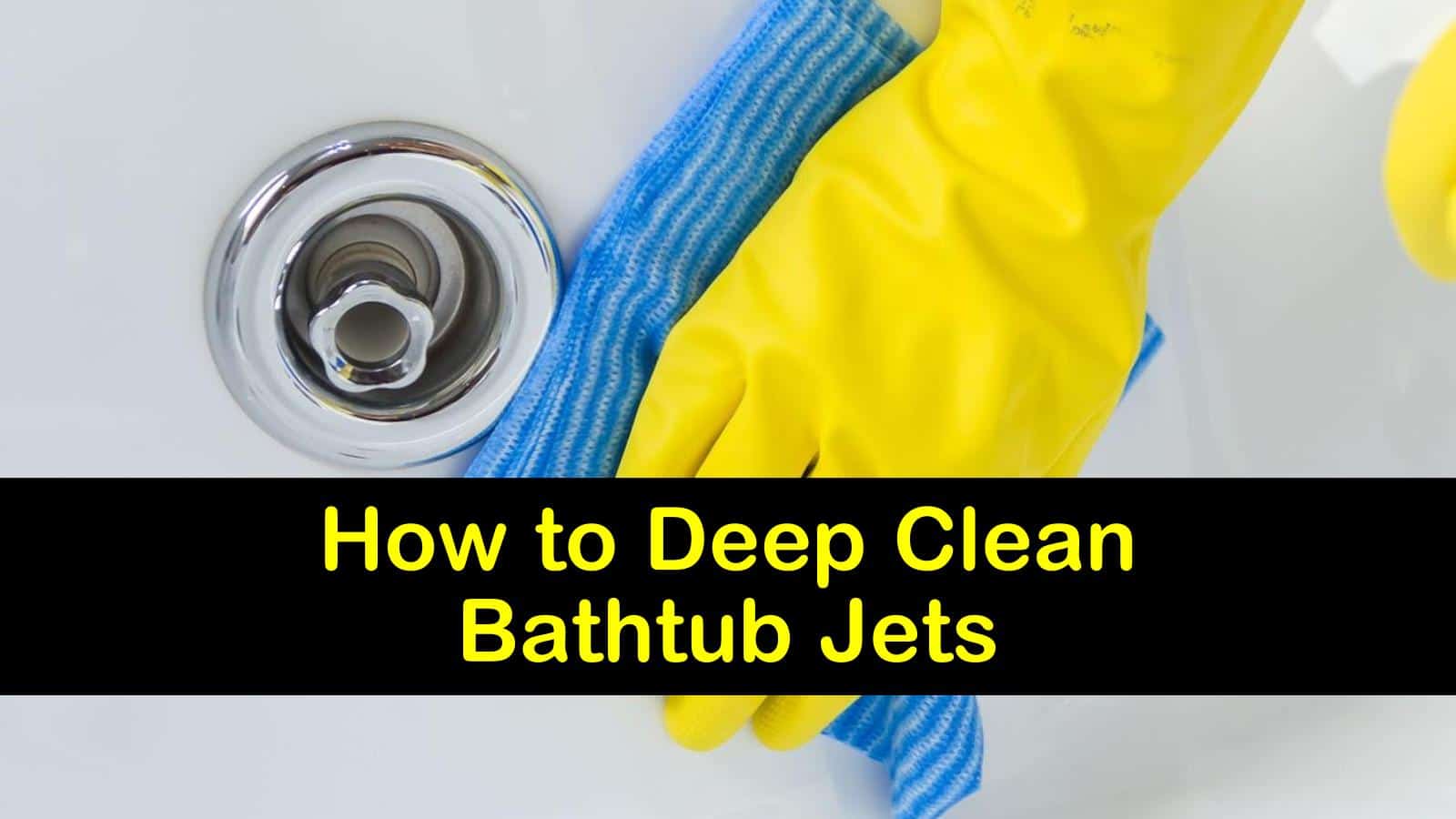 How to Clean Jacuzzi Tub Jets
It's a little different cleaning calcium deposits from bathtub jets than with a standard tub. When you first set out to learn how to clean bathtub jets, make sure that you properly prepare for the cleaning.
Cleaning bathtub jets requires a step-by-step process and a reliable cleaning method, and that begins by ensuring that you've done everything necessary to let the cleaners do their work. Cleaning a Jacuzzi tub can be a breeze if you get the prep work out of the way before you begin.
Cleaning Bathtub Jets – Preparing to Clean
This section shows you the steps you need to take to get your tub ready if you're looking for how to clean Jacuzzi tub jets. As when cleaning a dirty bathroom, your cleaning success will stem from the foundation you lay before you begin.
In this section, you'll learn what water temperature and level are needed to make sure that the cleaners can do their best work, and we also show you how to set up your valves for disinfecting a bathtub and cleaning the hardest-to-reach spots.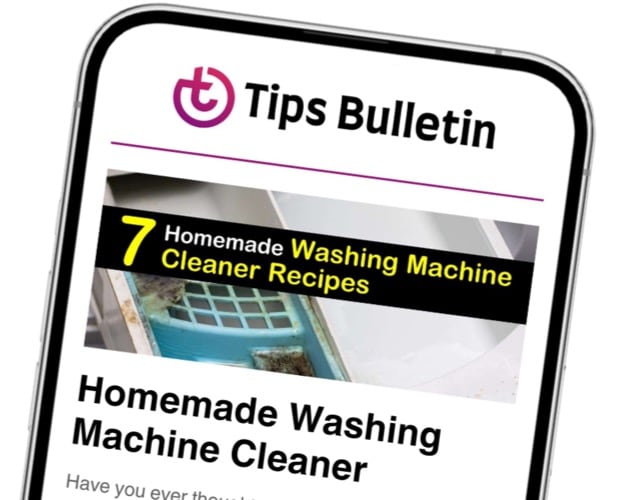 Finally, an email that Transforms Your Home.
Get the latest home and garden tips from our experts, delivered straight to your inbox.
Fill the Tub with Hot Water
Your first step when preparing for cleaning bath tub jets is to make sure that you get enough water in your jetted tub. The cleaner will work best when you make the water as hot as possible, and make sure that you have enough water to get the job done.
Too little water will result in incomplete disinfection, and that will bring the biofilm, mildew, soap scum, and gunk roaring back in no time. Make sure to fill the tub past the top jets to allow the water and cleanser to move through the system and attack contaminants throughout the jets and tub.
Cleaning jets on whirlpool tub components requires that they be wholly immersed, so don't neglect this step if you want your cleaning to succeed.
Turn Off the Tub's Air Induction Valves
Your jet tub has a complicated system of valves that allow you to adjust the way the water circulates and how much air it injects into the jets. Closing the air induction valves ensures that only water will flow while you clean and creates a closed loop that you can disinfect with your homemade bathtub cleaner.
Review your owner's manual before you begin this step so that you're familiar with any unusual features in your bathtub's air induction setup. Generally, you'll be able to close the valves by turning them all the way clockwise. However, some Jacuzzi tubs have different features and might require additional actions to close the valves.
How to Clean Bathtub Jets
After you've prepped the tub by filling it with hot water and closing the air induction valves, you're ready to start the cleaning. You'll be happy to learn that the tub will do much of the scrubbing for you.
Your job is to provide the cleaner and turn on the jets. This section goes through the cleaning process from beginning to end. You'll get a terrific recipe for tub cleaner as well as one for getting rid of rust stains in a bathtub.
We also walk you through the final stages of the cleaning so that your tub is ready for use once more. Before long, you'll be luxuriating in warm water and enjoying a soothing bubble bath.
Add Your Cleaner to the Water
Now that you've got the tub ready to go, it's time to stir in the cleaner and let it work its magic. Your hot tub cleaner with vinegar or bleach needs to be able to scrub at internal components while it disinfects and removes hazardous agents from the tub.
Our DIY recipe is perfect for cleaning your bathtub and includes dishwashing detergent for cleansing action and chlorine bleach to kill any contaminants in the jets. We've also included an option for vinegar in place of bleach if you prefer to use more natural cleaning products. Vinegar works just as well as bleach and is an excellent organic alternative to get soap scum off bathtub floor and walls.
To clean the tub and jets, add the ingredients to the tub. Cleaning acrylic tubs with vinegar and the rest of these ingredients involves using a long stick or spoon to stir the water and distribute the cleaner throughout the system. Give the cleanser a few minutes to effectively dissolve into the water before you move on to the next step of the cleaning process.
Circulate the Cleaning Solution
Similar to cleaning an above ground pool, adding the cleaning agent is the first step. After you've added the cleaner for your fiberglass tub, you're ready to get down to the scrubbing part of the job.
Fortunately, your part in this step of the bathtub jet cleaning is easy. The jets do all of the heavy lifting and move the cleaner into the inner workings of the tub so that it attacks impurities and dirt everywhere they hide.
Turn the jets to high, and let them run for 15 minutes. The water will probably darken as the cleaner begins to dislodge and kill mildew, mold, and other grime and gunk. After the jets have done their work, turn them off and drain the water and residual cleaner.
Attack Rust with Baking Soda
Your tub's faucet and other metal components will likely have some rust you'll need to deal with before you can consider your Jacuzzi jets cleaned.
That's because contaminants burrow into the crevices around rust and other deteriorated spots and can survive the cleaning if you don't tackle them with a cleaner and brush. Baking soda is just what you need to take care of rusty patches in the tub.
Sprinkle baking soda on any rusty spot. Fill an empty spray bottle with vinegar and spritz down the baking soda to create a paste. Wait for 15 minutes, and then scrub at the dried paste with a scrub brush.
An old toothbrush is an ideal scrubbing tool and will get into hard-to-reach spots to remove the rust. Rinse the spot with warm water when all the rust is gone.
Using baking soda is also helpful when learning how to take care of a swimming pool, as it raises the pH and alkalinity.
Refill the Tub with Cold Water
Once you've cleaned away lingering rust or impurities, you've almost finished your chore. Now you get to rinse away any cleaner residue so that the bathtub is ready for you to soak in it once more. A nice shot of cold water through the system will get rid of any remaining debris and will leave your whirlpool tub clean and sterile.
Fill the Jacuzzi tub with cold water until it's above the highest jets. Turn on the jets and let them run for 15 minutes. Then, drain the water. Your tub should now be cleaned and prepared for duty. It's time to jump in and relax.
Of course, cleaning the jets in your tub is a little different than learning how to kill algae in a swimming pool, but both processes are important to ensure clean water and health when using these devices.
We hope you had a ball working through our process of cleaning tub jets. A whirlpool tub keeps your muscles loose and makes you feel like royalty, but you've got to know what to do when the jets get dirty. Our guide gives you a step-by-step template that you can use to maintain your tub and keep it operating in top form.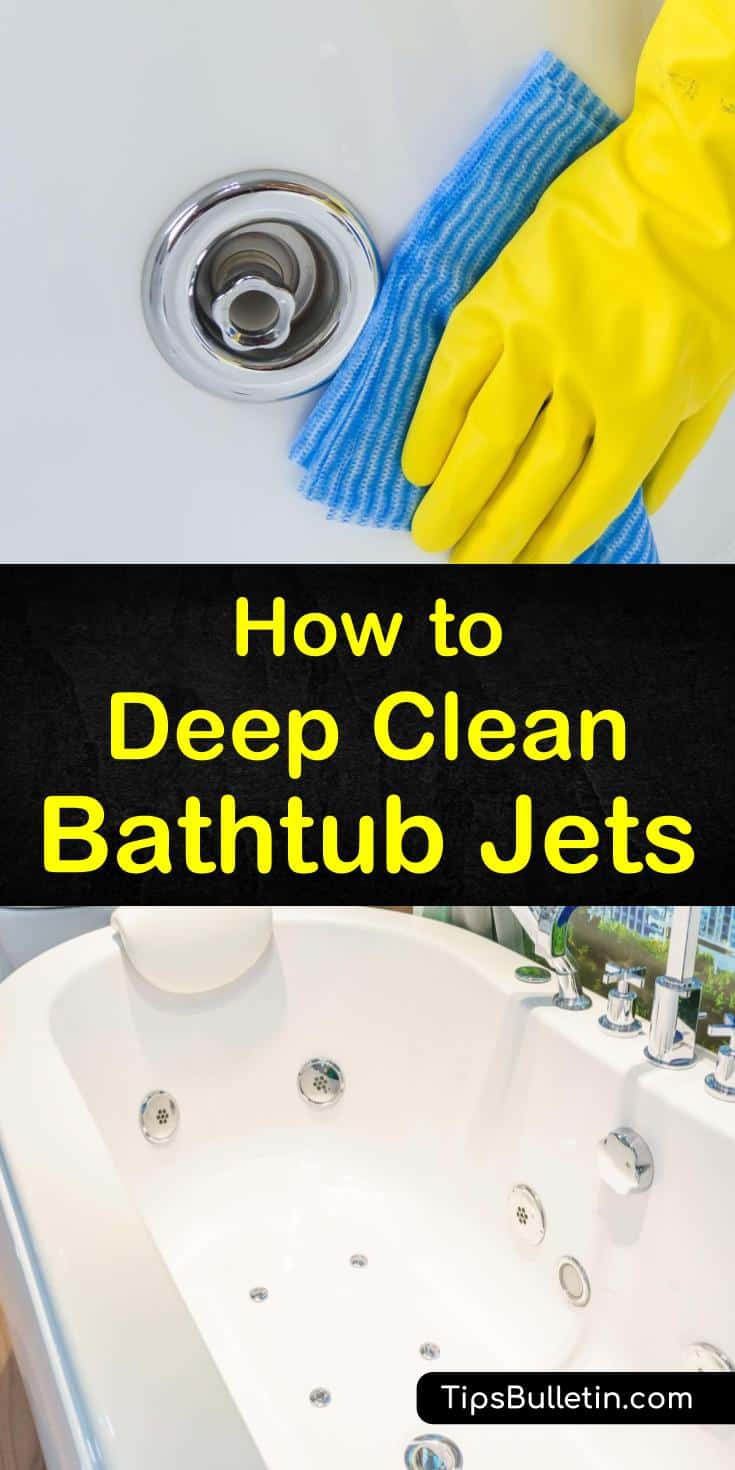 Thanks for reviewing our tub cleaning tips. If you found our article on how to clean bathtub jets helpful, please share this cleaning guide with family and friends through Pinterest and Facebook.