Scrubbing the bathtub isn't exactly a pleasant task, and it's even worse when you're battling stubborn soap scum buildup. As challenging as the job might seem at first, there are plenty of options for cleaning soap scum from tub surfaces without resorting to harsh chemicals. Learn how to remove soap scum from bathtub walls without too much effort.
Soap scum is the white or yellow chalky residue left behind on bathtub and shower surfaces. It results from the reaction between fatty acids and other ingredients in soap and the minerals in the water. The problem tends to be more severe if you have hard water.
The longer soap residue remains on bathroom surfaces, the more difficult it is to remove. However, even if you're cleaning tougher soap scum stains that have been building up for a while, we have the perfect cleaning strategy to suit your needs.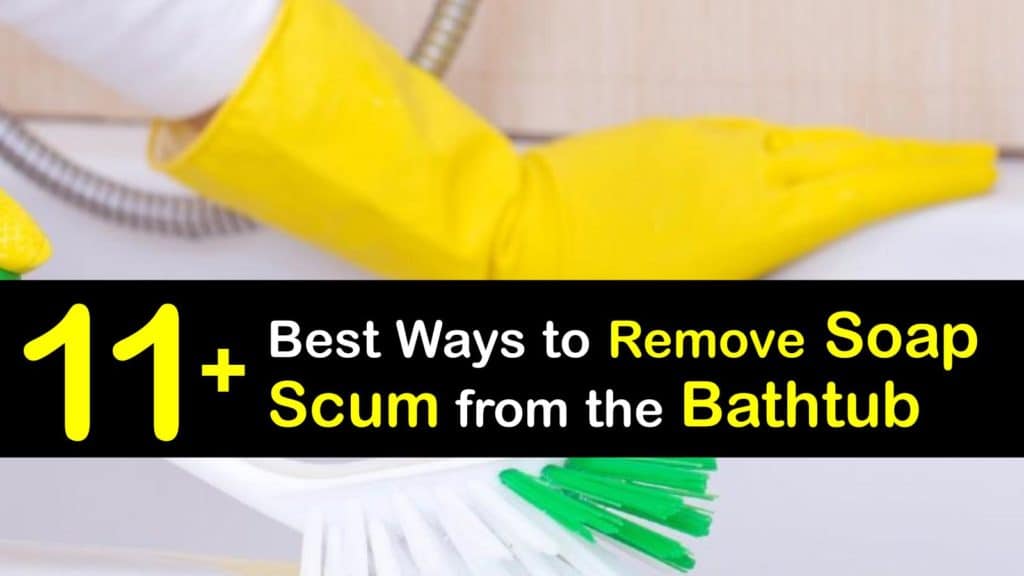 Best Ways to Get Soap Scum Off Bathtub Walls
Which soap scum cleaning method you use depends on what type of material you're working with. While a fiberglass or acrylic tub is inexpensive and easy to repair, it's also easily scratched by abrasive cleaners.
Porcelain tubs are also prone to scratching and usually have an enamel finish that gets corroded by concentrated cleaning products.
If you're not sure what kind of bathtub you have, choose the mildest approach possible to avoid potentially causing accidental damage. In most cases, a little elbow grease and patience are all that's required.
Read on to find out how to get soap scum off bathtub walls without damaging the material underneath.
Before you get started, gather a few simple cleaning materials to make the job go quickly and smoothly.
How to Remove Soap Scum from Bathtub Surfaces
Vinegar is many people's go-to household cleaner. It efficiently cuts through grease, grime, and soap scum, and the smell dissipates within a few minutes. However, avoid using vinegar on a porcelain tub, as its acidity damages the protective finish.
Use this simple recipe to make an all-purpose bathroom cleaner that eliminates soap scum, bathtub grime, and even a hard water stain.
For incredibly stubborn stains, spray undiluted distilled white vinegar on the affected area to get soap scum off shower walls and let it sit for at least 30 minutes.
To make the best DIY tub cleaner with the simplest ingredients, pour them into a clean spray bottle and shake vigorously to blend. Spray your bathtub, shower wall, glass shower door, and bathroom fixtures with soap scum buildup. Allow the vinegar solution to soak in for at least ten minutes before rinsing with clean water.
Cleaning Soap Scum from Tub Surfaces
Dish soap contains surfactants designed to break up kitchen grease. These substances also do an outstanding job at cleaning soap scum from tub walls.
Apply a generous amount of liquid dishwashing detergent to a soft-bristled cleaning brush. Scrub gently but firmly in a circular motion to loosen the soap scum buildup.
Allow it to soak in for ten to 15 minutes to continue breaking down the soap residue and hard water stains. Wipe it away with a soft, damp sponge or microfiber cloth and rinse with clean water.
Eliminate Soap Scum Buildup with Baking Soda
Baking soda is an excellent DIY cleaner because it's a mildly abrasive alkaline that easily erases grime and soap scum deposits without scratching your tub. It's safe to use baking soda on any kind of bathtub material.
Nonetheless, be careful what you mix baking soda with to make your cleaning paste. Use vinegar to clean fiberglass and remove soap scum from an acrylic tub. For porcelain, hydrogen peroxide works best.
Stir the ingredients in a small plastic container until thick paste forms. It should have a similar consistency to cake frosting. Once the mixture stops fizzing, spread it evenly over the bathtub and shower walls.
Let the soap scum remover soak in for a minimum of 15 minutes to dissolve soap scum and mineral residue. This cleaner is also useful for cleaning soap scum and hard water stains off glass shower doors, faucets, and other bathroom fixtures and will remove a rust stain. Try it to get paint off a bathtub if you have an accidental drip or two. Get stains out of your shower floor with baking soda and vinegar, as well. Reapplication may be necessary for set-in stains.
Use Hydrogen Peroxide Gets Rid of Stubborn Soap Scum
Hydrogen peroxide is a natural, non-toxic substitute for bleach. It works wonders to clean fiberglass tubs and remove soap scum permanently.
For regular cleaning, it's best to dilute the hydrogen peroxide when you make your own easy soap scum remover spray. However, spray it undiluted on exceptionally stubborn soap scum stains.
Combine equal parts hydrogen peroxide and tap water in a clean spray bottle. Spray all bathroom surfaces and give them at least 15 minutes to soak. Scrub in a circular motion with a soft-bristled cleaning brush or non-abrasive sponge.
Clean Bathtub Grime with Borax
Borax is a natural mineral powder commonly used as a household cleaner. It works similarly to baking soda and comes from sodium borate.
To remove soap scum from plastic tub walls or to remove iron stains and rust, sprinkle a liberal amount of Borax all over your shower and bathtub. When removing tough grime from your shower, softly scrub in a circular motion with a damp sponge to loosen soap scum.
To tackle stubborn soap scum buildup or to deep clean soap scum from tile and grout, make a paste with Borax and lemon juice. Keep in mind that the enamel finish on porcelain bathtubs may get damaged by mildly abrasive cleaners like baking soda and Borax.
To clean tub and shower grime and get rid of nasty soap scum, stir the ingredients in a small plastic container to form a thick paste. Spread it evenly over the bathtub surface and let it soak in for at least 15 minutes.
Use a soft-bristled cleaning brush to gently scrub the soap scum until it's completely gone. Rinse with clean water and dry the tub with a microfiber cloth to prevent water spots.
Remove Soap Scum with a Magic Eraser
Mr. Clean Magic Eraser is great for cleaning a variety of household surfaces. It works incredibly well for removing soap scum from tub surfaces of any material and is ideal for removing scum from glass shower doors and other places in the bathroom.
The Magic Eraser and similar products consist of melamine foam, which is mildly abrasive. Be sure to work gently to avoid scratching your bathtub.
Clean Soap Scum from Your Bathtub using Lemon Juice
Citric acid is also effective at cleaning soap scum from tub walls and to clean hair dye from your bathtub or sink. Lemon and lime juice have comparable amounts of citric acid, although lemon juice is slightly stronger.
Combine two parts lemon or lime juice with one part water in a clean spray bottle to mix a simple and effective cleaner for your bathroom. Spray all bathroom surfaces thoroughly and leave them to absorb the cleaning solution for ten to 15 minutes. Afterward, wipe your tub clean with a dry microfiber cloth.
Get Soap Scum Off Your Bathtub with Rubbing Alcohol
Rubbing alcohol is a safe and efficient way to get soap scum off bathtub surfaces. It's best to use a concentration of 70% or higher.
Soak a clean microfiber cloth in undiluted rubbing alcohol and firmly scrub the soap scum deposits until they come off. Rinsing afterward isn't necessary, as the alcohol vapors dissipate quickly.
Cleaning Soap Scum from Tub Walls with Essential Oils
Adding essential oils to your homemade soap scum solution not only makes it easier to clean but also helps to prevent buildup from attaching to your bathroom surfaces in the future.
Eucalyptus, lemon, and tea tree oils all have powerful antimicrobial properties that clean and disinfect while eliminating grime and soap scum. Use whichever ones you wish, or combine all three.
Add the ingredients to a clean spray bottle and shake well to blend. Spray liberally over your shower and bathtub and let it soak in for ten to 15 minutes. Use a clean, non-abrasive sponge or microfiber cloth to scrub the bathtub clean, then rinse with fresh water.
How to Remove Soap Scum from Bathtub Surfaces
Did you know that toothpaste makes an outstanding bathroom cleaner? Apply a little squirt of toothpaste to a damp sponge, cleaning rag, or an old toothbrush to scrub soap scum off of your bathtub, faucet, and shower walls. Afterward, rinse with clean water and dry the tub with a microfiber cloth to prevent water spots.
Add Ammonia or Vinegar to Regular Cleaning Products
The acidity of vinegar gives your bathroom cleanser an extra boost for erasing stubborn hard water stains without compromising its disinfectant power. Ammonia provides a similar effect, but it's considerably more potent.
For safety reasons, it's crucial to never add ammonia or vinegar to cleaning products containing bleach. The combination creates highly toxic chlorine gas fumes. The only safe things to mix with bleach are water and laundry detergent.
Remove Soap Scum from Porcelain Tub
Utilize a wet pumice stone to scrub the tougher soap scum deposits off a porcelain bathtub. Be sure to keep the pumice stone moist at all times, as a dry one will scratch or chip the porcelain.
Periodically use a stiff-bristled brush to clean the soap scum off your pumice stone.
How to Prevent Soap Scum Buildup in Your Bathtub
Cleaning your bathroom is much simpler if you take a few preventative measures against soap scum buildup. Try using liquid soap instead of bar soap, as it leaves behind less residue.
Drying the bathtub and shower after each use clears up a lot of the soap residue right away and also helps to prevent hard water stains. If you have hard water and find yourself needing to get hard water stains out of tub frequently, consider installing a water softener.
Soap scum buildup in your bathtub is inevitable, but cleaning it shouldn't feel like a never-ending battle.
By maintaining a regular cleaning routine using these commonplace household products, you can get soap scum off bathtub walls without spending all day scrubbing. Be sure to choose a soap scum removal approach that won't damage whatever type of bathtub you have.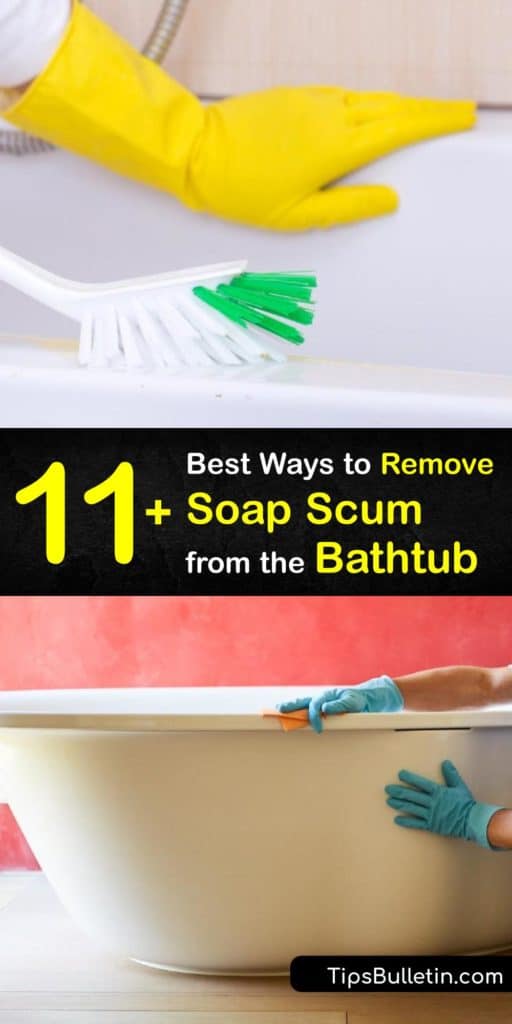 If you enjoyed these bathroom cleaning tips, please share this article about how to remove soap scum from bathtub surfaces with your friends and family on Pinterest and Facebook.