Stainless steel is a remarkable material, but it is essential to learn how to clean stainless steel appliances to keep them looking shiny. Not only does its chrome-like surface add a sleek, modern feel to your kitchen, but stainless steel can also stand the test of time. Stovetops are resilient and made to resist staining and rust.
The non-porous material of stainless steel does not absorb particles in the air like other building materials, such as wood or plastic, meaning a reduced accumulation of bacteria and germs. This advantage does not mean, however, that your stainless steel appliances don't need a little cleaning from time to time. Your kitchen is the heart of your household.
From dinners prepared in haste to family-made cookies baked with love, we can't deny it. We make a ton of messes! The first step is to gather the supplies to get you started with cleaning and polishing stainless steel appliances. Below is a list of the various supplies you will need to clean your surfaces.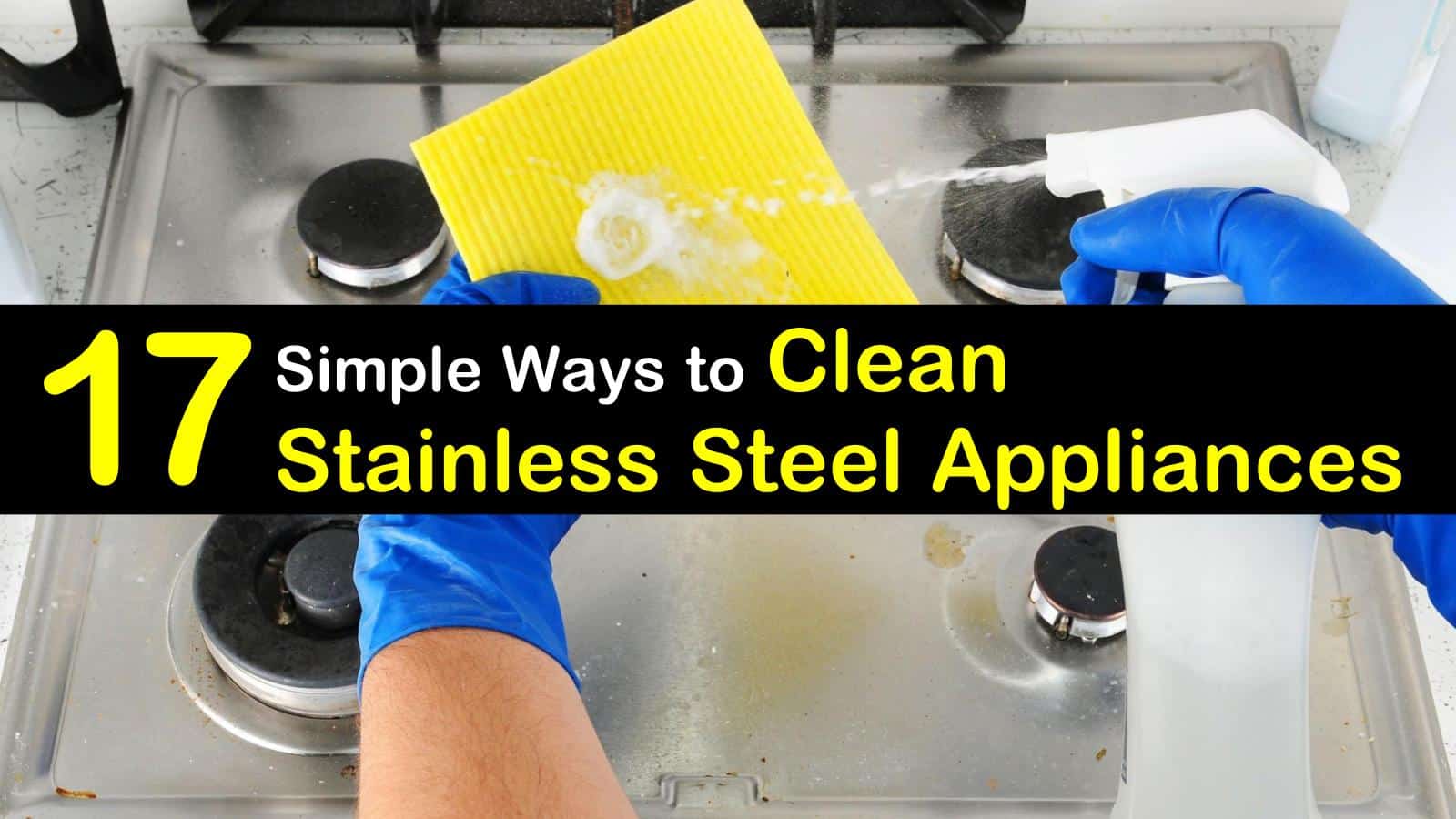 Easy Ways to Make Cleaning Stainless Steel Appliances a Breeze
Beyond the ingredients we will use, these supplies are an essential component of the cleaning process. Every appliance is different and may require an additional tool to clean it.
Follow these simple ideas for cleaning stainless steel to find the perfect solution for each device, for cookware, and even countertops.
White Vinegar as the Everyday Cleaning Solution
There seems to be no limit to the things vinegar can clean. You can even clean a coffee maker with vinegar, especially when made with stainless steel. For now, we are going to focus on how this product can be used to clean your other stainless steel appliances.
Vinegar is a great household cleaner applied on its own by adding it to a cloth and wiping down stainless surfaces. You can use a spray bottle as well to add vinegar directly over the appliance. This versatile cleaner is can also be added to other cleaning products to enhance its effects on stains, water spots, or smudges.
Use vinegar as the ideal way to get rid of mold and mildew in your washer and dryer, too. Wipe the interior and exterior to get rid of unwanted stains and build-up.
Steam Clean Your Stainless Steel Microwave
Steam cleaning your stainless steel microwave is the best way to loosen food particles from the sides for easy removal. In a microwave-safe bowl, combine equal parts vinegar with water to create an excellent steam cleaner.
A glass measuring cup is ideally suited to the task since it is microwaveable, and the measurements are already there for you. Set the timer on the microwave for five minutes, but monitor the solution's progress to avoid spills or other messes.
Leave the liquid in the microwave for an additional four minutes to build up moisture. The steam softens the particles and makes it much easier to clean with a microfiber cloth.
The cup will be hot, so remember to use oven mitts or a towel to remove it. Clean the tray separately with soap and water, and enjoy the clean and shiny interior of your microwave.
Warm Water and a Washcloth for Routine Cleaning
Keeping a regular cleaning routine for kitchen appliances reduces the need for deep cleaning down the road. While you still want to clean them every time you see a smudge, washing them with warm water and a cleaning cloth devoid of lint and coarse fibers is a gentle way to maintain these shiny surfaces.
Dampen the cleaning cloth and wipe down the stainless appliances. Follow along the direction of the grain when cleaning for a beautiful polish. Carry a dry towel with you, as well. Drying the areas after you wash them prevents water stains from forming on your appliances.
Reduce Odors and Clean a Stainless Steel Sink
Out of all the recipes out there, the best way to clean a stainless steel sink is by combining some of the most fabulous cleaning and odor-reducing ingredients in your pantry.
Sinks are notorious for food build-up, hard water stains, and horrible smells that emerge from the depths of your garbage disposal. This solution will be a simultaneous way to clear those problems.
To make this natural sink cleaner, mix all ingredients in the spray bottle. Allow the air bubbles to escape and stop fizzing before replacing the top. Give the bottle a shake until you are sure all the ingredients are thoroughly blended.
Spray the surface of the sink, and let the solution sit for a couple of minutes. Wipe away the mixture following the direction of the grain using a soft cloth.
Pour any remaining solution down the garbage disposal, while it is running, to assist with foul odors. Rinse and dry the sink when done.
You can also use this mixture to clean a gas grill made from stainless steel. The baking soda is an excellent mild abrasive and the vinegar helps to remove stuck-on grease.
Use a Commercial Stainless Steel Cleaner for Polishing Stainless Steel Appliances
Commercial cleaners like Bar Keepers Friend and Weiman Stainless Steel Cleaner are specially designed to clean and polish stainless steel surfaces. Both brands are bleach-free, which is a must when selecting products to protect your appliances.
Using these cleaners will also polish your steel surfaces, making them gleam with a freshly-cleaned shine. Not only are these products great for cleaning and polishing, but they are excellent methods to remove stains caused by mineral deposits and burnt food as well.
Bar Keepers Friend comes in a liquid form or powder that can be made into a thick paste to remove stains and clean appliances. Weiman Cleaner's line of products also includes wipes, which make cleaning the surfaces even easier!
Remove Fingerprints from Stainless Steel Refrigerator
You turn your back for one moment, and like clockwork, someone has left oily little fingerprints all over the front of your stainless steel fridge. Who are we kidding? It's unavoidable, especially with small children.
Glass cleaners like Windex, however, can lessen the frustration. Cleaning a stainless steel fridge is not complicated and only takes a few minutes' time to do the job correctly. Wet a microfiber cloth with the cleaner, rather than spraying it directly onto the appliance to prevent wasting the spray and leaving excess cleaner on the machine.
Use a circular motion when cleaning, then rinse and dry the area with a clean towel. Now your fridge is nice and shiny again. Cleaning spots when you see them or at least at the end of each day ensures that your refrigerator always looks like new.
Use Hydrogen Peroxide to a Clean Stainless Steel Dishwasher
For something that was made to clean, dishwashers require regular cleaning themselves. Going too long without clearing out the drains causes a backup of foods inside the dishwasher and produces awful odors. This is where you should start when you begin to clean a dishwasher, then make your way to clearing away the particles of food with the following recipe.
While you clean the dishwasher, be sure to take care of cleaning a dishwasher filter at the same time. This handy gadget accumulates all kinds of nasty debris and should be sanitized regularly to keep the interior of your dishwasher spotless and mold-free.
Mix baking soda with hydrogen peroxide until it forms a gritty paste. Scoop out the solution and pack into large balls, similar to how you might use detergent pods. These are left overnight on the lower rack of the dishwasher.
The following morning, add vinegar and dish detergent to a glass placed on the top rack and run the dishwasher. After the cycle, wipe away any remaining food particles with a clean cloth.
You may also find that this mixture will unclog and clean your dishwasher drain hose if it has accumulated debris.
How to Clean Stainless Steel Appliances Without Steel Wool
To prevent damaging your stainless steel stove and cookware, avoid using steel wool to scrub away burnt-on food particles. Steel wool can scratch the surface of your stainless steel product and make it more likely to rust or develop stains. Instead, salt is an excellent abrasive alternative that is much gentler on stainless steel.
Prevent stainless steel corrosion and get your stainless surfaces spotless by using this simple recipe. Combine dish soap with kosher salt to make a gritty paste. Add the mixture to a damp cloth or paper towel and scrub the area with stuck-on foods. Rinse the area with warm water afterward, then thoroughly dry.
Try WD-40 When Polishing Stainless Steel Appliances
WD-40 may seem like an unlikely and strange candidate for cleaning appliances and polishing metal surfaces. However, its oily properties make it perfect for shining and cleaning stainless steel. Many of us already have this product lying around in our garages and are familiar with its shine capabilities.
Adding the spray to your appliances also forms a protective coating over the surface. This layer of protection is excellent for preventing fingerprints and smudge marks. It is also perfect for preventing rust on stainless steel, especially on items that you don't use as often.
Safety is important when using WD-4o, however. Keep in mind that this petroleum-based product should be thoroughly cleaned after use to avoid accidental ingestion of small amounts or getting the oily substance in your eyes. Try WD-40 for getting rid of smudge marks or to keep your stainless shiny.
Make Stainless Steel Sparkle with Lemon Oil
There are two ways to use lemon oil to clean and polish stainless steel appliances. You can either use furniture polish with lemon oil included in the ingredients or use the following essential oil recipe. Both provide brilliant shine and produce a fresh, citrusy fragrance.
Combine all the ingredients in a spray bottle and use like any other cleaning solution. This lemon oil recipe is just one of the excellent homemade house cleaners that make your appliances sparkle and smell great.
Clean the Inside and Outside of Your Appliances
Club soda works like vinegar and can be added directly onto countertops. Wipe your surfaces with a dry cloth, then rinse with water and dry again. The result of using club soda is a lovely polish, which is what makes it a fantastic alternative to glass cleaner on windows.
Club soda works on both the outside and inside of your stainless steel appliances. Adding other cleaners like vinegar to club soda increases its effectiveness. Adding salt to the drink in a spray bottle makes it a useful option to deodorize the inside of your refrigerator.
Use club soda to clean a front load washing machine or a top loader, the dryer, and all your other appliances. It's an inexpensive yet effective cleaning agent that takes just minutes to use.
Buff the Shine Back into Sinks and Stainless Steel Ovens
Another unusual method for how to clean stainless steel appliances is to use flour. The flour sack, when combined with commercial cleaning solutions, can also play a significant role in shining steel. Since the mess alone may be a reason to dissuade you, confine this impressive brainstorm to enclosed appliances, like sinks or stainless steel ovens.
Using the flour is relatively simple. Scatter the powder across the stainless steel surfaces and scrub in a circular motion with a microfiber cloth. Continue this motion until the steel beneath the flour begins to shine.
Clean Stainless Steel Gas Stoves
Cleaning your stove top doesn't always require a fancy solution. Sometimes mixing a gentle cleaner like dish detergent for stainless steel cleaning can do a world of wonders for your stainless steel. Dish detergent is ideal when you clean stainless steel cooktops since its oily formula breaks down food particles and burnt areas, both of which are prevalent on gas stoves.
Add one tablespoon of dish detergent to a quart of hot water. Mix until adequately soapy, then wash the stove with a dampened washcloth. Remember to rinse the soap away with a separate cloth and dry when finished to leave the surface streak-free and shining.
Add Mineral Oil or Baby Oil to Polish Stainless Steel
If you used dish soap to clean your kitchen appliances, you may not be as impressed with its shine as you would with other cleaners. While dish soap works magic to clean away food and grime, it requires a little help in the shine department. Adding mineral or baby oils improves that lackluster exterior.
A small amount of oil, just a few drops, does the trick. Rub the oil across the stainless steel following the grain of the metal. Doing this will produce a brilliant shine that will rival any of the other ingredients on this list.
Use Rubbing Alcohol For a Streak-Free Shine
Rubbing alcohol is an antiseptic used to destroy bacteria while cleaning minor cuts and scrapes. Translate that bacteria-fighting power to your kitchen, and you can imagine the possibilities as a disinfectant.
Rubbing alcohol can be used on its own by dabbing a little bit of the solution to a soft cloth, but it may also be combined with other ingredients for a multi-purpose solution.
Using alcohol to clean your stainless steel appliances serves as a way to reduce another common cleaning headache: the streaks left behind by cleaners.
Rubbing alcohol is a fantastic way to get that clean streak-free shine from your kitchen appliances. This cleaning solution is also safe to use on ovens and can even replace store-bought oven cleaners.
Olive Oil as a Shiny Supplement for Other Ingredients
Olive oil adds a brilliant shine to surfaces, much like mineral and baby oil, but appears more frequently in cleaning recipes than the other two. Common ingredients olive oil pairs well with are vinegar, dish soap, and baking soda.
Olive oil is either blended into the solution as part of a recipe or added after the application as part of a multi-step cleaning process. When added to other cleaning solutions, it is applied to the surface using a spray bottle.
Wipe the stainless steel down and dry it to remove excess moisture. If used separately, the stainless steel appliance is cleaned first. The olive oil is then rubbed sparingly over the surface using a clean cloth. In both cases, the olive oil leaves behind a brilliant shine.
Use a Stainless Steel Grill Brush to Clean Grill Grates
When cleaning stainless steel appliances, don't forget to show your grills a little love, too. The stainless steel grill grates also require some special attention and should be cleaned after every use to extend their longevity. Using a stainless steel grill brush or a non-bristle brush after grilling easily removes food particles with a little elbow grease.
To prevent having to scrape off stuck-on foods, clean the grill just after cooking, while the grates are still hot. Doing this will loosen up food particles and make it easier for you to clean the grill. If you do not have a non-bristle grill brush, a thick cloth will also work.
Your stainless steel appliances are already easy to maintain, but having a cache of options to choose from when it comes to cleaning them is a load off your back.
These ingredients create some of the best DIY stainless steel cleaner recipes without using harsh chemicals. With so many great ingredients to choose from, finding the right tactic that works for you is a cinch!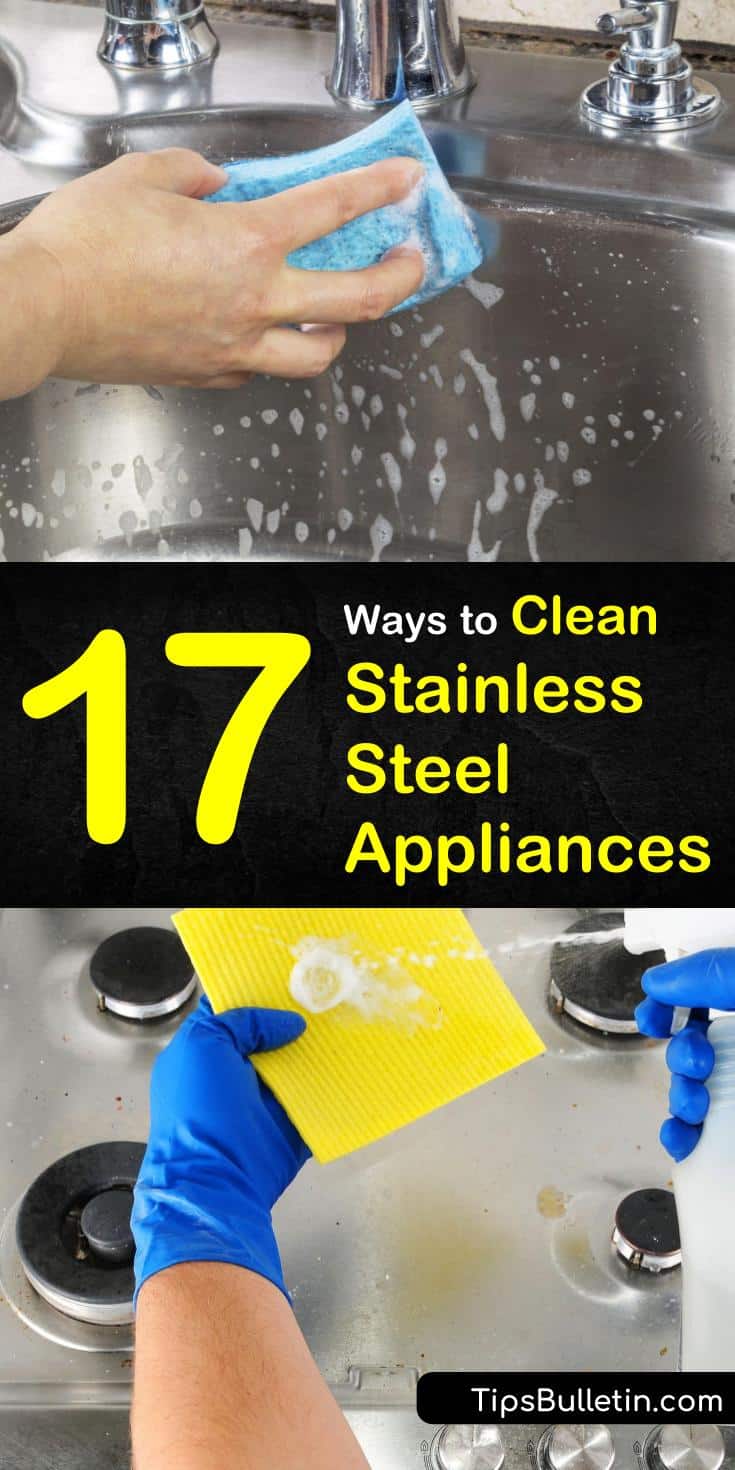 We hope you found these cleaning tips for how to clean stainless steel appliances helpful. If so, don't forget to share our stainless steel cleaner recipes with your friends and family on Facebook and Twitter.