Stainless steel is in almost everything – the construction of buildings, appliances, cookware, even jewelry. The shiny allure of the metal and its durability are the main qualities that attract most consumers to purchase products made from the material. So learning how to clean stainless steel, especially in a home filled with objects created from the metal, becomes a crucial part of your regular cleaning routine.
Cleaning stainless steel is relatively easy and comes with a wide variety of recipes and methods to clean every product in your home. The best way to clean stainless steel is by using the specific products and supplies designated for that appliance or item.
In other words, don't use the same thing you would use on the inside of the oven as on the outside of a stainless steel refrigerator. While many of these ingredients work on multiple items, some exceptions are exclusive to each product. Follow these fantastic cleaning tips to get started on your stainless steel cleaning regimen. No matter your stainless steel item, we have the solution for you.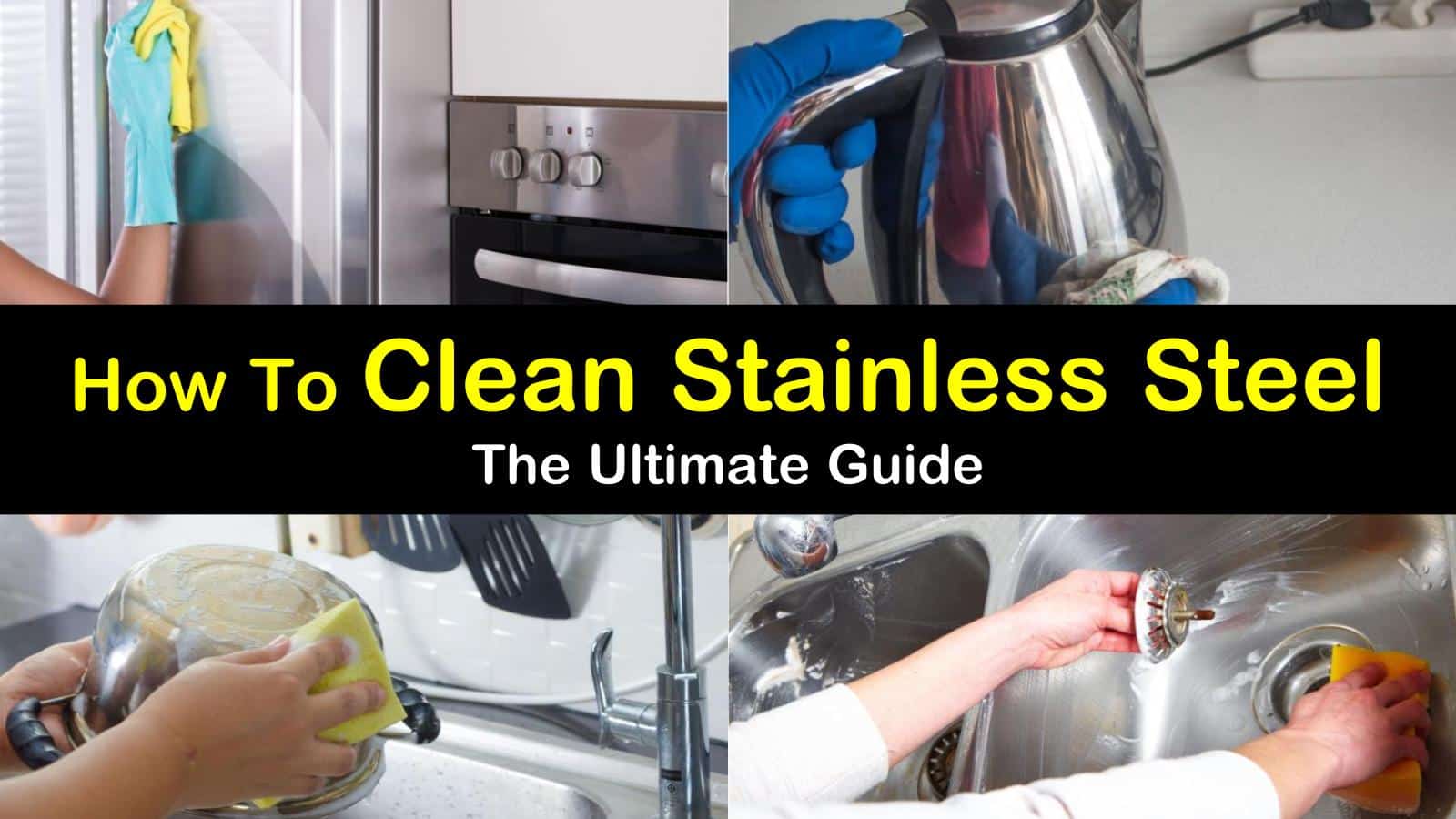 Everything You Need to Know about Cleaning Stainless Steel
While regular maintenance of stainless steel is relatively similar across the products, every item requires a unique method of cleaning. Here are answers to common questions about stainless steel appliances, jewelry, and other products, as well as the best recipes and methods to use for each one.
Does stainless steel ever rust or tarnish?
Does stainless steel rust? One of the highest selling points of stainless steel is its resistance to rust and corrosion, which is why it is a primary building material for appliances and products that face repeated exposure to high temperatures.
As a result, it is tough for stainless steel to tarnish or rust without being subjected to extreme weathering conditions. This advantage doesn't mean that stainless steel will never tarnish or rust, it simply means that it is more durable than other metals in that respect.
There are preventative measures you can take to keep your stainless steel in excellent condition and prevent tarnish and rust. For one, avoid using highly abrasive materials like steel wool. These materials can break down the protective coating on the stainless steel that spares it from the oxidation process.
Some brushed steel appliances portray a scratched surface as part of their aesthetic appeal. This appearance does not mean, however, that using a harsh abrasive on these is acceptable.
Just because they already look scratched does not mean they won't get rusty without care. To keep your stainless steel safe, only use the recommended cleaning products and equipment.
Can all stainless steel items be cleaned the same?
Though some products may use similar treatments as others, not every method works for every household item. Some products, such as stoves, require more maintenance and care than refrigerators since they need exterior and interior cleanings that often consist of stuck-on grease.
Equally, you don't want to use a commercial cleaner with harsh chemicals that is suitable for a stainless steel sink but not for stainless steel cookware. With any cooking on the stove or with stainless steel pots and pans, you especially want to avoid using commercial cleaners to prevent transferring those chemicals onto your food.
How often should I clean my stainless steel items?
There are two main factors to account for when determining how often to clean your stainless steel products: the type of product being cleaned and how much it is used. Products like refrigerators or ovens may only need cleaning every few weeks or as needed when those mysterious, sticky fingerprints show up without you noticing.
Does stainless steel jewelry tarnish? Yes, it can if it does not have the proper regular attention it needs. For jewelry items, cleaning them once every two weeks is ideal, more frequently if it is an item we use almost every day.
Jewelry is notorious for collecting sweat and cosmetic oils between the cracks and crevices, so cleaning it helps retain that lustrous shine. Other stainless steel products require more frequent cleanings, even without excessive use.
Stainless steel sinks should be cleaned once a week since they are prone to water spots and stains. Get water spots off a stainless sink and master cleaning your indoor stainless steel. Appliances like stovetops and grills should be cleaned after every use to reduce the amount of stuck-on food and greasy residue left behind.
How to Clean Stainless Steel Oven and Stovetop
Use Dish Soap for Regular Oven and Stovetop Cleaning
To avoid greasy build up on your stovetops and ovens, clean your appliances after every use. Even if you haven't made a huge mess, this removes excess moisture and oily residue that could quickly be a problem in the future.
In most cases, a few drops of dish soap and hot water are all you need to clear up the dirt and grime without having to use strong chemicals found in traditional oven cleaners.
If you can, clean your stainless steel appliances with distilled water instead of using water from the faucet. Tap water can leave water stains on the stainless steel, making your cleaning efforts almost futile.
If this is not an option, simply ensure that you have removed all moisture from the metal after cleaning. Using a microfiber cloth is your best solution since the material will absorb all liquids and prevent scratching the surface of the stainless steel oven with lint particles.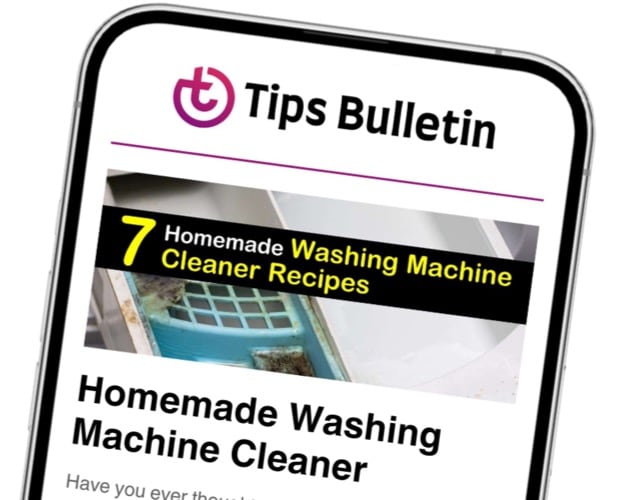 Finally, an email that Transforms Your Home.
Get the latest home and garden tips from our experts, delivered straight to your inbox.
Most of the time, you can also use regular soap and water to clean galvanized metal pieces that you find outside or underneath your car's hood, too.
Remove all Stuck on Foods and Grease with Degreaser
If a regular cleaning is not enough to remove the gunky residue and buildup from your oven, or if you forgot to clean a time or two, a stronger recipe will help you defeat those tough stains.
Using a natural kitchen degreaser spray with ingredients found in lemon oil is perfect for blasting through oily food stains and particles. It will also leave your kitchen smelling like a springy, miniature citrus grove.
To make this simple homemade metal cleaner, combine all the ingredients of the recipe in a large spray bottle. Mix well and spray over the surface of the oven and the stovetop. Using a clean cloth, scrub the area until all stains are gone and the area is clean.
Wipe down any remaining oily residue with a damp cloth, then buff dry using a microfiber cleaning cloth. The oil In the cleaning solution also makes an excellent polish for your stainless steel appliances, giving them a sparkling clean shine.
Take Apart the Pieces on the Stovetop for Deeper Cleaning
Depending on the type of stovetop you have, you may need to take pieces apart and clean them separately. If you have a glass stovetop, using a recipe like the one in the second step will work perfectly.
However, some electric coil stove tops and gas stoves require removing the burners, drip pans, and stove grates for separate cleaning. The following recipe is a perfect way to soak those extra parts while you clean your stovetop and oven.
Just as with the oven cleaner recipe, this recipe uses citric acid to clear away grease. Where the first recipe used lemon essential oils, this recipe uses lemon juice instead. Either ingredient can work in these recipes.
Start by filling your sink with at least one quart of water and combining the other elements. Mix them thoroughly before adding the separate components to the sink. Depending on how large the items are, or how large your basin is, you may need to double the number of ingredients used.
Don't forget to clean those pesky oven grates, too. Clean these by placing them in the bathtub with a clean towel layered beneath it to protect the surface of the tub. You can use the same solution for the oven grates as used for the stovetop parts, or you can combine baking soda and powdered dish detergent instead.
For both recipes, let the item sit for at least an hour before rinsing them off and drying. For especially tough food particles, let the item soak overnight.
Use Window Cleaner for the Outside of the Stove
The often unsung heroes used to clean stainless steel appliances are glass cleaners like Windex. While you don't want to clean the top of your stove or the inside of your oven with glass cleaner, it is a perfectly harmless cleaning solution for the outside panel and glass window. Glass cleaner is an excellent way to remove those prints and smudges caused by sticky little fingers.
When using, however, spray a microfiber cloth with the cleaning solution rather than spraying it directly on the oven itself. Unlike glass windows or mirrors, dry off any leftover liquids when done cleaning. Leaving any moisture behind causes water damage like spots to form on your appliance. Buffing it with a dry cloth should do the trick!
The Best Way to Clean Stainless Steel Sinks Using these Spectacular Recipes
Regular Maintenance of Stainless Steel Sinks
Though the recommended timeframe for deep cleaning a stainless steel sink is at least once a week, you should still dry your stainless steel sink after every use.
Wiping down your stainless steel sink ensures that soapy residue or water isn't left in your basin and back onto your dishes the next time you wash them. For a deeper cleaning of your sink, the following recipe is your best bet!
Depending on how much surface area you are cleaning, you may want to add more of the ingredients to the mixture. Flour acts as a gentle abrasive and is much safer to use on stainless steel than steel wool. Mix the two until they create a thick paste.
Dip a clean cloth into the mixture and softly rub in the direction of the grain. Using an old toothbrush, scrub around the faucet and handles, getting deep into all the crevices and grooves to remove mildew and gunk. Rinse with warm water and dry thoroughly.
Use a Strong Stain Remover to Get Rid of Water Stains
If you've left a cast-iron pot or any stainless steel cookware in the sink overnight, you may encounter deposits of rust where the metals scraped against the surface of the basin.
These can leave stains and damage both the sink and cookware left out overnight. To remove hard water stains from stainless steel, use a homemade stainless steel cleaner to get rid of stains and have your sink looking sleek and shiny once again.
Using baking soda and vinegar cleaners is almost always the most effective solution for removing stains. Vinegar is a disinfectant that breaks down tough particles, while baking soda is a mild abrasive. The hot water also loosens up stuck-on foods and rust, allowing this combination team to remove burnt materials, rust, and stains easily.
Polish Your Sink with Baby Oil to Make It Shine
The best part of any stainless steel item is its beautiful metallic sheen. After cleaning your stainless steel sink and removing any stains or rust, the next step in your cleaning process should be to shine it up. You can use commercial cleaners and polish like Weiman Stainless Steel polisher or the following easy-to-use supplies.
A few drops of baby oil are all you need to shine up that stainless steel surface. Add them to a clean cloth and wipe along the surface of the sink. Go along the grain as you add it, then move back over the area using circular motions. The oil will absorb into the steel and shine it up nicely.
Cleaning Stainless Steel Refrigerators with Common Cleaning Solutions
Remove Fingerprints Using Windex or Olive Oil
One of your favorite kitchen appliances is also one of the easiest to clean. When it comes to cleaning your refrigerator, cleaning the outside is similar to cleaning your stainless steel countertops.
Using Windex on stainless steel refrigerators will easily remove smudges and fingerprints, while also leaving a reflective surface behind. But for those looking for a DIY, non-toxic cleaning solution, this recipe is the one for you.
Combine the above items in a medium-sized bowl and blend until smooth. When adding baking soda to the vinegar, the solution may fizz, so wait until the bubbling has stopped before using it.
Dunk a microfiber cloth into the bowl and clean the surface of the refrigerator, wiping along the grain. Use a dry cloth to remove the moisture after cleaning and dry.
Polish Your Refrigerator Until it Sparkles
There are multiple options out there when it comes to polishing the outside of your refrigerator. One solution is to use club soda, which operates like a glass cleaner to leave a flawless shine on the exterior.
It is also an excellent way to deodorize the inside of your refrigerator, making it a spectacular cleaner, both inside and out. Another choice is to use a commercial cleaner like Bar Keepers Friend or Bon Ami.
Using a flour sack and wax paper may seem like a strange combination, but it actually works! First, dunk the flour sack in some warm water and add a few sprinkles of a commercial cleaner. Afterward, apply the soap to the fridge surface using circular motions, then rinse and dry with other areas of the flour sack.
Next, rub the waxy side of your wax paper along the surface of the refrigerator. This leaves behind a smooth, protective layer that not only leaves a shine but also limits the appearance of fingerprints.
Tips for Cleaning Other Stainless Steel Appliances
How to Clean a Stainless Steel Microwave
Cleaning a microwave can seem like a painful undertaking. Forget to cover a plate of spaghetti, or leave your soup to heat for too long, and you have an unseemly mess to clean up. Cleaning your stainless steel microwave, however, can be as easy as a simple steam cleaning.
Combine equal parts vinegar and water in a glass bowl. Heat the mixture in your microwave for five minutes, checking the microwave from time to time to prevent any overflows.After the timer has stopped, keep the microwave closed for an additional five minutes to allow moisture to settle inside.
This buildup of steam will soften the food particles stuck on the interior of your microwave, making your task of cleaning much more manageable. Remove the bowl using protective oven mitts or a towel, and clean the inside of the microwave with a soft cloth. Buff the surface dry and wash the tray with soap and water.
Steps and Recipes to Clean a Stainless Steel Dishwasher Inside and Out
Like most of your stainless appliances, your dishwasher exterior can also be cleaned using cleaners like Windex or white vinegar. The inside, however, may require a little more assistance.
The first step is to clean out the drain, clearing away all debris and pieces of food left behind. Next, run a cleaning cycle without dishes using the following stainless-steel cleaning recipe.
These ingredients are not used at the same time and require a little less elbow grease than scrubbing down the interior. Start by making a detergent pod out of the hydrogen peroxide and baking soda. Mix the two into a type of putty and rolling them into a tight ball.
Place this pod on the bottom rack of the dishwasher overnight, then add vinegar to a cup, along with the dish detergent in the morning. Run the dish cycle, and your cleaning is practically complete. The only thing left is to polish the outside with a little bit of WD-40.
Removing Rust from Major Appliances
For most of the covered appliances, there are rust cleaning solutions that work safely on all of them. Lemon juice and cream of tartar are great ways to flake off pieces of rust and restore that healthy shine.
Cream of tartar can be mixed with baking soda or hydrogen peroxide to clean metals and remove rust. However, the following recipe also works exceptionally well.
Combine the two ingredients until they form a thick paste. Using an old toothbrush or cloth, gently rub the mixture onto the rust spot. Let it sit for at least 30 minutes, then scrub using a damp cloth or sponge until the rust is completely gone. Dry thoroughly afterward.
How to Clean Stainless Steel Grills
Clean the Grates Using a Stainless Steel Grill Brush
Cleaning your stainless steel grill is easier when the appliance is still a little warm, but you don't want the rack to be so hot that it burns you as you're trying to clean it. However, keeping the grates warm softens up the food particles stuck on them, making it easier for you to chip them off.
To clean the grates, make a paste out of baking soda and water. Smear the paste over the rack and let it sit that way for at least 20 minutes. Afterward, scrub away at the stuck-on grime, food, and ash using a stainless steel grill brush.
A stainless steel brush is essential to avoid scratching the metal. Rinse off the baking soda paste with a damp cloth and dry.
Clean the Inside Using Natural Cleaners like Vinegar
The next step in the grill cleaning process can be a little complicated if you aren't sure what to do with the burners and separate pieces inside. The best option is to consult your manufacturer's guide, though using white vinegar is a safe place to start. Vinegar is also entirely safe for use and won't contaminate food with harsh chemicals as commercial cleaners do.
For directions on how to clean with vinegar, start by mixing it with water in a large bowl. Using a clean cloth, dip it into the bowl, and scrub the vinegar solution along the interior walls of the grill. Be careful not to get moisture in areas that cannot get wet, and use a steel grill brush on challenging areas.
Clean the Outside of Your Grill Using Oxalic Acid
Grills typically stay outside and are exposed to the elements much more than other appliances, which makes them susceptible to corrosion. Using oxalic acid to remove rust is an excellent solution but should only be reserved for the exterior of the grill.
Because oxalic acid can cause skin, throat, and eye irritation, it is crucial to wear goggles, a mask, and rubber gloves when using this cleaning product. It is also best if cleaning takes place outside or at least in a well-ventilated area, which is another reason why using this method for the exterior of a rusty grill works best.
Using a soft sponge, clean the surface with the oxalic acid, and let it settle for several seconds. For more difficult rust spots, let it sit for two minutes. Next, along the direction of the grain, gently flake off the pieces of rust. Rinse with warm water when finished, and dry.
Don't Forget to Polish Your Stainless Steel Grill
Polishing your stainless steel is one of the most straightforward tasks when it comes to cleaning your appliances. There are quite a few choices available that add a beautiful, glossy polish do any machine.
Natural oils, like mineral oil or olive oil, are commonly used on refrigerators, dishwashers, or ovens. Another option you can choose for your stainless steel grill is vegetable oil.
Vegetable oil is something you already use to cook with, so adding it as a polish to your grill makes the most sense. In this way, it serves both a functional and aesthetic purpose.
Cleaning Stainless Steel Cookware
How to Clean Stainless Steel Cookware on Everyday Occasions
Regular maintenance of stainless steel cookware is just as easy as cleaning any other stainless steel products. For most issues, some soapy water and a little elbow grease are all you need to keep your cookware spotless and gleaming.
With tougher cleaning issues, industrial cleaners like Bon Ami and Bar Keepers Friend are also safe to use on your cookware. One thing to remember is to keep dry your stainless steel cookware directly after washing and right before storing to avoid the presence of water spots and stains.
Remove Hard Water Stains by Boiling Vinegar
If you leave your cookware to dry out overnight or toss it into the cabinet without thoroughly drying it, hard water stains may appear. The good news is, it is fixable with some simple ingredients.
The first step is to add ½ cup of vinegar and 1 ½ cups of water to the pot. Let the mixture boil for a moment, then remove from the heat. This procedure should resolve most of the stains. Remember to rinse and dry to prevent new spots from forming.
Use Salt Instead of Steel Wool for Tough Stuck-On Foods
Stuck-on foods happen, and they do require some scrubbing power that ordinary dish soap and soft sponges can't provide. So what do you do? Steel wool and scouring pads are a big no-no when it comes to cleaning stainless steel. To avoid scratching the surface of your pots and pans, use a coarse salt like sea salt or kosher salt.
To use this method, combine these ingredients in the pot or pan you wish to clean. With a soft towel, scrubber, or even a toothbrush, scrub the surface of the cookware to loosen up any burnt-on foods. Add hot water as necessary to break down the particles. Rinse when finished and dry.
The Best Way to Clean Stainless Steel Jewelry
Cleaning Your Stainless Steel Rings and Jewelry
Your Samsung appliances and Martha Stewart cookware are not the only stainless steel items in need of cleaning. Stainless steel jewelry encounters just as much dirt and grime, especially when exposed to elements like sweat, hairspray, and cosmetics.
Most jewelry is easily cleaned by hand with mild products, though some jewelry owners use an ultrasonic cleaner to clean their high-priced items. Diamond rings with secure settings and other jewelry items that do not have gemstones are the only items suitable for this type of cleaner.
Ultrasonic cleaners jostle the jewelry around in a mild cleaning solution using bubbles to work down deep into crevices. For jewelry with gemstones that may easily come loose during this process, it is better to wash them by hand with the following supplies.
Cleaning your jewelry by hand is relatively simple. Begin by adding a few drops of dish soap and warm water to one bowl. Soak the jewelry for several minutes in the soapy water.
Next, using a microfiber cloth, gently brush away any dirt from the surface. Rub across the stainless steel until it begins to shine. Rinse the jewelry off using the second bowl, which should only hold warm water without soap. Dry thoroughly.
Remove Tarnish and Discoloration Using Toothpaste
Discoloration and tarnishing do happen, even to stainless steel. The brilliant luster of your jewelry may begin to fade, but using simple supplies like toothpaste or lemon juice can quickly restore that elegant sheen. Avoid using toothpaste with whitening agents that may damage the surface.
Equally, avoid gel toothpaste, which is not strong enough to clean stainless steel. Plain white toothpaste is perfect and can be applied using a microfiber cloth or soft toothbrush.
Just as with soapy water, scrub the surface of your jewelry with the toothpaste. Be careful when cleaning around gemstones so that you don't loosen them from their settings. Rinse when adequately cleaned, then dry. Repeat as necessary.
How to Get Rid of Rust on Stainless Steel Jewelry
Another excellent rust removal recipe involves using vinegar and rubbing alcohol. Both are effective rust cleaners and work exceptionally well when paired together. Use the DIY method below to clean rust from your stainless steel jewelry.
Combine the ingredients in a small bowl. Stir until thoroughly blended, then soak the jewelry item in the solution. Let it sit for 15 minutes, or longer for more severe cases.
Afterward, use a lint-free cloth to wipe away any remaining rust particles on the surface. For braided chains or intricate designs, using a toothbrush or toothpick to get in between the crevices will help. Rinse, then dry well.
Polish Jewelry with Linseed Oil for Protective Coating
The finishing touch to any cleaning regimen is polishing the item. For stainless steel jewelry, linseed oil is the best candidate. Linseed oil not only leaves behind a lovely gloss when applied to the jewelry, but it also adds a layer of protective coating.
This thin layer prevents further moisture and dirt from penetrating the surface and keeps it looking shinier even longer.
With so many different appliances, jewelry, and other stainless steel cleaning products, it can be overwhelming determining the right course to choose for your household item. Using this ultimate guide to cleaning stainless steel should narrow down the list for you, allowing you to select a solution based on the appliance or item and the level of cleaning necessary.
However, there are numerous ways to clean almost every stainless steel item, and many of these recipes and methods can be used interchangeably. Find the best method that works for your household and roll with it!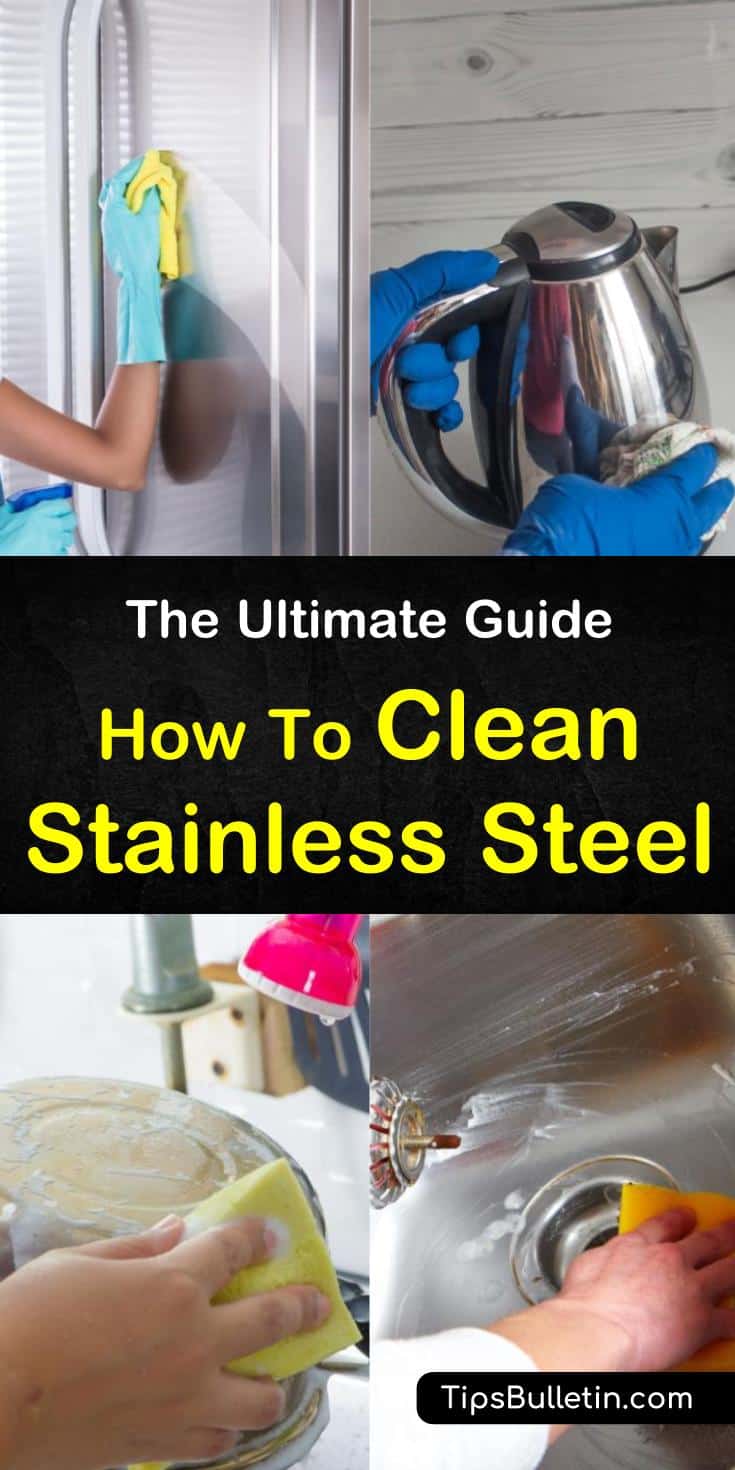 We hope you enjoyed our ultimate guide to cleaning everything stainless steel. If you found these stainless steel recipes helpful, remember to share how to clean stainless steel household items on Facebook and Pinterest.