Every time you use your stovetop, you leave behind bits and pieces of everything you cooked. Cleaning your stove top is one of those endless chores, and no matter when you last cleaned, it always needs to be done again. Even if you think already know how to clean stove burners, there are probably methods that you have never heard of before.
Rather than continuously struggling to keep your stovetop clean, learn the best way to clean stove top burners with a handful of quick and natural methods. Aside from feeling like you are always cleaning gas stove burners, your stovetop is also one of the hardest things to clean. Its shape and the caked-on messes cooking creates make this job unappealing.
No matter how much elbow grease you use or what kind of cleaners you have, something is always left behind. Many of us feel that all the time we spend cleaning stove tops is a waste because the stove top gets dirty the next time you use it.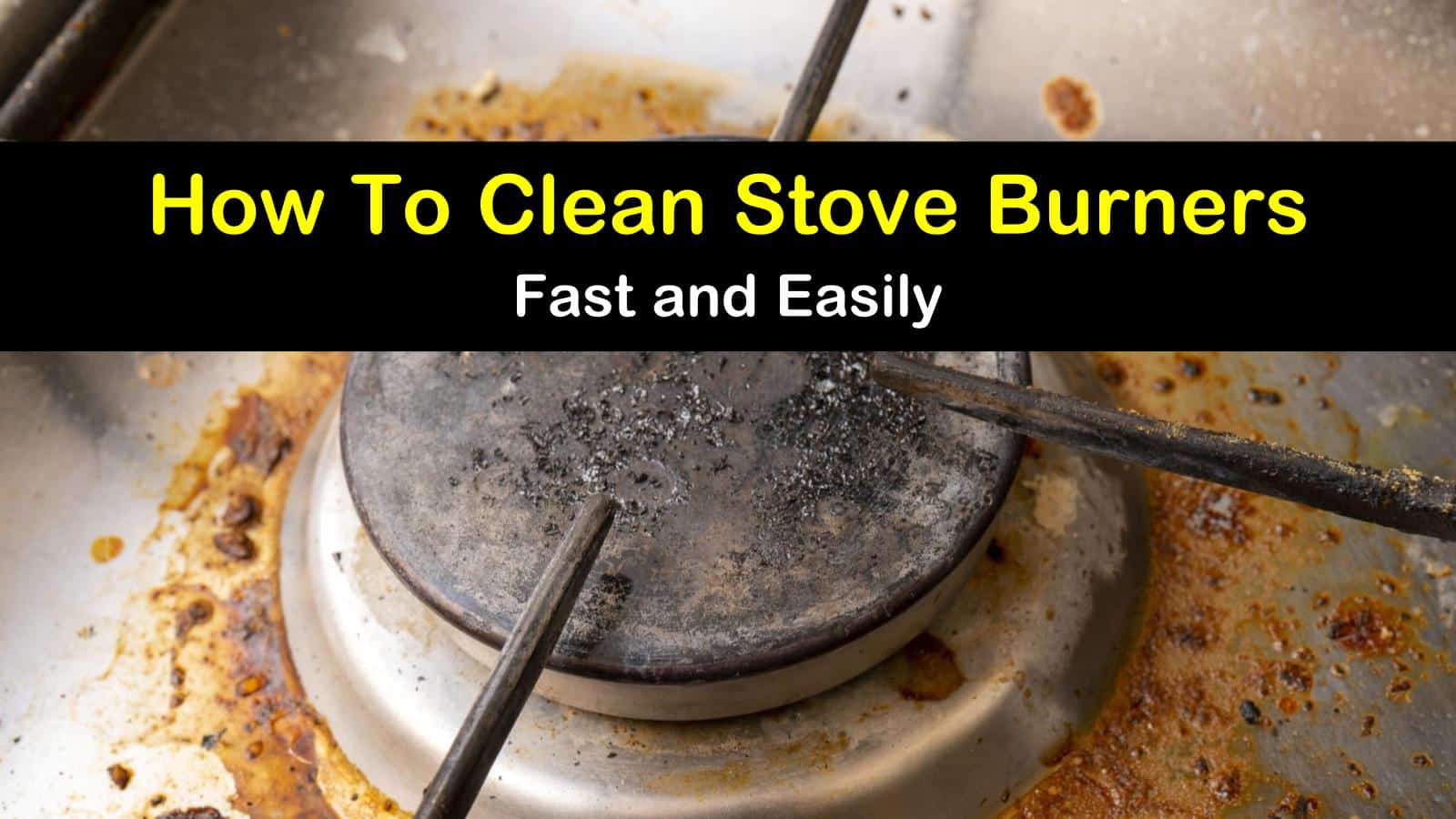 Cleaning Stove Top Burners Easily and Quickly
Learning how to clean stove burners properly is essential for two reasons. It keeps your kitchen looking and smelling nice, with no rotting food left laying around to spread nasty smells or bacteria.
Cleaning stove grates saves you money on repairs and new appliances. The cleaner you keep your cooktop, the longer it will last.
Are Commercial Cleaners the Best Way to Clean Stove Top Burners?
When learning how to clean stove burners, you probably learned all about using commercial cleaners to cut through grease and grime. A commercial oven cleaner is a great way to clean gas stove burner covers and other removable parts but must be done outside because of the fumes the cleaner emits.
Take all the pieces outside and place on newspaper, coat them with cleaner and allow to sit for several hours up to overnight. Wash in hot, soapy water in the morning using a rough sponge for non-coated grates and a soft rag for coated parts.
Although commercial oven cleaner is an excellent choice for cleaning gas stove burners, it is not the only option. Store-bought cleaners contain harsh chemicals that damage your stovetop's surface, grates, or burners.
In other cases, these cleaners emit toxic fumes that could make you sick if not used in well-ventilated areas. Rather than risk your health or the appearance of your appliances, use common ingredients you already have on hand for amazing results on your weekly housecleaning checklist.
Clean Gas Stove Burner Heads with Ammonia
Caked on messes on gas burner heads or grates are no match for ammonia. To use ammonia to cut through cooked on grime, remove all the parts from the stovetop and place into a large Ziploc bag. Add enough ammonia to fill the bag about halfway and seal.
Lay the bags containing the grates and ammonia flat outside, so the liquid covers the burner heads and grates and allow soaking overnight. Rinse with warm water the next day and place back on the stove.
Now, you have clean gas stove top grates and burner heads to add to your already clean stovetop. The entire surface will shine.
How to Clean Stove Burners with White Vinegar
White vinegar is a common ingredient in a homemade glass stove top cleaner, but its cleaning effectiveness doesn't stop there. Use vinegar daily to help cut through grease before it backs up on gas burners. Electric stovetops also benefit from daily spraying of white vinegar, as will your countertops.
Vinegar will be effective in cleaning most spills and stains. Use it to remove burnt milk from a glass stove top along with other burnt on food spills.
When using vinegar to clean stove tops, mix one part vinegar with two parts water inside a spray bottle. Shake to mix and spray directly on the stovetop. Allow the solution to sit for up to 15 minutes, then wipe down with paper towels.
Use this solution as one of the many ways to clean burner pans, too. These pans are designed to collect gunk while you are cooking and can really get dirty quickly. Take them off the stove, spritz them down and wipe clean. Heavily soiled pans may require soaking.
Best Way to Clean Stove Top Burners with Baking Soda and Hydrogen Peroxide
Baking soda and hydrogen peroxide not only leave your stove top sparkling, but they are also tough enough to use when cleaning a scorched pan. The same way you use these two common ingredients to clean your stovetop is how you clean your pan.
Wipe off any loose debris on your stovetop with a dry rag. Sprinkle the entire surface with baking soda. Yes, you can leave the burners and grates in place.
Drizzle hydrogen peroxide over the baking soda. The hydrogen peroxide causes the baking soda to fizz, which breaks down any cooked-on gunk. Rinse with a clean sponge and dry.
Dish Soap and Baking Soda Drip Pan Cleaner
Mix baking soda and dish soap using equal parts of each until it has a foamy texture and a consistency similar to frosting. Apply the mixture with a clean cloth to drip pans. Scrub each drip pan to help loosen everything.
To clean your drip pans, dish soap and baking soda are ideal. Seal drip pans inside plastic bags for one hour. Remove from the bags and use a wet sponge to scrub everything away. Rinse the sponge as needed in clean water.
Clean Burners with Soap and Water
The great thing about using soap and hot water to clean up your stove tops is it is safe to use on just about everything, including stainless steel. You can use a cleaning spray for steel if you like, but following the grain with a soft soapy rag works just as well, if not better.
When cleaning electric stove burners, the first step is removing the electric burners from the stovetop. Wipe off food residue from burner coils with a hot, soapy rag. For stuck-on reside, use a thick paste of baking soda and water.
Apply the baking soda paste directly on the gunk and allow it to sit for 20 minutes. Use a scrubber when cleaning burners, rinse with clear water and allow to air dry before replacing.
Soap and water is also the best way to clean a cook top, as long as there aren't any burned-on food stains. It is ideal for greasy spots and general cleaning and leaves you with a nice shiny cooking surface again in no time.
Safe and Effective Cast Iron Gas Burner Cleaner
Wash grates and burners in soapy water, rinse with clear hot water and dry before placing them back on the stovetop. If they are enamel coated, the burners and grates may also be cleaned inside the dishwasher on the bottom rack. For burned-on gunk, dilute some liquid cleanser and allow burner caps and grates to soak for several hours.
Scrub clean with a non-metallic soap-filled scouring pad. Soaking in a ¼ cup of ammonia inside a sealed container for 3 hours is also effective at removing cooked-on debris.
Cleaning Gas Stove Burners with Baking Soda
Baking soda by itself is a powerful cleaner, but you can also combine it with other household ingredients to improve its cleaning power. Different combinations are more effective on different types of stovetops.
Lemon is a natural grease cutter, so combine that with the power of baking soda, and you should be able to get through some of the worst baked-on stains. Baking soda is also fine enough to be used on glass stove tops without scratching the glass. To clean your glass or gas stovetop, sprinkle the entire surface with baking soda.
Slice a lemon in half and rub the baking soda covered surface with the lemon. Wipe clean with a clean, damp cloth several times until all lemon pulp and baking soda residue is gone.
For more abrasive cleaning products, stir one tablespoon salt and one tablespoon baking soda. Once blended, add one tablespoon of water to form a thick paste.
Apply to your gas range with a rag, scrubbing to remove any baked-on mess. For stubborn baked-on messes on your gas stove top, use a razor blade and scrape away at any stuck-on stains. Wipe down as usual.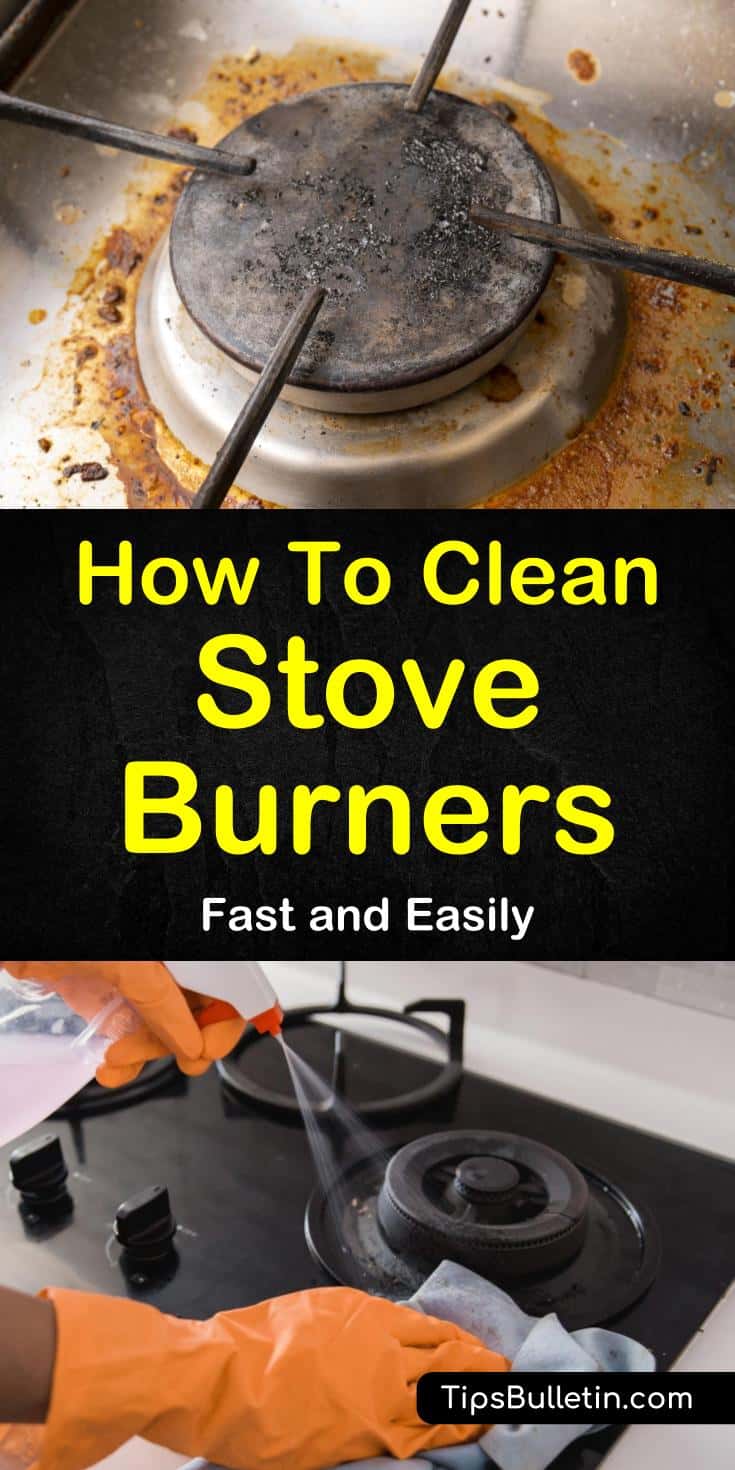 Hopefully, you enjoyed learning the best way to clean stove top burners. If you found any of these stove top cleaning tips helpful, please share with others on Facebook and Pinterest so they can learn how to clean stove burners quickly and easily, too.