Understanding how to compost banana peels provides an effortless way to pack more nutrition into your finished compost and make the most of every part of this tasty fruit. Whether you use a worm bin composter in a small space, have a conventional outdoor compost bin, or a large-scale compost trench system, composting banana peels makes sense.
Banana peels are loaded with the things plants need to grow, produce beautiful blooms, and set fruit. Healthy and well-fed plants are hardier and resist pests and diseases better than their underfed counterparts. Adding banana peel to your compost gives you a better finished product and a more effective fertilizer.
Whether you have a few indoor potted plants or a large vegetable garden, you can start composting indoors with banana peels as an ideal natural and organic fertilizer. Many growers ask, "Can you compost banana peels?" Banana peels are included in green or wet materials and are compostable as part of that group.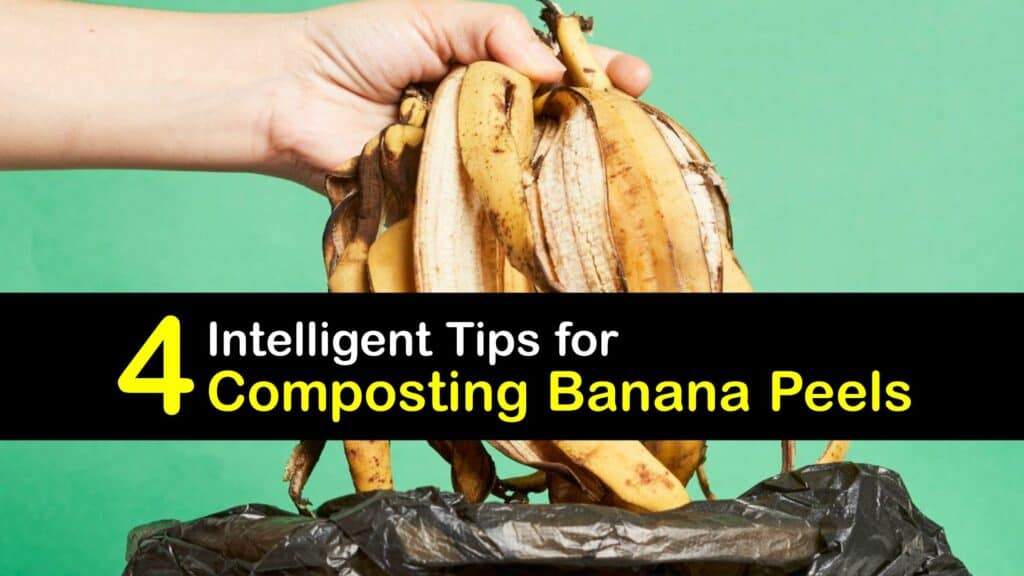 Brilliant Ideas for Composting Banana Peels
Bananas are a fruit favorite. After you learn the best way to keep bananas fresh and use them in a favorite recipe (or eat them as is), don't throw away the peels. Learn how to compost banana peels to increase the quality of your finished compost and reduce your food waste.
Composting banana peels is a cost-effective and straightforward method to add more sustenance to your compost and reduce the number of food scraps you send to the landfill. Whether you are composting in an apartment or have a bin or pile in your yard, take advantage of kitchen waste you would probably otherwise throw away.
Note that there is a difference between compost vs topsoil. You are going to create something "new" with compost, while topsoil is the actual dirt you plant your crops in.
Can you compost banana peels is a common question as more people focus on helping the environment. Adding banana peels to compost is excellent for garden and waste management, whether you choose to use a compost tumbler or prefer a compost pile or bin.
Can You Compost Banana Peels?
You may have wondered if you eat a lot of bananas, can banana peels be composted? You're not alone. Many gardeners are eager to know are banana peels good for compost, and fortunately, the answer is yes.
Whether you have a small piece of unwanted fruit, ripe banana peel, or overripe banana, include any of these things in the green matter of your compost system to provide higher quality food for your plants. Know what is compost and what cannot go in the bin to have the best fertilizer for the garden.
Don't worry if you see a few maggots in the compost pile. Maggots are ok in your compost in manageable numbers, as they help break down the materials in the bin.
Leftover Banana Peels and Their Nutrient Content
Plant growth requires nutrients from the soil. The composting process makes the nutrition in banana skin and other organic matter available in finished compost. When combined with garden soil or potting soil for indoor plants, it boosts them. Banana peels have several benefits when included in compost.
Compost made with banana peel, as well as steer manure or compost, is richer and gives plants more building blocks for growth, developing a healthy root system, fruiting, and flowers. Use the compost for fertilizing eggplant, potatoes, and squash, as well as other plants in your garden and watch them thrive.
How to Compost Banana Peels
Compost is made up of two categories of organic material. The way to make compost from kitchen waste includes green matter or wet materials that are high in nitrogen and fresher. Banana peels fall into this grouping along with other fruits, vegetable peels, cooked grains, and green grass clippings.
Brown material or dry matter consists of branches, dried leaves, and dead plant cuttings. It's also the way to compost newspaper. Compost is made by mixing green to brown matter in a ratio of 1:3 and allowing the mixture to decompose to release the beneficial compounds and make finished compost.
Establish a composting system by correctly combining green and brown materials in your compost pile or compost bin. Chop your overripe fruit or banana peel into small pieces to aid the composting procedure and add them to your system as part of the green ration.
Other Banana Peel Fertilizer Options
If you decide not to compost banana peels, other options are available to get the most from these nutritious food scraps for your plants. All banana fertilizer methods provide compounds your potted plant, tomato plant, or floral requires for growth.
Banana peel compost tea, often known as banana peel water fertilizer, is a liquid fertilizer option and is one of the best compost tea recipes. This fertilizer tea is an excellent way to give your plants nutrition from banana peels if you don't have a compost system.
To prepare banana tea, add the banana peels to a pan and water until covered. Bring the mixture to a boil. Pour the banana water around the bases of your plants in place of regular watering.
Add eggshells for even more nutrients. Prepare eggshells and banana peels for tomatoes and other plants in your veggie garden. A big harvest will follow.
If you prefer granular fertilizer, try powdered banana peel fertilizer. Dry banana peels by leaving them out in the sun or cooking on low heat until firm to the touch. Grind the dried banana peel to a powder and add to the bases of plants before watering.
Put banana peels in compost to reduce food waste and add nutrients to the resulting organic fertilizer to feed your garden plants. Rather than leaving overripe fruit on the counter or peels in the trash bin to attract fruit flies and release a foul odor, upcycle them into banana peel compost to save money on commercial fertilizer and keep your garden organic.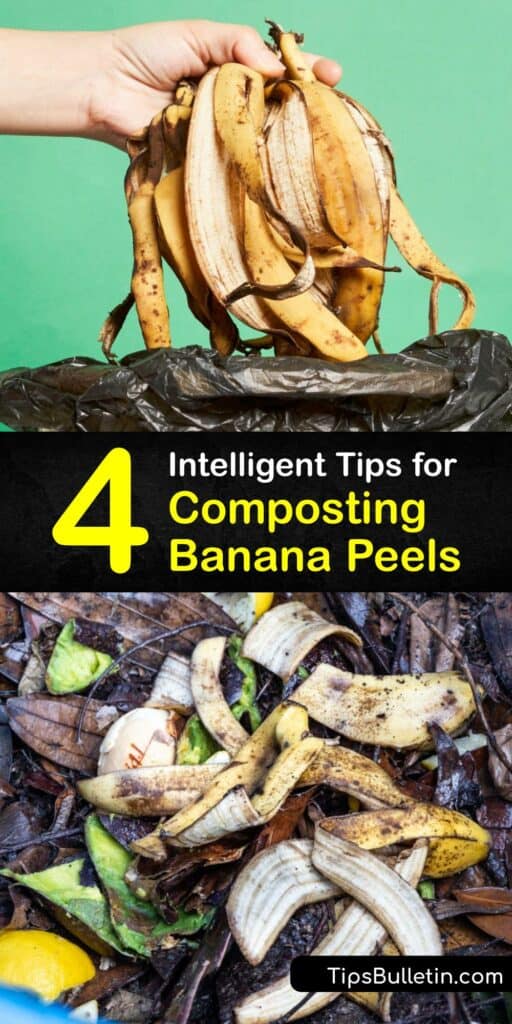 If you loved this article on how to compost banana peels, please share these brilliant tips for composting banana peels with your friends and family on Pinterest and Facebook.