Asparagus is a vegetable that not only tastes delicious but is also good for you. That's why you don't want to waste any of it when you have it. Luckily, learning how to freeze asparagus is easy. Asparagus is nutrient-rich and is an excellent source of vitamins A, C, E, and K, fiber, folate, and chromium.
It is also very versatile for a vegetable. You can serve it as a side with just some salt and butter, or you can add it to a stir-fry or make asparagus soup. One thing you need to be careful of when freezing this vegetable is that it can quickly go mushy if you don't do it properly.
That might be surprising, considering how firm asparagus spears are when you buy them from the farmer's market. By following this guide on the best way to freeze asparagus, you'll never have to worry about this delicious, nutrient-rich vegetable going bad ever again.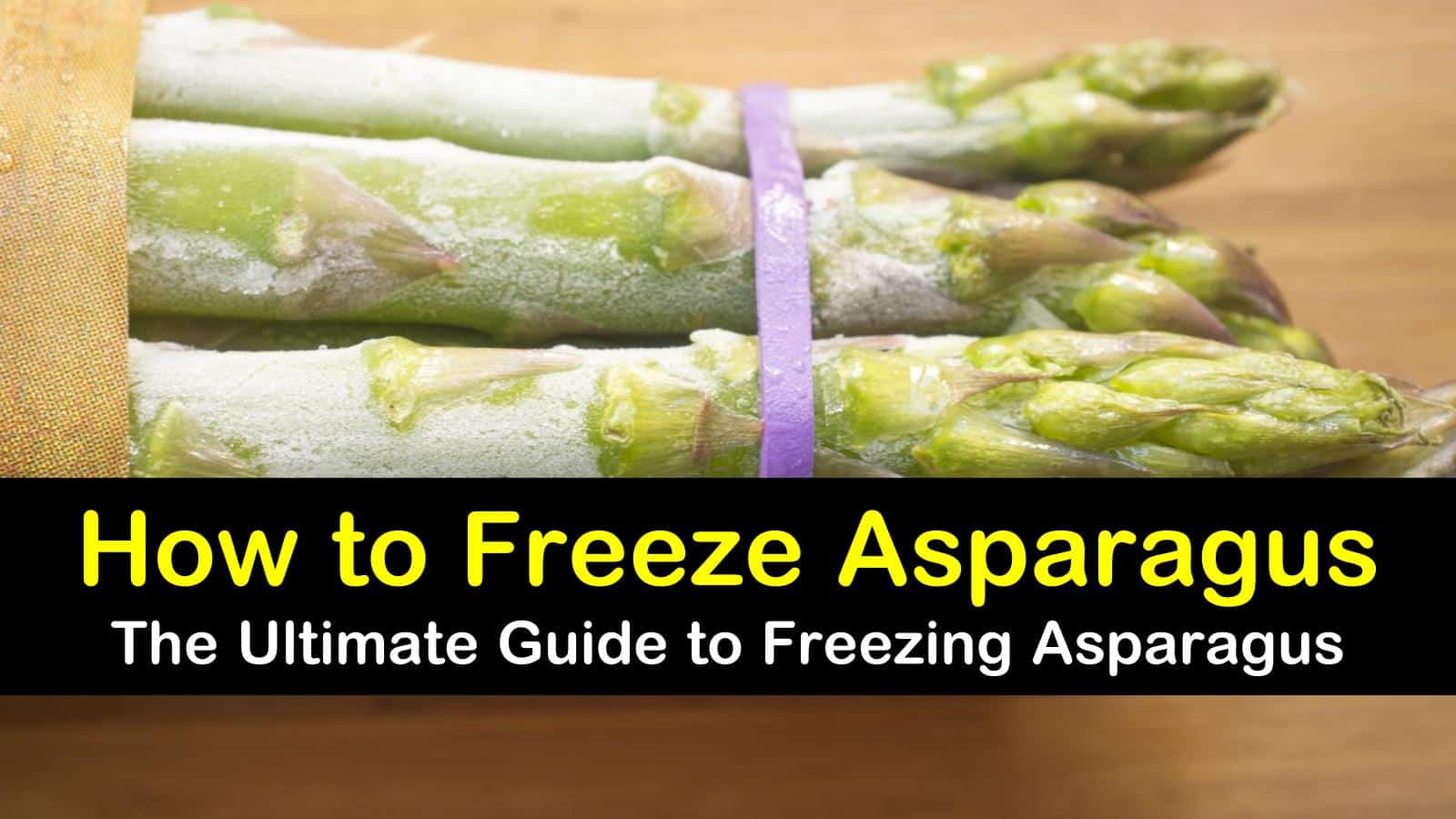 Freeze Asparagus
How long does asparagus last in the fridge? What about fresh asparagus on the counter?
If you've ever asked yourself, "Can I freeze asparagus?" The answer is yes! Frozen asparagus is an excellent way to preserve the veggie for your favorite recipes later.
When freezing asparagus, it is best to buy some that are freshly harvested so that it's still at its tastiest when you take it out of the freezer.
Once you have your veggies, you need to properly prep the spears and make sure you have all of the appliances you need for proper freezing.
There is a wide variety of fresh produce that you can freeze for later use. Can you freeze green beans? Of course. What about celery or peaches? Sure. Be sure to follow the proper procedures for freezing your food and it will last until you need it for your favorite recipe.
Rinse the asparagus in cold water and sort the spears by the diameter. Keep small spears together, medium spears together and large spears together, as the size of the asparagus will dictate blanching time. Remove the scales on the stalk with a sharp knife and cut them into even two or three-inch pieces for freezing.
Freezing Asparagus after Blanching
To make sure your frozen asparagus is the best quality, you need to blanch it before freezing. Blanching ensures that the enzymes and bacteria in the vegetable do not break down the nutrients over time. If you don't blanch, you risk that the flavor, texture, and color of the asparagus will change.
This is the same process you must follow when you preserve corn on the cob and is also the best way to freeze potatoes. Put a pot of water on the stove and then fill a large bowl with ice water. Per each pound of asparagus, use one gallon of water for blanching.
The amount of time you need to spend blanching asparagus depends on the size of the spears and how much asparagus you are using.
The times listed are long enough to kill the bacteria without truly starting the cooking process. To blanch your asparagus, place them in a blanching basket and place it into boiling water. Put the lid on the blancher and allow the water to return to a boil.
If this doesn't happen within one minute, then you have too much asparagus compared to water. Begin counting down the specified time once the water returns to a boil, keeping the burner set to high heat.
You can reuse this water up to five times, though you should continue to add hot water to ensure the water to asparagus ratio remains the same.
How to Store Asparagus
After you have finished blanching the asparagus, let it cool and learn how to store asparagus in the freezer. To cool the asparagus, take it out of the boiling water and give it an ice bath, dipping it into the ice water you've set aside.Allow the veggies to cool in the ice water for the same amount of time that you blanched them.
After the set amount of time, drain them thoroughly. Next, you need to bag the asparagus. Ideally, a vacuum sealer is the best way to store asparagus or for freezing raw celery, but if you don't have one, then Ziploc bags work just fine!
Remove as much air as you can from each bag to prevent freezer burn. Now you're ready to pop your asparagus in the freezer. If you have one, place your bag of veggies on the quick freeze shelf.
Of course, there are other ways to preserve asparagus without freezing it. You may choose to pickle asparagus for a zesty treat or can asparagus to keep for a favorite recipe at a later date.
How to Thaw Frozen Asparagus
How long is asparagus good for in the freezer? Though frozen asparagus can stay in the freezer indefinitely, we recommend eating it within 12 months of storing for the best flavor.
Ensure your freezer is airtight and does not go through thaw cycles, as this will diminish the quality of the asparagus.
One thing you might not expect when answering the question, "Can you freeze asparagus?" is how you use it once you take it out of the freezer. Unlike when you're freezing blue cheese or sour cream or freezing goat milk and cheese, you don't have to allow asparagus to thaw.
You can throw the frozen asparagus into your favorite recipes as is. This makes freezing asparagus and other vegetables a must if you have extras. You'll always have what you need when you need it.
Favorite Recipe with Frozen Asparagus
There are so many delicious recipes that require asparagus that your options are endless. One of our favorites is this garlic Parmesan roasted asparagus dish.
Preheat your oven to 425°F and use aluminum foil to line a cookie sheet. If you didn't do so before freezing, trim the bottom ends of your asparagus spears. Spread the stalks of asparagus in a single layer on the baking sheet.
Lightly coat the asparagus with olive oil and sprinkle with pepper, salt, Parmesan cheese, and garlic. Mix with your hands to make sure all of the ingredients are evenly coated. Spread the asparagus spears into an even layer again and spray with more olive oil. Bake for eight minutes and enjoy!
Freezing your vegetables is excellent for cutting down on food waste. If you follow the directions correctly, your frozen asparagus will taste as good as if it were served fresh! When you bring it out of the freezer, your asparagus will be ready to go in any of your favorite recipes.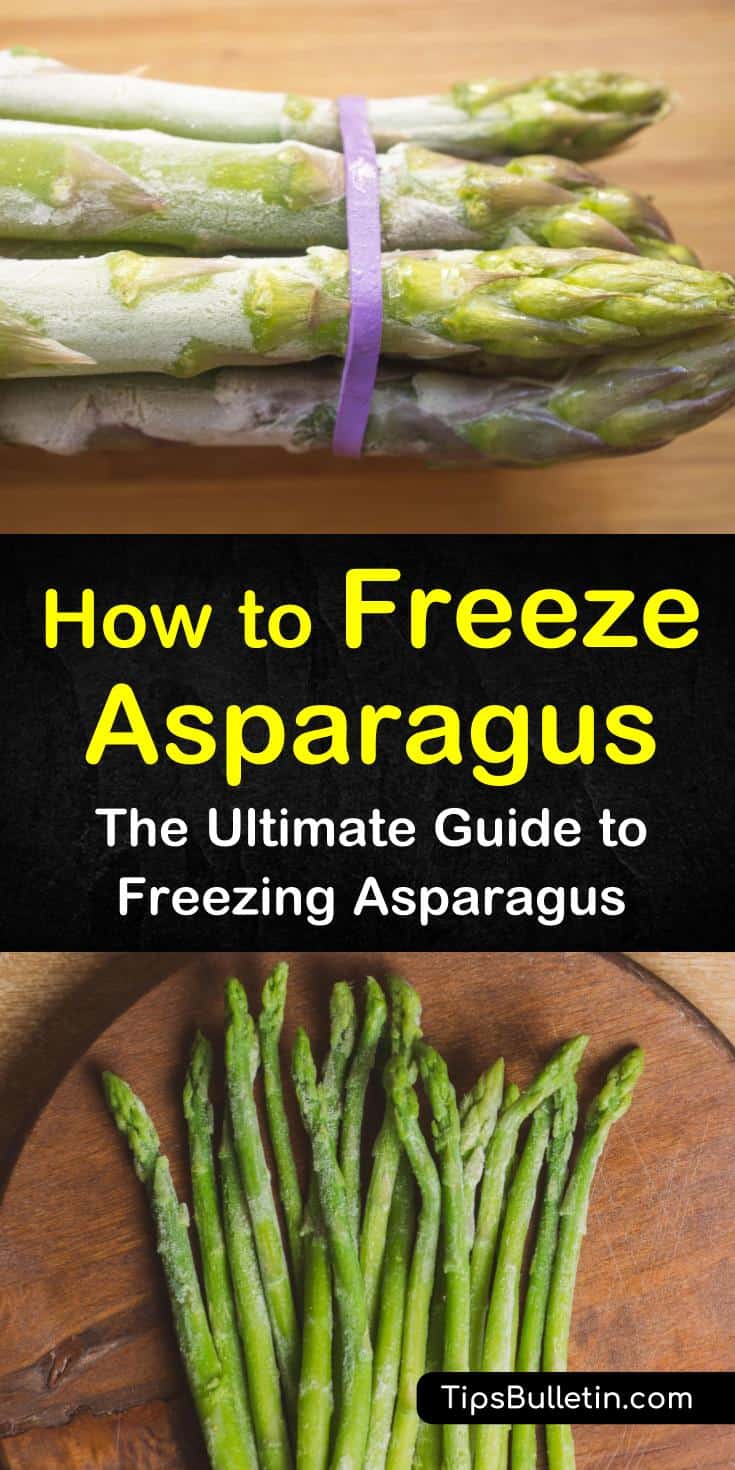 If you enjoyed this guide on how to freeze asparagus, then share our vegetable freezing tips with your friends and family on Pinterest and Facebook!