The carpet and upholstery in your vehicle are prime places for mold to grow. When your car carpet smells like mildew, your automobile seems unclean, and the air you and your passengers breathe is potentially contaminated with mold spores. Discover how to get a mildew smell out of car carpet so your vehicle always smells pleasant.
Rain from leaky window and door seals, wet shoes, and liquid spills create excess moisture in your car interior. This dampness combines with the poor ventilation found in a sealed-up car. It creates a perfect environment for mold spores to develop.
Fortunately, learning how to remove a musty smell from car carpet is straightforward. Though there is a range of commercial products to clean mold out of your car carpets, it's easy to craft your own cleaners and odor removers. Save time and funds by using home remedies to remove the mold and mildew smell in the carpet and seats of your vehicle.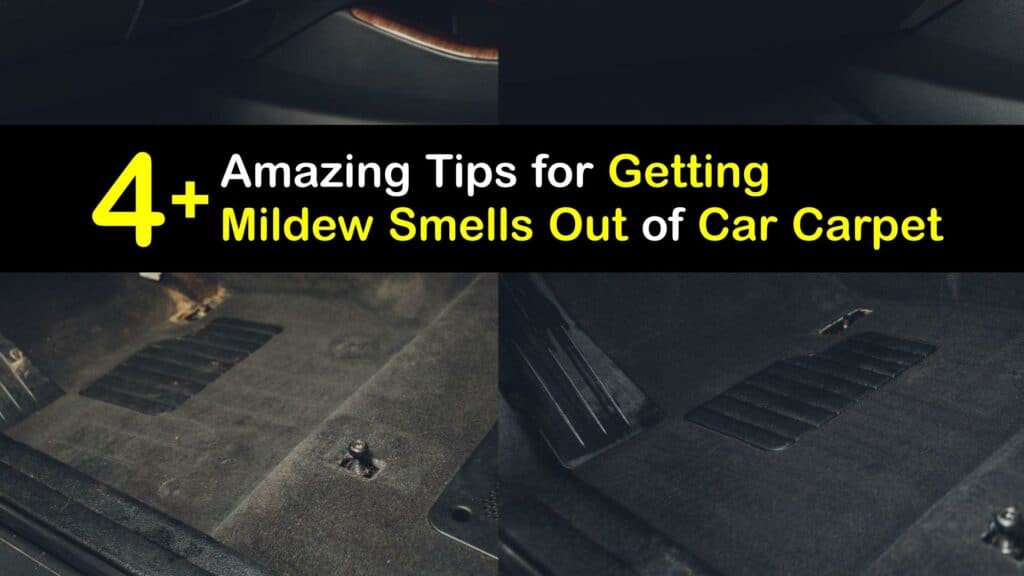 How to Remove a Musty Smell From Car Carpet
Vehicle interiors are common locations for mold and mildew build-up, and most drivers notice a musty, moldy odor. Knowing how to get a mildew smell out of car carpet saves you the embarrassment of a smelly car. If your car carpet smells like mildew, choose a simple technique to clear the air and make your car a fun way to travel again.
Getting Mildew Smells Out of Car Carpet
Your car carpet is a prime target for mold growth, as is your vehicle's air conditioning system. Mold thrives with excess moisture and a lack of ventilation. When your car isn't in use, and the windows and doors are closed, any areas of wet carpet rapidly become home to mold.
No matter how regularly you clean your car, wet shoes, rain, and other spills leave it susceptible to mold. A musty or moldy smell is the most noticeable indicator of molding. However, you may see dusty, powdery, or fuzzy growths on the upholstery.
Reduce the likelihood of mold on your car carpet by limiting moisture and cleaning regularly. Remove mildew smell from car as soon as you notice it to prevent further mold growth.
How to Get a Mildew Smell Out of Car Carpet
Air fresheners are fantastic; sometimes, you need a vehicle that smells fresh without investing much time. Rather than purchasing expensive store-bought air fresheners containing toxic chemicals, mix a natural air freshener and personalize your car's scent profile.
There are dozens of essential oil scents to choose from; select your favorite or mix several to create something unique.
Mix the oils and water in the sprayer and spritz into the air as needed to mask odors. While air fresheners are great for concealing a moldy carpet smell or for taking care of other stinky problems, it's important to remember they don't remove or kill mold.
Use a DIY air freshener in a pinch to make your car smell nice, but be sure to go back later with a homemade cleaning solution for car interior to keep the air and the surfaces in your car clean and healthy.
Try White Vinegar When Your Car Carpet Smells Like Mildew
Create a simple car mold remover spray using distilled white vinegar and water. It's exceptionally effective to clean mold out of car interior, as well as the unfortunate smell. White vinegar is often used for heavy-duty cleaning and dealing with bad odor.
Thanks to its mild acidity, distilled white vinegar destroys mold spores while deodorizing a car's interior surfaces.
Spray the inside surfaces of your automobile with the vinegar solution after carefully pouring it into a spray canister. White vinegar is a powerful odor remover that gets rid of the musty smell from hard surfaces like your dash and cup holders, as well as fabric and leather upholstery.
After spraying the flooring to treat mold on the carpet, let your vehicle air out to dry and clear out the vinegar smell. If you find a specific odor source, re-treat the affected area to ensure you kill all mold.
Removing a Musty Smell From Car Carpet
Cleaning car upholstery with a carpet cleaner or steam cleaner is a brilliant way to erase an unpleasant smell and bring mold growth to a halt. Carpet cleaning reaches deep into the fabric to destroy mould spores and remove the bad smell at the source.
Carpet clean all cloth surfaces, including seats and the carpet beneath the rubber mat in the foot well. Let your car air out naturally by opening the windows and doors to allow air to circulate.
Deep clean your vehicle with a carpet or steam cleaner as part of regular car maintenance to prevent mold spores from building up and causing a musty odor.
Homemade Car Odor Eliminator to Oust Mildew Odor
Odor eaters work fast to erase car odor. If you don't have time for deep cleaning or to craft a mildew remover spray, set an odor eater in your car overnight as one of the ways to get the musty smell out of a car to absorb the mold odor.
Choose whatever odor-absorbing substance you have available. Coffee grounds give your car interior a gentle coffee aroma, while activated charcoal is the longest-lasting odor eater.
Add a few teaspoons of powder to small mesh baggies or little containers and set them inside your car to soak up the mold smell. Change out the powder when you notice the odor is no longer controlled.
Once you understand how to remove a musty smell from car carpet, ensuring your vehicle smells fresh is effortless. A bad car smell is off-putting and makes car rides unpleasant. Use home remedies to address mold as soon as it happens, using household products to save time and money.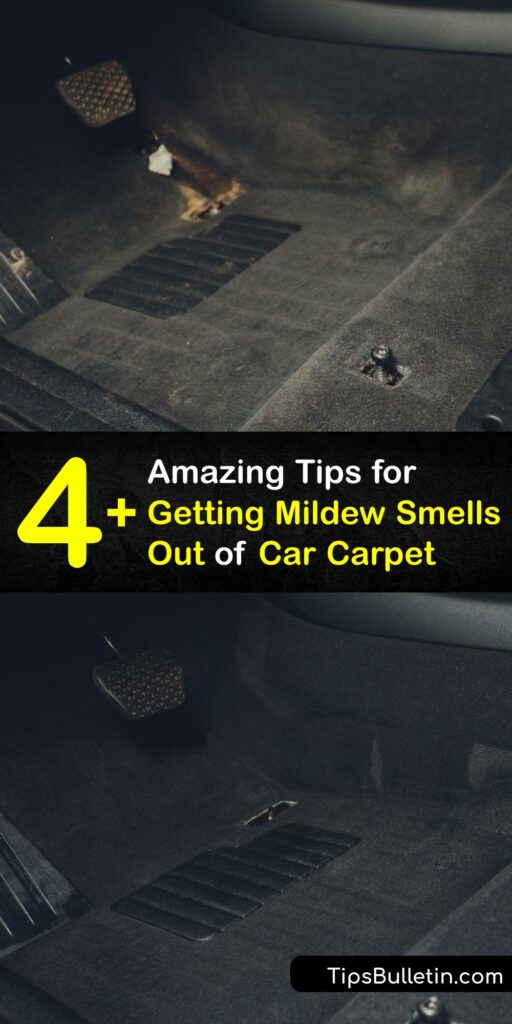 If you liked this informative article on how to get a mildew smell out of car carpet, please share these remarkable tricks on how to remove a musty smell from car carpet with your family and close friends on Pinterest and Facebook.