Termites can be a real headache, but getting rid of them is totally doable.
Identify termite-infested areas in my home and yard.
Use natural remedies like orange oil and diatomaceous earth.
Apply boric acid to soil with termite activity.
Set up a cardboard trap to pinpoint termite locations.
Prevent future infestations with regular inspections and yard maintenance.
I've discovered that inspecting my home and yard thoroughly helps me find where termites are causing trouble. By using natural remedies like orange oil, which termites can't stand because of the compound D-limonene, I effectively target the pests. I drill holes in the infested areas and apply the oil directly, which is both safe and efficient.
If I notice termites in my yard's soil, I sprinkle boric acid around the area, which is a highly effective and inexpensive way to kill termites. It clings to them and gets ingested, successfully tackling the infestation.
Cardboard traps are a genius and cost-saving trick. Termites are attracted to the cellulose in the cardboard, making it easy to locate their nest. Once I find the termites, I remove the bait and burn it, ensuring the termites are dealt with.
Lastly, to prevent future heartache from termite damage, I stay vigilant and perform annual inspections. Keeping my yard clean of old wood and fixing moisture issues near my home's foundation are key preventative steps. Maintaining my property like this is a small investment of time that saves me lots of money in the long run.
Termites are common pests in homes, particularly in warm and damp climates. While wood and subterranean termites seem challenging to eliminate, it's possible to kill termites using the proper methods. Learn how to get rid of termites in your house and yard and prevent them from returning.
We deal with many pests in and around the home, from carpenter ants to bed bugs. However, wood termites cause billions of dollars worth of damage each year, and a termite infestation is a homeowner's worst nightmare.
There are three main types of termites: the subterranean termite, drywood termite, and dampwood termite, and they are all a nuisance in their own way. Whichever type you have, it's vital to immediately deal with the termite problem to prevent an infestation from ruining your yard or the structure of your home.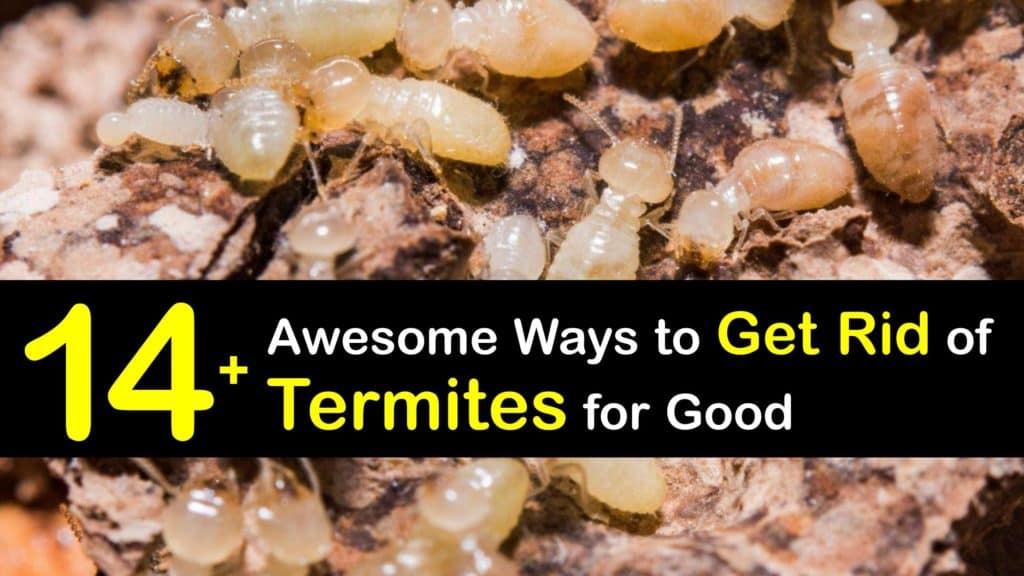 Ways to Eliminate and Prevent Termites
Learn what termites are and why their presence is a concern. These insects multiply quickly, and before you know it, you're dealing with many termite colonies. Fortunately, there are easy pest control steps to prevent termites from becoming a problem, whether you grow termite repellent plants or use a DIY solution. Discover ways to get rid of a termite colony using commercial and natural home remedies and tips for preventing future infestations.
What are Termites and Why are They a Problem?
Termites play a part in nature since they recycle wood into the soil by feeding on the cell wall of plants. However, their feeding practices cause problems in certain areas, and they are active non-stop. Find out more about these insects and their destructive habits.
Subterranean termites spend their time in the dirt and travel through mud tubes to trees, fence posts, and other food sources. Drywood termites live in dead trees, structures, and other wood forms, while dampwood termites prefer living in wood with high moisture content.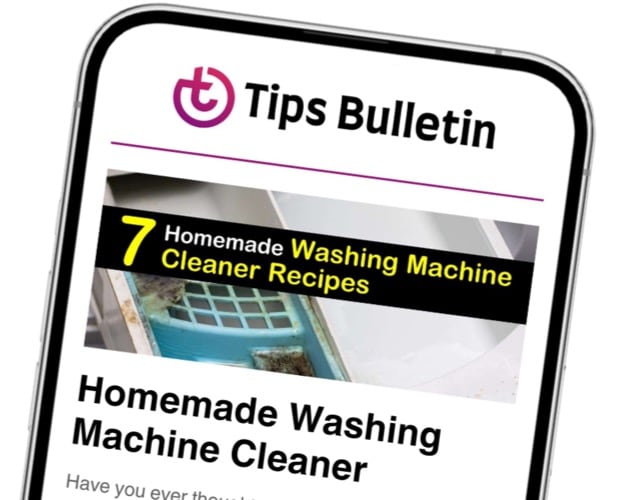 Finally, an email that Transforms Your Home.
Get the latest home and garden tips from our experts, delivered straight to your inbox.
All types are destructive since they constantly gather food from wood, digest it, and share it with termite soldiers and the queen.
Two types that commonly invade the home are the worker and swarmer termite or flying termite. The worker termite is cream-colored and is the one you see when the mud tube or infested wood is broken. The swarmer termite is a winged termite that loses its wings shortly after its emergence, and it is dark brown or black.
Are There Natural Ways to Get Rid of Termites?
While your local garden center or hardware store carries an ample supply of insecticides, these products contain chemicals you may not feel comfortable using around your home. Fortunately, there are many natural ways to get rid of termites.
Many essential oils contain insect-repelling qualities, and they are great for keeping termites at bay. Cedarwood, orange, tea tree, clove bud, and garlic are good examples of oils that termites cannot stand.
Some plants keep termites away from your yard, and they are perfect for creating a natural barrier around your home. These include catnip, mint, marigolds, scented geraniums, vetiver grass, and daisies. These plants do not kill centipedes either but they don't appreciate the scents like we do.
Ways to Tell if You Have a Termite Infestation
The first step in termite control is determining whether you have an infestation. Termites hide in the ground and wooden structures, and they are not always noticeable. However, here are some tell-tale signs that your yard or home is infested with termites.
An obvious sign of these insects is the presence of swarmers or flying termites inside house areas. These are the young male and female winged termites, and it's not long before they lose their wings. Frass, or termite droppings, is another sign of termite activity. If you spot wood-colored piles that resemble pellets, you may have a termite infestation.
Subterranean termites make themselves known with mud tubes made of soil, wood, and debris, and you may notice them around the foundation of your house. Another indication of termites is bubbling or uneven paint due to moisture build-up in the wall.
Best Way to Get Rid of Termites in Soil
The subterranean termite builds the largest nests of any insect in the United States. They connect their nests to food sources through mud tubes, which signify that you have a termite problem. Learn the best way to get rid of termites in soil with boric acid.
Eliminating Soil Termites
Start by walking around your yard and mark all the areas where you notice termite activity, such as mounds, infested woodpiles, and mud tubes. Spread boric acid over these areas, making sure to get inside crevices and cracks.
The powder clings to the termite's body as they walk over it, causing them to die after grooming themselves and ingesting it.
How to Get Rid of Termites in a Tree
Formosan subterranean termites attack living trees by entering through the base and eating their way up, and mud tubes around the tree's base are indicators that you have a problem. Here are several home remedies for getting rid of termites to save your favorite trees.
For a mild to moderate infestation, the way to treat termites is to sprinkle imidacloprid granules around the tree's base and water them with a hose to help the insecticide seep into the soil. If you discover a nest in the crack of the tree, apply a non-repellent insecticide foam into the area by following the manufacturer's instructions.
To eliminate termites fast, consider using a chemical termiticide treatment. Spray the liquid in a three-foot radius around the tree base to kill them within 24-hours. Prune away the infested branches with a hand saw and burn them to prevent reinfestation.
Getting Rid of Termites in a Wall
A termite problem in the yard is bad enough, but termites inside your home is another problem altogether since these pests quickly destroy wood. Here are a couple of natural ways to get rid of termites in your home's walls.
Set up a cardboard trap if you're unsure where the termites are located in the wall. Wet strips of cardboard, stack them on top of each other, and place them near areas where you suspect a termite nest. Once the termites are trapped within the cardboard, take it to a safe space and burn it.
If you discover the wall is infested, consider using a liquid non-repellent spray like Taurus SC Termiticide or Termidor SC to kill them faster. Follow the directions on the label and spray the insecticide over areas where the termites travel.
Using a Bait Station to Kill Termites
The best way to get rid of termites and the best DIY bait for carpenter ants without spraying chemicals around your home is to use bait stations. These handy traps lure the bugs with bait, poisoning them when they get back to the colony, causing more termites to die.
Put equal amounts sugar and boric acid into a disposable container and mix the ingredients well. Pour the poison termite bait on a piece of cardboard and place it near the infested spot. If you're unsure of the nest's location, make several stations and set them throughout the area.
Eliminating Termites with Orange Oil
Another easy way to kill termites is to use an orange oil treatment. The oil contains D-limonene that breaks down the termite's exoskeleton and destroys termite eggs. Here is how to eliminate termites with this natural home remedy.
Orange Oil Termite Killer
For most effectiveness, drill holes in the affected wood and squeeze several drops of orange oil into the space where the termites feed. Repeat every few days until the termites are gone. The orange oil kills a majority of the pests on contact, and the rest of them starve since the oil deters them from feeding.
Using Extreme Temperatures to Get Rid of Termites
Extreme heat and cold kill off a termite population naturally, and using heat to kill these pests is very simple. This method works well to kill termites in the yard, and all you need is a large pot of water.
If you have a termites nest in the yard, boil a pot of water and pour it carefully into a watering can. Pour the boiling water into the colony underground to kill them. Repeat these steps in a week and check to ensure all termites are gone.
Make a Natural Termite Spray with Garlic Oil
Garlic oil has insecticidal properties that work wonders for getting rid of termites. While this method works slower than other techniques, it is simple to prepare and is ideal for eliminating a small termite colony.
Fill a bottle with water and add several drops of garlic oil to make your termite deterrent. Shake the container well and use this termite repellent spray on the infected areas to get rid of termites. If you're dealing with an infestation, consider adding clove oil to the spray to make it more powerful.
Getting Rid of Termites with Neem Oil
Neem oil is a popular insecticide that kills everything from aphids and mites to thrips and termites. The oil is a derivative of the Neem tree, and it's a naturally occurring pesticide that effectively eliminates a termite colony.
Pour some Neem oil onto a cotton ball and wipe it over the infested area or inject it inside the wood. Make sure to cover the areas where the termites feed to encourage them to eat the oil and repeat with several applications until the pests are gone.
Getting Rid of Termites with Parasitic Nematodes
Beneficial nematodes are microscopic parasites that burrow into the termite's body. Once inside, they release a bacteria that poisons the termites to death. The process only takes a few days, and it's easy to apply with a spray bottle.
To introduce a beneficial nematode to the infected soil or wood, follow the instructions on the manufacturer's label for specific measurements. Combine the nematodes with water in a spray bottle and apply it over the soil or around the base of the tree.
Using Diatomaceous Earth to Eliminate Termites
Food-grade diatomaceous earth is a naturally occurring powder, and it's not toxic to humans and pets. It works to kill termites by destroying their outer shell, leading to dehydration and death.
When applying the powder, put on gloves and a mask, and spread a thin layer of diatomaceous earth over the infected areas. Try to get the powder into cracks and crevices and anywhere that you notice termite activity. Repeat this method daily until the pests are gone.
How to Prevent Termites in the Yard
Once you eliminate the termite colonies from your yard, it's time to take the necessary steps to ensure these pests do not return. Here are some clever tips to help you make your outdoor space less inviting to termites.
Outside Termite Prevention
The best way to prevent termites in the yard is to maintain the landscaping. Do wood chips attract termites? Well, they certainly don't deter them. Get rid of old tree stumps, wood, and other debris, remove wood mulch from around the foundation, and keep piles of firewood at least 30 feet away from your home.
Perform a thorough termite inspection each year as part of your yard maintenance to check for nests and termite damage.
Ways to Prevent Termites Inside Your Home
Treating your house for a termite infestation is not a fun experience, and if it happened once, it could happen twice. It's a good idea to secure your home to ensure a termite problem doesn't happen again.
Indoor Termite Prevention
Do a perimeter check of your house and check for moisture near the foundation. Avert water from an air conditioner or gutter with downspouts and splash blocks, and repair leaking faucets and pipes as soon as you discover them.
If your home has crawl spaces, reduce the moisture and humidity by installing vents. If you discover rotting or damaged wood, check it for termites and repair the wood as soon as possible.
Discovering a colony of termites in your home or another wooden structure is cause for concern. However, there are simple ways to get rid of these insects quickly as long as you understand what works to kill termites. With the right termite treatment and termite control method, your living space will be pest-free in no time.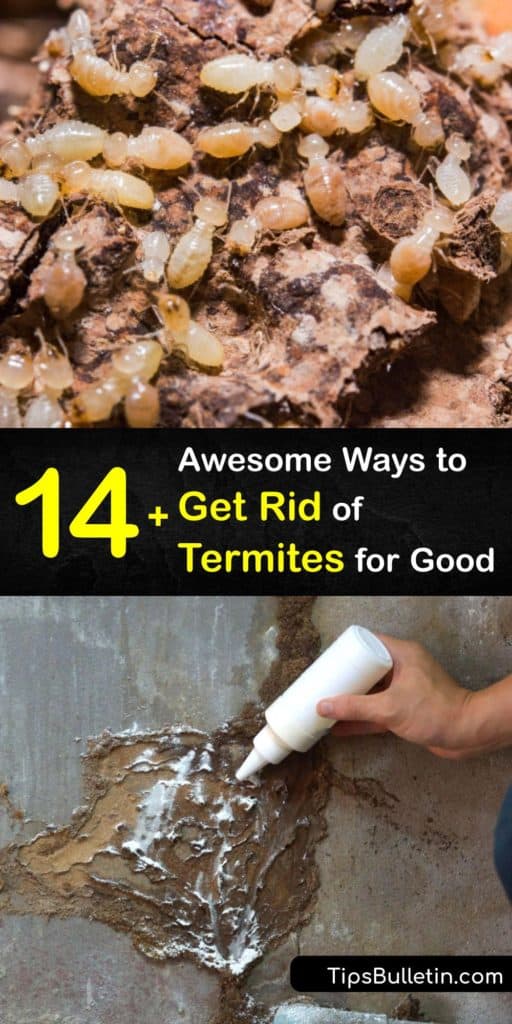 Now that you know how to get rid of termites to keep your home and yard free of these destructive pests, why not share our termite elimination and prevention guide with your family and friends on Pinterest and Facebook?