From white canvas sneakers to leather shoes, white shoes look lovely but are difficult to keep clean. Learn how to get yellow stains out of white shoes without spreading dirt with this guide of quick and easy approaches to clean white canvas shoes without turning them yellow.
With these simple suggestions for how to clean white shoes that turned yellow, easily remove yellow stains, including yellow soles and yellow bleach stains, or give your cherished pair a complete cleaning. Yellow marks or sweat stains on white sneakers, white Vans®, and other fabric shoes are ugly and daunting to clean.
Discover how to clean white shoes that turned yellow using products you probably already have around the house. There are options for how to remove yellow stains from shoes, whether you want to use a washing machine or remove stains by hand. Grab your household materials, including white vinegar, dish soap, and baking soda, as well as your favorite white shoes, and learn how to clean yellow stains on white shoes.
How to Remove Yellow Stains from Shoes Simply
Almost everyone has questioned how to get grass stains out of white shoes at some point. We've all experienced a yellow stain or an unwanted yellow shoe uncleanable by even the best laundry detergent.
A yellow stain is ugly and must be removed from your tennis shoes as quickly as possible; nevertheless, some treatments are better than others. If you use the wrong approach, you risk making the stain worse and lengthening the time it takes to restore your clean white shoes.
If you've ever wondered how to remove yellowing from shoes, there are a few simple steps to make the stain disappear. Learn how to clean white shoes that turned yellow with a few simple household items and a little patience.
How to Get Yellow Stains Out of White Shoes with Baking Soda
Baking soda is a great at home shoe cleaner to eliminate even the toughest yellow stains and leave you with clean sneakers. Baking soda cleans and whitens, making it perfect for brightening dull or yellowed shoes.
Clean white sneakers with baking soda and bring your shoes back to like-new condition.
Stir the water and baking soda until thick paste forms. Using an old toothbrush, scrub the stained area and any rubber parts, such as the yellow soles, using a circular motion. This baking soda paste is a great home remedy to whiten yellow soles on shoes and eliminate other types of stains.
Using lukewarm water, thoroughly rinse your white sneakers, washing away the yellowing. Stuff a paper towel in the toe areas to absorb extra moisture and hang the footwear to dry in a warm location.
How to Clean White Shoes that Turned Yellow – DIY Cleaner
This simple stain remover works on even the toughest yellow stains, using ingredients you probably already have in your household. It has a subtle aroma due to a few drops of your preferred essential oil and won't bleach most white shoes.
Lemon juice works in place of essential oil to provide a pleasant scent and extra cleaning power. Try the mixture on a small, discreet area before applying it to your shoe for optimal results.
Fill a spray canister with the contents and saturate the stained area with the liquid. Allow one minute for the cleaning fluid to soak into the yellow stain before scrubbing gently with an old toothbrush or clean cloth.
Rinse thoroughly with clean water and repeat if necessary. This simple DIY cleaning solution swiftly removes dirt and stubborn stains, leaving your clean white shoes pristine.
Toothpaste Works on Yellow-Stained Shoes
Toothpaste removes natural stains from teeth, such as food stuck between molars after eating, and keeps our teeth clean, making it an efficient shoe stain remover. Any toothpaste is ideal; make sure it's traditional rather than gel.
Get a soft-bristled brush or an old toothbrush. For a great way to get stains out of white shoes, apply a little toothpaste to the yellow discoloration and gently massage it in.
Rinse with clean water after washing and wipe with a clean cloth to remove any remaining moisture or undesirable yellow color. Repeat until there is no more yellow on your white canvas sneakers; your shoes will be stain-free and smell wonderfully minty.
Hydrogen Peroxide is Ideal for Cleaning White Shoes
Hydrogen peroxide is a savior when it comes to yellow stain removal. This standard household solution is helpful while learning how to remove yellow stains from shoes. Hydrogen peroxide is a powerful disinfectant and multi-use cleanser to brighten dull or stained surfaces.
Oxidizing agents like hydrogen peroxide break down yellow-colored components of chemical structures in a tenacious stain, and the yellow color is rendered unnoticeable. Make a solution with water to utilize hydrogen peroxide as a shoe cleaner.
To remove the stain in your white nylon mesh sneakers or other fabric, rub the mixture into the surface using a clean cloth, and scrub stubborn stains in circles with an old toothbrush to loosen dirt and help clean the undesired yellowing. Let your clean sneakers air dry after rinsing them with clean water.
White Vinegar for Ugly Yellow Shoe Stains
White vinegar is a concentrated cleaner to tackle even the toughest yellow stains. It's simple to clean a canvas or fabric sneaker with white vinegar. Because white vinegar is acidic, it's better to dilute it before using it to avoid damaging the shoes.
Dip a clean cloth into the diluted vinegar solution and squeeze it out. Allow the white vinegar to soak into the stubborn yellow discoloration for about half an hour. Scrub the stain using an old toothbrush to remove the vinegar, then rinse with cool water. The color lifts and rinses off easily, thanks to the white vinegar's cleaning properties.
Using a Magic Eraser
Magic Erasers are simple to use and effective on various dirt stains without requiring harmful chemicals. A Magic Eraser is an excellent choice to clean sneakers, especially the yellow soles.
The Magic Eraser is made of dense melamine foam with microscopic air spaces. To remove the toughest stains, soak the foam in water and rub it on your footwear. While Magic Erasers are helpful for quickly eliminating stains, be cautious when using them on your shoes.
Always test an area first to ensure no scratches or scuff marks are left behind. Because Magic Erasers are abrasive, they're ideal for cleaning yellow soles or rubber accents instead of suede or leather sneakers, as well as delicate regions like shoelaces.
Remove Yellow Stains with Concentrated Laundry Detergent
A light liquid laundry detergent used in a concentrated manner is a possible alternative to a mild detergent in removing these stains. This technique costs a little more, yet it may be a valuable option in a pinch.
The most effective bleach detergents for removing heavy stains without yellowing your white sneakers are color-safe bleach detergents. Yellowing is unsightly and only makes the issue of dirty sneakers worse. Always look for color-safe laundry detergent when planning to remove yellow stains.
Apply a substantial amount of laundry detergent to the yellow stain on your white shoes, rub it in with an old toothbrush, and leave it for 15-20 minutes before laundering on a regular cycle in the washing machine. Try a different cleaning approach or another brand of laundry detergent if the staining persists.
Clean White Shoes using Dish Soap
Dish soap is a simple and effective way to remove difficult yellow stains from white sneakers, and it's also safe to use on other types of canvas shoes. Dish soap is a fantastic alternative for cleaning leather sneakers because it refreshes without turning the leather more yellow.
Soak a cloth in the soapy solution and wipe your canvas shoes clean. Rub the soapy water into your shoes to eliminate any dirt or stains. To dry your clean white sneakers, pat them with a paper towel until they are free of moisture, then lay them somewhere warm to dry completely.
Remove Ugly Yellow Stains with Nail Polish Remover
More than just nails benefit from nail polish remover. Acetone, sometimes known as nail polish remover, removes stains and yellowing from white sneakers and other white footwear. Acetone is a color remover found in various household products, including personal care and cosmetics items.
Dip a paper towel into the acetone and gently massage the yellow stain on your shoes back and forth to allow the solution to perform its magic. Test a hidden area first before putting acetone on your boots, especially if you're cleaning a white suede or canvas sneaker.
If other cleaning ideas fail, a small patch of white nail polish repairs a badly damaged region on your white sneakers and restores them to their former splendor.
Baby Wipes for Getting Yellow Stains Out of White Shoes
Baby wipes are inexpensive and convenient, making them excellent for removing stubborn yellow stains as soon as they appear and preventing them from sinking into your white sneakers.
Baby wipes are gentle on the skin while cleaning, making them great for removing dirt without damaging shoes. As soon as the yellow stain appears, rub the baby wipe over it before it penetrates the material of your shoes.
Shaving Cream Cleans White Shoes that Turned Yellow
Shaving cream restores the luster of white shoes. The white foam cleans your sneakers and removes any yellowing. It doesn't matter if your shoes are leather or canvas; shaving cream performs well on both.
With your fingertips, apply a generous amount of shaving cream to the surface of both shoes. Allow a half-hour before scrubbing the shoes using an old toothbrush, giving special care to stained or unclean areas. Using a soft cloth, soak up the excess cream. Let your shoes dry after cleaning them with a damp towel.
Quickly Remove Yellow Stains with Rubbing Alcohol
Yellow stains wreak havoc on the appearance of both white sneakers and leather shoes. Rubbing alcohol, which works effectively for stain removal, is undoubtedly already in your home. The alcohol dissolves the organic components of the pigment to destroy the undesired stain.
Before using this cleaning product, try it on an inconspicuous area. Rubbing alcohol is not suitable for all materials, so perform a small test patch.
To remove stains, soak a clean cloth or paper towel in rubbing alcohol, gently dab the soiled area to remove the pigment, and rinse the shoe in clean water. If the discoloration persists after your sneakers have dried, continue the process to guarantee all yellowing is removed and your sneakers' original color is restored.
Get Yellow Stains Out in the Washing Machine
It's simple to clean your white shoes in the washing machine. Choose laundry detergent that breaks down grime and stains; however, use a mild detergent to avoid discoloring your white shoes with strong chemicals. While the wash cycle is running, add white vinegar to the washing water to lift stubborn stains and sterilize the boots.
Pour the detergent into the pan as usual, then pour in the vinegar. Wash your white shoes with a white towel in a regular wash cycle. Allow your footwear to air dry.
Note: If you are trying to clean your VansⓇ shoes, VansⓇ are machine washable but it is not recommended. Hand-washing is the best solution.
Oxiclean Cleans White Shoes that Turned Yellow
Oxiclean is a cleaning product to remove stains and brighten clothes using oxygen bleach. Oxiclean is a household cleaning essential since it is both ecologically friendly and safe to use.
A chemical reaction occurs when OxiClean comes into contact with water, generating oxygen bubbles to help break up yellow stains and grime.
To clean yellow sneakers and other footwear or to clean and whiten shoe laces with oxygen bleach, mix two tablespoons with a gallon of water and soak the discolored area in the resulting cleaning solution for up to an hour.
After cleaning your shoes with cool, clean water, let them air dry. Oxiclean is appropriate for cleaning yellow sneakers as it is a color-safe bleach and won't cause more yellowing when the directions are followed.
Spot Clean to Remove Yellowing from Shoes
Use spot cleaning only on the stain-affected area of the garment and is an excellent option for leather shoes and other delicates. Because leather is rather difficult to keep clean, spot treatment removes the stain without harming the shoe.
Select a strategy and focus on the yellow area. This method decreases the number of cleaning products coming into contact with your sneakers, minimizing the danger of further staining or yellow discoloration.
Yellow sneakers make or break an outfit, as well as your day. Remove tricky yellow stains without inflicting harm on your white shoes using the right combination of ingredients. When you're pondering how to remove yellow stains from shoes, use products you already have to remove dirt, bleaching, and difficult yellow stains rapidly.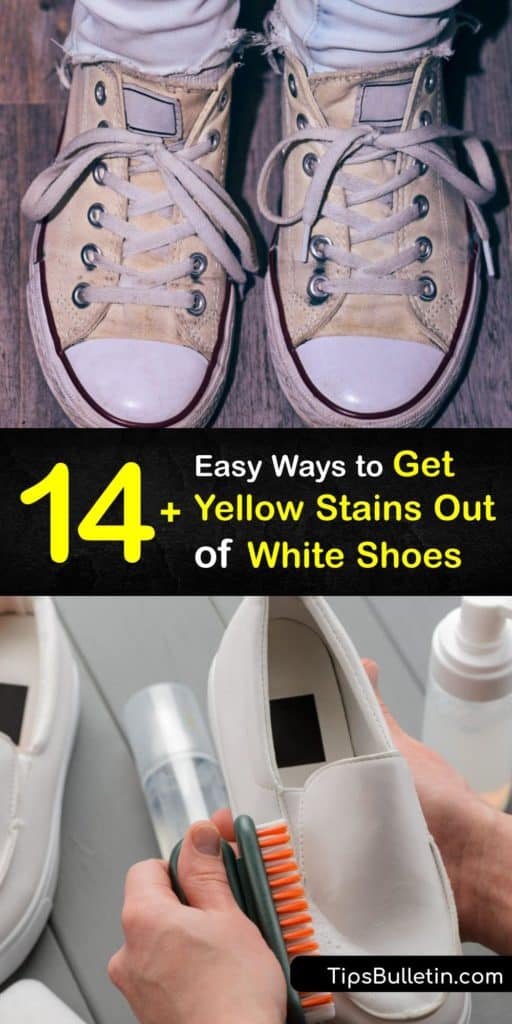 If you loved this article on how to get yellow stains out of white shoes, consider sharing these informative tips on how to clean white shoes that turned yellow with your friends and family on Pinterest and Facebook.