Celery—botanical name Apium graveolens—is a cool-season biennial that's relatively easy but slow to grow at home. In other words, it prefers cool weather and only produces flowers and seeds in its second growing season. Learn how to grow celery in a pot or container to avoid the high pesticide levels common among grocery store celery.
The first step for growing celery in pots is choosing a variety. There are many celery varieties with different characteristics. Buy self-blanching celery plants to save yourself some work leading up to harvest time.
Utah celery is an excellent choice for growing celery in containers since it stays compact. On the other hand, leave celeriac for your garden since it's grown for its massive root.
Although it's possible to eat the whole celery plant, the stalks are most popular. Celery stalks are low in calories and rich in phytocompounds that may prevent or treat several diseases. Try using celery leaves as an herb in soups, stews, and other recipes.
Growing Celery in a Container
Learn how to grow celery in a pot from seed to have the complete vegetable growing experience. If you're not feeling that patient, find celery starts at a nursery or try growing celery from base of a celery bunch.
How to Grow Celery in a Pot: Starting from Seed
Plant different types of celery seeds in early spring—10 to 12 weeks before the last frost—to enjoy a late summer harvest. Before sowing them, soak them overnight in warm water to encourage germination. Expect them to germinate in two to three weeks.
Use a good-quality seed starting mix in a plastic pot that's at least eight inches deep. Space the seeds approximately one inch apart. Press them gently into the soil but do not cover them.
Keep the soil moist. Once seedlings appear, place them under fluorescent grow lights for about 16 hours per day. Avoid placing the container on a windowsill since that causes the young plants to bend toward the light.
After the seeds sprout, thin them back by half, removing the smallest plants. When the celery seedlings are about two inches tall, transplant them to larger pots.
How to Grow Celery in a Pot: Starting from a Celery Base
It's easy to learn how to regrow celery with the leftover celery base. Celery grown using this method tends to stay small and produce more leaves than stalks. Use organic celery if possible since celery often has many pesticides applied. Look for a firm bunch with fresh-looking leaves.
Cut off the bottom two inches with a large, sharp knife. Refrigerate the stalks wrapped in aluminum foil or plastic wrap. Put the base in a small bowl of water in a bright spot out of direct sunlight. Expect to see sprouting in one to two days.
Change the water every couple of days. Peel off any decaying outer layers. Once roots form, transplant your celery to a container. Almost fill the pot with well-draining potting soil. Add slow-release fertilizer and water until the soil is damp.
Place the celery base in the container and add another inch or so of soil. Put the pot somewhere well-lit, and water it consistently.
Choosing and Amending Soil when Growing Celery in Containers
Part of how to grow celery in a pot or container or when planting carrots in a pot is finding the perfect soil to encourage healthy growth. Choose a rich soil that retains moisture well. The pH should be between 5.8 and 6.8. If it's too acidic, work in a little limestone.
Enrich the soil with compost, compost tea, or aged manure. Alternatively, add 5-10-10 fertilizer. Spread mulch to help retain moisture and reduce weed growth.
Fertilizing Celery in Containers
Celery is a heavy feeder. Its shallow root system means that it must obtain its nutrients from the top few inches of soil. However, watering tends to flush those nutrients to the bottom of the pot.
Besides adding compost to the soil, learning how to grow celery in a pot means providing organic fertilizer every two weeks. Good options are fish emulsion or seaweed extract when planting celery.
Watering Celery in Containers
When growing celery in containers, it's essential to keep the soil moist at all times. Water your celery plant frequently and consistently. Mist it regularly as well.
Celery plants that receive plenty of water produce thick, crunchy, juicy stalks. Plants that do not receive enough water bear stalks that are dry, small, tough, and stringy. You can still add these stalks to soups and stews, but their flavor is not as pleasant.
How to Grow Celery in a Pot or Container: Light and Temperature
Celery needs enough light to promote even growth. The ideal is at least six hours of sunlight per day. However, keep the pot out of direct sun to enjoy the mildest flavor.
In a garden bed, celery grows in zones 2 to 10. Aim to provide temperatures between 60 and 75 ℉ during the day and 60 to 65 ℉ at night.
Blanching Celery Plants before Harvesting
Unless you bought a self-blanching variety, consider blanching your celery plants during the two weeks before you harvest them. Blanching prevents light from reaching the stalks, giving them a crispier texture, lighter color, and sweeter flavor.
Wrap the stalks in a material that you already have available, like a cardboard tube or strips of cloth. Mound the soil up around the celery's base to further block light from reaching it.
Harvesting Celery
Expect to harvest celery between 80 and 120 days after transplanting the seedlings. Remove individual stalks of your desired size to encourage the plant to keep producing new stalks. Young stalks are smaller but more tender and have a nicer flavor.
The outer stalks are darker-colored and tougher but more nutritious. Water your plant the day before harvesting. Cut the celery stalk with a serrated knife just below the soil line, going from the outside in.
Those in warmer regions can keep harvesting lightly over the winter. In harsher climates, pick all the stalks before it gets too cold. Mound up the soil to protect your celery from frost.
Store celery in the crisper in a damp paper towel in a sandwich bag with holes punched in it. Celery with leaves attached keeps for a few days and without leaves for up to two weeks.
Preventing and Treating Celery Pests and Diseases
Unfortunately, numerous pests and diseases are common for celery plants.
The control measures vary, but some steps are likely to be beneficial in the fight against several pests and diseases. Plant disease-resistant varieties and take advantage of companion plants for celery, like beans and onions to keep bugs away. Ensure that the soil drains well, protect young plants from the cold, and avoid watering from above.
Remove weeds and any plants that become infected. Pick off any bugs like tomato hornworms or slugs. You may need to apply an insecticide.
If your plant is doing poorly, it's worth testing the soil. Celery plants are known to suffer if there's a deficiency of magnesium, calcium, or boron.
For best results when growing celery in containers, start the seeds indoors 10 to 12 weeks before the last spring frost. Keep the temperature within the recommended range for degrees Fahrenheit.
Water your plant consistently and give it plenty of fertilizer since celery roots are shallow. Follow these tips for how to grow celery in a pot or container to enjoy homegrown veggies raw and in recipes.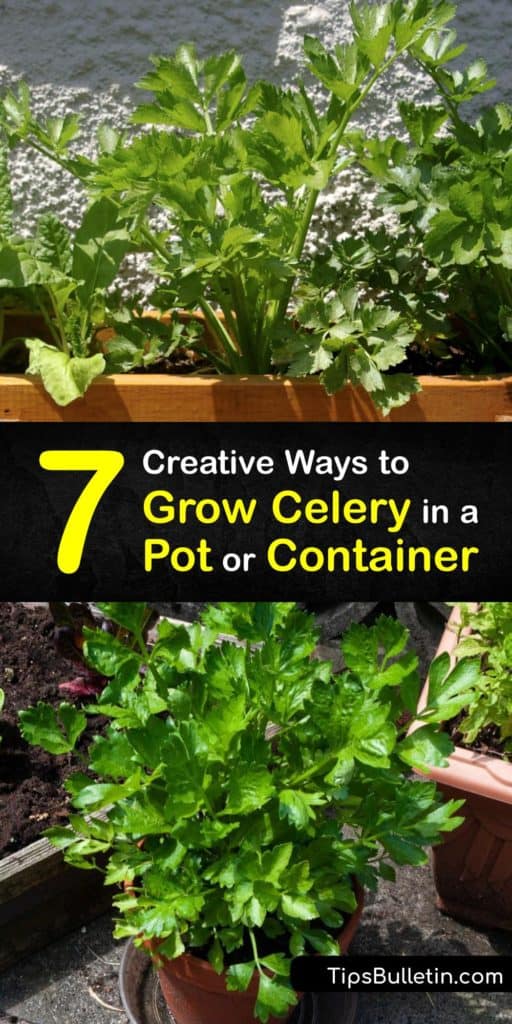 If you found these celery growing tips helpful, please share this container gardening advice with your friends on Facebook and Pinterest.