Peppers are a delicious vegetable that pairs nicely with a variety of lunch and dinner dishes. Some peppers, like bell peppers, are also enjoyed all on their own. Learning how to grow peppers in a pot is a great skill to acquire because it saves space and allows you to grow your produce instead of going to the grocery store.
Another benefit of growing peppers in containers at your house is that the pepper plants are free of insecticides and pesticides that contain several chemicals. Throughout this article, we show you the best ways to plant any pepper seeds in a pot.
From jalapeño peppers, sweet peppers, chili peppers, and hot peppers, we offer you the right way to maintain and care for your plants during the growing season.
In addition to teaching you how to correctly water, fertilize, and harvest your pepper varieties, we also provide you with practical ways to identify and get rid of harmful pests that try to destroy your bell pepper plant. Discover how to grow your own habanero peppers with these straightforward DIY techniques.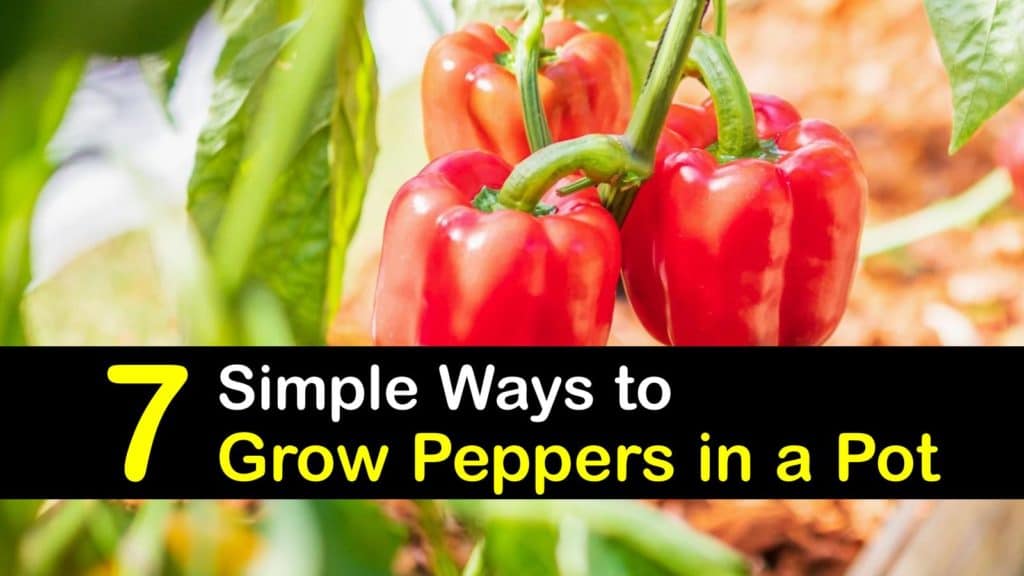 Benefits of Growing Peppers at Home
Whether you grow tomato plants or bell peppers plants or are growing banana peppers, there are a wide array of perks to growing your own food.
Planting peppers in containers provide better-tasting vegetables, reduces food waste, and saves you money on groceries. If you're new to gardening, these tips and tricks help you plant and harvest the best peppers possible.
The hardest part will be choosing between the different types of peppers. Plant several varieties for adding to your favorite recipes. What is a tabasco pepper? What about banana peppers?
Learning How to Grow Peppers in a Pot
Before adding bell pepper seeds or potting mix, select the correct container to grow your peppers. Peppers do not require too much space; however, they need enough room to spread their roots.
For pepper container gardening and the best way to grow bell peppers from seeds, choose a pot with a diameter of at least 12 inches. Although pepper plants start small, they quickly fill the area they are planted in.
Choose a pot with drainage holes at the bottom. Drainage holes ensure excess water does not sit at the pot's bottom when growing peppers in a container.
When water pools at the base, the roots become suffocated and develop disease and bacteria that damage and kill the plant. When learning how to grow peppers in a pot, the first step is to select the right kind of container for your banana peppers.
Growing Peppers in Containers with the Right Soil
Utilizing the correct potting soil for your pepper plants plays a considerable role in the produced harvest. Soil gives your plants nutrients that assist the peppers in growing to their full potential.
The best ways to grow cayenne peppers and other pepper types is to use a potting mix that drains and prevents the pepper plant from being waterlogged. When growing peppers in containers, the plant is susceptible to blossom rot damage from overwatering and lack of calcium.
Use an organic potting mix to allow excellent drainage. Grow your pepper plants in an organic potting mix and stay away from garden soil. Garden soil does not drain as well as organic potting mix, which is designed for growing peppers in pots.
Fertilizing and Planting Peppers in Containers
When growing bell peppers in pots and to obtain the most bountiful harvest for your pepper plants, add fertilizer. Organic fertilizer or fish emulsion contains essential elements and nutrients that promote faster plant growth.
If you only use a potting mix, your pepper plant still develops. However, fertilizing your plant speeds up the germination process and produces a harvest quicker. Planting peppers in containers goes much smoother when you release fertilizer into the pot.
Apply an organic fertilizer with nitrogen, phosphate, potassium. High levels of phosphate and potassium encourage a greater harvest. In comparison, nitrogen helps the plant grow without affecting the fruit size.
Once a month, include a small amount of fertilizer into your potting soil. Understanding how to grow peppers in containers is effortless when you implement fertilizing monthly.
Where to Plant Your Peppers
Green peppers and other varieties thrive in warmer temperatures, so start planting your seeds after the last frost. If the outdoor weather is unseasonably cool, begin by planting your container garden indoors.
Peppers grow at a temperature between 70 and 80℉ during the day and between 60 and 70℉ at night. If you do not have access to warm weather, we suggest using grow lights for your plants.
When planting peppers in containers, the plant must receive as much sun as possible before transplanting outdoors.
Capsicum requires a minimum of six hours of direct sunlight each day. One of the great things about planting peppers in containers is that growing them indoors is a viable option.
It's also helpful to practice companion planting, even when using containers. Learn what to plant near peppers in pots to prevent disease and insects.
How to Water Your Pepper Plants
Whether you are growing jalapeno peppers or bell pepper varieties, peppers prefer a lot of water, especially when they are developing their true leaves. Water allows the pepper plant to thrive and turn the nutrients into organic matter. If the soil's top inch is dry, water the peppers in the morning until the soil is moist.
It would be best if you didn't overwater your peppers. Use tomato cages to hold up your pepper plants so the water has easier access to the main stem. Another helpful tool that makes hydrating your peppers easy is mulch.
Gently sprinkling a little mulch on top of the soil helps slow down evaporation and locks in moisture for more extended amounts of time, especially when temperatures are hot.
When to Harvest Peppers from Your Container Garden
When you buy pepper seeds from your local gardening store, the plant's tag includes the mature color of the pepper, making it simple to tell when your pepper is ready to harvest.
When are bell peppers ready to pick? When growing peppers in containers, gathering them at the right time is essential because a premature pepper does not taste good. If you are growing bell peppers, harvest the fruit when the preferred color forms.
You can tell if peppers are ripe by the color. Bell peppers are picked when they are green, yellow, orange, or red. If you grow jalapeño peppers, look for fruit that is deep green and glossy. Additionally, jalapeño peppers have small cracks on the shoulders when they are ready to be picked.
How to Get Rid of Aphids
Discovering how to grow peppers in a pot is easy; however, unwanted pests attempt to destroy your hard work. The most common problem found in pepper plants is aphids.
Aphids hide under the leaves of your plants and leave behind curled, misshaped, or yellowed leaves. Although aphids seem nearly impossible to get rid of, there is a simple solution.
Combine Castile soap and warm water in a spray bottle and gently swish the ingredients. To prevent and eliminate aphids in your pepper plant, spray on and around the plant, including the soil.
Be sure to soak leaves that contain a sticky, white substance, as that is where the larvae hide. The spray dissolves and kills all the aphids on your plant while simultaneously preventing more from invading.
Peppers are a commonly found ingredient in Thai dishes that add a unique flavor. These healthy vegetables are yummy on their own or combined with other foods.
Growing peppers in containers is far easier than most people assume, and it saves space in your garden. Providing your bell peppers with enough water, sunlight, and fertilization confirms the plant produces an ample harvest.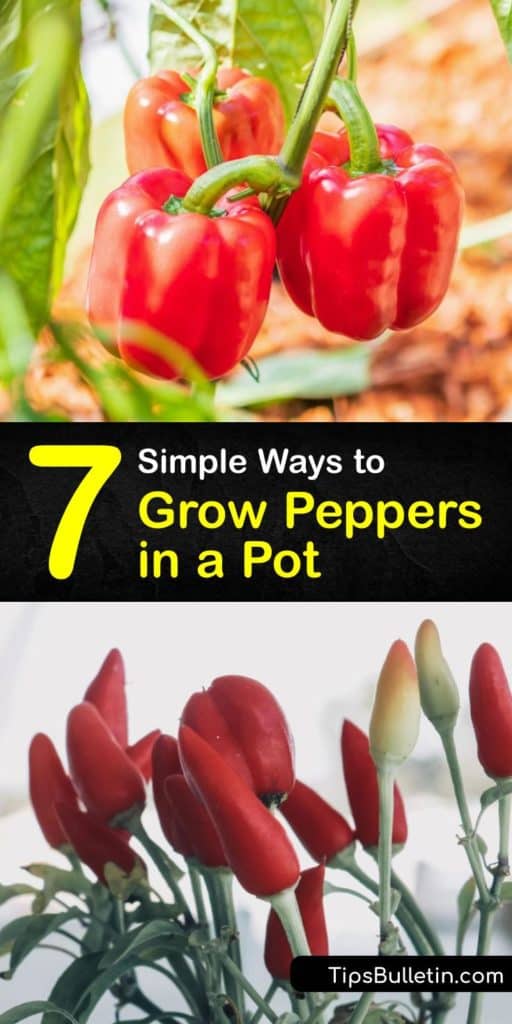 If you learned how to grow peppers in a pot, share these tricks for planting peppers in containers with your neighbors on Pinterest and Facebook.