From Popeye cartoons to worldwide recognized recipes, spinach has branded itself as a healthy food item that gives us strength and nutrients and helps us live an overall better lifestyle. These leafy greens have been used as a significant ingredient for thousands of years and learning how to grow spinach could take your health game to the next level.
How long does spinach take to grow? What steps do you need to take to have it reach full maturity? These questions and more will be answered in this detailed guide on growing spinach.
Keep reading to discover everything there is to know about planting spinach at home. From choosing between the different cultivars to harvesting the outer leaves, follow this step-by-step method to grow spinach with ease.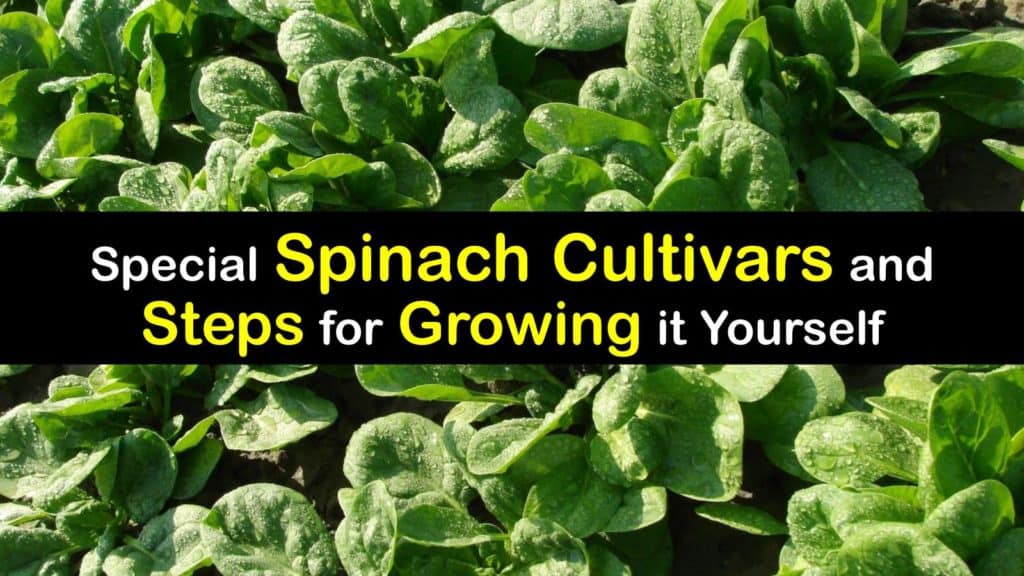 Health Benefits from Eating Spinach
This plant was introduced to India and China after its discovery and used for different medicinal purposes.
In the 13th century, Germany found out about spinach leaves, and soon it was a vegetable that grew in popularity so quickly that it's hard to imagine some of our favorite meals without it.
With such a long history, learning to plant spinach in your own garden beds is a way to do justice to the species and embrace its tremendous benefits.
We've been told repeatedly that spinach is crucial for making us strong, but is there any factual evidence to support this statement? Eating two cups of spinach per day is enough to boost your muscle strength and support a healthy immune system, whether consuming spinach vs baby spinach.
It is a plant with few calories, made up of 91 percent water, and has over three grams of protein per serving. Most of the carbs contain fiber, and it has almost no sugar.
Spinach isn't only good for making you strong but for keeping your bodily functions running smoothly. With vitamins A, C, K, folic acid, calcium, and iron, it's no wonder that spinach is associated with a healthy lifestyle.
Some of the health benefits of learning how to grow spinach, harvest it, and eat it are relieving stress, boosting eye health, regulating blood pressure, and preventing cancer.
Studies show that there could be some disadvantages if you eat too much of it, though.
Kidney stones and blood clotting are associated with consuming too many vitamins, and people with underlying health conditions should confirm with their doctor that it is safe to eat.
There is no denying the perks of eating spinach, but how long does spinach take to grow for you to get started on incorporating it into your diet?
Spinach Varieties
There are three well-known types of spinach for home growers to choose from. Savoy, semi-savoy, and flat-leafed spinach are the three categories that grow best in a vast array of temperatures, conditions, and seasons.
Savoy Spinach
If you haven't heard the name Savoy spinach, then you've likely heard it called by its other common name of curly-leaf spinach. The whole plant features wrinkly, dark green leaves that are slightly crunchy when you bite into them.
It is different from the types of spinach that we often buy. Savoy spinach has a bitter flavor that most people prefer to cook with rather than eating raw.
It isn't hard to find at your local grocery store or farmer's market, and you can often find it in the frozen or canned section.
Of course, there are different cultivars of Savoy spinach, one of the most popular being Bloomsdale long standing spinach. This type is one of the oldest varieties, and it features long, curly leaves that are dark green.
The leaves of Savoy spinach are five to six inches long, and the thick texture allows it to be cooked for hours like collard greens or Swiss chard.
It is often paired with dried fruits, onion, chicken, beef, and garlic. One of our favorite methods to cook it is to turn it into savory spinach artichoke dip.
Heat any standard pot over medium heat and melt the cream cheese, butter, Parmesan, and sour cream until they start to bubble.
Stir in artichoke hearts, spinach, and jalapenos. Lastly, add minced garlic. Heat everything until piping hot, and dump into a serving bowl. Serve the dip with crackers, chips, or toasted bread.
Semi-Savoy Spinach
Semi-savoy spinach has the same crisp texture as Savoy spinach and a similar flavor profile, but the leaves are far less wrinkled and easier to clean.
Growing this type of spinach at home gives you your best odds for consuming green leaves with anti-disease properties. The four cultivars are Tyee, Cataline, Teton, and Indian Summer.
Tyee spinach has thicker, dark green leaves with flatter but still crinkled leaves. It is pleasant in both raw and cooked forms.
Catalina is also called baby-leaf spinach for its small size, tender leaves, and oval shape. Teton spinach is immensely healthy and has fast upright growth. Indian Summer is an easy-to-grow veggie that has leaves that reach up to a foot long.
Smooth-Leaf Spinach
Smooth-leaf spinach plants have broad, flat leaves and are the easiest to clean because there are no crevices. It is the number one choice among consumers and gardeners.
These plants take much less time to grow and store better than the other two. They are commonly sold as loose leaves and have a tender and sweet flavor. The two cultivars of smooth-leaf spinach are Space spinach and Red Cardinal spinach.
Alternative Spinach Types
Although we've been through the three main categories of spinach, there are some alternative types that people still love to grow and eat.
New Zealand spinach, also called Tetragonia expansa, is ideal for people who prefer planting spinach in pots or raised beds. Growing spinach in containers is just as easy as in the garden..
This summer veggie loves warm weather and grows in the early summer, despite spinach usually being a cool-season crop. It is native to Asia, New Zealand, and Australia and grows mainly along sandy shores. These potential container vegetables spread fast and are heavy feeders.
Another cultivar to consider growing is Malabar spinach. Malabar still has the same spinach taste that you love but isn't actually a family member at all.
It is typically grown in the Northeastern parts of the United States and has unique red stems. This plant is fast-growing and tolerates a lot of rainfall.
Steps to Growing Spinach
Now that you know what your spinach-growing options are, it's time to get started on the hard work and sow seeds to have a flourishing harvest at the end of the growing season. Growing fruits and vegetables indoors is also always an option if you don't have enough outdoor space.
How to Grow Spinach
In general, most spinach cultivars are not a fan of hot weather and suffer if they have too much heat. The same holds true for kale vs spinach. Starting spinach seeds in cool weather is the key to getting your plants off to a strong beginning.
The way to plant spinach is to either start your spinach seeds indoors or outdoors if the soil is workable. Because spinach is a speedy grower, don't start the plants inside more than three weeks before transplanting them in your outdoor beds.
In our opinion, it is easiest to sow seeds directly outside in the early spring, a few weeks before the last frost of a cold winter, or in the late summer before the first frost date.
Successive planting is best if you wish to harvest your leaves continuously through the growing season. The soil temperature shouldn't be warmer than 70°F during the first few weeks for germination to occur.
Protect your seedlings with a row cover or cold frame when the soil temperatures fall below 40°F. When you sow spinach seeds in a garden bed, keep row spacing 12 to 18 inches apart. Cover the seeds very lightly with fertile soil and gently press the top layer down.
Water them well and continue to keep them moist until germination is successful. When the plants start growing their true leaves, thin the plants back to six inches apart and eat your trimmings.
Spinach starts bolting more quickly as the weather warms. Stop your successive sowing in May or June and extend the season by planting taller plants in front of them for some shade.
Light Requirements
Always plant spinach where there is either full sun or partial shade. Do not place your spinach plants in a flower bed, or there will be too many pests that snack on it.
This is an excellent moment to take advantage of a semi-shady spot in your garden or to companion plant it next to taller fruits and veggies like corn or pole beans.
Soil Preference
Soil is a critical component of growing any vegetable to maturity. Spinach likes fertile soil with a neutral pH level that goes no lower than 6.0.
Amend poor soil with organic matter and spread mulch across the ground line to keep the ground soil moist and prevent weeds from taking over.
Fertilize your spinach plants if they are growing slowly. If you prefer organic gardening, till in fish emulsion or rotted manure before planting.
Watering Demands
Nothing survives without water, and keeping spinach consistently moist is essential for their well-being because it keeps the leaves hydrated and cools them off during hotter temperatures.
Spinach plants require up to one and a half inches of water every week. Dryer climates may require you to water them every day, but try not to overwater them or they'll drown.
How Long does Spinach Take to Grow?
Spinach is a quick grower, and it only takes four to six weeks to grow spinach from seed for these plants to be ready for harvesting. Always start by harvesting the outer leaves of the plant and letting the inner ones continue to mature.
If you prefer one big harvest, the way to harvest spinach is to cut it one inch above the base of the plant. Leaving the roots and base intact means that you could reap the benefits of an additional harvest the same year.
Spinach leaves are highly sensitive to ethylene gas. Once you harvest them, the last thing you want to do is set them next to fruits like apples, tomatoes, and melons. We've found that the best way to store a large spinach crop is to freeze them for up to a year.
To freeze spinach, wash the leaves well under cold water and dry them thoroughly on fresh paper towels.
Set the leaves in a freezer bag or airtight container and place them in your freezer. Although they last for a year, you get the best results within three to six months of storage.
Can You Overwinter Spinach?
Overwintering spinach is possible. Some plants last well into the late summer and winter in warmer climates. If the ground freezes before you have a chance to harvest your winter crop, mulch the bed with hay and wait for the temperatures to rise again.
In the spring, remove the mulch and your spinach plants begin growing on their own, giving you an even earlier harvest in the coming growing season.
Spinach Pests and Diseases
Learning how to grow spinach also requires you to understand that you may be dealing with some unruly pests and diseases during this time. Companion planting, like when you plant spinach next to celery, helps deter pests. Growing peppers next to spinach works great, too.
One of the most common pests on all garden plants is aphids. These tiny insects with soft bodies suck the sap from the leaves of plants. Thankfully, all you need is a steady stream of water from your hose and a quick spray of insecticidal soap to remove them.
Leaf miners are another insect you might run into when growing spinach. These bugs leave brown trails across the spinach leaves, and most insecticides aren't effective on them.
The only method to remove them is to cut off the infested leaves and destroy them before the larvae mature.
Flea beetles feed on the young foliage of spinach plants and leave several small holes spread across the surface.
The leaves then become bleached, and the insects are too tiny and hard to get rid of. Use reflective mulch to deter them or Carbaryl insecticides to reduce an infestation.
Slugs and snails love to snack on your plants. You can tell when a slug or snail has found their way into the garden because the holes are much larger than if they were from insects. Bait and traps are the best way to keep populations under control.
There are only a couple of diseases you have to look out for when growing spinach at home. Downy mildew is the most common, and it causes light yellow and green spots on the upper leaf surface and white fungus on the bottom surface.
There is no cure for downy mildew, and the only way to combat it is to remove the plant and ensure your soil has more air circulation. When you water your plants, don't allow the foliage to get wet and, instead, water the base of the plant only.
Damping-off disease is one final problem that you might run into as a gardener. Damping-off disease makes young seedlings fall over and die well before they can mature.
Avoid this disease by only purchasing high-quality seeds from a trusted company or nursery and avoid overwatering them.
There is a chance that some viruses infect your spinach plants. Insects spread viruses and the cure is preventative action.
Once a plant is infected, your only option is to pull it up and destroy it to prevent the virus from spreading. Don't allow insects to linger on your plants, and take action as soon as you realize that there are pests in your garden.
Eating spinach alone isn't going to give you ripped biceps, but it is one of the healthiest leafy greens that you can get your hands on. You can do so much with this plant, and you don't have to be an expert in food and gardening to grow a healthy crop.
After the growing season finishes and you're left with too many handfuls of spinach, find as many unique ways to preserve and cook with them to always have a nutritious veggie in your home.
After all your hard work and dedication, you deserve to reap the rewards and treat your body to something special.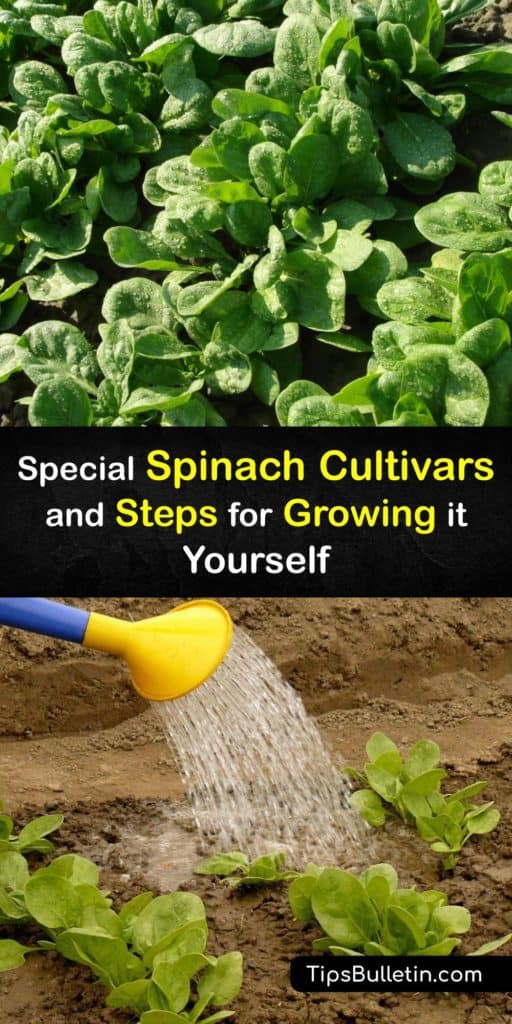 If learning how to grow spinach has made you want to start your own garden, share this guide for growing spinach on Facebook and Pinterest.