While it's simple to run to the grocery store and pick up a bag of fresh spinach leaves, imagine plucking them straight from the garden. Producing spinach at home is easy and a great way to ensure your veggies are chemical-free. Discover how to plant spinach with the proper spacing and care for your plants for a productive harvest of leafy greens at the end of the growing season.
Like other greens, spinach is highly nutritious and an excellent source of vitamins, antioxidants, calcium, and fiber. There are also many healthy benefits to consuming these veggies, including reducing oxidative stress, benefiting eye health, and reducing blood pressure.
As if the nutritional facts aren't enough, spinach is also one of the easiest vegetables to grow at home. They are a cool weather crop that struggles during high temperatures and are perfect for growing in a cold frame in the early spring for a late spring harvest or late summer for a fall crop.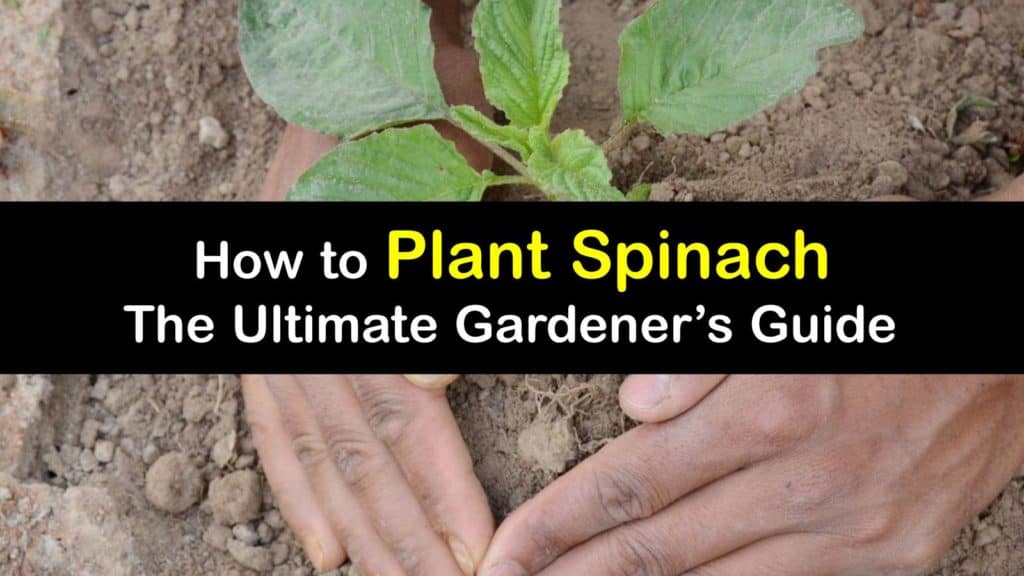 Planting and Caring for Spinach in the Home Garden
While the grocery store usually provides us with the food we need, fruits and vegetables are often treated with chemicals. Home gardening is the best way to ensure that your food is truly organic, and planting spinach is easier than you think as long as you grow it under the right conditions.
Learn what spinach wants to thrive and how far apart to plant spinach when sowing seeds in raised beds, containers, or a garden setting. Find out how to care for your plants and a fun recipe for using spinach leaves after a good harvest.
What to Know before Planting Spinach
It's important to understand what these greens want for optimal growth and learn about the different spinach varieties before planting spinach. Explore spinach's sun and soil requirements and the three main types and popular cultivars to help you choose the perfect one to grow.
There are three spinach varieties, savoy, semi-savoy, and flat-leaf. Savoy spinach handles cold weather and is more productive than other varieties and includes types like Bloomsdale and Regiment. However, it has low-growing, crinkled leaves that are more challenging to clean than other spinach plant types.
Semi-savoy spinach such as Indian Summer, Tyee, and Catalina grows more upright and are less crinkly than savoy, and are resistant to disease and bolting. Smooth-leafed spinach is the easiest to clean since the spinach leaves are smooth. Red Carnival and Space spinach are good examples of this variety.
New Zealand spinach is an alternative spinach variety with crisp and succulent leaves. Malabar is a vining grower that enjoys growing in warm weather and requires a trellis to climb.
All types of spinach love growing in well-drained, fertile soil with a pH of 6.5 to 7.0, whether you are growing spinach indoors or outside. Consider amending the dirt with aged compost or rich organic matter if your soil is lacking. They also thrive in areas with six or more hours of full sun with partial shade during the hottest part of the day.
How Far Apart to Plant Spinach
While spinach or kale plants aren't as picky about their spacing as many other vegetables, they still want room to grow. Find out how far apart to plant spinach, whether you grow it in a container, raised bed, or garden.
Spinach Spacing
If you decide to grow a decent amount of spinach in a garden bed, space the rows 12 inches apart, with each plant 3 to 6 inches apart.
If you are growing spinach for seed, increase the rows 22 to 30 inches apart, with 8 to 12 inch spacing between plants. Spinach plant spacing is different in raised beds than in gardens, and the plants require 8 inches of spacing in every direction.
How to Plant Spinach from Seeds
Browse through your garden center, and you'll see many young vegetable plants ready to grow in the garden, from peppers to tomatoes. However, spinach is a fast-growing plant that is simple to start from seeds. Here is the best way to plant spinach from seed.
Spinach seed germination does not occur if the temperatures are above 70°. As soon as the soil is workable in early spring, roughly six weeks before the last frost, is the best time to plant spinach. Prepare the garden or raised bed. For a fall crop, sow the seeds six to eight weeks before the first frost date.
Sow seeds a half-inch to one inch deep in the soil, and water them right after seeding. For each row, spread twelve seeds per foot and thin the seedlings to three to six inches apart after they are two inches tall. If you live in a cold area and experience frost regularly, consider planting the seeds in a cold frame or installing row covers.
You can also plant spinach seedlings but it's just as easy to grow them from seed.
How to Maintain and Harvest Spinach
After planting spinach seeds in the proper soil in a sunny area of the yard or patio, it's time to give your new plants some tender loving care. There is not much difference between spinach and bok choy regarding how to grow them. While spinach is a fairly easy-growing plant, it still needs regular watering and attention. There are also some things to watch for as your plants grow, including pests and diseases.
Water the spinach regularly to keep the soil moist, and apply a layer of mulch over the garden bed or in the container to prevent weeds from taking over the area. Fertilizer is only necessary if your soil lacks the proper nutrients or to slow the growth of your plants.
Downy mildew and mosaic virus are common problems with spinach. Planting virus-resistant varieties like Bloomsdale Long Standing, watering your plants from below, and keeping harmful insects off your plants help stop the spread of these diseases.
Leaf miners and aphids are two of the most bothersome pests to destroy spinach. Remove the insects by hand or spray them off the leaves as soon as you notice them and use insecticidal soap to prevent an infestation.
To keep leaf miners off your spinach, consider planting radishes nearby to attract them since they do not harm the radishes growing underground.
Hot weather causes spinach to bolt, and timing is everything when planting spinach. Depending on when you start the seeds, plan to harvest this cool-season crop in late spring or before the last frost date in the fall.
Like when you plant Swiss chard and other leafy greens, there are two ways to harvest spinach – by removing outer leaves as you need them or removing the entire plant. Cut the whole plant at the base or pick the dark green leaves a layer at a time.
Don't wait too long to pick your spinach since larger leaves are more bitter. Baby vs regular spinach depends on when the leaves are harvested. Baby spinach includes the immature leaves that taste a little sweeter and are more tender.
How to Make Creamed Spinach
The most straightforward way to enjoy spinach is to eat the leaves fresh in a garden salad. Unfortunately, you can only eat so many salads before getting bored.
One of our favorite ways to cook this leafy green as a side dish is to make creamed spinach with butter, garlic, onion, and cheese. This recipe serves eight and takes 35-minutes to prepare.
Boil a large pot of water with two teaspoons of salt, add the spinach leaves, and cook for about a minute or until lightly wilted. Drain the spinach in a colander and rinse with cold water until cool. Squeeze the excess water out of the leafy greens and chop them to three-quarter-inch size.
Melt the butter, garlic, and onions in a large skillet and cook them for eight to ten minutes, or until the onions are translucent. Add the flour, black pepper, nutmeg, the rest of the salt, and stir on low for two to three minutes.
Pour in the half-and-half, cook until it boils, and add the Mozzarella and cream cheese. Cook for another six to eight minutes to thicken, and add the spinach and Parmesan cheese. Stir the ingredients and serve the creamed spinach warm.
Of all the different vegetables, spinach is one of the easiest to grow. The most important thing about planting spinach is that these greens flourish during cool weather. Give your plants a little TLC, protect them from pests, and they reward you with a bountiful harvest of healthy goodness.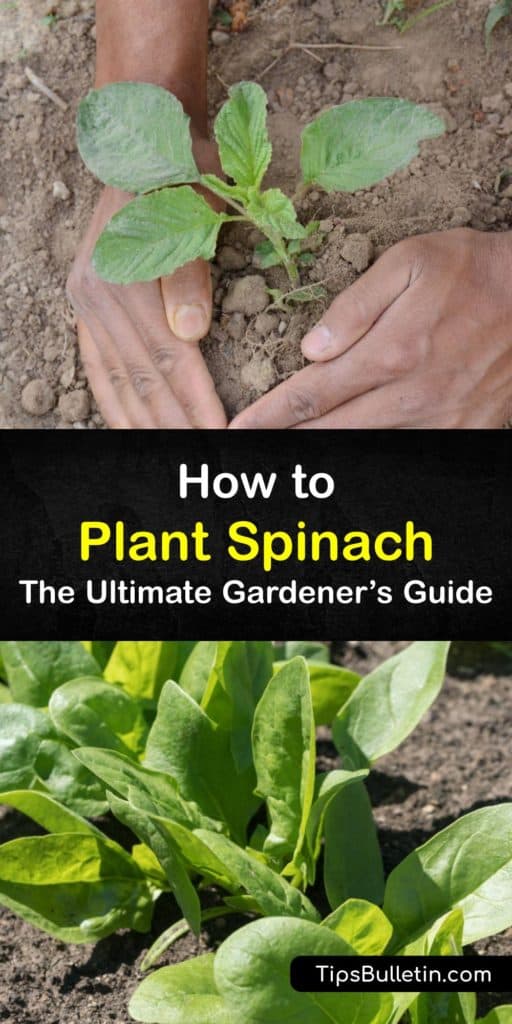 Knowing how to plant spinach from seeds is an inexpensive and easy way to produce your own organic food, so why not share our spinach planting tips and plant care guide with the leafy green-lovers in your life on Facebook and Pinterest?