Nothing tastes as good as homemade banana bread right out of the oven. Kids and adults scramble to grab pieces of the warm bread, especially when the recipe contains chocolate chips. If the loaf doesn't disappear immediately, you need to know how to keep banana bread fresh.
We make several loaves of baked banana bread at one time and freeze it for later. If done correctly, banana bread freezes well. You can then thaw and reheat it, so it tastes like it just came out of the oven.
The best thing about baking a loaf is that the banana bread recipe ingredients are so easy. Most recipes use baking powder, brown sugar, ripe bananas, and a few other dry ingredients.
It's easy to keep these items on hand for quick snacks or muffins, and kids love to mash the dry ingredients and wet ingredients together. Don't let your hard work go to waste; let's learn how to keep banana bread fresh.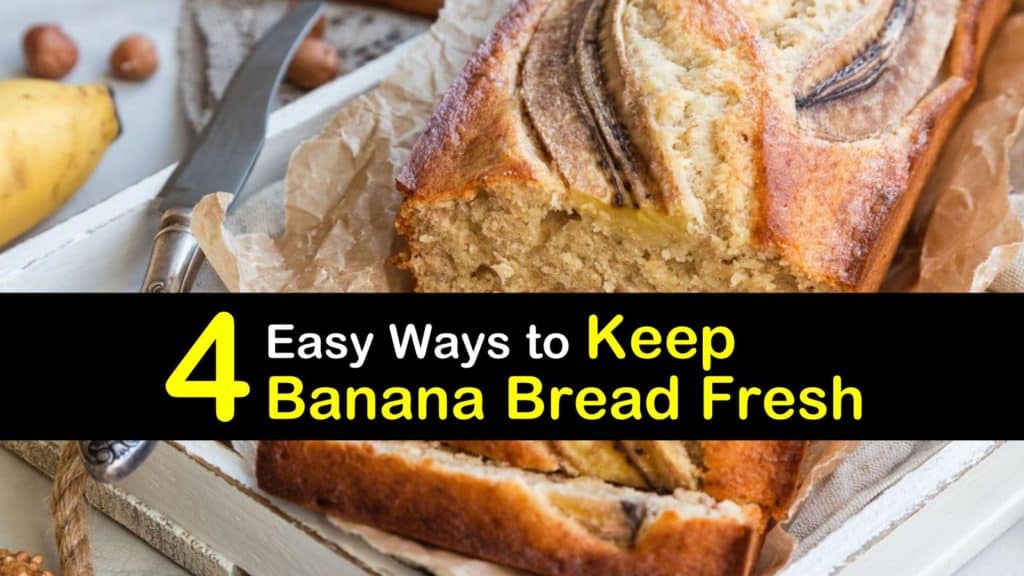 Easy Ways to Keep Banana Bread Fresh
Storing your bananas the right way is necessary before you even start to worry about preserving banana bread. How long do bananas last in the fridge? What about the freezer? Proper storage ensures that you have the best bananas for this favorite dessert.
If you want to learn how to keep banana bread fresh after baking, we'll look at the three possible ways to store banana bread: countertop, refrigerator, and freezer. Each has pros and cons, along with how long does banana bread last with each storage method.
How Long Does Banana Bread Last on the Counter?
What is the banana bread shelf life on the counter at room temperature? The shelf life for a loaf of banana bread on the countertop is up to four days. After that time frame, the texture begins to change.
By day six, the bread dries out, but sticking a slice in the toaster brings it back to life.
Most people prefer storing banana bread on the counter since it's the easiest way to access the loaves. Banana bread left on the countertop rarely stays around for six days.
Instead of using a storage container, put a paper towel or dry towel over the loaf. That helps to lock in moisture, which is essential when you store banana bread.
Other people swear by wrapping the entire loaf in plastic wrap or storing it in an airtight container. Try a few methods for keeping banana bread fresh on the countertop and see what works best for you.
Is Keeping Banana Bread Fresh in the Fridge Possible?
Just as it is a concern about how long is almond milk good for after opening, learning about banana bread storage in the fridge begs the same question.
Bakers disagree on whether or not you should store banana bread in the refrigerator. The fridge circulates cool air, removing excess moisture from the bread. The bread loaves could end up too dry.
If you wonder how long do banana bread last in the fridge, the answer is up to one week if wrapped in plastic wrap or foil.
Keeping banana bread fresh in the refrigerator without wrapping the loaves is nearly impossible; you'll end up with dry, crispy loaves that don't taste nearly as good.
Don't use a paper bag to store fresh homemade bread; it allows too much moisture to escape rather than holding it inside. Plastic is preferred.
How to Keep Banana Bread Fresh in the Freezer
While you can preserve ripe bananas by freezing, you can also use the freezer for your banana bread after baking. Frozen banana bread lasts for months in the freezer, but it's best to use it within three to four months. While still edible after that time frame, it's more likely to have freezer burn, and it's not fun to eat banana bread with freezer burn.
Banana bread can be frozen in slices, half loaves, or whole loaves. Freezing is the best way to preserve bread because it keeps the texture and flavor so well. Here's how to properly freeze homemade banana bread.
To freeze slices of banana bread or for freezing zucchini bread slices, wrap each slice in aluminum foil and store each piece in a plastic bag. If freezing a half loaf or whole loaf, wrap it in aluminum foil and store in a plastic bag. Be sure to get all of the air out of the plastic bag to avoid freezer burn.
For your bananas, freezing mashed bananas, in slices, or whole without the peel are great options.
Make Sure You Thaw Banana Bread Properly
Keeping banana bread fresh is easy if you store it in the freezer, but it won't taste as good unless it's thawed properly. You can either leave it to thaw on the countertop or pop the loaf into the oven.
Thawing slices on the countertop takes only 30 minutes at room temperature, but an entire loaf takes four to five hours. It's best to put loaves and half-loaves in the oven for a quick thaw.
Preheat the oven to 350℉, and bake a half loaf for 30 minutes in the loaf pan and a whole loaf for 60-70 minutes. Stick a toothpick or a butter knife into the loaf to ensure no frozen spots remain.
Keeping banana bread fresh is easiest on the countertop or freezer. If you wonder how long does banana bread last in storage, it depends on the method used.
The shortest shelf life is the countertop, but that's the easiest access. Storage in the freezer has the most extended shelf life but involves heating in the oven to thaw the bread.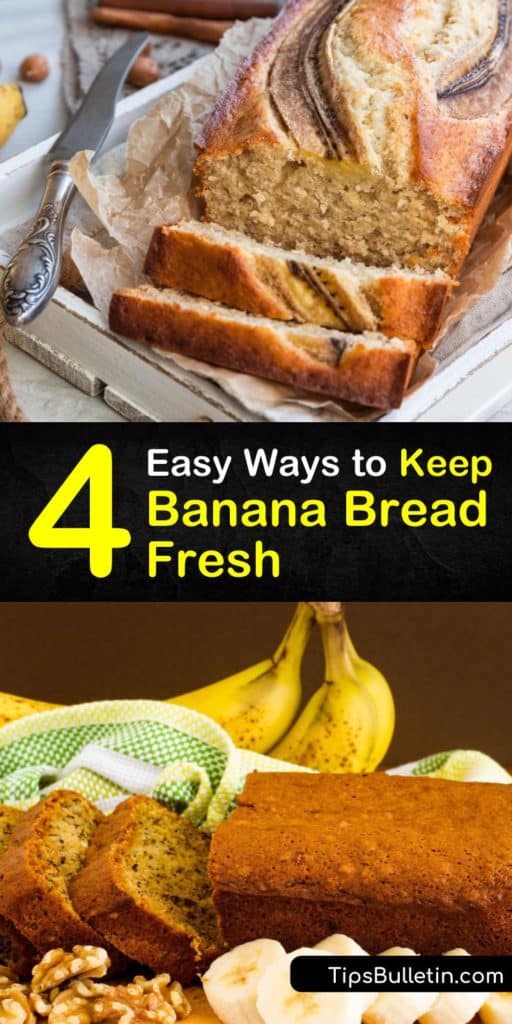 If this article showed you how to keep banana bread fresh, please share these storing banana bread tips on Pinterest or Facebook.