There are several advantages to installing laminate flooring over hardwood flooring in your home. This synthetic flooring product mimics hardwood floors while providing you with an inexpensive and durable floor. We'll show you how to make laminate floors shine with the luster of real wood.
Laminate floors can enrich a home with their natural-looking colors and shine. It's simple to overlook the fact that you need the right cleaning solution for the right floor to maintain its shine and beauty, though.
Your first choice may be to reach for a steam mop, but they can loosen the adhesive of laminate floors over time. Your second choice may be to clean your floors with Bona, but why do that when you can make your own cleaning solution the right way?
Making Laminate Floors Shine
Cleaning wood laminate floors using the wrong kind of cleaning methods may get those floors clean but will leave your laminate floors looking tired and worn. There are certain products that clean engineered wood flooring nicely but can harm the floor at the same time.
Residue from using the wrong cleaning products and a build-up of dirt can make laminate floors appear dull. Here are several ways to make those laminate floors shine again.
Housecleaning tip from the experts – take care of cleaning wood baseboards at the same time you wash your laminate floors. You'll kill two birds with one stone, so to speak, and the lower portion of your rooms will shine.
If you are unsure of what to use to clean laminate floors, we have a few tips for you. These recipes contain simple and inexpensive ingredients you probably already have at home. Try one solution to see if it works for you and explore another if you don't get the results you were hoping for the first time.
Clean Laminate Wood Floors without Streaking
Using the wrong cleaning solutions on a laminate floor can cause a haze and leave streaks. Vinegar is an excellent choice for use as a cleaning product due to its ability to break down grease and grime while leaving a streak free clean. The following method shows you how to clean laminate wood floors without streaking.
Sweep the floor clean of dirt and debris before wet cleaning. Combine the water, alcohol and white vinegar in a spray bottle and shake well. Make sure to label the container for future use and safety.
Spray an even layer of the cleaner onto the floor in sections. The laminate floor should be damp but not overly wet. Use a microfiber mop for mopping away the dirt by following the grain of the laminate.
If you don't have a microfiber mop, you can use a spray mop for this process. Work in sections until the floor is clean. Be sure to keep foot traffic off the floor while it dries to prevent streaks.
This simple recipe also works quite well as a natural cleaning solution for vinyl floors. Get rid of lingering dust and debris and stains with this easy-to-make cleaner.
How to Polish Laminate Flooring
A homemade laminate floor polish not only brings back the floor shine but can help eliminate scuffs while protecting the floor finish. The following method shows how to polish laminate flooring using vegetable oil.
To make this laminate floor polish or to make hardwood floors shine, begin by sweeping or vacuuming the floor with a vacuum cleaner hard floor attachment to remove dust and dirt, and mopping the floor using one of our laminate cleaner recipes.
Mix the water, vinegar, and oil in a squirt bottle and give it a good shake. Begin at a far corner of the room and squirt the cleaning solution onto the floor, making sure that you don't overdo it.
Rub the solution into the floor with a microfiber cloth using a circular motion. Continue working each section until you have backed your way out of the room. Your floors will look brand-new again.
Clean Laminate Floors with Vinegar
Store-bought floor cleaners contain harsh chemicals and soaps that tend to leave streaks while dulling the floor. Unlike a hardwood floor that can be waxed, a laminate floor needs a different kind of care to bring out its shine.
After dry cleaning the floor to remove pet hair, dust, and dirt, fill the bucket with water and vinegar. If you cannot tolerate the smell of vinegar, add several drops of essential oil to mask the scent when you clean laminate floors without streaks.
Dunk a sponge mop into the cleaning solution and wring out all excess water. Use the damp mop to clean the floor in small sections at a time. Begin at a far corner of the room and work your way back towards the entryway.
Make sure to rinse and wring the mop as it gets dirty. You may even need to pour out excessively dirty cleaner and replace with new if the flooring has a lot of grime. Dump out the vinegar and water solution and refill the bucket with clean water.
Repeat the floor cleaning process using the fresh water. Use a microfiber cloth to wipe the floor dry using a circular motion. This action will also buff the floor and bring out its luster.
Bring Shine Back to a Laminate Floor Using Baking Soda
Baking soda is an ideal ingredient to use for cleaning purposes. It is an alkaline powder and mild scouring agent that works well for breaking up dirt and grime. This cleaning solution can also be used safely on tile floors and linoleum.
Before wet cleaning the floor, be sure that it has been adequately swept or vacuumed to remove all loose dirt. Mix the ingredients in a plastic container or bucket. Start at the farthest point in the room and apply the cleaning solution to a section of the floor using the sponge.
Gently clean the floor using a circular motion to remove dirt and grime. Get a second sponge wet with clean water and wring as much of the water out as possible. Wipe the section with the clean sponge to remove all of the residue.
Continue cleaning the floor in this manner by moving from section to section until you have reached the entryway. Allow the floor to dry before walking across it.
Clean a Laminate Floor Using Castile Soap
Many commercial cleaners are soap-based, and this can be a problem when it comes to keeping the shine on a laminate wood floor. Fortunately, we have a floor cleaner that uses a minimal amount of natural soap to get those floors clean without making them dull.
Make sure that you have swept the area before applying any cleaning solution to the floor. Pour the warm water into the spray bottle and add a couple of drops of Castile soap and the essential oil.
We prefer using citrus essential oil for cleaning purposes, like orange or lemon. Work in sections to spray the solution onto the floor and wipe the area clean using a circular motion. Allow the floor to dry completely.
This recipe is also an ideal cleaner for wooden floors. It is gentle enough to use on real wood and leaves the floors with a nice shine and no streaking.
There is a lot of controversy about whether using a steam mop on laminate floors is a good idea. Some people say that it is fine and others would never do so. Evaluate the pros and cons and make your own decision.
Cleaning a laminate floor to restore its shine and luster can be done quite quickly if you know which methods work best and how to get the job done.
Many of these cleaner recipes also contain ingredients found in natural furniture polish, so it goes to show how effective they are at bringing out the shine. Using one of our cleaning solutions regularly, followed by our polishing method, will keep your laminate floor looking like new.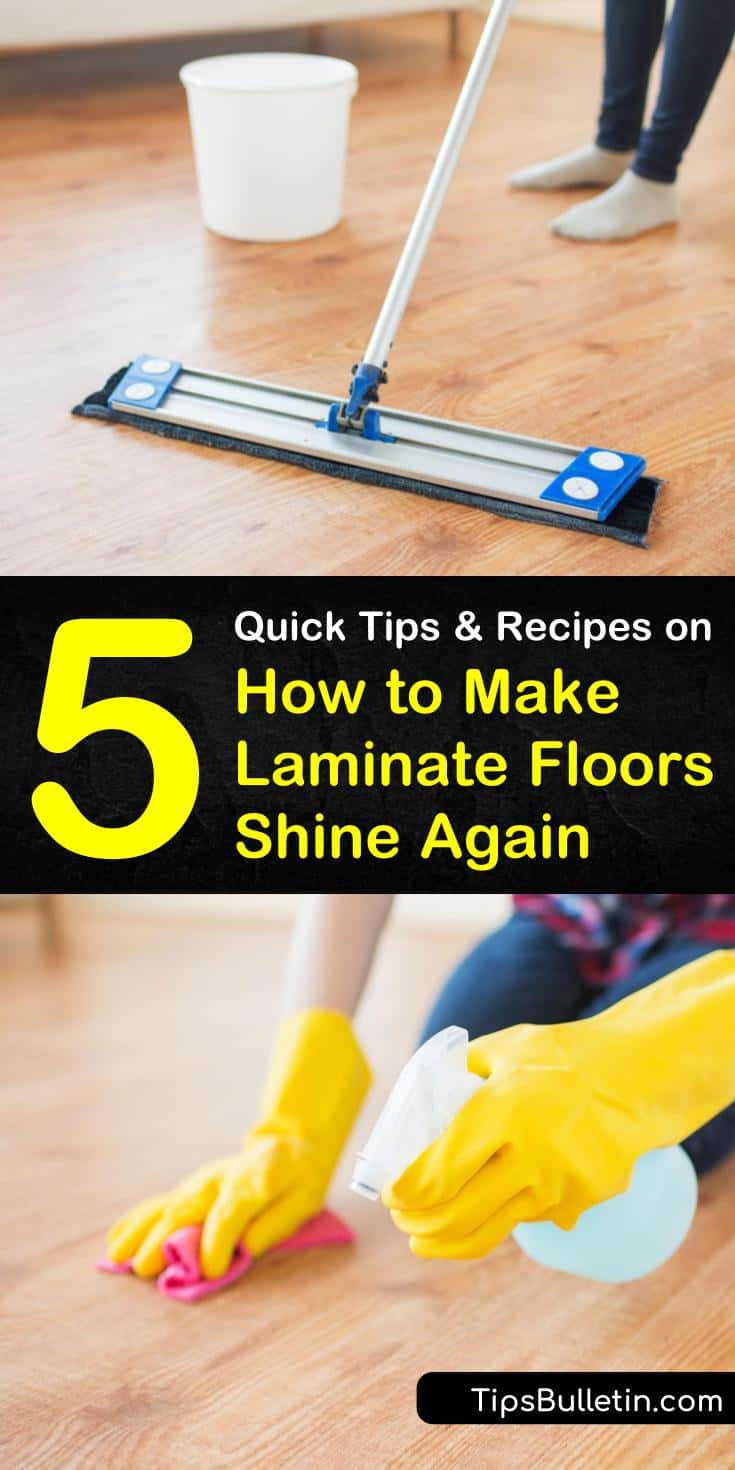 Knowing how to make laminate floors shine again can go a long way to restoring the beauty of your home, so why not share these laminate floor cleaner tips with friends and family on Pinterest?