Tomato plants are like the gift that keeps on giving. Unfortunately, this means that you may have a plethora of unripe, green tomatoes that need picking due to an early frost. We'll show you how to pickle green tomatoes using both fundamental and unique recipes.
Green tomatoes come in two varieties, the heirloom green tomato and the unripe tomato. Green cherry tomatoes are also an excellent choice for pickling due to the sweetness and firm texture. Savory fried green tomatoes are a popular side dish in the South.
If you have discovered that your garden is still producing tomatoes at the end of the growing season, don't let those green tomatoes go to waste. Even when unripe, they are edible and delicious if prepared properly. Place the tomatoes into paper bags to help them ripen faster or prepare them for pickling.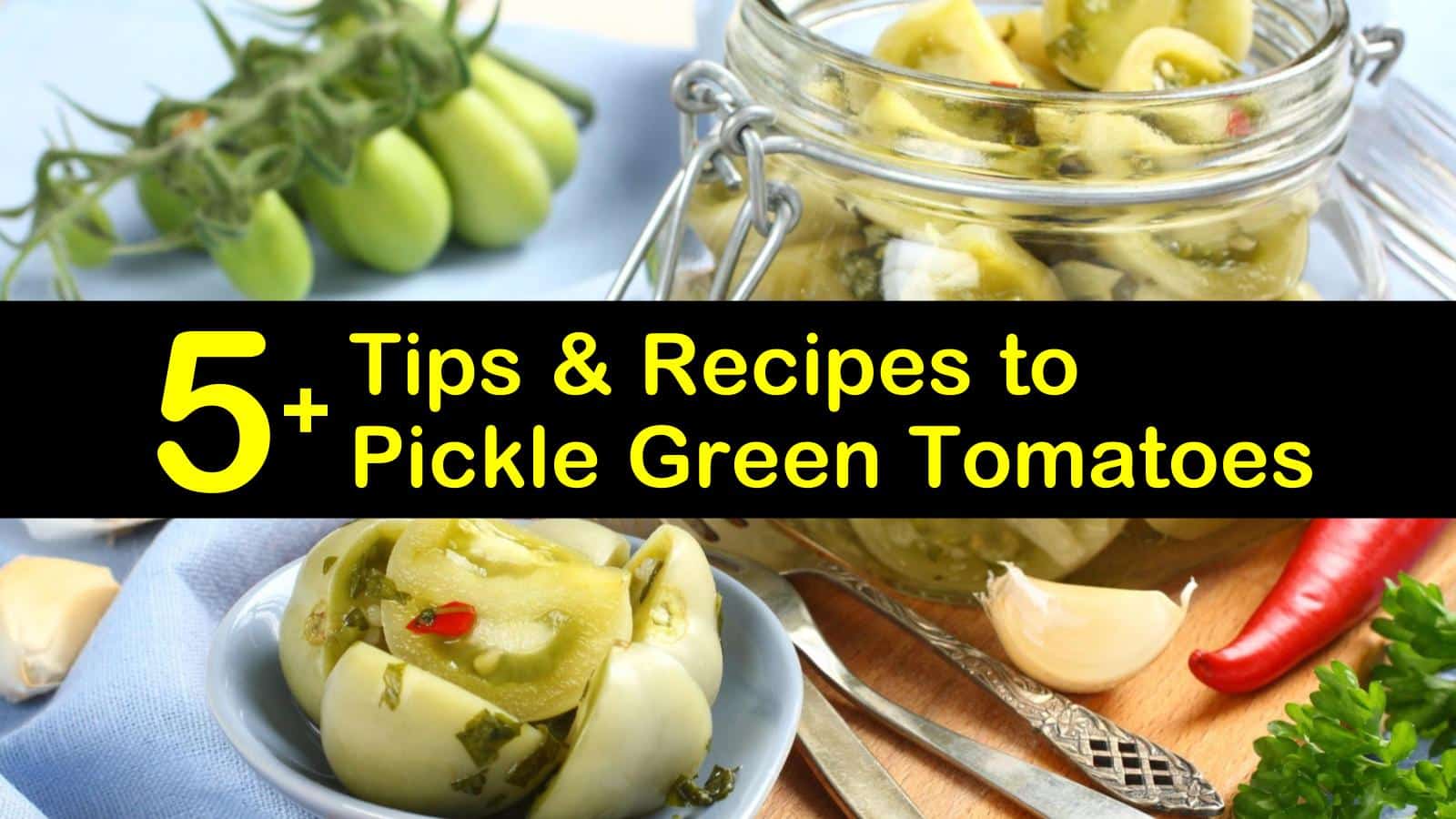 Pickling Green Tomatoes
Whether you are planting green tomatoes or another variety or even if you buy them from the farmer's market, making pickles is a great idea. Did you know you can pickle vegetables of almost any type? Pickling is a delicious way to add some zest to your favorite dishes and it's easy to do.
Pickled green tomatoes taste delicious on sandwiches, burgers, and salads, and are a great way to preserve all of the work you put into your garden. Both slicing tomatoes and cherry tomatoes are useful for pickling, and we'll show you how to pickle them using a variety of recipes.
Smart Way to Pickle Green Tomatoes
There are a few steps to take prior to pickling your green tomatoes. Choosing healthy veggies and knowing what to do before pickling saves you time and effort.
When are green tomatoes in season? It depends on whether you are growing green tomatoes or are picking red tomatoes before they ripen.
When picking green tomatoes from the garden, it's important to know when are green tomatoes ripe. Make sure you only use the ones that are free of blemishes and bruises. Wash each one to remove loose dirt and debris.
If you are pickling cherry tomatoes, cut them in half from top to bottom. For large ones, cut them into quarters.
To store tomatoes by pickling, you typically need about one and a half pounds of tomatoes per quart-sized jar. This estimate helps you in determining how many tomatoes, jars, brine, and seasonings to use when pickling.
Basic Pickled Green Tomatoes Recipe
While the best way to freeze tomatoes is to blanch them and store them in freezer bags, pickling is another excellent way to preserve them. Here is a basic pickled green tomatoes recipe to get you started.
Pour water, vinegar, and salt into a pan, bring to a boil and then remove from the heat. Fill the quart jar with the remainder of spices and tomato halves, leaving a one-inch headspace. Pour the brine over the top and use a knife to remove any air bubbles.
Wipe the rim clean, screw on the lid, and place the jar into a boiling water bath for 15 minutes of processing time. Remove the pickling jar and allow it to cool before storing. Now you have some delicious canned green tomatoes to enjoy whenever you like.
Quick Pickled Green Tomatoes
This recipe for quick pickled green tomatoes is similar to refrigerator pickles and does not require a canner for the process. While they do not last as long as traditional canned tomatoes, they can sit in the fridge for up to three weeks.
Pour the water, vinegar, and maple syrup into a large pot and add all of the spices. If you'd prefer, use brown sugar instead of maple syrup.
Bring the mixture to a boil for three minutes and then add in the halved cherry tomatoes. Cook for three more minutes before transferring the tomatoes and brine to pint jars. Refrigerate the tomato dill pickles for at least one hour before enjoying them.
Pickling Spicy Green Tomatoes
This home canning pickle recipe shows you how to make green tomato pickles with a little bit of kick by adjusting the spices. Try adding other ingredients such as jalapenos and red bell peppers to give the tomatoes even more zest.
Pour the water and vinegar in a large pot, add the salt, and bring to a boil before removing from the heat. Divide the spices between two quart-sized jars. Cut the slicing tomatoes in half-inch wedges and place them into the jars, cover them with the hot pickling liquid, and screw on the lids.
Carefully place the jars into a boiling water bath and process them for 15 minutes. Remove the canned tomatoes and allow them to cool completely before storing them.
Refrigerator Pickled Tomatoes
Home canning tomatoes doesn't mean that you have to use a water bath canner to get the job done. If you plan on enjoying your tomato condiments right away, make refrigerator tomato pickles. They'll last for up to one month in the fridge unless you eat them beforehand.
Slice the tomatoes into thick wedges and pack them into a clean Mason jar. Place the water, vinegar, peeled garlic, sugar, and remaining spices into a saucepan and bring to a boil. Simmer to dissolve the salt and sugar.
Ladle the hot brine over the tomatoes and leave a half-inch of headspace. Tap the jar lightly on the counter to remove any air bubbles, and screw on the lid. Let them cool down to room temperature and then place in the fridge. Reserve the temptation to eat them for 24 hours.
Making Pickled Green Tomatoes Sweet Style
Bath canning is the perfect way to preserve green tomatoes, not only because you can enjoy them all year round, but because there are so many recipes to try. These sweet and tangy pickled tomatoes are one of our favorites.
Slice the tomatoes into quarter-inch rounds and place them into a large bowl. Peel and cut the onions into quarter-inch slices, dice the peppers, and add them to the tomatoes.
Toss the veggies with salt and let them sit in the fridge for four hours. Pour the vinegar into a large pot and add the turmeric, sugar, celery seeds, and mustard seeds, and bring to a boil.
Drain and rinse the tomatoes, onions, and peppers in a colander and add them to the brine. Reduce the heat and simmer for five extra minutes.
Use a slotted spoon to place the vegetables into Mason jars and pour the brine over the top until they are covered, making sure to leave a half-inch of headspace.
Place lids securely onto the jars and set them into a boiling water bath for ten minutes of processing time. Once cooled, store them in a dark, cool place for two weeks before eating.
Try a variation of this recipe for how to pickle apples and other fruits and vegetables. Experimentation often leads to delicious results.
What about my ripe tomatoes?
Of course, there are a variety of things you can do with your ripe, red tomatoes, too. Making tomato juice or tomato sauce are two delicious options. You can also can your red tomatoes or eat them right out of the garden! Tomatoes are so versatile that there a plethora of preservation choices.
Just because a tomato is unripe doesn't mean that you do not get the chance to enjoy its goodness. Fill your garden basket with those firm, green tomatoes, roll up your sleeves, grab some canning jars, and make pickled green tomatoes. Who would have thought that unripe tomatoes could be so tasty?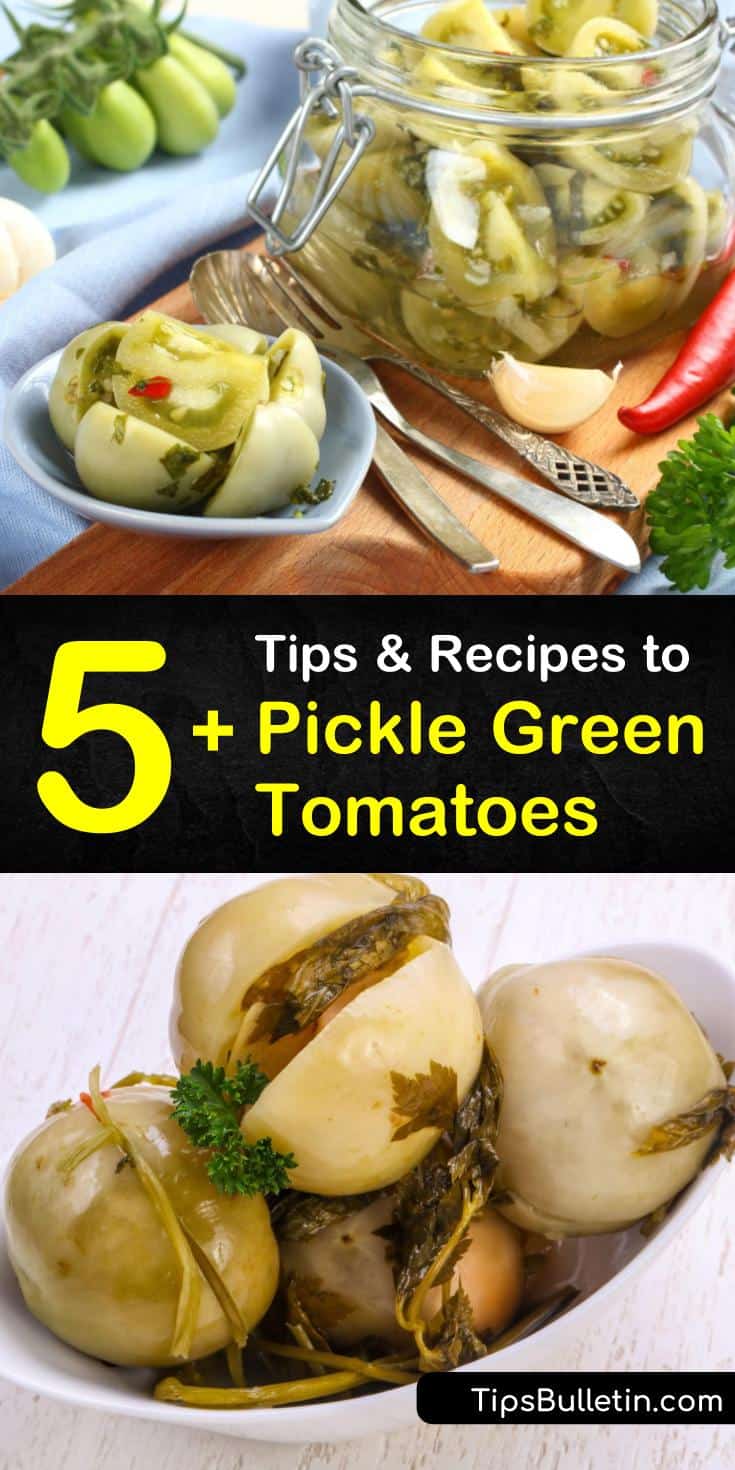 Now that you know how to pickle green tomatoes to ensure that your hard work and garden harvest don't go to waste, why not share these green tomato pickling recipes with your family and friends on Pinterest and Facebook?