Mushrooms are one of our favorite vegetables, whether in stir-fries, pasta, or stews. In this article, we show you how to pickle mushrooms to enjoy this hearty, nutritious vegetable.
Among other benefits, mushrooms contain dietary fiber and B vitamins, lower bad cholesterol levels, and promote healthy blood circulation. Pickled mushrooms have similar nutrition facts, although the salt from pickling increases sodium levels.
On the other hand, pickles tend to be high in beneficial probiotics. Pickled mushrooms work well as a snack, light lunch, or appetizer when paired with olives, cheese, and a baguette. They also make a tasty side dish for meat.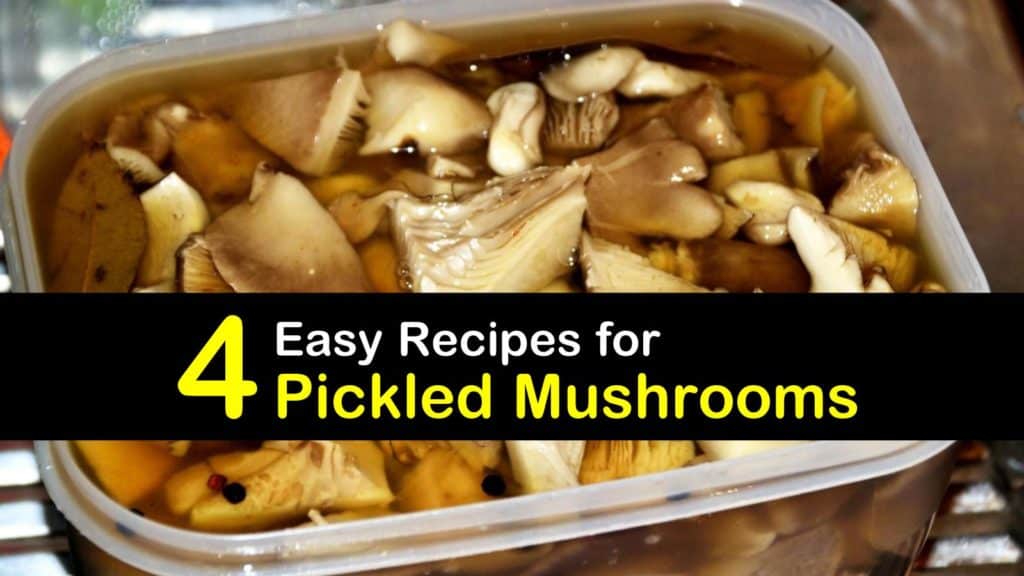 How to Store Mushrooms
Do you know exactly what is a mushroom? Although many people refer to them as veggies, mushrooms are actually an edible fungus.
There are so many different types of mushrooms that it can be challenging to buy just one variety. Experiment with a few samples to see which you like best.
Most people store fresh mushrooms in the fridge in their original container or a paper bag. Pickling mushrooms extends your window for enjoying them.
Sturdy Mason jars are ideal for storing pickled mushrooms. Store quick pickled mushrooms in the fridge for one month or more. They typically require at least 24 hours' marinating.
Marinated mushrooms do not freeze well. However, have you ever asked yourself, "Can cooked mushrooms be frozen?" In fact, you must cook these perishable veggies before freezing them.
Our Favorite Pickled Mushrooms Recipe
Unlike for pickling green beans, this pickled mushrooms recipe involves cooking the mushrooms first. Use this same recipe for pickling carrots, too, for a delicious take on the veggie.
To pickle mushrooms, be sure you have the best specimens first. When are mushrooms bad? You don't want mushrooms that have brown spots, are mushy, or smell bad.
Wash mushrooms, boil them for 15 minutes in a large pot with water and the half cup of vinegar, and drain them. In a separate pot, bring the water, sugar, salt, bay leaves, and peppercorns to a boil.
Add the remaining vinegar once the sugar and salt dissolve and remove the pot from the heat. Divide the garlic and any optional ingredients among three jars, then add the mushrooms and liquid.
How to Pickle Mushrooms without Boiling Them
This way to make pickled mushrooms generates less heat than many pickling recipes – ideal for summertime – and a favorite for how to preserve mushrooms to eat later.
For keeping mushrooms fresh this way, place the mushrooms and chopped shallots in a large bowl, then add the vinegar and boiling water. Leave the bowl at room temperature for two hours, covered, stirring occasionally.
Drain the vegetables, reserving the vinegar, and stir in the herbs. Combine the remaining ingredients with a little of the marinade liquid. Pour this dressing over the mushrooms just before serving.
Quick Pickled Mushrooms Recipe
Meaty wild mushrooms shine in a vinegary marinade.
In a medium saucepan over medium-high heat, mix half the oil and vinegar, the peppercorns, salt, and thyme. Bring the ingredients to a boil, then boil them for two minutes.
Add the mushrooms, reduce the heat to low, and cook for two minutes, stirring constantly. Pour the mushrooms and liquid into a one-pint canning jar.
Add the remaining oil and vinegar and cover the top with aluminum foil. Allow it to cool to room temperature, then refrigerate the sealed jar. Before serving, bring the mushrooms to room temperature.
Try this recipe or a variation for how to pickle beans and other vegetables. Experiment with different spices to find the ones you like best.
Spicy Pickled Mushrooms
This simple yet flavorful recipe uses lemon juice instead of vinegar.
Mix the mushrooms, onion, and fennel bulb in a bowl. Drizzle the oil over the top. Combine the lemon juice, garlic, ginger, jalapeno, and salt, then stir this mixture into the mushrooms.
Let the mushrooms marinate for 30 to 40 minutes. Add the avocado and fennel fronds just before serving.
Just as there are many different types of mushrooms and possible seasonings, there are diverse pickling methods. The best way to pickle mushrooms depends on factors like how much time you have available.
How to pickle mushrooms depends on how you intend to use them—whether as a garnish or standalone dish. Choose your favorite pickled mushrooms recipe, and get cooking!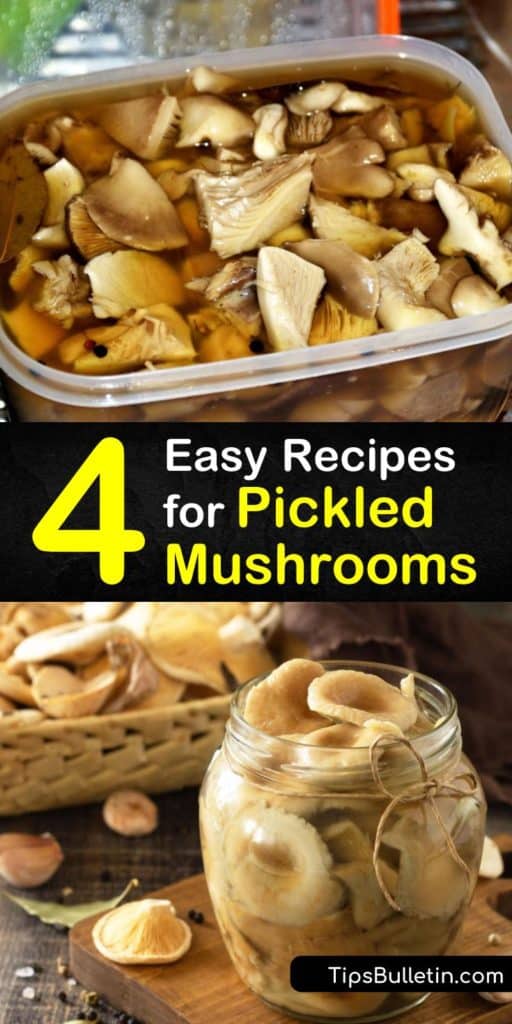 If you found these pickled mushroom recipes tasty, please share these pickling tips with your friends on Pinterest and Facebook.