Remember when Peter Piper picked that peck of pickled peppers? Unfortunately, you can't just go out to the garden and pick pickled peppers from your pepper plants. You'll have to pickle them yourself. We have a vast list of methods and recipes that will show you how to pickle peppers after you've picked them.
Peppers are a versatile vegetable that is rich in taste and color. You can keep banana peppers fresh for longer by pickling them. They keep for a long time.
With their green, yellow, orange, and red colors and mild to extra hot tones of flavor, these garden sidekicks can add zest to just about any dish you desire, from salads and salsa to entrees and even desserts!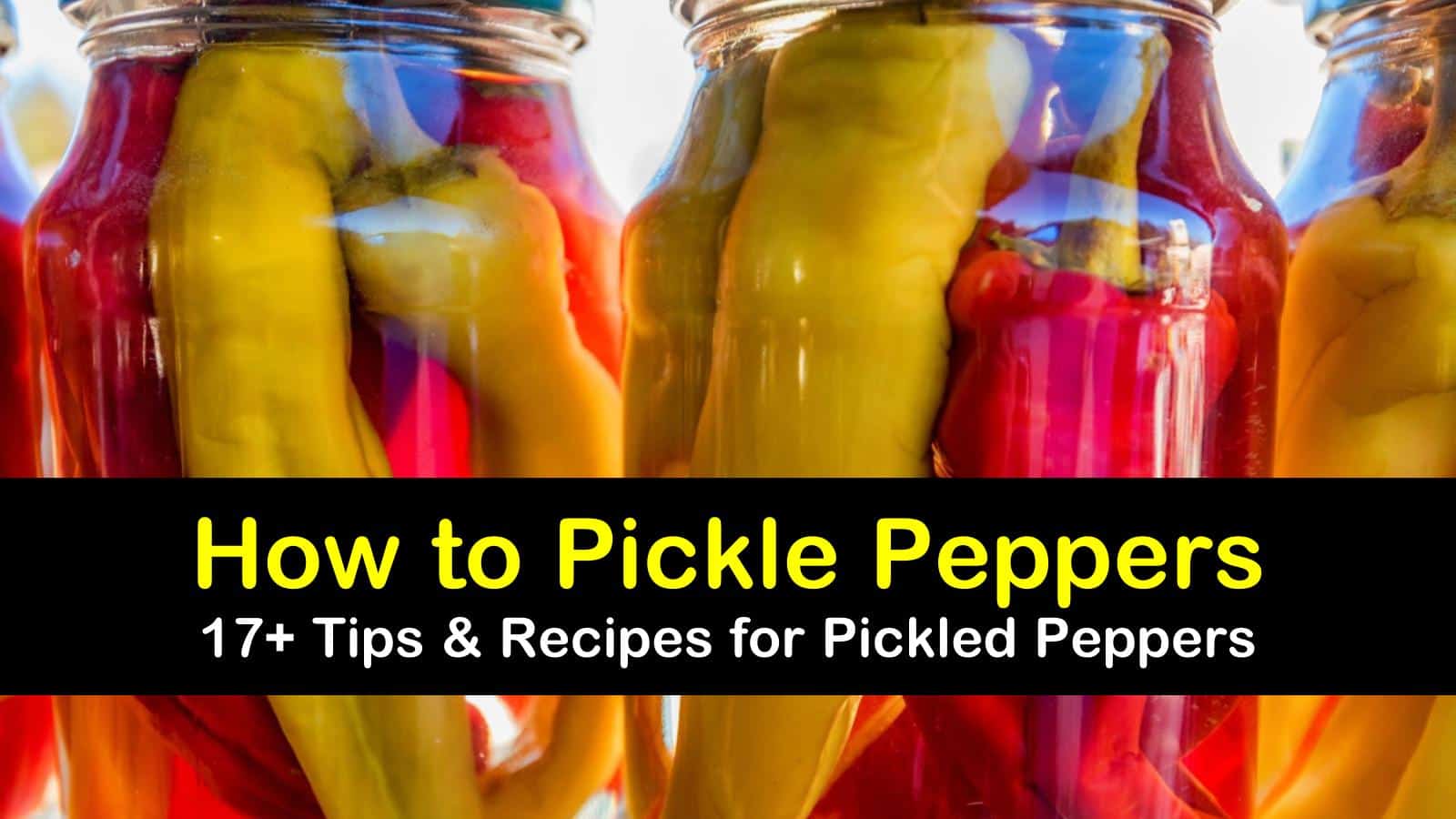 How to Make Pickled Peppers
Once you've picked your peck of peppers, or found a great deal at the grocery store and have stocked up, you need to know how to preserve them so they don't spoil. Storing green peppers or other types of peppers can involve freezing or canning them for future use, but why not give pickling a try?
Homemakers have been pickling produce for generations. Pickles are a great way to save peppers to eat later and to keep jalapenos fresh and crispy.
If you want to try other methods of preservation, learn how to freeze jalapenos or can them without pickling, too. Can you freeze banana peppers? Sure, you can freeze or can or even dry any kind of pepper.
Here, we've compiled an extensive list of the many different ways you can pickle peppers, as well as a few recipes for adding those peppers to your next meal.
How long are peppers good for after pickling or canning? You can eat these peppers for at least a couple of years if they last that long before you eat them.
Before You Begin Pickling Peppers
If you've pickled veggies in the past, then you're probably good to go for the most part. If you are new to the pickling process, then there are several items that you need before you can begin pickling those peppers.
If you plan on canning peppers without pickling them, then you have to use a pressure cooker for the process. Pickled peppers only require canning in a water bath canner.
Mason jars generally come in two basic sizes, pint and quart, but you can also get the four-ounce and half-pint sizes if needed. They are available in regular and wide mouth styles. The jar covers come in two pieces, the lid, and the rim. The jars and rims can be cleaned and reused, but the lids need to be replaced each time.
A water bath canner is a large stockpot and lid with a rack inside for holding the jars. The rack is an integral part of the bath canner. The jars should never be placed directly onto the bottom of the stockpot.
The jar lifter is optional, but it will make your job a lot easier and safer. Its job is to grab hold of the jars while they are in hot water and remove them to an area for cooling. Its rounded end is coated with rubber for easy gripping and non-slippage.
How to Prepare for Pickling
Before you dive into pickling those peppers, make sure that you have chosen the right peppers and prepared them for the pickling process. Be sure that all of your canning equipment is ready to go.
Pepper Pickling Preparation
There are a few things to take note of when picking out peppers for pickling. The peppers should be firm and crisp. If the peppers have a flimsy feel to them, they will not give you the desired result after pickling. Make sure they are the desired color when picking.
Before we move on, there is an important tip that you should be aware of when handling peppers. You may want to wear gloves while cleaning and slicing hot peppers. The capsaicin in hot peppers can be quite painful, especially if you get it into a cut or rub your eyes.
Once you choose your peppers, give them a good cleaning by washing them under cold water. Make sure to scrub away any dirt with your hands. Once the peppers are clean of dirt, slice them all into the desired canning size.
If you are pickling hot peppers, you may want to slice them open and remove the seeds before cutting them. After the peppers are ready for pickling, make sure that your Mason jars and lids are ready to go.
To ensure that there is no bacterial growth, place the jars into a dishwasher and give them a proper washing on the sanitization cycle. While the jars are cleaning, put the new lids, and rings into a pot of boiling water and allow them to boil for a few minutes to sanitize.
How to Choose Peppers for Pickling
There is such a wide variety of peppers available to us these days that it can be hard to decide which ones to use for pickling. We'll try and break it down for you by discussing some of the most popular.
Pepper Varieties
Let's start with the bell pepper. All color versions of bell peppers are edible and delicious. Green bell peppers are an unripe version of the ripe pepper.
If you desire red bell peppers, then you need to be patient while the green pepper ripens. As it matures, it will change from green to yellow, orange, and then finally red. Any of these stages produce an edible pepper.
A green, unripe bell pepper will have a slightly bitter taste, while a brightly colored pepper will have a sweeter flavor. If you plan on pickling sweet peppers, use the yellow, orange, or red variety of bell pepper.
Now, let's talk about hot peppers. Hot peppers change color from green to yellow, orange, or red, just as the bell pepper does. As the color changes, so do the flavor and heat intensity.
Banana peppers are a medium-sized, yellow pepper with a mild and tangy taste. Jalapeno peppers have a fresh green flavor with low heat. The jalapeno is similar to a Serrano pepper in character but with less heat.
The Hungarian pepper is a hot pepper that ranges in heat from mild to spicy. It can be used while it is immature and yellow or mature and orange.
How to Pickle Peppers with a Hot Water Bath Canning Method
This is a straightforward method for pickling peppers using a basic recipe. All you have to do is pick and prepare your peppers, and you're ready to go. Use this recipe for canning banana peppers, bell peppers, or even jalapenos. They are all delicious.
For this hot water bath canning recipe, pour the water and vinegar into the large pot and add the garlic and onion. Heat the brine over medium heat. If you are using large peppers, slice them into smaller pieces so that they will fit better in the jars. Small peppers, such as the jalapeno, can be left whole after cutting off the top of the pepper.
Ensure that you properly sterilize Mason jars, lids, and rims before starting to can to prevent contaminants from ruining your produce. Fill the jars with the peppers, leaving a half-inch of headspace in the jar. Pour the hot brine mixture over the peppers until they are covered.
After the jars are filled, shove a butter knife down the side of the jar to release any air bubbles. Put the rings and lids onto the jars and set the jars into the water bath.
Make sure they are completely submerged in water and bring it to a boil. Process the jars for 15 minutes. After the jarred peppers have cooled for 24 hours, check that they are correctly sealed.
Quick Pickled Peppers without a Water Bath
These quick pickled peppers are an easy recipe to make with short prep time. Canned pickles do not require a water bath canner, but the pickled peppers need refrigeration to last for about one month if you don't eat them all before that time.
Cut the bell peppers into one-inch pieces and the onion into thin slices and put them into a large bowl. Put the pickling spice and celery seed onto the cheesecloth and secure closed.
Combine the water, vinegar, sugar, and spice bag into a large pot and bring to a boil. Allow it to boil for about one minute before pouring into the bowl of peppers.
Allow the peppers to cool to room temperature, and then place the bowl of peppers and brine into the refrigerator for 24 hours, stirring occasionally. Remove the spice bag and enjoy the refrigerated, pickled peppers for up to one month.
How to Can Pickles without Pickling
If you'd like to have some non-pickled peppers on hand for unique recipes, then this basic canning recipe will get you started.
Prepare your favorite peppers accordingly and fill the jars nearly to the top, leaving half an inch of headspace. Bring a large pot of water to boil and carefully pour the water into the jars until the peppers are covered.
Put the rings and lids onto the jars and place the jars into the pressure canner. Most manufacturers recommend a processing time of 35 minutes, but check your canner's instructions for variations.
Pickling Jalapeno Peppers
Jalapenos are a mildly hot pepper with a fresh flavor. They are an excellent pepper for use in salsa or as a topping on tacos and burgers. You can also learn how to make pickled cucumbers in much the same way as you do with peppers. The following recipe shows you how pickle green peppers using jalapenos.
For this pickled jalapenos recipe, remove the stem end of the jalapeno peppers and slice them into quarter-inch thick rings. Pack the peppers into the Mason jars, leaving about half an inch of headspace.
Pour the vinegar and water into the pot and add in the salt, sugar, and garlic. Bring it to a boil and allow it to simmer for about ten minutes. Use a strainer to remove the garlic.
Ladle the brine into the jars so that the liquid covers the peppers and use a butter knife to remove any air bubbles. Put the rings and lids onto the jars and set them in the water bath. Process the peppers for ten minutes. Remove from the canner and set out to cool on a towel on the counter. Tighten lids after 24 hours.
How to Pickle Banana Peppers
Banana peppers have a mildly tangy and sweet flavor and work wonderfully as a pickled pepper.
Remove the stem of the banana peppers and slice them into quarter-inch rings. Pour the vinegar, water, and salt into the pot and bring to a boil and remove from the heat.
Place one tablespoon of mustard seed and half tablespoon of celery seed into the bottom of each jar. Pack the jars with the peppers, leaving a half-inch headspace at the top. Pour the vinegar mixture over the peppers until they are covered.
Put the rings and lids onto the jars and place the jars into a boiling water bath. Process the pickled peppers for ten minutes. Remove the jars and let them cool for 24 hours before checking their seals.
Pickling Peppers without Using a Water Bath Canner
If you do not have a water bath and intend to use your pickled peppers within a month, use the following recipe. This pickling recipe combines two different pepper types for a flavorful twist.
Remove the heads from the peppers and cut the jalapeno and bell peppers into thin slices. If you'd prefer less spicy peppers, make sure to remove the pepper seeds. Place the pepper slices and garlic into a large jar.
Combine the vinegar, water, honey, and salt into a large saucepan and bring to a near boil. Remove the pan from the heat and pour it into the jar of peppers. Once all of the liquid is in the jar, make sure that all of the peppers are submerged.
Allow the peppers to cool to air temperature before putting on the lid and refrigerating. The pickled peppers will be ready to enjoy in about two days.
Pickled Peppers Recipe without a Water Bath
You can use any pepper for this pickled peppers recipe. You can even mix and match your peppers to create exciting flavors.
If you'd rather, substitute white peppercorns for the black ones. There is not a lot of difference between white and black pepper regarding taste.
Remove the tops of the peppers and cut them into quarter slices. Pierce the peppers a few times with a knife or skewer. Pack the peppers into the jar, leaving an inch of headspace.
Mix all of the remaining ingredients into a saucepan and bring to a boil. Turn the heat down to medium and simmer for five minutes. Pour the brine into the jar of peppers until they are covered. Refrigerate up to one month.
Making Pickled Peppers Fast and Easy (Gluten Free)
If you haven't much time to prepare pickled peppers, then we have the perfect recipe for you. This recipe calls for minimal ingredients and only takes ten minutes to prepare and cook!
Put all ingredients except for the peppers into a large saucepan and bring to a boil. Add the pepper slices and remove the pan from the heat. Allow the peppers to sit for about eight minutes.
Use tongs to move the peppers from the pan to a Mason jar. Once you remove all of the peppers, pour enough of the brine over the peppers to cover. Store these peppers in the refrigerator for up to two months.
How to Make Pickled Peppers in a Hurry
This tasty batch of sweet pickled peppers can be whipped up in a snap, and you do not need a water bath canner to get the job done. You can also increase or decrease volume as required.
Pack the sliced peppers into a Mason jar. Add all ingredients, except for the garlic, into a saucepan and heat until the salt and sugar dissolve.
Turn the heat off and add the garlic. Pour the brine over the top of the peppers in the jar until they are covered. Refrigerate for one hour.
How to Make Pickled Pepper Hot Sauce
If you like it spicy, then you probably enjoy sprinkling some hot sauce on your food. Our pickled pepper hot sauce uses Serrano as the pepper of choice to add a little kick to your favorite condiment.
Cut the tops off the peppers and place them into the quart jar. Add the garlic, salt, and liquid whey and then fill the rest of the jar with water, leaving one inch of headspace. Cover with a lid and shake well. Let the jar of peppers and garlic sit at room temperature for two days while it ferments.
After two days, pour the contents of the jar into a blender and add the vinegar. Run the blender on the liquefy setting (or highest setting). Allow the hot sauce to sit for up to eight more hours before transferring to the refrigerator. You now have your very own hot sauce that will last you for several months in the fridge.
How to Make a Sweet Pickled Pepper Relish
This recipe makes a sweet pickled pepper relish that tastes wonderful over a grilled hot dog or brat. It does not require any canning or tedious preparation.
Combine all ingredients into a large saucepan on medium heat until the mixture comes to a light boil. Turn the heat down and simmer for half an hour. Allow the relish to cool and pour into a jar.
How to Puree Pickled Peppers
Make a puree out of your pickled peppers. Purees can be used as a side to your favorite steak, or for dips, pasta sauces, salads, and more.
Start by choosing your favorite pickled pepper recipe. Place the pickled peppers, cooked and skinned eggplant, and olive oil into a food processor and blend until roughly chopped.
Pour the mixture into a saucepan over medium heat and simmer for 30 minutes. Remove from heat and season with salt and pepper to taste. Allow the pepper puree to come to room temperature before serving.
Making Italian Style Pickled Peppers without a Water Bath
This recipe is a form of Italian pickled peppers that taste excellent on Italian beef sandwiches and as a pizza topping. The total time for this recipe is about an hour with a refrigerated resting time of two days.
Place the peppers, celery, carrots, onion, and cauliflower into a large bowl. Add the salt and just enough water to cover the veggies. Cover and refrigerate overnight.
Drain the salty water from the veggies and rinse. Mix all of the other ingredients into a smaller bowl and mix well. Add the brine liquid to the vegetables and cover. Refrigerate the pickled peppers for approximately two days before using them.
How to Use Pickled Peppers as a Relish
Pickled peppers work wonderfully as a relish for just about anything from hamburgers to brats. This recipe uses your existing pickled peppers and shows you how to turn them into a relish. As a bonus, you could also can tomatoes at home to make even more delicious recipes with this tasty veggie that is plentiful in the summertime.
Place the skillet over medium heat to heat the oil and saute the onion until tender. Add in the pickled peppers and tomato and simmer for ten minutes. Add salt and pepper to taste. Allow cooling before serving over your favorites grilled food.
Using Pickled Peppers on Tacos
What could be better than Taco Tuesday, except topping those tacos with homemade pickled peppers, of course! Here is a simple taco recipe using your very own pickled peppers.
Saute the chopped peppers and onions in the oil in a medium skillet. Add salt and pepper and cook four to five minutes until soft. Add the garlic cloves, chili, and cumin seasonings.
Crumble the beef in the skillet and cook until the meat is no longer pink. Pour in the canned tomatoes, including the water, and simmer until it thickens.
While the meat is cooking, warm the tortillas by placing them in a dry skillet or the microwave. Place the warmed tortillas on a plate and fill bowls with the taco meat, shredded cheese, lettuce, chopped tomatoes, sour cream, and our recipe for pickled jalapeno peppers.
As you can see, pickling peppers can be done in a few easy steps, whether you decide to use a water bath or a quick recipe. If you are continually looking for a print recipe or new recipes on how to pickle peppers in your cookbook, we hope we have given you some new and fresh ideas.
After you master the art of pickling peppers, try your hand at pickling other types of produce. You may find a yummy pickled garlic recipe or one for pickled green tomatoes. The possibilities are virtually endless.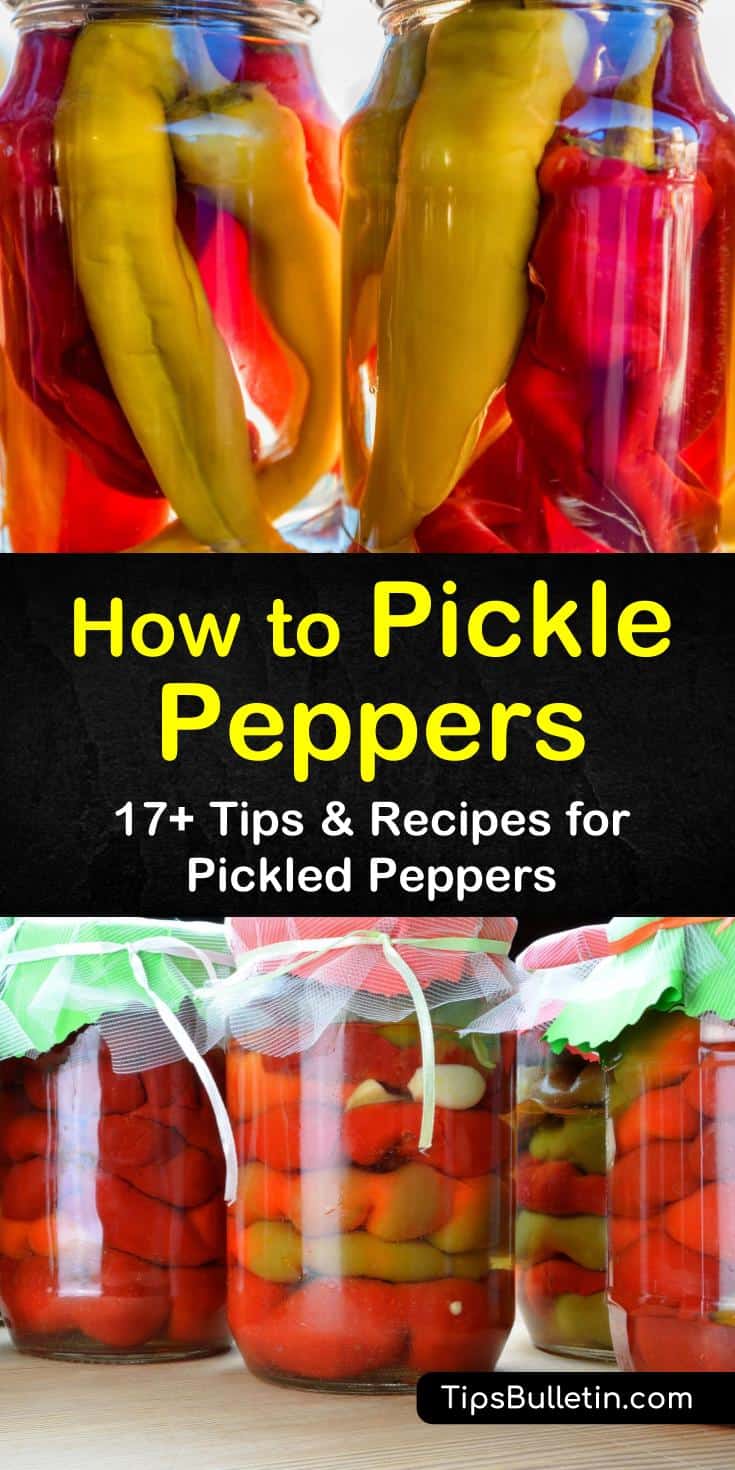 Now that you know how to pickle peppers using a variety of different methods, we hope you'll share our pickled pepper recipes with your friends and family on Pinterest.