Dark green vegetables like broccoli are some of the healthiest veggies, and growing your own is an optimal way to ensure your food is organic and pesticide-free. They are delicious raw with a side of ranch dip or cooked and smothered with cheese. Find out how to plant broccoli in your vegetable garden so that you get to enjoy a summer or fall crop of tasty greens for your favorite recipes.
Like cauliflower, kale, and Brussels sprouts, broccoli is a member of the cabbage family. They flourish in cool weather, and there are many types of hybrid and heirloom broccoli plants to grow, including Calabrese, Sprouting, Chinese, and Broccolini. Whichever type you choose, it's important to understand what these plants need to thrive. Broccoli does not tolerate hot weather, and knowing when to grow broccoli is key.
High temperatures and hot soil cause bolting, which is when the plant grows flower buds and yellow flowers for reseeding, affecting the broccoli heads' flavor. It's essential to provide broccoli plants with the right conditions and care for a healthy harvest at the end of the growing season.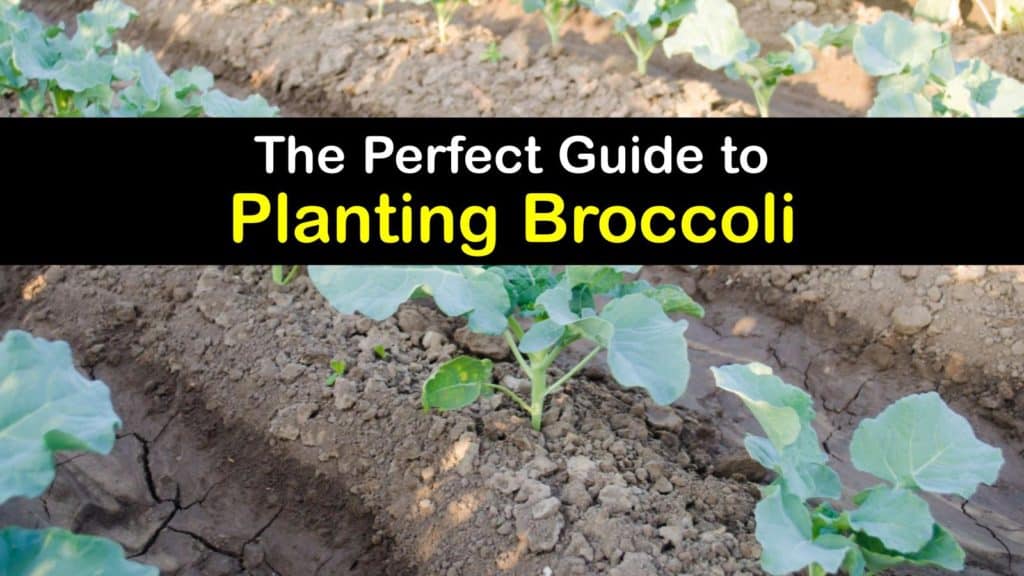 How to Grow Broccoli
Planting broccoli is fairly straightforward, but these plants require cool temperatures. Planting broccoli seeds indoors before the last frost date is easy if you desire a mid-summer harvest or late summer for a fall crop.
Learn ways to grow broccoli from seed outside in the garden and how far apart to plant broccoli for healthy growth. You can grow broccoli indoors, and growing the plants from seeds in a pot is a great way to start. Discover what broccoli plants want to flourish and ways to use the florets in a recipe.
How Far Apart to Plant Broccoli
It's easy to sow seeds for the different broccoli types, but broccoli plants require proper spacing to ensure good air circulation and uncrowded conditions while growing. Explore how far apart to plant broccoli when growing it in a garden or raised bed or the way to grow broccoli in a container and what it wants for healthy growth.
Broccoli plants are cool-season veggies, and starting the seeds inside six to eight weeks before the last frost ensures that you get a mid-summer crop.
They love growing in six to eight hours of full sun each day, and sunlight is essential when sowing seeds indoors to prevent the plants from getting leggy.
In addition, they need slightly acidic dirt with a pH of 6 to 7 and grow ideally in rich soil with organic matter. Raising the acidic level of your garden also reduces the chance of broccoli clubroot.
Broccoli plant spacing is essential when transplanting the seedlings to ensure you get a larger central head. Space them 12 to 24 inches apart with 36 inches between rows.
How to Plant Broccoli
There are two times of the year to grow broccoli plants. The best way to plant broccoli for a mid-summer crop is to sow seeds indoors in early spring before the last frost.
Sow seeds during the summer months for a fall harvest. Learn how to plant broccoli using both of these methods.
Planting broccoli seeds indoors in early spring is the way to go if you desire a mid-summer harvest. Seven weeks before the final frost, the way to grow broccoli in a pot is to fill a seed starting tray or containers with a good quality seed starting soil.
Press the seeds a quarter to a half-inch deep into the dirt and spray them lightly with water. Set them in a sunny area and keep them damp to encourage germination.
Broccoli seeds germinate in four to seven days. The best time to plant broccoli seedlings outside is when they have true leaves and the weather is frost-free. If you desire a fall crop, sow the seeds directly in a prepared garden bed in the middle of summer.
Acclimate the young broccoli plants before transplanting them by taking them outside daily for a week. Begin by placing them in a shady location and eventually set them in full sun by the end of the week.
Dig holes one to two feet apart in the garden and transplant each seedling into the ground. Pat the dirt lightly around the plants and water them immediately to help the roots settle and prevent shock.
Spread mulch to control weeds and hold in moisture, and water your new plants as needed so that the ground is damp without being soggy.
Fertilize your plants with a balanced fertilizer since potassium and phosphorus promote bloom development, and too much nitrogen causes excessive leaf growth and small heads. Side-dress the plants after transplanting and again just before heading.
Keep an eye out for cabbage worms, aphids, cabbage loopers, and other garden pests like little bugs on broccoli, and install floating row covers to prevent an infestation or use insecticidal soap to kill them.
It's simple to learn how to tell when broccoli is ready to harvest. In the middle of summer or before the fall frost, harvest the main head when it reaches four to seven inches wide and the florets are deep green. Use a sharp knife to remove the central flower heads while leaving the plants in the ground to encourage side shoots to develop.
Making a Tasty Recipe after Planting Broccoli
After going through the effort of planting broccoli, you now get to enjoy preparing this dark green veggie for eating. While they taste great raw and fresh from the garden, we love to roast broccoli with garlic and toss it with Parmesan cheese.
Spread the broccoli on a large cooking sheet, top them with the sliced garlic, and drizzle five tablespoons of olive oil over the top. Sprinkle them with salt and pepper and bake in a 425°F oven for 20 to 25 minutes.
Remove the sheet of broccoli from the oven and toss the veggies with the lemon juice and zest, a tablespoon of olive oil, and the Parmesan cheese. Serve the roasted broccoli while hot.
We all know that vegetables are necessary for a healthy diet, and dark green veggies like broccoli are some of the most nutritious. There are many types to pick from, and growing them yourself is the best way to enjoy the freshest, chemical-free vegetables.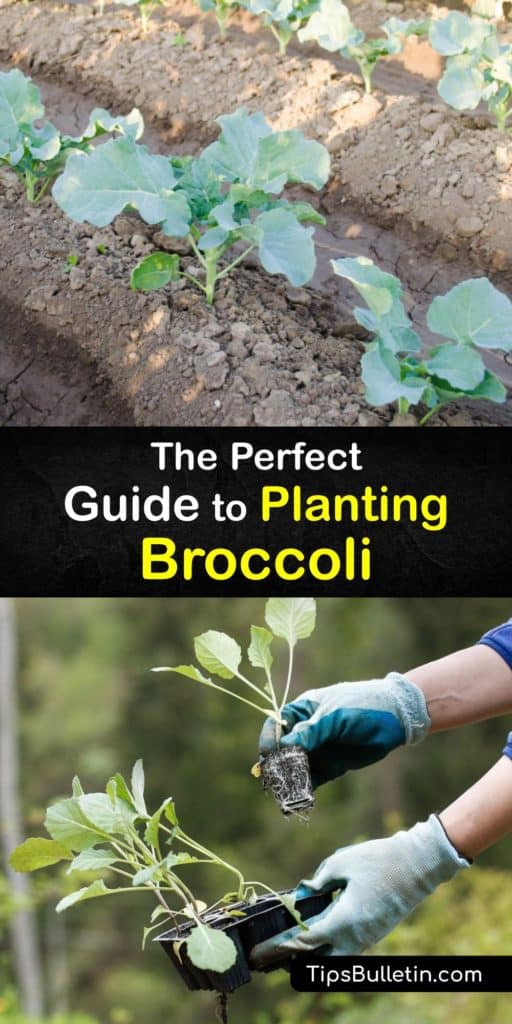 We hope that learning how to plant broccoli properly keeps your recipes packed with healthy green veggies, and we'd love it if you'd share our broccoli planting guide with the veggie-lovers in your life on Pinterest and Facebook.