Because of the damage they cause, bed bugs remain one of the biggest fears of homeowners. If you notice a bed bug problem, you may not need to call an exterminator to handle the issue. Learning how to remove bed bugs from your couch, bedding, or box spring is simple with the right bed bug traps.
Various products to choose from kill bed bugs in an infested room. Many cleaning agents commonly found in your house double as a bed bug control option. What kills bed bugs? Cleaners like baking soda and white vinegar contain the right ingredients to treat a bed bug infestation. There are also all-natural options to use for pest control.
Essential oils are a fantastic way to kill adult bedbugs without using any pesticides in your house. When it comes to removing bed bugs, this article contains all the tips and tricks necessary to handle a bed bug infestation quickly. Additionally, we show you how to identify signs of bed bugs and their bites.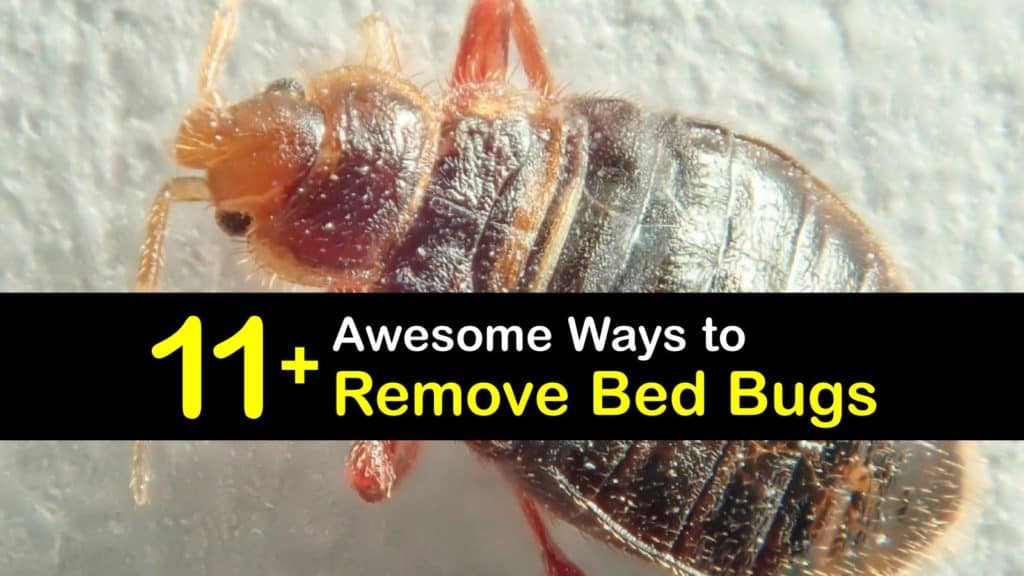 Is Bed Bug Removal Time-Consuming?
For your pest control techniques to be as effective as possible, it is best to treat a bed bug problem immediately after identifying it. If you wait too long to implement a bed bug treatment, the problem only grows worse.
A severe bed bug problem demands attention from a pest control professional because the bugs repopulate promptly.
DIY bed bug removal does not take an excessive amount of time with the proper tools. When you kill bed bugs and their nymphs, be thorough and take the time to reach every area of the room because bed bugs are good at hiding.
Signs of a Bed Bug Infestation
There are several indicators of bed bugs. When bedbugs bite, they often bite multiple times in a straight line.
Bed bug bites can be confused with mosquito bites. Both bites leave red itchy welts. However, bed bug bites burn and leave multiple marks in the same area.
The initial step in understanding how to remove bed bugs is knowing the signs of a bed bug infestation. How to know if I have bed bugs involves looking on and around the bed. Because bed bugs survive on human flesh, you will most likely find signs of bed bugs in your bedroom where you sleep.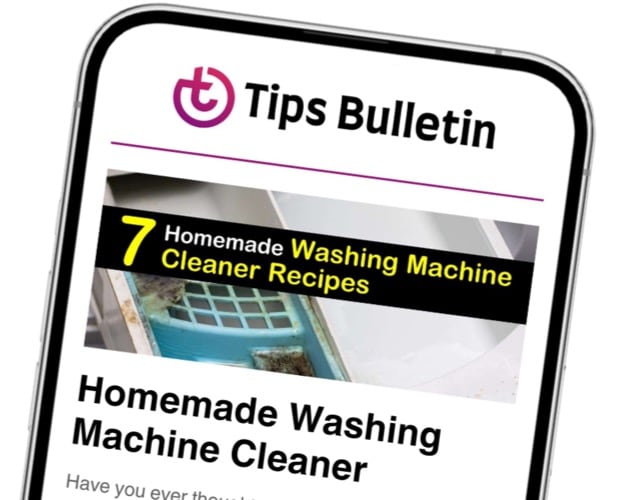 Finally, an email that Transforms Your Home.
Get the latest home and garden tips from our experts, delivered straight to your inbox.
How to Remove Bed Bugs with Essential Oils
One of the all-natural remedies for bed bugs is essential oils. The strong scent of specific essential oils drives bed bugs away. Use essential oils to deter bed bugs, as they do not always kill every insect in the room. Do bed bugs hate peppermint? Definitely. Many other creepy crawlies do, too.
In a standard-sized spray bottle, combine four cups of water with 20 to 30 drops of the essential oil of your choice. Swish the liquid and spray the contents over your mattress, along your baseboards, and in other areas you have seen bed bugs to eradicate bed bugs effectively with this mixture.
You can also make a cedar oil spray for bed bugs with this same recipe. In addition, the cedar oil repels moths that may be lurking in your closets.
Using a Vacuum for DIY Bed Bug Removal
Utilizing the hose on the vacuum is an excellent way to suck up the bed bug shells and dead bed bugs after using a pest management technique. Although a regular vacuum removes bed bugs, a vacuum cleaner with a HEPA filter is a better option.
HEPA filters trap more contents and small dust particles without releasing any small particles back into the air.
A HEPA filter vacuum bag ensures that no bed bugs escape. Learning how to remove bed bugs is simpler when you have a vacuum cleaner with a HEPA filter.
How to Wash Bedding after a Bed Bug Infestation
After you use a DIY bed bug removal technique, wash your pillowcases, mattress cover, sheets, and bedding to get rid of the dead bed bugs. Washing your bedding also ensures that any bed bugs that may still be alive are killed.
Bed bugs spread easily but cannot survive temperatures over 140℉ in the washer. Wash all your bedding with hot water and dry them on a high heat setting. When you use the high temperatures your washing machine offers, it guarantees all the remaining bed bugs die.
Removing Bed Bugs with an Encasement
To kill bed bugs on your mattress, use an encasement, which is a giant plastic bag for your mattress that suffocates all the living adult bed bugs on your bed. If you do not want to use foggers or an insecticide, an encasement is a great alternative.
Buy an encasement labeled bite-proof and escape-proof, so no bed bugs wriggle through a tiny opening.
Wrap the encasement around your entire mattress and leave it on for two days. After taking off the encasement, vacuum the dead bed bugs off the mattress.
Implement Diatomaceous Earth to Kill Bed Bugs
Diatomaceous earth works just as well as household pyrethroids at killing bed bugs. The ingredients in diatomaceous earth dry out the shell on bed bugs and kill them.
Lightly sprinkle diatomaceous earth over the top of your mattress and in the crevices of your bed frame. Let the powder sit for three to four hours before vacuuming the residue.
If you notice any bed bugs still alive after utilizing diatomaceous earth, apply another round and follow the same steps.
Eliminating Bed Bugs with Baking Soda
Baking soda works similarly to diatomaceous earth. The baking soda dries out the waxy layer on a bed bugs' shell, dehydrating and killing them. Removing bed bugs with baking soda also acts as a natural deodorizer to freshen your mattress.
Sprinkle a generous layer of baking soda powder on your mattress and other areas you have located bed bugs, like on your headboard. After letting the baking soda sit for two to three hours, vacuum the powder and the dead bed bugs.
Making a Vinegar Solvent to Kill Bed Bugs
One advantage of using white vinegar as a form of pest management is that the solvent can clean various surfaces. Vinegar is very acidic, which disrupts the nervous system of bed bugs, causing them to die.
For this spray to get rid of bed bugs, mix your bed bug-removing ingredients in a spray bottle and swish the liquid around so the oil absorbs into the water. Spray the solution over the common areas bed bugs hide, including your mattress and hard-to-reach crevices.
If you dislike the smell of tea tree oil, consider using lavender oil for bed bugs. Lavender oil has a more floral scent, but works just as well to repel bed bugs.
Where do Bed Bugs Hide?
One part of understanding how to remove bed bugs in your home is knowing where they like to hide. Bed bugs feed at night, so they are found near soft surfaces where you sleep.
Some popular hiding places for bed bugs include your mattress, headboard, box spring, couch seams, between cushions, and baseboard crevices. Bed bugs flatten their bodies to hide, so they sneak in cracks during the day and come out to feed as you sleep.
Steaming Bed Bugs
A handheld steamer uses scorching hot water to kill bed bugs. If you do not own a steamer, they are available for rent at your local home improvement store. Because bed bugs cannot survive high heat, a steamer is an ideal tool to kill them.
Press the steamer firmly onto the soft surfaces, ensuring you work the steamer into the crevices and cracks on your sofa and mattress. After utilizing a steamer, vacuum the surfaces to remove the dead bed bugs.
Does Rubbing Alcohol Kill Bed Bugs?
Rubbing alcohol is another popular cleaning product in your house that doubles as a bed bug removal tool. The high alcohol content in the liquid works as well as an EPA insecticide, effectively killing bed bugs.
Mix equal parts rubbing alcohol and tap water in a spray bottle and disperse the bed bug-remover on any area where bed bugs live. Adding some essential oil gives the solvent a pleasant scent.
How to Prevent a Bed Bug Infestation
Setting up interceptors on your couch legs is an excellent way to prevent bed bugs from living on your couch. The interceptors capture any bed bugs that try to climb up your couch legs. Make sure to keep your room free of clutter where bed bugs like to hide.
Second-hand furniture is a typical place a bed bug infestation starts. Avoid buying furniture from a garage sale or thrift store as a preventive measure for bed bug control.
Bed bugs can also travel from a hotel room to your house, so inspect hotel bed sheets before sleeping on them.
A common misconception is that DIY bed bug removal is time-consuming and not as effective as a hired pest control service.
However, when you use household products like vinegar, baking soda, or rubbing alcohol, you can handle and kill off a bed bug infestation. There are also simple ways to avoid a bed bug infestation altogether.
If you discovered how to remove bed bugs, share this article about removing bed bugs with your roommates and family on Pinterest and Facebook.