What could be better than crunching on a lightly salted, whole cucumber fresh from the farmers market, other than tossing sliced cukes into a garden salad? The sad news is that these veggies do not retain their tasty crispness very long. Learn how to store cucumbers in a variety of forms for long-term enjoyment.
Fresh cucumbers are highly nutritious and low in calories, which makes them a great addition to the diet. Unfortunately, they are high in water content, which means that they do not handle long-term storage very well.
However, there are ways to store them so that you can benefit from their tasty goodness all year round.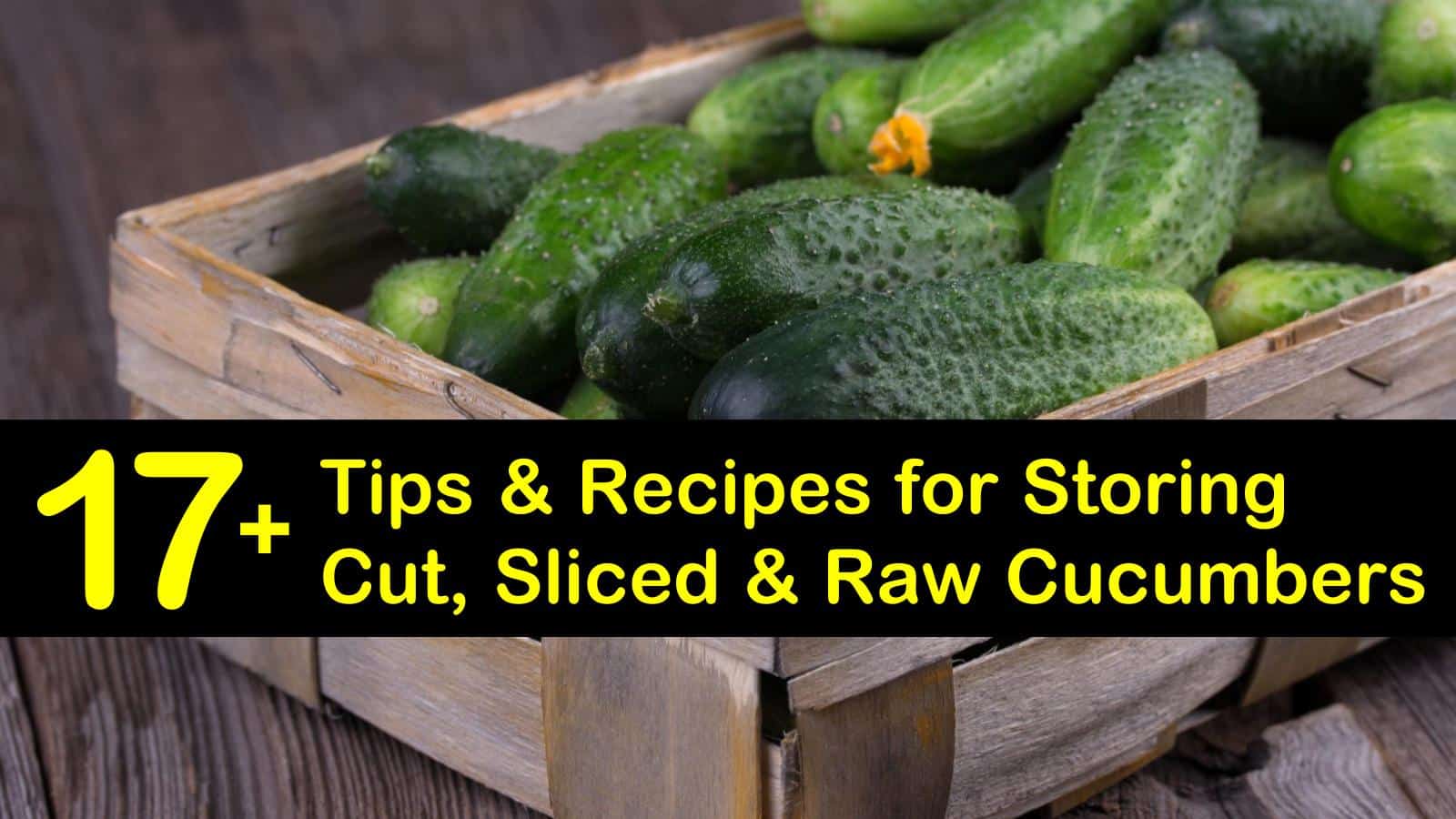 Storing Cucumbers
Cucumbers are many people's favorite veggie. How do cucumbers grow? Cuke vines are easy to grow in the garden as long as they get plenty of water and sunlight.
It's possible to plant cucumbers in a pot for the patio or balcony, too. Just be sure they have optimal growing conditions.
After you harvest them, you need to know what to do with them, too. Believe it or not, but there are more ways to store cucumbers than placing them into the crisper drawer of the fridge.
Our list of storage methods may surprise you. Cucumber preservation is easy if you know the right ways to do it. That's where our expertise comes in.
We'll show you how to choose the perfect cucumber for storage, and the proper ways of refrigerating, freezing, pickling, and canning cucumbers. We've also added several delicious recipes for utilizing those stored cucumbers.
Choosing the Right Cucumber for Storage
You cannot inspect the inside of the cucumber until you take it home and slice it, so relying on other guidelines is the only way to ensure that you get a good cucumber. There are also different types of cucumbers used for different types of storage.
The best idea, though, is to learn how do cucumbers grow and plant your own. There is nothing quite like the freshness and flavor of home-grown produce.
Choosing Cucumbers
Choose a cucumber that is bright and even in color. Test the outside skin for firmness and make sure there are no blemishes. Avoid cucumbers that are flexible or soft to the touch, or you'll end up with cukes that are slimy and moldy.
Pick cukes that are a good size. The smaller they are, the crispier they are with smaller seeds. If you plan on pickling your cucumbers, pass on the English cucumbers and other long, thin-skinned types.
Choose medium to small-sized cukes for the best crunch. The cucumbers that you find in grocery stores may have a wax coating, which makes it difficult when pickling.
Storing Fresh, Whole Cucumbers
Unlike storing potatoes at home, fresh cucumbers do not do well in long term storage. Stored properly, whole cucumbers last approximately one to two weeks. Here is how and where to store cucumbers that are whole.
Wrap each cucumber in a paper towel or place it into a plastic bag to prevent excess moisture and slow spoilage. Set them in the crisper drawer of the fridge for about ten days. The drawer extends the shelf life of vegetables and fruits by controlling humidity and airflow through vents.
The crisper is also the best way for how to store celery that is still on the stalk. Cut or sliced celery stores best in a bowl of water in the fridge.
Store Cucumbers after Slicing
Storing cucumbers in the fridge after they are cut or sliced keeps them fresh for up to two days. Here is how to store cut cucumbers in the refrigerator for optimal freshness.
When storing sliced cucumber, place the slices into a container with a lid and store in the refrigerator. For cucumbers that have one end cut off, wrap the cut end with plastic wrap or aluminum foil.
When you are ready to slice off more of the cuke, and the open end looks soft or discolored, cut a couple of inches off the end, and use the fresh section of the cucumber.
Best Way to Store Cucumbers in the Freezer
There are a variety of reasons for freezing cucumber slices. These frozen slices are great for puffy eye treatments, tossing into a smoothie, and adding to side dishes. The best way to store cucumbers is to freeze them in a single layer before storing them.
Wash and cut the cucumbers into even slices. Lay a sheet of parchment paper in a baking sheet and place the cukes in a single layer onto the sheet.
Freeze them for approximately two hours, and then pour the frozen slices into a freezer bag. Make sure you write the date and contents on the bag. Cucumbers last up to one year in the freezer.
How to Dehydrate Cucumber Slices
We didn't believe it either, but dehydrated cucumbers are a thing. Crumble them into a salad or dressing, add them to smoothies, or enjoy them as a snack.
Wash and cut cucumbers into thin and even slices. Lay the cucumbers in one layer on each rack of your food dehydrator and set the temperature at 135°F. Dry them for about five hours or until they are dried. Store the dehydrated cucumbers in an air-tight container.
Making BBQ Flavored Cucumber Chips
Not only can you dehydrate cucumber slices, but you can season them to create healthy and delicious snacks. While there are many different varieties of chips, our favorite is BBQ.
Wash and cut the cukes into thin slices and set aside. Combine all of the spices into a large bowl and mix well. Toss in the cucumber slices to coat them lightly with the spices and then lay them in single layers on the trays of the dehydrator.
Dry them at a temperature of 135°F for about five hours or until crispy. Store the flavored chips in an air-tight container
Store Cucumbers by Brine Curing
Before we used a hot water bath canner, brine curing was a popular technique for preserving cucumber pickles and the best way to can cucumbers for eating later.
Creating the right conditions enables the lactic acid-forming bacteria to feed upon naturally present sugars found in food. This form of fermentation prevents food from spoiling and aids in digestion. It tastes delicious, too!
Wash the cucumbers and put them into the Mason jar. Combine all of the other ingredients into a bowl, mix, and then pour over the top of the cucumbers, leaving one inch of headspace.
Cover the jar tightly and place it in a dark area of the room for three days before refrigerating. Brine cured pickles last about two months, unopened and refrigerated.
No-Canning Dill Pickling Recipe for Cucumber Storage
If you enjoy dill pickles but not the idea of having to pressure can them, this is the recipe for you. While they do not last as long as traditional canned pickles, they are a convenient way to use up cucumbers.
Here is the best way to pickle cucumbers with vinegar without having to use a water bath canner.
Combine the water, vinegar, salt, and sugar in a large saucepan over high heat and bring to a rapid boil before removing from the heat.
Pack the cucumbers, garlic, and dill into a large jar and pour the cooled brine over the top, leaving a half-inch of headspace. Refrigerate for three days before enjoying them.
Try this simple recipe for preserving radish or other veggies, too. It's easy to vary the ingredients as needed.
Can Cucumbers for Long-Term Storage
Pickling is a common way to can many vegetables, even when storing fresh beets. While canning may seem like a daunting chore if you have never done it before, it's quite easy. Our traditional pickle recipe is an excellent place for beginners to start.
Fill the large pot with water, place the Mason jars into the water, and bring it to a boil to sterilize the jars. Wash and dry the cucumbers. Leave them whole, slice into spears, or cut into cucumber slices.
Remove the jars from the water and add the garlic and dill seed before packing them with the cucumbers. Combine the other ingredients in a saucepan and bring the mixture to a boil. Pour the brine over the top of the cukes, leaving half an inch of headspace, and secure the lids.
Place the jars back into the water, bring back to a boil, and process them for five minutes. Remove the jarred pickles and allow them to cool before storing them. Pickling cucumbers last a year, unopened.
Store Cucumbers by Sweet Pickling
Bread and butter pickles are on refrigerator shelves in just about every home. This style of preserving cucumbers creates the perfect balance between sweet and tangy and is commonly used as a topping in sandwiches and hamburgers.
Wash and cut the cucumbers into quarter-inch slices and place into a large bowl. Add the water, salt, and onion slices, cover, and let sit for two hours. Pour the vinegar and remaining ingredients into a large saucepan and bring to a boil.
Drain the vegetables, rinse, and drain once again before adding them to the boiling brine. After the brine returns to a boil, remove from the heat and ladle the veggies and brine into hot Mason jars, leaving a half-inch of headspace.
Remove any air bubbles, place the lids on the jars, and place them into a hot bath canner for ten minutes. Allow them to cool completely before storing.
How to Make a Sweet Cucumber Relish
Sweet and zesty relish is not only a great topping on brats, hot dogs, and burgers but another way to store cucumbers long term. This recipe calls for green and red bell peppers, but any pepper works. Try adding your favorite hot pepper to the recipe to spice it up.
Place the chopped veggies and salt into a large pot, cover, and let sit for four hours. Place the canning jars into the water bath, bring to a boil, and then reduce to a simmer. Place the veggies in a colander and rinse under cold water.
Put the vinegar, mustard seeds, sugar, and celery seeds in a pot over high heat. Bring to a boil and then pour in the rinsed vegetables. Simmer for ten minutes before filling the jars, making sure to leave half an inch of headspace.
Place the lids securely on the jars and set them into the canner. Process the jars of relish for ten minutes and allow them to cool completely before storing.
Use this recipe or a variation for frozen shredded zucchini recipes, too.
Making Canned Cucumber Salad
This healthy and refreshing salad has layers of slicing cucumbers, tomatoes, and onions that are married together in a sweet and salty brine. It's easy to throw together and stores on the shelf or fridge.
Slice the cucumbers into half-inch circles, the onions into quarter-inch slices, and the tomatoes into cubes. Place a few sprigs of fresh dill and three cloves of garlic into each jar, followed by two layers of the onion, cucumbers, and tomatoes.
Pour the water, salt, and sugar into a large pot and bring to a boil, remove from the heat and add the vinegar. Stir until the salt and sugar dissolve. Ladle the brine over the veggies and add one tablespoon of sunflower oil to the top, leaving a half-inch of headspace.
Place the lids on the jars and put them into a boiling water bath for ten minutes. Remove them from the water carefully and allow them to cool before storing. The salad is ready to eat in one to two days and is excellent on its own or coupled with fresh zucchini and pasta.
Freeze Cucumbers Ice Cubes for Smoothies
Can you freeze cucumbers for smoothies? Yes! Cucumbers are a healthy addition to fruit and vegetable smoothies that adds minimal calories but a lot of flavor.
Making frozen cubes with cucumbers is a great way to utilize cucumbers before they spoil and save them for a breakfast shake instead.
Cut the cucumbers into small chunks and place each one into the sections of an ice cube tray. Pour water over the top of the cukes and set in the freezer.
Once frozen, pop the frozen cucumber chunks out of the tray and place them into a freezer bag. Make sure to write the name and date on the bags.
If you were also wondering where to store lemons, making lemon ice cubes is also an excellent idea, whether you chop them up or use slices.
Freeze Cucumber Slices
Freezing cucumber slices is another excellent way to store cukes for later use. These slices are great for adding to cocktails or mixed in a dressing. You can even place the frozen slices on tired and puffy eyes.
Slice the cucumber into even sections and place them in a single layer on a parchment-lined baking sheet. Set the tray into the freezer for about two hours. Slide the frozen slices into a freezer bag and write the name and date on the front.
How to Make Healthy Cucumber Juice
This slightly sweet and light beverage is not only refreshing but a healthy alternative to store-bought drinks. Cucumber juice lasts up to six days in the fridge and up to one year in the freezer.
Peel the cucumbers, slice them into small chunks, and place them into a blender or food processor. Blend the cukes until they are pulverized and then pour the blended cucumber through a strainer into a bowl.
Use a rubber spatula to push and stir the pulp to encourage juice through the strainer. Pour the cucumber juice into a glass with ice and enjoy right away or store the juice in a sealed container in either the fridge or freezer.
Use Cucumbers to Make and Freeze Gazpacho
Gazpacho is a Spanish-style soup made of raw and blended vegetables. This soup is served cold and is easy to freeze ahead of time for easy meal prep.
Combine all ingredients into a food blender or processor and mix until smooth. Pour the soup into a freezer bag and write the contents and date on the front. When ready to eat, defrost and serve with diced cucumbers, red peppers, and croutons.
How to Make Smoothies using Frozen Cucumber Cubes
Fruit and vegetable smoothies are not only delicious but healthy as well. They are packed full of vitamins and fiber to help you get through the day. They are also an excellent way to use those frozen cucumber cubes that you tucked away in the freezer.
Put all ingredients into a food blender or processor and blend at high speed until it reaches a smooth consistency. Serve immediately for the best flavor or store in the refrigerator for up to 24 hours.
Using Frozen Cucumbers for a Facial Mask
Cucumbers are great for the skin. They are high in vitamin C and help reduce irritation and puffiness. Refrigerate this cucumber mask for up to one week, and use it as needed.
Place the frozen cucumber slices and yogurt into a food processor or blender and mix on high speed to form a puree. Rub a thin layer of the cucumber mask onto your face and leave it for 15 minutes. Rinse with ice water and pat dry with a soft towel.
Harvesting fresh cucumbers from your garden is an excellent idea if you know how to store them. Keeping cucumbers fresh at room temperature or in the fridge provides you with crispy cukes for a short time.
Learning the steps needed to lengthen their shelf life ensures that you have cucumbers for cucumber salad, smoothies, pickles, relish, and other tasty additions to your favorite meal.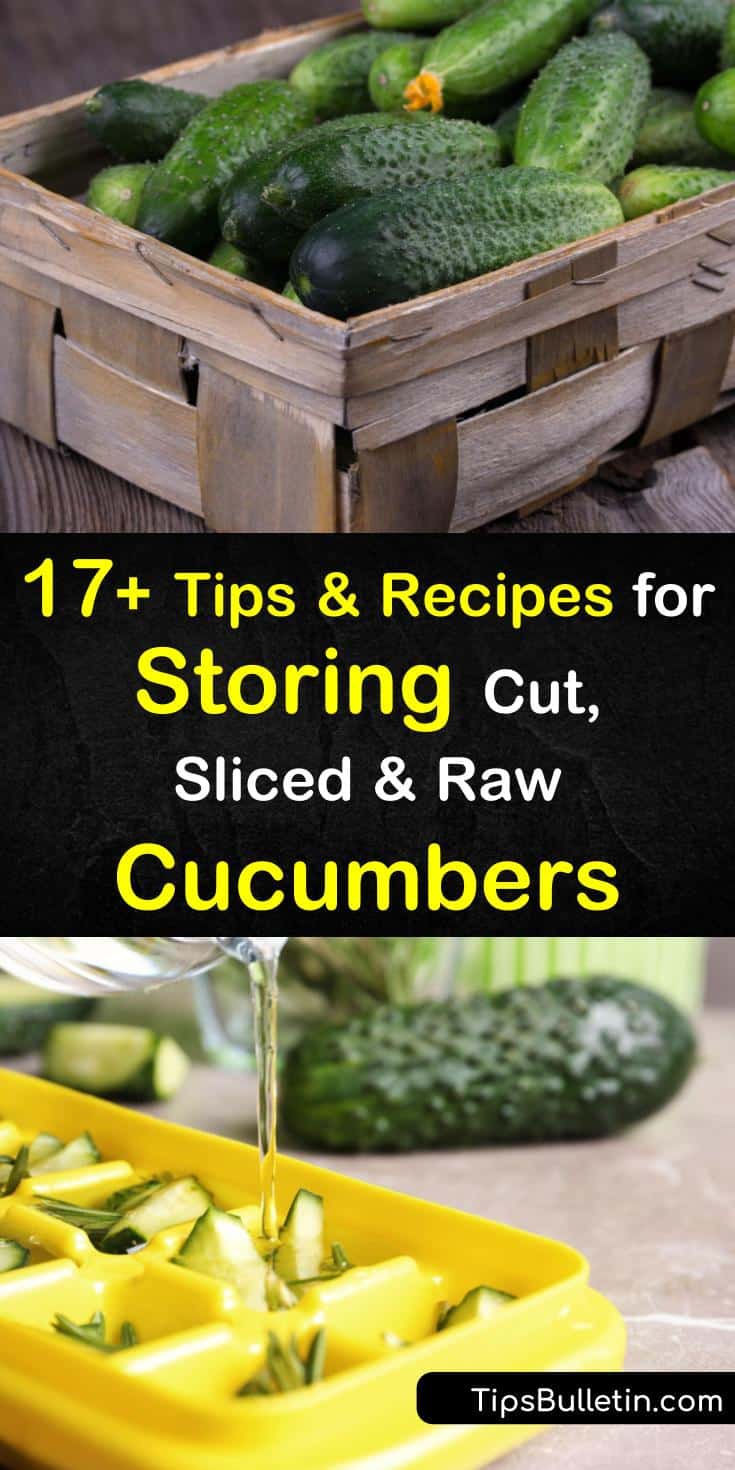 Now that you've learned how to store cucumbers, both fresh and preserved, why not share these cucumber storage tips and recipes with your friends and family on Pinterest and Facebook?