Celery is a staple in many home cooks' kitchens, but we often don't ever use a full bunch of celery in one sitting. Choosing how to store celery is up to you, but there are many tips for storing celery that help keep it crispy and fresh longer.
Nobody likes reaching for their veggies to discover that they're flimsy and going bad, but what is the best way to store celery so that you don't have to eat it all within a few days?
Celery is a wonderful vegetable because it is low-calorie with only ten calories per stalk, yet it adds a deeper flavor when cooked into dishes.
Whether cooked down or eaten raw, they add texture and health benefits to your diet. Celery is full of beneficial antioxidants that help protect your cells and blood vessels.
This vegetable also helps reduce inflammation in the body and aids in a healthy digestive system, with one cup having five grams of fiber. Although it's made up of 95% water, it also contains an assortment of vitamins and minerals.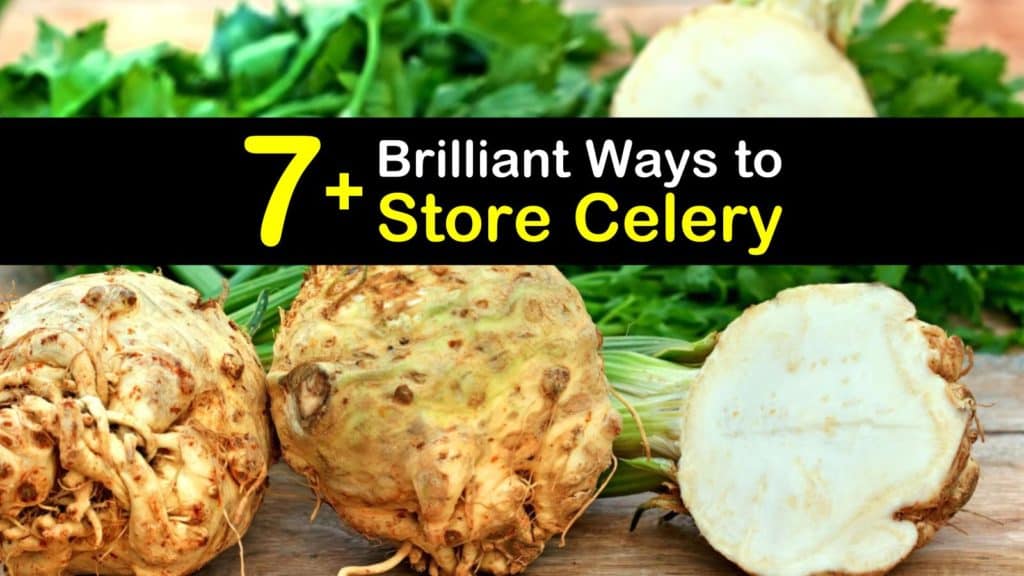 How to Choose Celery
Celery is a highly versatile vegetable. Whether added to soups, dips, salads, or stocks, purchasing fresh celery is the most crucial step in keeping celery crisp for longer periods.
When looking for celery stalks at the grocery store, choose tightly packed stalks with thick ribs. Fresh celery is normally a bright green color. Avoid limp celery with any signs of brown or mushy spots.
Keeping celery fresh depends on this first step in the storage process. Celery is in season from mid to late summer, so really savor those moments of the year by cooking dishes that use it.
Although these are the best months, finding celery fresh throughout the entire year is still possible. At the end of the day, crispness is a significant indicator between good and bad veggies, like when looking for the best ways to store raw beets and a variety of other vegetables.
How to Store Celery
Once you've chosen the freshest celery varieties that your grocery store has to offer, it's essential to take care of it once you get home. How long does celery last? Keeping celery at room temperature is not ideal for keeping celery crispy.
The fridge and freezer are your best friends when it comes to prolonging the life of celery, like most root vegetable storage. Check out this list of storage methods and decide which option works best for you.
Storing Celery in the Fridge
Knowing where to store celery is another critical part of keeping it fresh. Always store celery in the fridge because it likes cold temperatures to keep it from going soft.
How long is celery good for? Wrap the whole bunch of celery in a barely damp paper towel and then put it in a plastic bag. Do not seal the plastic bag before storing it in the crisper drawer of your refrigerator for a week or two.
The crisper is also a great place to store cabbage long term – for at least a couple of weeks.
Keep Celery Away from Ethylene Gas
Ethylene gas is something that naturally releases from most fruits and vegetables. This gas initiates the ripening process of a lot of foods.
Celery also releases some of this gas, but if you want to keep it fresher longer, don't store fresh celery next to fruits, like apples, with high amounts of it.
This distance looks like keeping celery in its own spot in the fridge or at least keeping it as far as possible from foods that emit lots of gas.
Wrapping Celery in Aluminum Foil
There is a simple trick for keeping celery fresh in the fridge. An old issue from Cook's Illustrated reported that aluminum foil allows the gas from the celery to escape while still keeping the moisture locked inside.
Foil is what makes this the best way to store celery in the fridge. Make sure not to wrap the aluminum foil too tightly around the celery while still keeping it tight enough, so there isn't excess air. Store the foil-wrapped celery in the crisper drawer of the fridge.
Storing Celery Sticks
Once you decide to cut celery, the stalks begin losing moisture at a rapid rate. Start by cutting off the bottom of the bunch that holds all the stalks together. Once the stalks are removed from the base, strip them of any leaves.
Cut each celery stalk in half, so you have celery sticks. Rinse the cut sticks under running, cold water to remove surface dirt. Once clean, fill a large bowl or airtight container with cold, fresh water so that they're just covered. You can also store carrots in the fridge the same way to keep them crispy until you are ready to eat them.
Replace the top or cover with plastic wrap and store cut celery sticks in the fridge for up to two weeks, while remembering to change the water every couple of days.
If you only have a few celery sticks to store, put them in a small glass of water, and cover the top with a zip lock bag tented over it. Store them in the fridge for up to a week and change the water as often as necessary so it isn't cloudy.
How to Freeze Celery
Freezing celery is a better option for longterm storage without spoilage. The best way to freeze celery begins with blanching. Blanching is a process that slows down the spoiling process and helps vegetables maintain their color.
Submerge cleaned and cut or chopped celery stalks in a boiling water bath for 30 seconds before immediately dunking them into ice water to stop them from cooking. Remove the blanched celery from the ice water and allow it to dry on paper towels.
Spread the celery out in a single layer on a baking sheet and freeze it. Once frozen, put the celery into a freezer bag or plastic container and store it in the freezer for up to a year.
The Best Way to Store Celery
Most fruits and veggies are fantastic when pickled. The acid from the vinegar adds a salty brine that is bursting with flavor when paired with seasonings. Add pickled celery to chicken or egg salad, as a side for hot wings, or as a garnish for a bloody Mary.
The way to pickle celery starts with washing your celery stalks and cutting them into bite-sized pieces. Add the sliced celery, onion, garlic, dill, mustard seeds, and peppercorns to a large glass jar. Bring the vinegar, salt, sugar, and water to a boil.
Once it starts boiling, remove the pot from the stove and pour the pickling brine over the celery, leaving about a half inch of space at the top.
Cover with the jar's lid and store celery pickles in the fridge for up to one month. Allow the pickles to brine for two days before eating for the most flavor.
How to Regrow Your Celery
A simple life hack that most people don't consider is to regrow their own celery. Don't throw away the base of the celery once you cut it off. Instead, rinse the base off and place it into a small bowl of warm water.
Set the bowl next to a window in a sunny location with the base side facing down. Change the old water in the bowl once every two days.
After about a week, new leaves start shooting up from the old base and can be planted in a pot with dirt. You'll have fresh celery at home without having to run to the store.
The same basic principle applies to pineapple, too. Regrowing pineapples from tops is easy but does require patience. You won't get any fruit for a couple of years.
Add Celery to a Casserole
One of the most flavorful ways to store celery is by adding it to tuna salad or a casserole. Casseroles are great because they are adaptable. You get to customize what goes into each dish, and the options for a new meal are endless.
Some of our favorite casserole dishes that include fresh celery are chicken and rice casserole and tuna noodle casserole. Freeze your dish ahead of time so that all you have to do is toss it in the oven for a quick and filling dinner for your family.
Reviving Celery
Sometimes we find ourselves in a position where the celery hasn't gone bad, but it is starting to get flimsy. Reviving celery is possible.
Before using the soft celery, soak the veggie in cold water for a few hours. The celery absorbs the cold water and helps make it crisp once again. Adding ice to the water is a shortcut for the stalks needing extra crunch.
Once you know how to store celery, you realize how easy it is to keep celery fresh with only some water and a plastic bag or airtight container.
Celery is such a versatile ingredient, and a little goes a long way in the kitchen. Don't be afraid to buy a whole bunch of celery because there are so many great tips that make storing celery something to be embraced.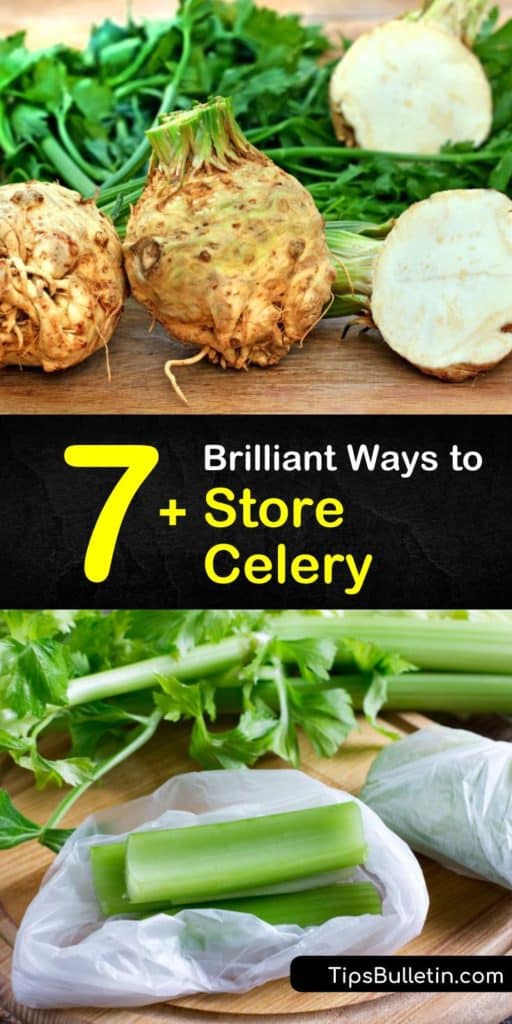 If learning how to store celery helped you utilize your celery in a new way, share these celery storage tips on Facebook and Pinterest.