One of the biggest struggles in beach and coastal areas is gardening, as there are so many challenges homeowners face. Plant choices are extremely limited in the beach and the coastal regions due to sandy and thin soil, salt spray, salty breezes, and blazing hot sun. Despite these challenges, there are several roses for the beach and coastal areas homeowners can use to spruce up their gardens.
Experienced gardeners hearing about roses for the beach and coastal areas might seem odd. After all, it's a popular theory that roses are harder to grow, require a lot of care, and are prone to all types of pests.
Knowing the conditions that beach and coastal gardens face, it makes sense that people mistakenly assume roses aren't the best choice for these areas. The truth is, not all roses grow well in these regions, but several cultivators rise to the occasion.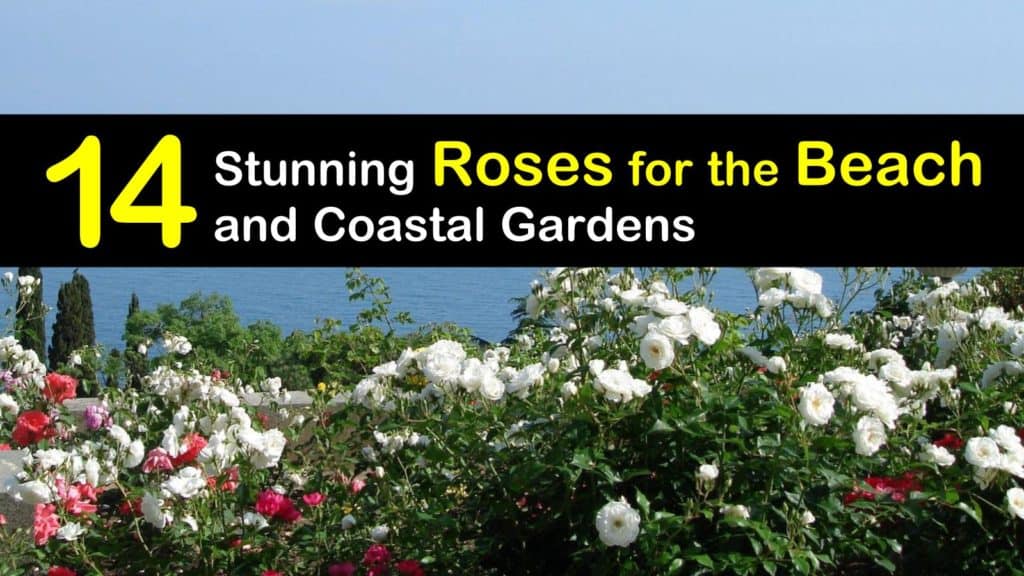 Choosing and Growing Roses in Beach and Coastal Areas
Growing things can be a little challenging when you are on the coast. However, you can still find beach annuals, perennials, trees, shrubs, grasses, and roses that will not just survive but thrive at the beach.
Although some species are hardier than others, most rose bushes do well in coastal regions. The more sensitive shrubs require a little extra care, but as long as you are willing to put in the work and make the proper adjustments, all kinds will flourish.
Before running out and purchasing a rose bush, consider a few things to ensure success. When choosing the best rose bushes for beach and coastal regions, examine the hardiness zone listed on the plant.
Matching the hardiness zone guarantees that the rose thrives in your area with minimal work. Other things to think about are the humidity, soil requirements, and lighting needs of each plant.
Two other conditions gardeners should look at in coastal and beach zones are salt spray and winds. Some rose cultivators hold up better to these conditions than others.
The ones that are more sensitive to winds and salt spray require a few extra steps for the ultimate protection level. The other thing to recognize is the style you are planting. Garden roses require very little care, but only bloom once a year.
Hybrid tea roses and other modern ones need a lot more attention and are prone to disease, but offer longer blooming times. You may even find varieties of nearly thornless roses as an added benefit.
Once you decide on a rose bush, make sure you choose the best planting location and provide the right maintenance for optimal results.
All rose bushes require a minimum of six hours of sunlight each day, along with well-draining and fertile soil.
To improve soil conditions, add organic matter like compost, manure, or peat moss. All sandy, thin soils require amending to grow roses successfully.
Stunning Roses for the Beach and Coastal Regions
Most rose bushes cannot tolerate more than 1800 ppm of salt in the water, so check your water supply before planting. Salt spray is another issue.
Beach Rose and Flower Carpet Roses handle it well, but other rose bushes require protection to lessen the amount of spray. Discover more plants and trees that grow near the ocean to fill your garden with beautiful flowers.
Stunning Seaside Roses – Beach Rose (Rosa Rugosa)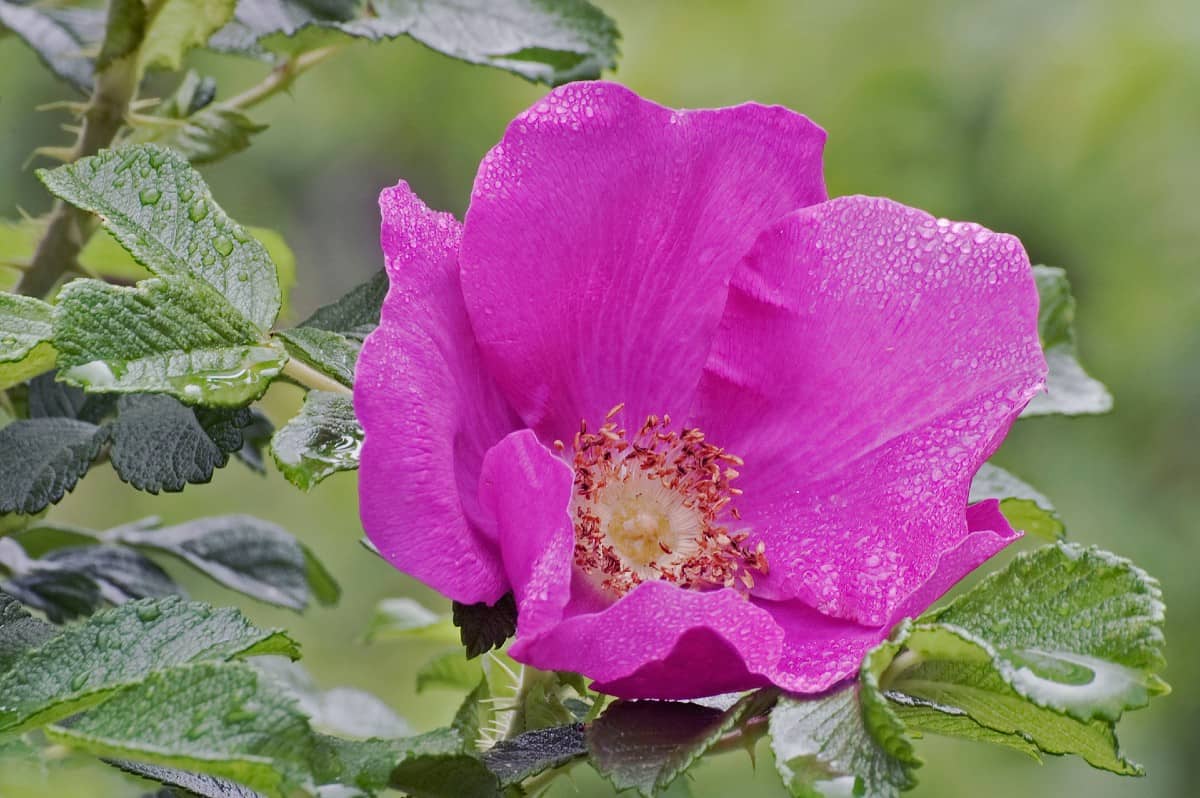 Rosa Rugosa 'Alba' refers to white flowers, while 'Rubra' refers to pink flowers. Grow hedge roses like these as a border or focal point in coastal gardens. They are hardy enough to grow anywhere you plant them.
The scented white or pink flowers are followed by edible orange rose hips high in Vitamin C. Do not plant Rosa Rugosa in small flower beds or along the borders as they grow up to six and a half feet tall.
These plants are invasive as their suckers spread rapidly. They tolerate exposed sites and stand up well against salt spray and winds.
Beautiful Roses for the Beach – Jens Munk (Rosa 'Jens Munk')
The cupped shaped medium pink double blossoms of Jens Munk measure two to three inches in diameter. The small clusters of blooms offer a moderate fragrance continuously throughout the growing season.
The showy flowers for the beach first appear during the spring and continue to bloom until the late fall. When planting this shrub, look for a location that offers full sun with moderate acidic to slightly alkaline soil.
All other hybrid rose bushes use well-draining soil to enhance their natural pest and disease resistance. Hardiness zones two through eight offer the best growing conditions.
Flower Carpet Rose (Rosa Flower Carpet)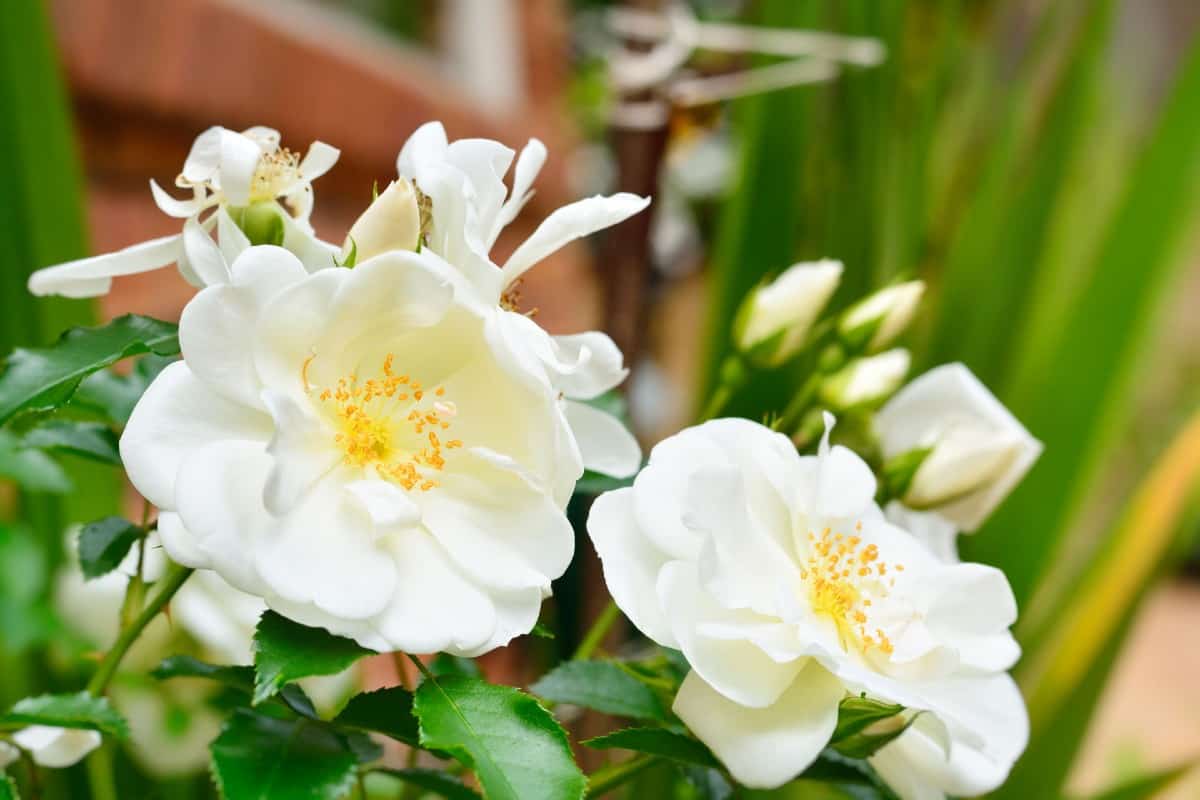 Salt and wind tolerant roses make an excellent groundcover option in seaside gardens. The blossoms come in various colors, including amber, white, yellow, red, and pink.
The pink type holds up best under beachfront conditions. They offer lots of blooms and require minimal care. These naturally disease-resistant roses pair their colorful blooms against glossy green foliage.
Under poor conditions, be mindful of black spots signaling mildew or black spot problems. Combat these with a regular fertilizer feeding schedule.
Old Rosemary (Rosa Rosarie De L'Hay)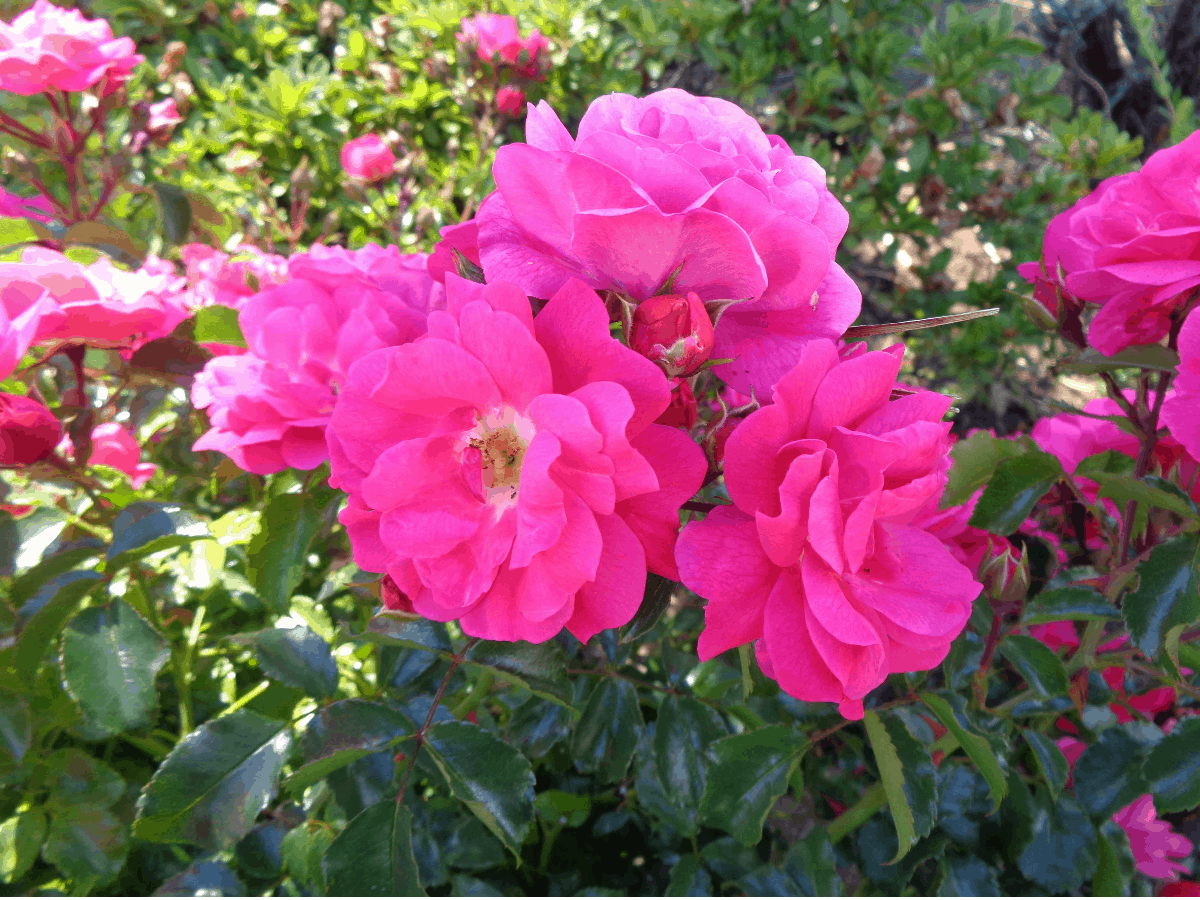 A hybrid Rugosa Rose, this species thrives in USDA Hardiness zones three through eight. The double mauve to mauve blended flowers are incredibly fragrant.
The sweet-smelling blossoms begin appearing in the late spring to early summer and bloom continuously until the fall. Propagate this beauty from various cuttings, grafting, or through budding.
This shrub does require pruning of spent blooms and deadwood. Prune early in the season to help encourage new growth. Naturally resistant to mildew and black spot, this bush requires full sun and well-draining soil.
Blushing Knock Out Rose (Rosa x 'Radyod') – Beach Roses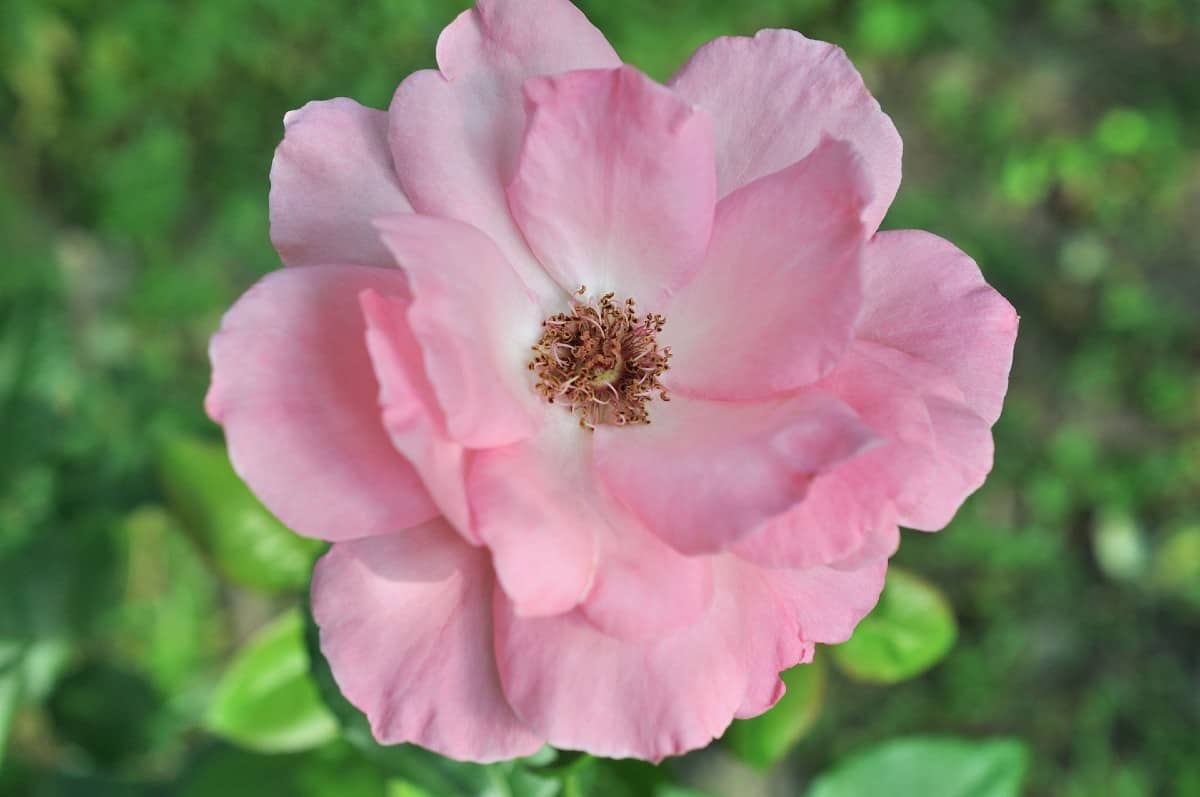 Often thought of as the easiest rose bush to grow, knock out roses come in several varieties. These beauties do well on several coasts, including New England, as they tolerate wind and salt spray.
This low-maintenance rose shrub produces light pink flowers that transition to a softshell pink as they mature. The single blooms are labeled self-cleaning. The deciduous round-shaped shrub works well as an accent piece or a low hedge.
Plant this rose shrub in a location with full sun and well-draining soil, and use a raised bed to improve draining. This variety requires watering only when the top three inches of soil are dry. If you treat them well you will have these fall color roses until at least the first frost.
Rosa Hansa (Rugosa Rose)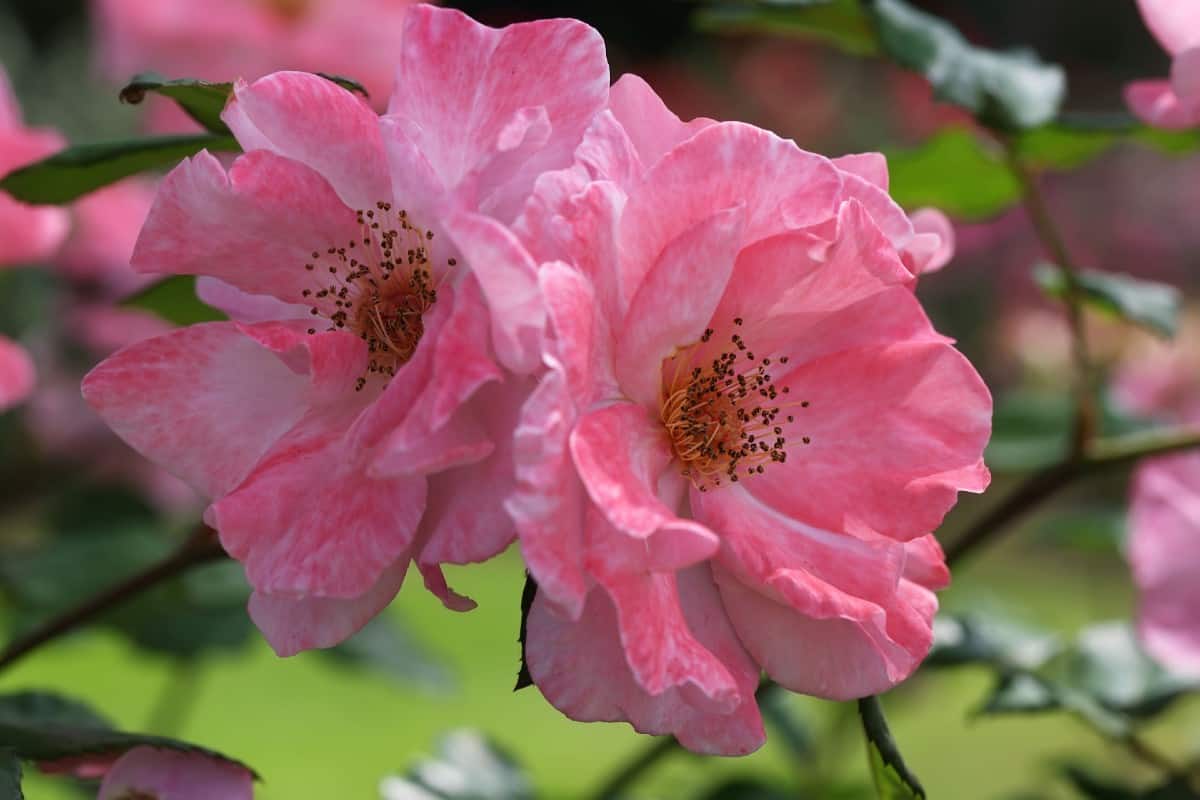 The pinkish to purple colored double flowers of the Rosa Hansa shrub measure about four inches in diameter. These blooms are rich in color and begin showing up in the early summer and continue blooming until the first frost appears.
Edible rose hips, which make an excellent jam, follow the flowers. As small flowering bushes, the Rosa Hansa only reaches up to five feet tall with a spread of four feet.
Choose a planting location for this bush that offers part shade to full sun with well-draining soil you can keep moist. It does tolerate salt, drought, and poor soils. Sun exposure affects blooming; the more sun, the better the blooms.
Hedgehog Rose (Rosa 'F J Grootendorst')
The attractive but wrinkled leaves are one of the stand-out features of the Hedgehog Rose. The leaves of this bush are attached to thorny branches, and they do well as border plants and hedges.
The clusters of flowers resemble pompoms, are a violet-red color, and emit a spicy scent. The blooms of this five-foot-tall bush continue non stop throughout the growing season.
These beautiful outdoor flowers require full sun for optimal blooming, in addition to well-draining soil. Keep the fertile soil moist with regular watering. Prune back in the late winter or early spring and remove dead leaves as they appear.
Rainbow Knock Out Rose (Rosa 'Radcor')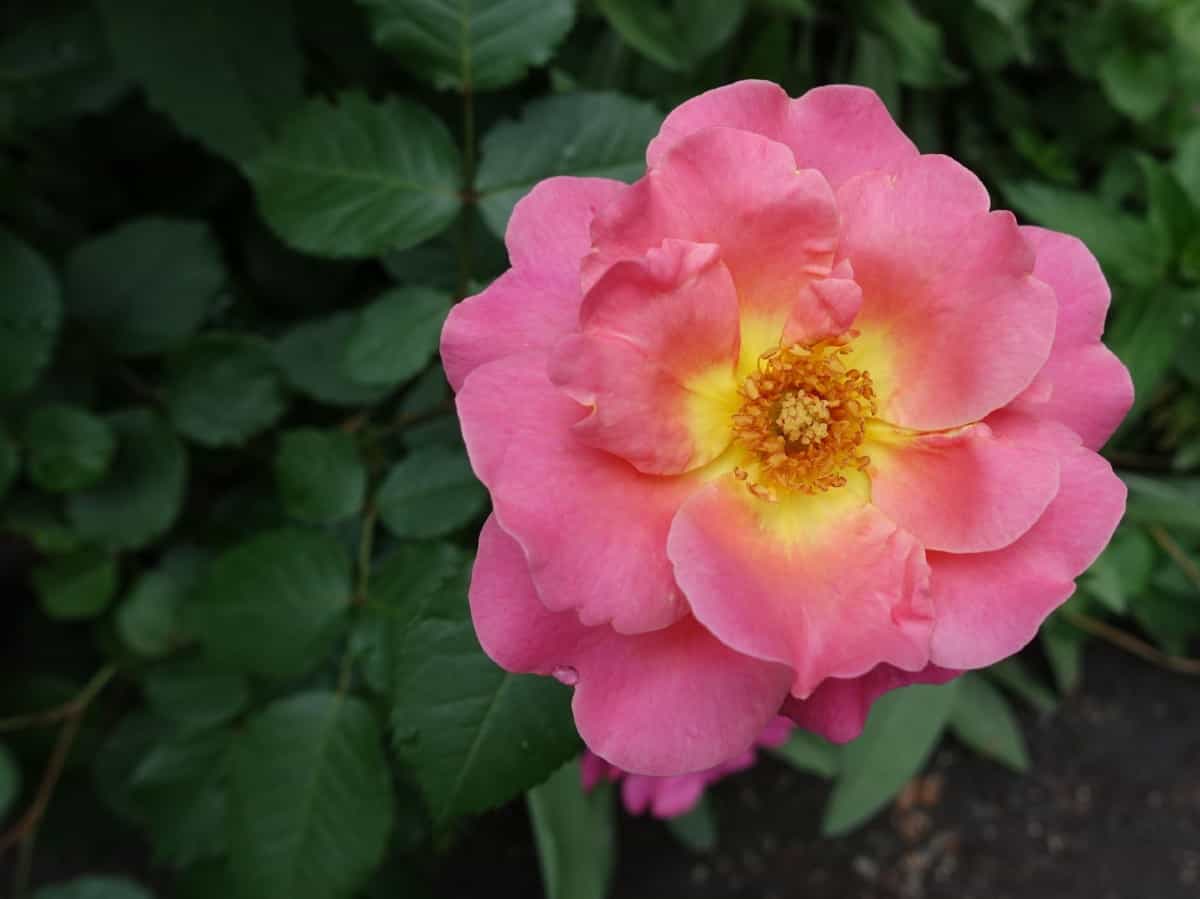 A compact rose shrub, the Rainbow Knock Out has numerous clusters of single coral pink flowers. Each flower contains seven petals circling a bright yellow center, and they measure two inches across.
The coral pink color stands out against the mossy green foliage, and it doesn't fade in the heat. This easy to grow rose shrub produces non-edible orange-red rose hips once the flowers finish blooming.
Flowers appear from the early spring until the first frost. The round shrub is well-behaved and reaches up to four feet tall with a similar width.
Pink Grootendorst (Rosa 'Pink Grootendorst')
This hybrid rugosa rose shrub grows up to six feet tall with a very bushy appearance. The shrub thrives in hardiness zones four and above; the warmer the area, the better.
The small flowers measure just less than two inches across and are available in medium pink. These blossoms begin appearing in the late spring and last until the late summer in most areas.
In other locations, they start in the early summer and continue until the beginning of fall. This bush offers some reblooming but is not a continuous bloomer.
Rosa Carmen (Rosa 'Carmen') – Roses for the Beach Regions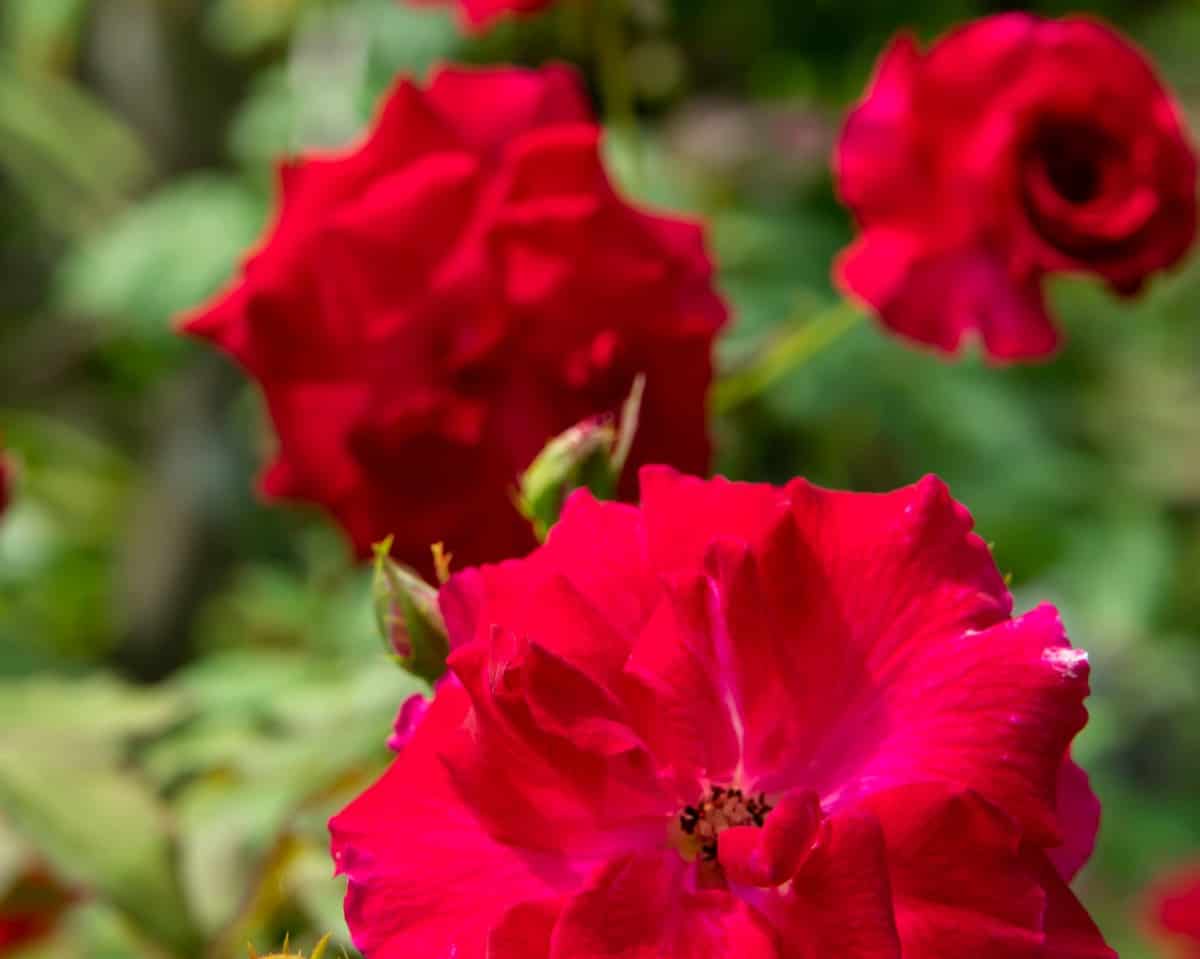 One of the first things gardeners notice about the Rosa Carmen is the high centered location of the large dark red blooms. Each flower is made up of 26 to 40 petals and measures up to five inches across.
The hybrid tea rose shrub emits a strong fragrance from their showy flowers. When planting this perennial shrub in your coastal or beach garden, select a location with full sun.
Use soil types that are slightly alkaline to moderately acidic. The deciduous shrubs start blooming during the spring and provide bursts of color throughout the growing season, which ends in the fall.
Scabrosa (Rosa Rugosa 'Scabrosa')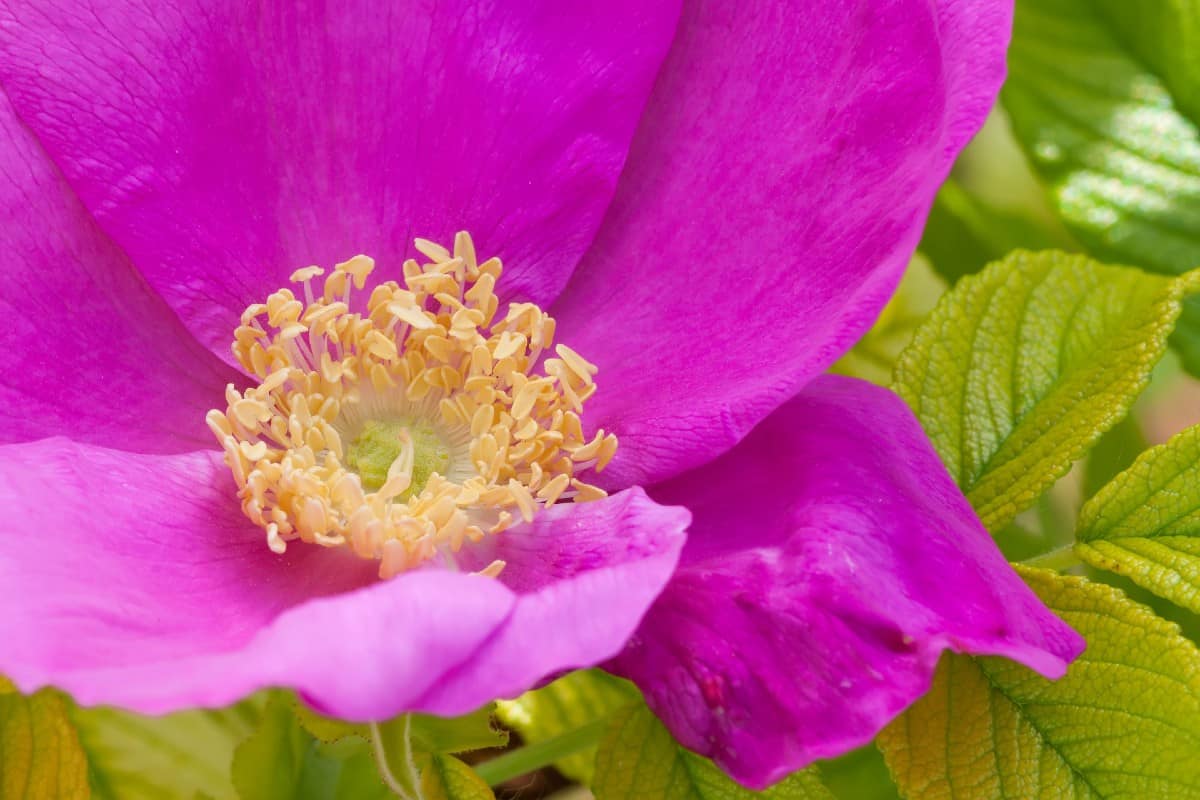 The large single crimson and violet tinged flowers measure five inches across with petals surrounding a creamy stamen. The flowers give way to orange-red rose hips. The colorful blossoms are set against luscious dark green foliage.
The fragrant clusters of flowers bloom consistently throughout the growing season, first making an appearance in the spring.
The shrub reaches up to six feet tall and about five feet wide. For optimal growth and blooming, plant the Scabrosa in full sun with well-draining soil.
Rosa 'The Fairy' (Polyantha Rose)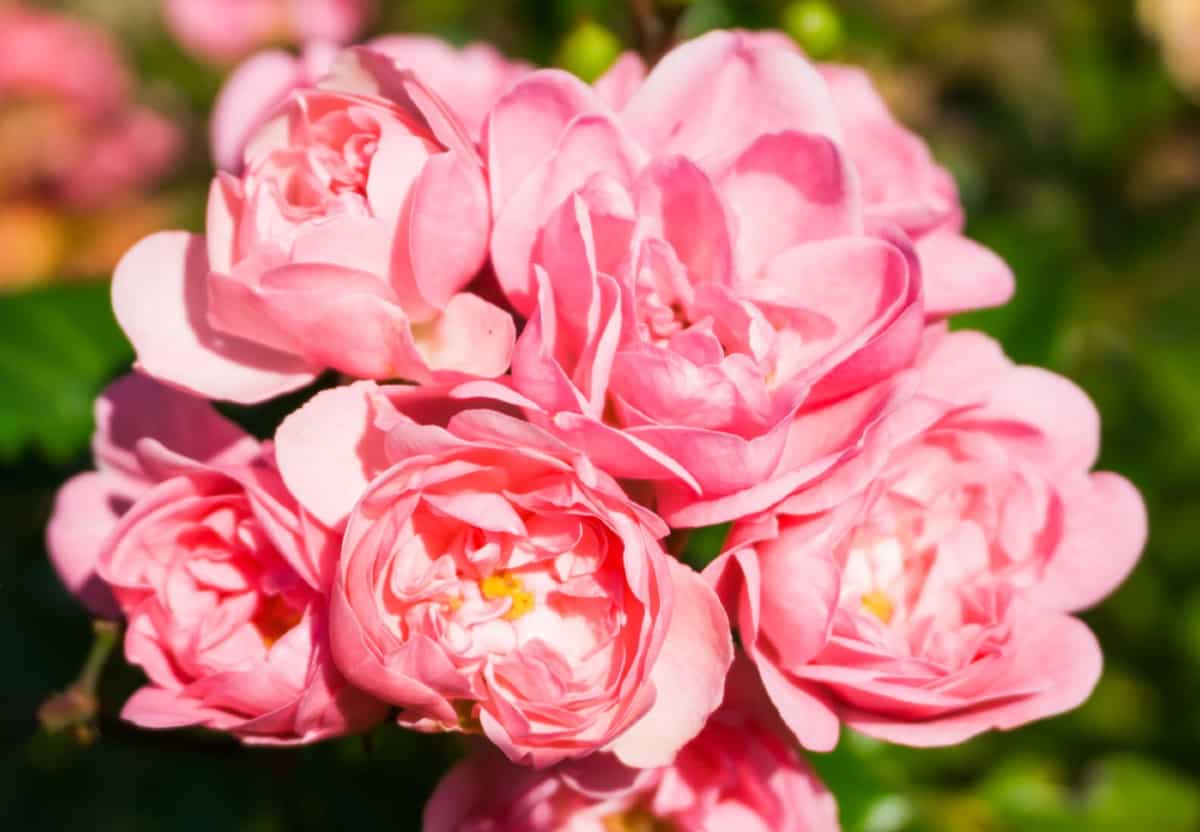 A dwarf shrub, the Polyantha Rose offers a large amount of small, finely featured double flowers. These pink flowers contain about 25 petals and only measure one inch in diameter.
The flower blossoms emit a sweet apple fragrance, and their color stands out from the dark, green, glossy leaves. Blooms from this four-foot-tall shrub appear continuously from early summer until the first frost.
Choose a planting location with full to partial sun with fertile, well-draining soil. Feed and mulch the shrub in early spring or late winter and once again at the beginning of summer.
Stunning Roses for the Beach Regions – Rambling Rose (Rosa 'Super Excelsa')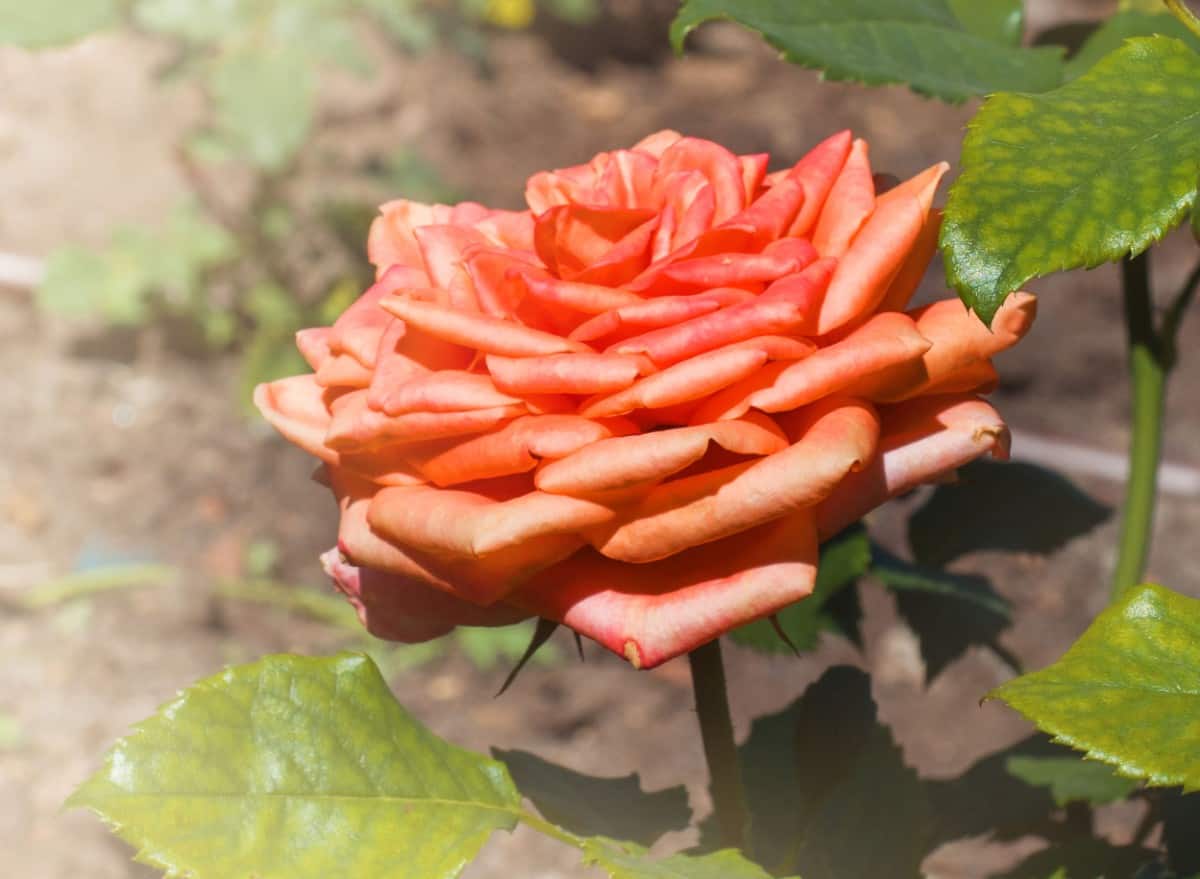 For climbing rose trellis ideas at the beach, think about the rambling rose. What allows this rambling rose bush to stand out among others is its double-like flowers that appear on long arching stems.
These small yet colorful blossoms are set against glossy, dark green foliage and emerge from the middle of the summer until the fall.
These rambling rose bushes reach up to ten feet tall and make an excellent choice for arches, walls, fences, or pergolas as they are trainable.
Plant these blooming beauties in full sun using well-draining fertile soil that you keep moist. The Rosa 'Super Excelsa' tolerates some shade, but shade may affect blooming.
Rosa 'Bonica' (Floribunda Rose)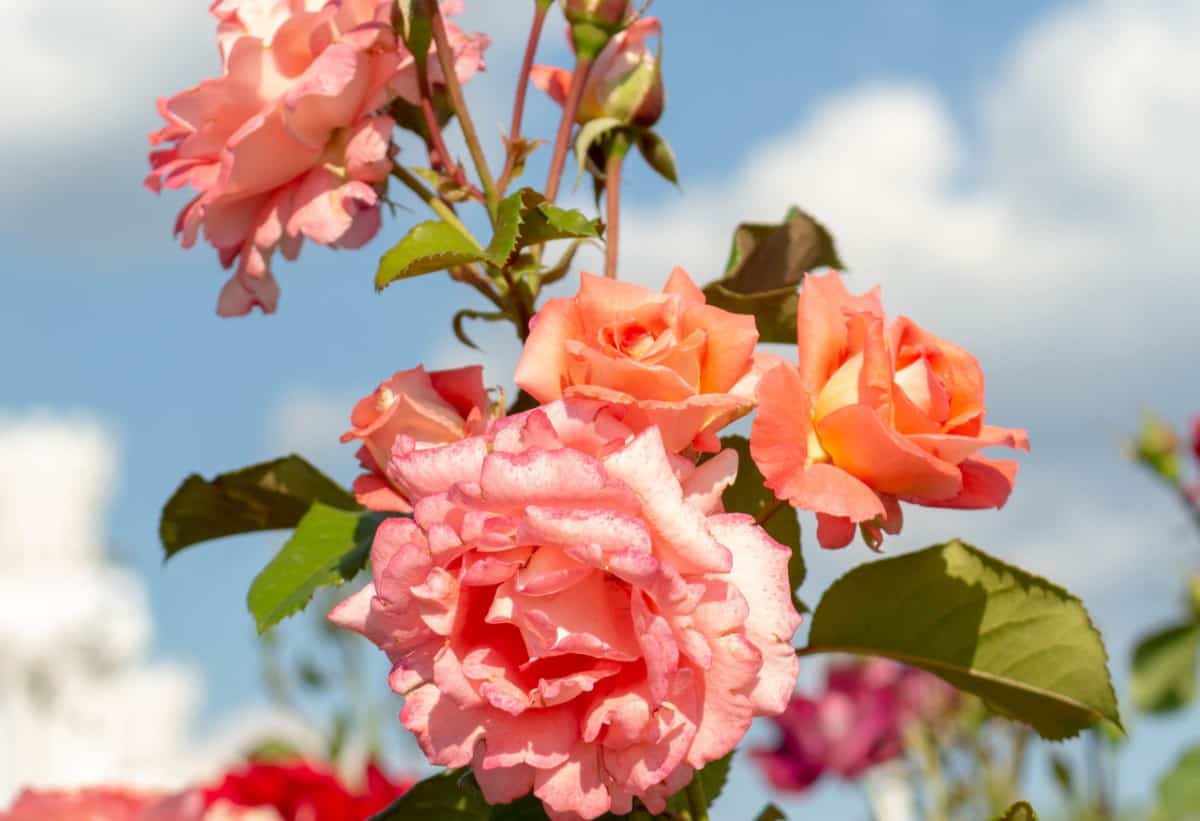 With the Rosa 'Bonica,' gardeners are always impressed by the beautiful double light pink flowers and the glossy green leaves. This shrub is on the bushy side and is a reliable repeat bloomer that spreads across the beds with ease and offers a light fragrance.
Blooming occurs from late spring until the first frost. Once blooming is done, the flowers are replaced by rose hips that last well into the winter. This shrub grows up to four feet tall with a similar spread and does best in full sun and well-draining soil.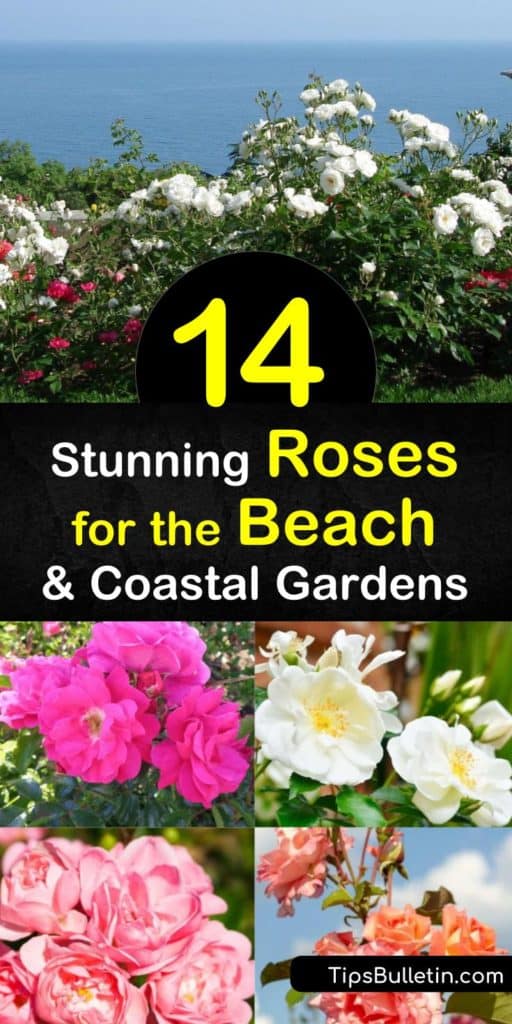 Thank you for reading about our ideas on the best roses for coastal and beach areas. If you found any of our rose bush suggestions helpful, please share the roses for the beach and coastal regions with others on Facebook and Pinterest.