Have you ever wondered how to make spider cricket traps for the insects like the cave cricket, camel cricket, house cricket, Diestrammena asynamora, or even mole cricket? This long-legged dark brown insect resembles a true cricket with a suggestion of a spider, as its name suggests.
They like cool, dark, high-moisture areas with an accessible entry point, such as a wet basement or crawl space. Camel crickets are large insects with many long legs and antennae, making them a little scary. They are occasionally mistaken for huge spiders, and when startled, they have the disagreeable habit of springing straight at you.
Unlike the more common cricket species, field cricket or house cricket, spider crickets prefer to live inside rather than outside in thick grass. If you reside in North America, you've probably seen these house crickets in your basement or other damp, dark places like wood heaps.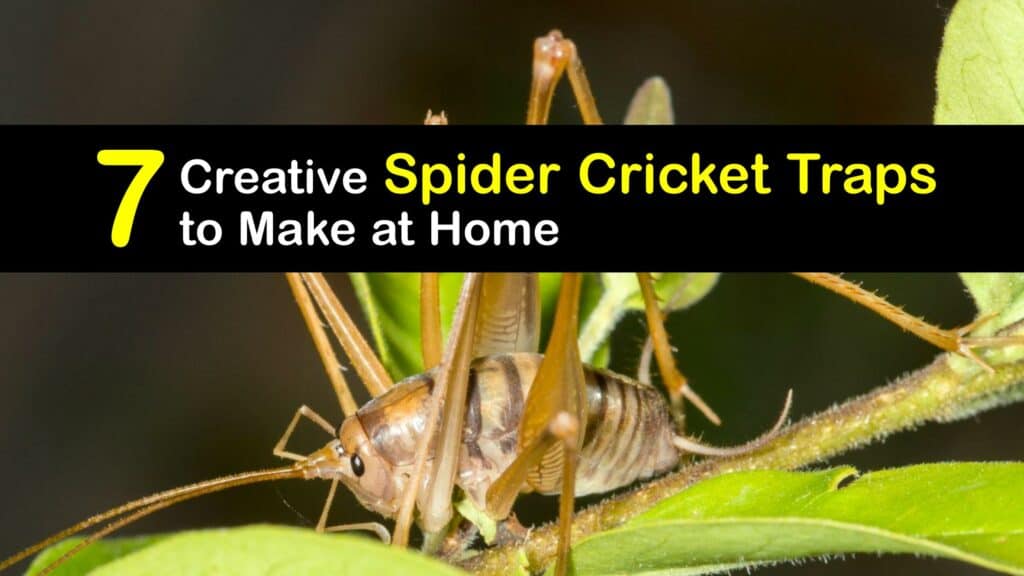 How to Trap Spider Crickets Inside and Outside
Fortunately, there are many DIY spider cricket trap options. If you're wondering how to trap spider crickets, there are many home cures for efficiently removing spider crickets with only a few simple ingredients.
They're not technically crickets, but neither are they spiders. Spider crickets are not aggressive; however, they may gnaw on surfaces to get a taste. They nibble on fabrics, wood, and plants, among other things. If one gets on your skin, it may bite you.
Unlike other insect intruders, these pests love the cold and damp, so they come inside when the weather turns warm and dry. You're more likely to see them indoors ine summer and fall, and if the conditions are right, they breed in your home and stay all year.
The best way to avoid spider crickets is to keep them out; if they do come inside and you're asking how to trap spider crickets, spider cricket traps are easy to construct. Numerous options allow you to select the best DIY spider cricket trap based on your resources. Make a simple cricket deterrent or trap or both to take care of your cricket problem.
Soapy Water Spider Cricket Traps
Soapy water is one of the most cost-effective and straightforward remedies for pest control of a camel cricket infestation. Place bowls of soapy water in your basement where crickets are most likely to be discovered. Water attracts spider crickets, who rush into these bowls and drown. It is the best way to get rid of camel crickets, and it kills spider crickets quickly and without a lot of mess.
Soap dissolves the waxy covering on spider crickets' exoskeletons, causing them to drown more quickly. This insect trap works on the greenhouse camel cricket and other cricket species and is one of the more effective spider traps. For natural ways to kill camel crickets and other cricket varieties, look no further than the dish soap in your kitchen.
DIY Spider Cricket Trap – Boric Acid
Boric acid is an ingredient in many insecticide baits and is one of the ideal remedies for cave crickets. When common domestic pests such as spider crickets inadvertently consume boric acid, they become dry up from the inside out and perish within two or three days. Spread boric acid everywhere spider crickets are observed.
Because crickets, either spider crickets or true crickets, do not dwell in groups or eat communally, killing mole crickets quickly necessitates a high concentration of boric acid. Boric acid works best with a suitable cricket bait to lure the pests to the insecticide and ensure they consume it.
The Best Bait for a Spider Cricket Trap
Spider crickets are looking for a food source, and they have a taste for fungus and decay. A piece of moldy bread is a cheap and widely available bait for spider crickets and camel cricket traps, reducing food waste by repurposing.
Cave crickets are drawn to the brightness and warmth of lights at night; a desk lamp or other small light in a dark room is a suitable option to lure them to a specific area to trap them or expose them to your chosen insecticide. The best way to kill cave crickets begins with an effective bait to trap them.
A Vacuum Is the Most Effective Spider Cricket Trap
Catch spider crickets using bug vacuums or a conventional vacuum cleaner in hard-to-reach spots. They're easy to use, and unlike squashing bugs, you won't have to clean up after stamping on them.
Most vacuum cleaners have a long head to allow you to reach otherwise inaccessible areas, and the vacuum nozzle is the best way to catch a cricket and eliminate these annoying critters.
Vacuums are effective at trapping flies, spiders, cockroaches, and other insect pests, and they are safe to use because they do not contain toxic chemicals. Regular vacuuming is one of the simplest preventative measures to help keep spider cricket populations down.
Home Remedies for Trapping Spider Crickets
One of the best natural methods to remove mole crickets is neem oil. Spider crickets are a pest that swiftly takes over your home, but neem oil is a widely used natural insecticide to eliminate these pests. The compounds in this oil impair the insect's hormonal systems, compromising their ability to eat, reproduce, and lay eggs.
Swirl the ingredients in a spray canister until thoroughly combined, and spray any surfaces where insects congregate. This is likely one of the best natural ways to get rid of crickets and other annoying bug pests. Keeping crickets away with neem oil is simple and pain-free.
Try a Glue Trap for a Spider Cricket Infestation
Sticky traps, sometimes known as glue traps, are a simple way to get rid of a spider cricket infestation. Because camel cricket populations proliferate, killing one or two camel crickets when you see them won't help in the long run.
Purchase a sticky trap or spider glue trap (a big strip of board with strong adhesive) and deploy it in an area where crickets are common. Glue traps work on many crawling insects, from a large spider to a landing mosquito. Avoid stepping on the trap since it attaches to shoes, clothes, and skin.
Insecticidal Soap for Spider Crickets
Make an insecticidal soap mixture to kill spider crickets. Getting rid of spider crickets this way is efficient and does not necessitate the use of harmful pesticides. Use an insecticidal soap adequate for the job from the local garden store.
Fill a spray bottle halfway with soap and water and spray a small living area with the mixture as a test. Check the next day to ensure no paint or fabric is harmed. Spray the solution on all surfaces where insects congregate as one of the natural ways to kill crickets. Be sure to provide complete coverage because untreated regions could lead to re-infestation.
Before spending money on the Terro T3206 Spider trap or a JT Eaton bait block, try some easy home remedies and remove your spider cricket issue without spending extra money or employing chemicals.
Although spider crickets look frightening, they are similar to true crickets. Most are kept outdoors with a few deterrents, and those inside are exterminated with simple traps.
A spider cricket infestation can be frightening; figuring out how to trap spider crickets is no fun. The best technique to get rid of spider crickets depends on the severity of the infestation and what elements impact the insect's attraction to your home, such as moisture, hiding spots, or thick grass.
Whether you want natural ideas to get rid of spider crickets or prefer to get rid of them quickly, choose the option that best fits your home and circumstances to eliminate these pests permanently.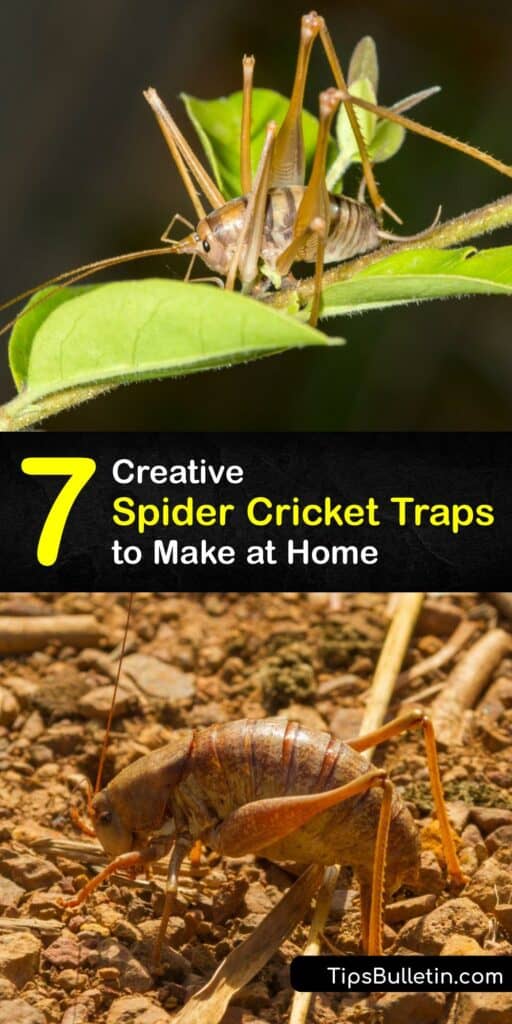 If you loved this article on spider cricket traps, please share this brilliant information on making a DIY spider cricket trap with your friends and family on Pinterest and Facebook.