Tropical plants are exotic and stunning, and fill gardens with a feeling of paradise. If you think you cannot grow a tropical oasis, think again. There's a wide selection of sun loving, easy-to-grow tropical perennials, and we've chosen some of our favorites to share with you.
Planting a garden with tropical flair is not only easy to do, but draws in a variety of hummingbirds, butterflies, and other pollinators. Many tropical plants produce large, showy flowers that are loved by nectar seeking insects and birds.
Many of these plants are hardy, drought-tolerant, and cold hardy, making them natural growers in the garden. Tropical plants are easy growing and generally prefer hot and humid climates.
They are adaptable to both full sun and shady areas of the yard. Not only are these plants easy to grow in sunny garden spots, but they quickly adapt to growing in the home as well.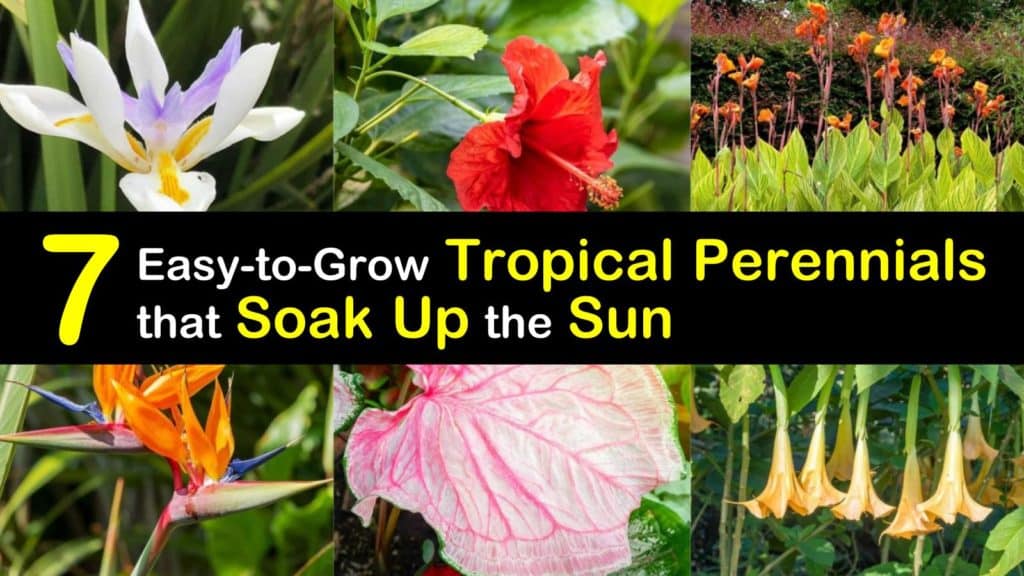 Growing Tropical Plants that Thrive in Full Sun
There are many types of sun-loving plants, from groundcover and evergreens to shrubs and flowers, and there are also many factors to consider when planting a tropical garden.
Do you want year-round color, or are you happy with seasonal color? Do you live in an area with wet conditions? What about growing butterfly host flowers and nectar plants? We'll answer these questions and help you choose the perfect plant for your yard.
What are Tropical Perennials?
Tropical plants can handle the harsh conditions brought on by the hot sun. These heat resistant perennials generally grow naturally in tropical climates and withstand harsh conditions of high temperature and humidity, but many of these plants are also winter hardy.
Perennials differ from annuals because they grow back each year with more growth than the year before. Some perennials are evergreen and maintain their color and foliage all year round, while others die back at the end of the season before returning in the spring.
Are there Different Types of Tropical Plants?
There are several types of tropical perennials. Ground cover plants, such as caladium, are low growers that fill an area of ground with lush foliage or flowers and generally spread with ease.
Tropical evergreens, such as the Chinese hibiscus, provide color to the yard throughout the entire year. Tropical shrubs such as gardenia and hardy hibiscus are ideal for use as a border or natural fence.
Can I Grow Tropical Flowers Anywhere?
Some tropical plants, such as bougainvillea, are finicky about where they grow, while others are content to grow almost anywhere. When choosing the perfect plants, check the plant's USDA hardiness zone and compare it to your location.
Generally, these plants thrive in sunny locations and do not fare well in a dark area of the yard. Make sure to plant them in either full sun or partial shade.
Are Sun-Loving Plants Hard to Maintain?
Sun-loving plants are easy growers because they tend to be drought tolerant, heat resistant, and even cold hardy, depending on the type. Some tropical plants are easy to grow in pots and bring indoors during the winter months as a houseplant.
Other sun tolerant plants are happy to fill the garden with year-round interest. The key is to give them the sunshine they desire, and water, feed and mulch them as needed.
Canna (Canna indica)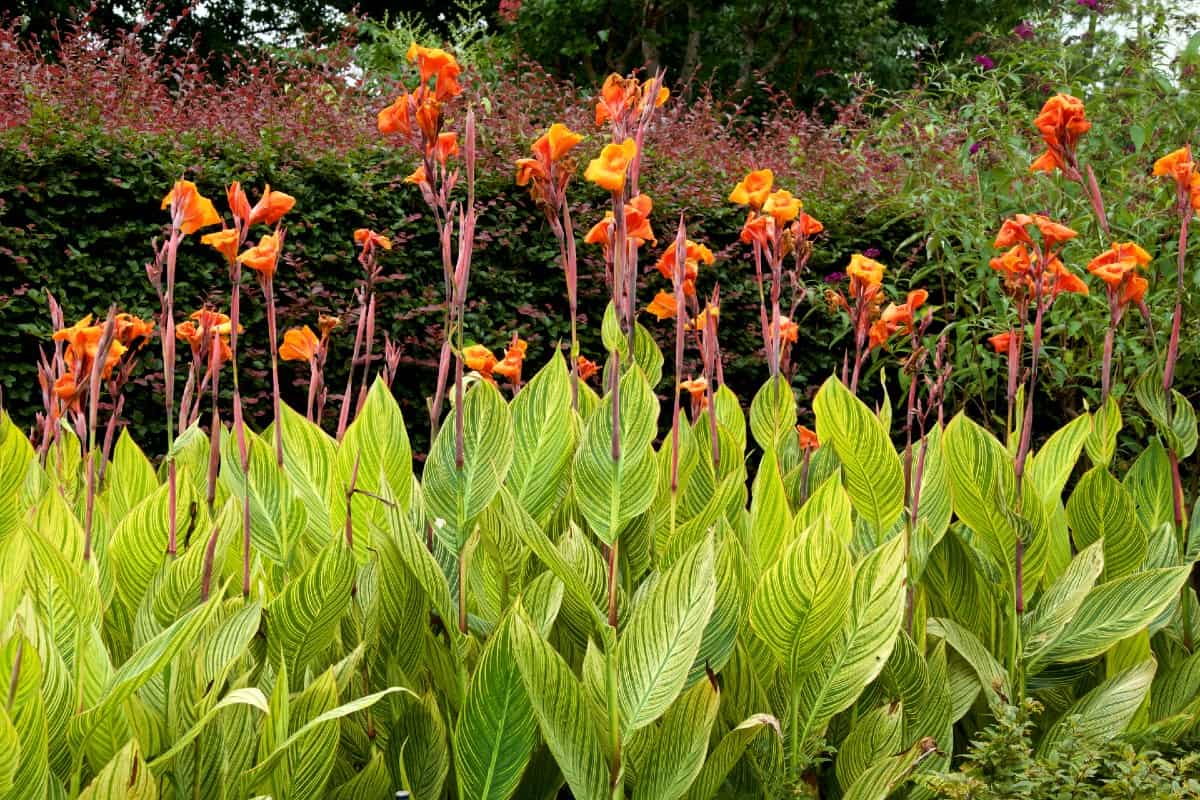 Also called canna lilies, these tropical plants are fast-growing tubers that create dense foliage of colorful leaves in shades of blue/green, chartreuse/gold, and purple/burgundy.
They produce fragrant red, orange, pink, white, and yellow blooms during the summer. Canna plants are treated as an annual in cool climates and a perennial in warm climates and thrive in zones 7 through 10.
These plants are low-maintenance and deer-resistant. They have a mature height of 1 to 8 feet with a spread of 1 to 6 feet, depending on the type.
African Iris (Dietes) – Sun Loving Tropical Perennials with Bright White Flowers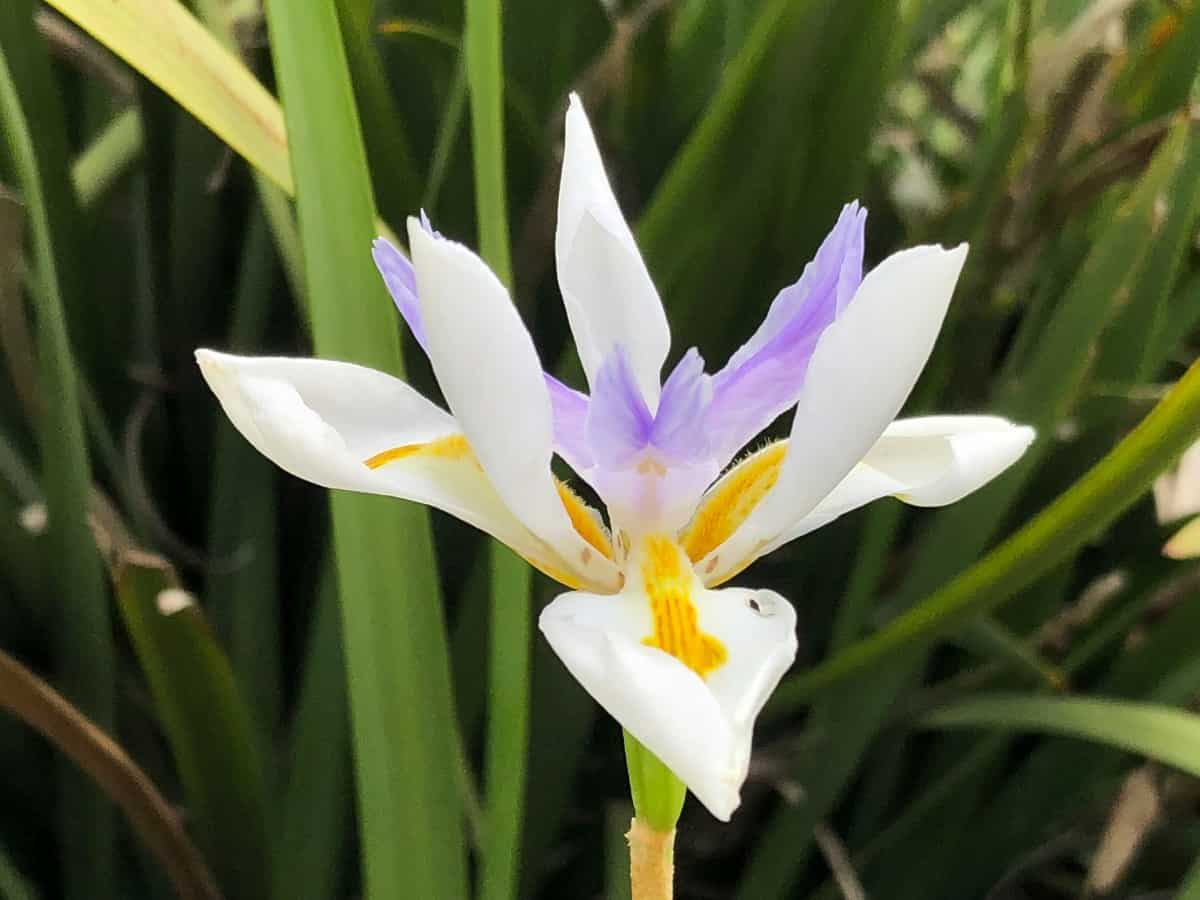 African iris is a sturdy plant with evergreen, reed-like foliage. It produces stunning white flowers from spring through fall and adds colorful texture to the garden. This accent plant grows in clumps and grows well in tough landscaping areas.
These full sun perennials have a mature height of 1 to 3 feet with a spread of 2 to 3 feet. It thrives in light shade to full sun and grows best in zones 8 through 11. The flowers are drought-tolerant and bloom from spring through late summer.
Angel's Trumpets (Brugmansia)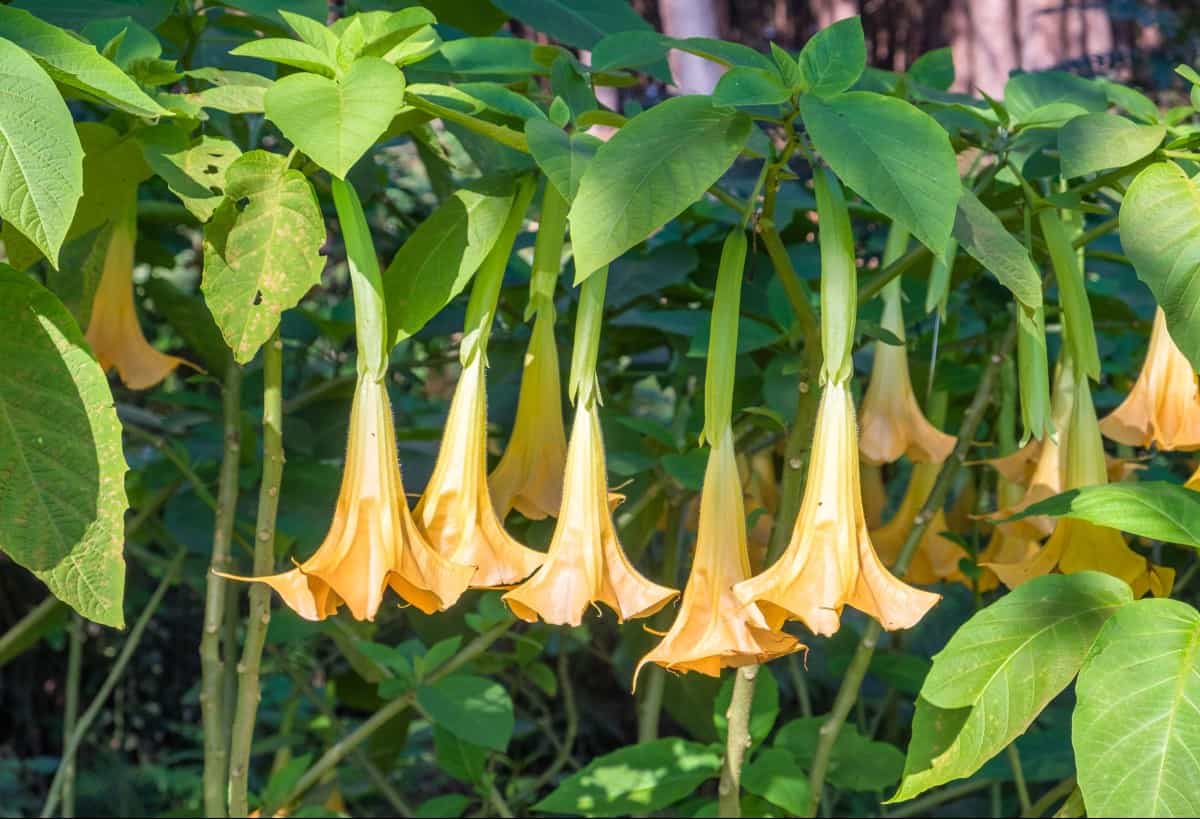 These perennial flowers for hummingbirds, bees, and butterflies are show-stopping. They have huge pendulous blooms from spring through fall. The large, trumpet-shaped flowers open after sunset and fill the area with a sweet fragrance that attracts birds to the yard.
Angel's trumpets have a quick growing nature and grow 3 to 20 feet high with a spread of up to 8 feet, depending on the type. They grow as perrenial flowers in zones 7 through 11 and an annual in cooler climates.
Elephant Ears (Colocasia) – Tropical Foliage Plant with Stunning Leaves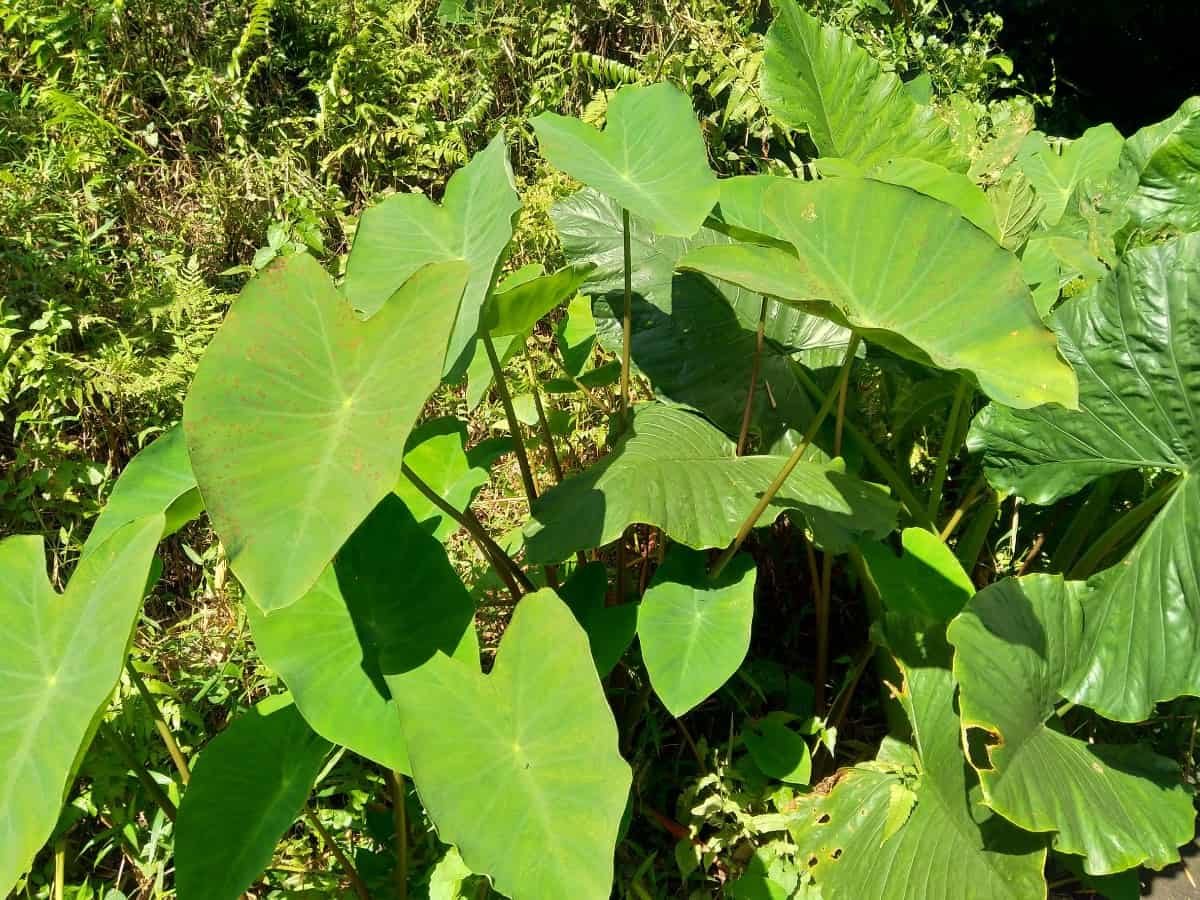 Elephant ears produce large, bold green leaves with a vein pattern that makes them ideal as a focal point in the yard. This easy-to-grow foliage plant adds interest throughout the growing season and even grows indoors as a houseplant.
This low maintenance plant has a mature height of 1 to 8 feet with a spread of 1 to 6 feet, depending on the growing conditions. It thrives as a perennial in zones 10 and 11 and is easy to grow indoors in colder climates.
Hardy Hibiscus (Hibiscus )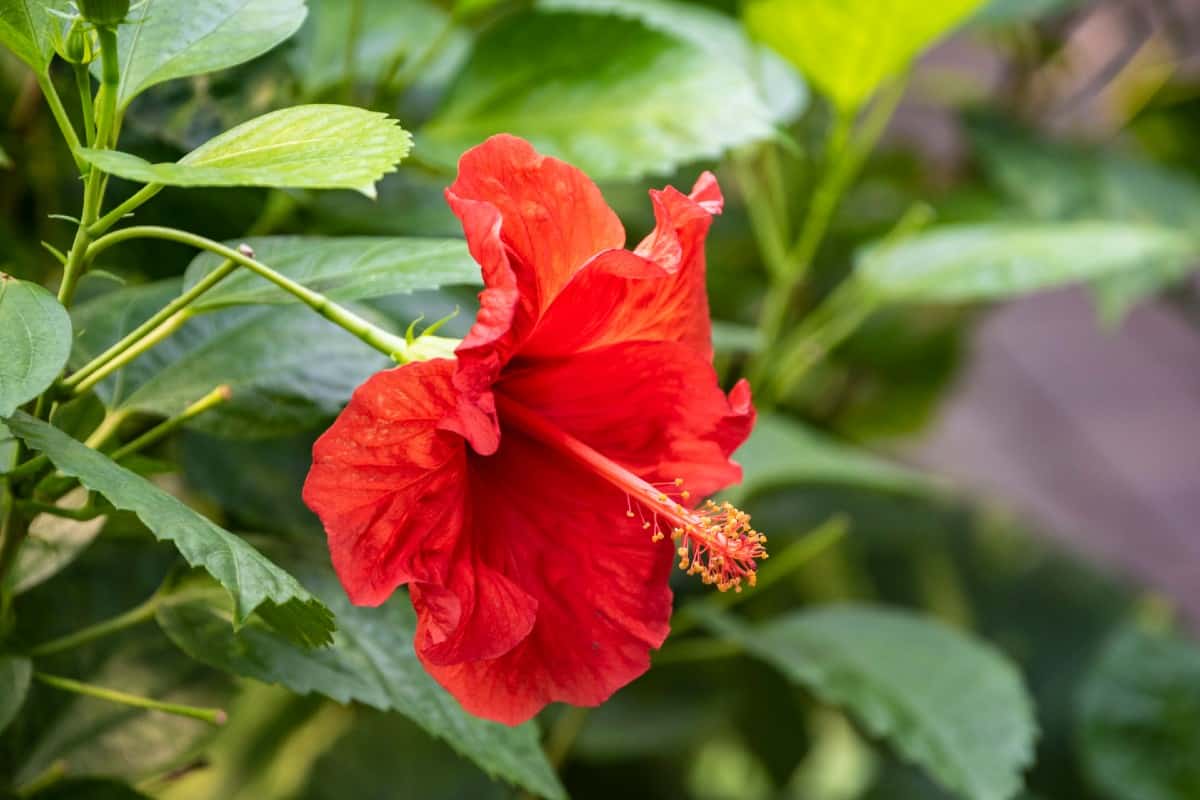 These large herbaceous plants add a tropical feel to the garden with their dinner-plate size flowers. They produce show-stopping blooms in shades of red, pink, and white in the summer and fall and attract hummingbirds to the garden.
Hardy hibiscus plants are full sun fast growing shrubs with a mature height of 3 to 8 feet and spread of 3 to 5 feet. These bloomers thrive in sunny locations of hardiness zones 4 through 9 and are low maintenance, steady growers.
Bird of Paradise (Strelitzia reginae) – Tropical Perennial with Exotic Flair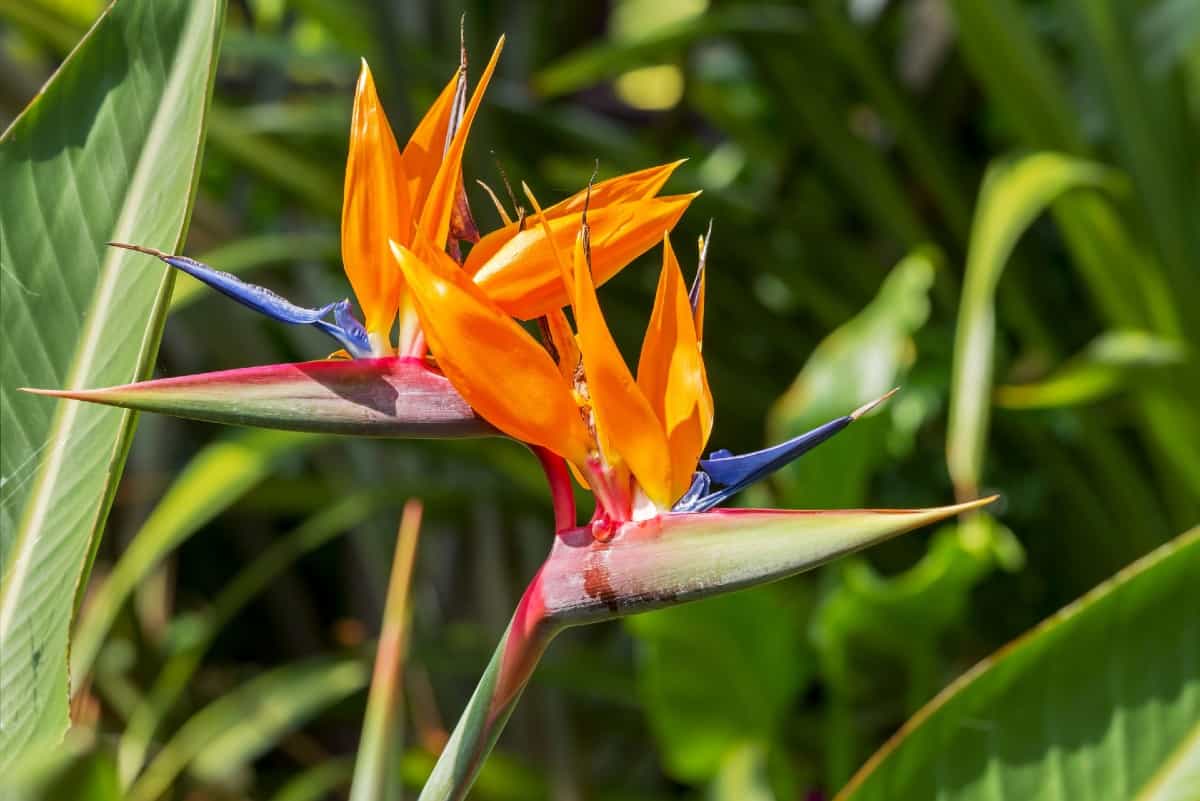 If you're looking for a highly unique tropical flower with a flair for the exotic, then the bird of paradise is perfect for you. It has large textured leaves with long-lasting flowers that resemble tropical birds.
It blooms in shades of orange, white, and yellow flowers from spring through fall. Bird of paradise plants have a mature height of 1 to 20 feet, with a spread of up to 15 feet, depending on type and location.
These low-maintenance plants are deer-resistant and thrive in zones 10 and 11.
Heart of Jesus (Caladium)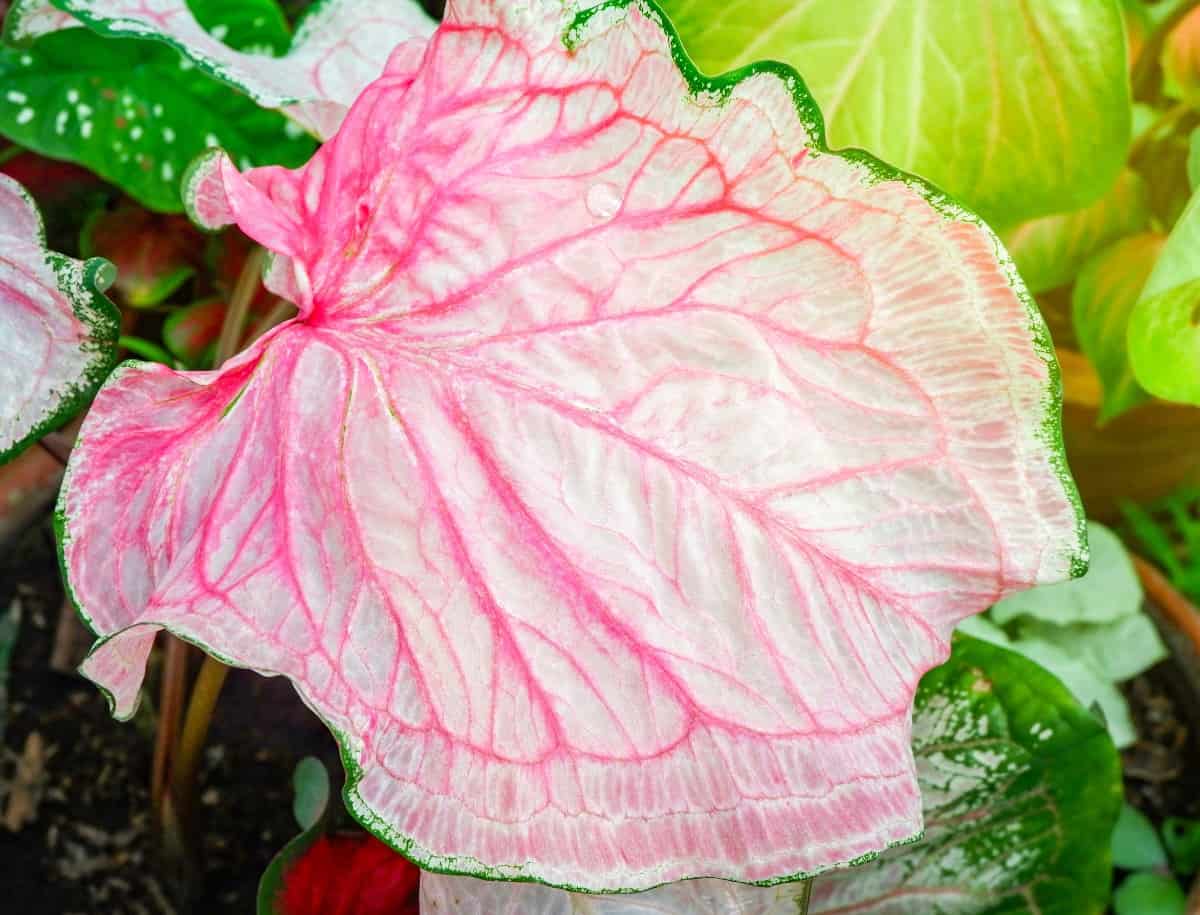 The heart of Jesus plant has a natural growth habit and grows colorful, arrow-shaped leaves that have variegation of colors in shades of blue/green, chartreuse/gold, and purple/burgundy.
This low growing foliage plant is an excellent choice for ground cover in the yard with its height of 1 to 3 feet and spread of up to 2 feet. It tolerates full sun but also grows well in part shade and thrives in zones 10 and 11.
A tropical garden brings an air of exotic to the yard, but growing plants in a full sun location is a challenge if you don't choose the right flowers for the conditions.
Many different types of tropical plants thrive in the sun's heat, including evergreens, ground cover plants, and shrubs.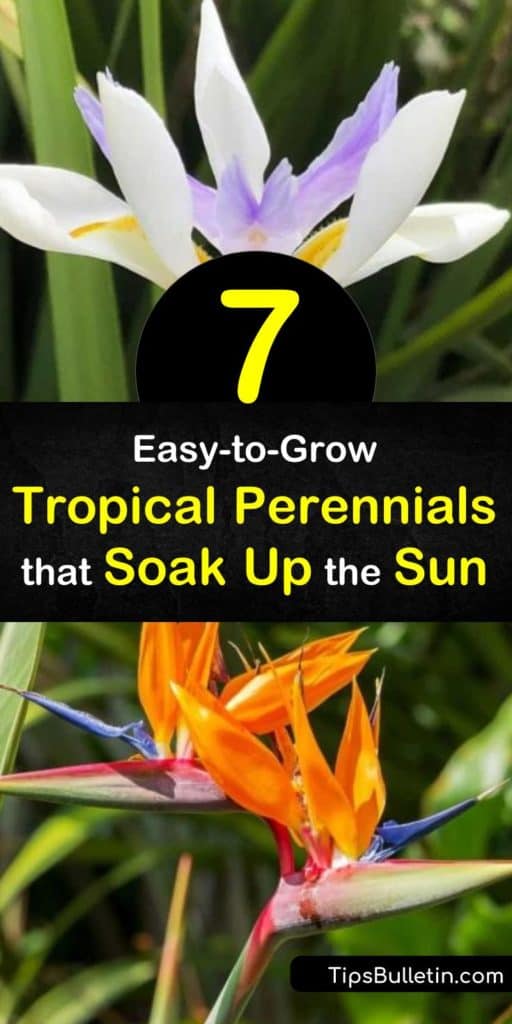 We hope that you fill your garden with some of our favorite sun loving tropical perennials, and we'd love it if you'd share our sun tolerant plant guide with your family and friends on Facebook and Pinterest.