Chili peppers are plants from the genus Capsicum, which are nightshade plants. Nightshades like chili peppers, eggplants, and tomatoes, are all popular plants to incorporate into a backyard garden. It is critical to understand the differences between each pepper variety with the various types of chili peppers.
Different chili peppers vary in regards to their heat level, taste, and complementary foods. No matter what kind of chili pepper you prefer, we describe the best chili pepper varieties.
Most chili peppers originate in environments with consistent sun exposure, like Mexico or South American countries. However, planting and growing nightshade peppers is possible no matter where you live.
Because of the intense heat most chili peppers carry, it is not usually a food that is eaten plain. Instead, these peppers are paired with other foods to bring out the best flavor.
In addition to describing the qualities of various chili pepper types, we also provide recommended food pairings and ways you can use chili peppers to your advantage.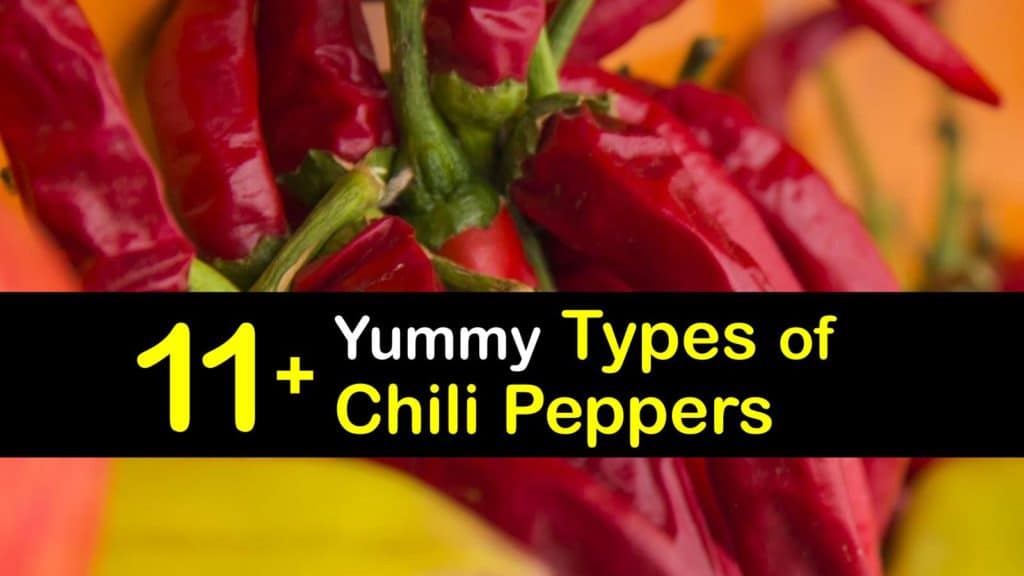 Why are Chili Peppers Hot?
Chili peppers are usually hot peppers, with a few exceptions. The chemical that gives each type of chili pepper its heat is capsaicin. The amount of capsaicin in each chili pepper variety is measured on the Scoville scale with Scoville heat units.
The least hot chili pepper is bell peppers, which have a more sweetened flavor. One of the hottest pepper varieties is the ghost pepper, which has more than one million Scoville heat units, or SHU.
Be aware of how hot each chili pepper variety is, so you use the pepper correctly in a recipe.
Types of Chili Peppers Include Habanero Peppers
If you are searching for a hot pepper, consider the habanero pepper. Habanero peppers are extremely hot, and, unlike other hot peppers, they have a considerable amount of flavor to go along with the heat.
As one of the most common types of chili peppers, habanero peppers are included in several Mexican dishes and hot sauce.
What is a chili pepper that is a habanero? To identify these hot peppers, look for a pod-like-shaped pepper around one to three inches in length. Habanero peppers have smooth skin that ranges in color from green to orange to red depending on ripeness.
Serrano Chili Pepper Varieties
Another hot chile pepper is the serrano pepper, which has a similar heat level as jalapeno peppers. This chili pepper's name comes from the mountain ranges in Mexico, where they were first grown.
Serrano peppers are commonly incorporated into several Mexican and Southeast Asian dishes to add a kick.
One unique detail about the serrano pepper is that the heat has a delayed fuse, which means the pepper's hotness takes a little bit to kick in after eating it.
As with most other chili pepper varieties, the serrano pepper's heat depends on the size, sun exposure, and color.
What is a Chili Pepper and a Ghost Pepper?
What is a ghost pepper? Ghost peppers, also called Bhut jolokia peppers, are one of the hottest varieties of peppers in the world.
Recording over one million units on the Scoville scale, ghost peppers are about 400 times hotter than Tabasco sauce and almost 200 times hotter than the famous jalapeno pepper. Ghost peppers are unique because of the wide range of colors they display.
The most familiar color of a ghost pepper is red; however, they change color based on environmental conditions and the length of time on the vine. It's important to wear gloves when harvesting ghost peppers to keep from burning sensitive skin.
What is a chili pepper, and what do ghost peppers look like? These peppers have a spherical tip with a pointed bottom, accompanied by thin and bumpy skin.
All About Guajillo Peppers
Guajillo peppers are slightly different from most other pepper types because they are dried before eating. In Mexican cuisine, the guajillo pepper is dried before incorporating into a variety of unique dishes.
Guajillo peppers are about four to six inches long and have a very narrow shape. Regarding the color of the pepper, guajillo peppers have reddish-brown skin when fully ripe.
What are Ancho Peppers?
The ancho pepper is simply the dried form of the poblano pepper and is used to create Rellenos. Compared to other types of chili peppers, ancho peppers, also referred to as a pasilla pepper, have a very distinct taste.
This pepper packs moderate heat and is best known for its smoky quality with a little paprika flavor. When growing poblano peppers and they stay on the vine until the pepper turns red, it becomes an ancho pepper.
The red pepper is harvested and dried, so it lasts considerably longer than other peppers. The long shelf life is one advantage to keeping ancho peppers in your pantry.
How to Identify Cayenne Chili Peppers
Cayenne pepper is a very diverse pepper and has the ability to be used outside the kitchen as well. Because of the intense heat that cayenne peppers carry, ground cayenne peppers work to effectively drive away unwanted pests and insects that attack your garden.
A cayenne pepper usually ranges in size from two to five inches. Do you know when to pick cayenne peppers? Like most other chili pepper varieties, a cayenne pepper's color determines how ripe and how hot the pepper is. Green cayenne peppers are mild compared to the vibrant red cayenne peppers.
What is a Scotch Bonnet Pepper?
Scotch Bonnet peppers are more well-known by their other name, the Caribbean red pepper. These peppers grow to around one to two inches in length and have bright red, wrinkly skin.
A Caribbean red pepper plant produces several flowers as well as its distinct bell-shaped fruit.
Before you ask, "What are chili peppers, and how do I use a Caribbean red pepper in a recipe?" it is crucial to know that these peppers are scorching. Even when a Scotch Bonnet pepper is considered mild, it is still hotter than the ripest habanero pepper.
How to Grow Bell Peppers
The chili pepper that does not carry any heat is bell peppers. Bell peppers do not contain capsaicin, responsible for giving hot peppers their distinct heat so they have a sweeter taste.
These peppers come in green, orange, yellow, and red colors, depending on their ripeness. Growing bell peppers in a backyard garden is popular because they are easy to grow.
Gardeners prefer to plant bell peppers because the plant can survive indoors when given the proper nutrients. Bell peppers have a wide array of uses and are included in several Thai stir fry dishes.
Banana Peppers – A Mild Chili Pepper
Another mild chili pepper variety is the banana pepper. Banana peppers are on the low side of the Scoville scale, only reaching around 500 heat units.
Identifying a banana pepper is easy, as these peppers are usually bright yellow and mature to about four inches long.
Growing your own banana peppers is easy when you have the correct information. The way to grow chili peppers of the banana variety is learning that the plant grows most efficiently in temperatures around 60 to 75℉ but does survive indoors as well. Ensure the plant receives plenty of sunlight and has warm soil to grow quickly.
Preserving sweet peppers like the banana type is easy. These peppers lend themselves quite well to freezing or pickling.
Everything to Know About Carolina Reaper Peppers
One scorching chili pepper is the Carolina reaper pepper, a cross between ghost peppers and red habanero peppers. Carolina reaper peppers' unique aspect is their taste, which offers an initial fruity flavor unusual in hot peppers.
The fruit of Carolina peppers is quite small and comes in a rather unusual shape, with a scorpion-like tail.
These peppers are tiny, red, and have smooth skin with little bumps all over their exterior. Other colors that Carolina reaper peppers come in include yellow, peach, and chocolate brown.
What are Jalapeno Peppers?
Perhaps the most popular of the chili pepper varieties is the jalapeno pepper. Jalapeno peppers are dark green peppers that offer a bright flavor that pairs well in an all-purpose hot sauce.
Similar to other hot peppers, jalapenos get hotter the longer they stay on the vine. An excellent way to access fresh jalapeno peppers all year long is to grow them in a garden or indoors.
To grow jalapenos from seeds, make sure the plant receives plenty of sunlight and is planted near carrots, cucumbers, or eggplants for the quickest growth and development.
Chili Pepper Varieties Include Fresno Peppers
Fresno peppers are quite similar to jalapenos regarding their heat level and taste when eaten raw. What is a chili pepper used for? Fresno peppers are commonly used for pickling, dips, relishes, and sauces.
We have covered plenty of chili peppers here but there are numerous other varieties. Although the name would suggest otherwise, white and black pepper are spices rather than vegetables. Black pepper is an adequate substitute for white pepper but it's not recommended to use one of the peppers mentioned above.
Almost every type of chili pepper continues to get hotter the longer the fruit remains on the vine, which is important to know when growing and harvesting homegrown peppers.
Peppers are a terrific way to add a delicious flavoring to any dish, particularly in Asian and Mexican cuisine.
There are many ways to utilize chili pepper varieties, including a homemade hot sauce, toppings, and pickling. Because of the intense heat that some chili peppers pack, it is best not to consume them raw.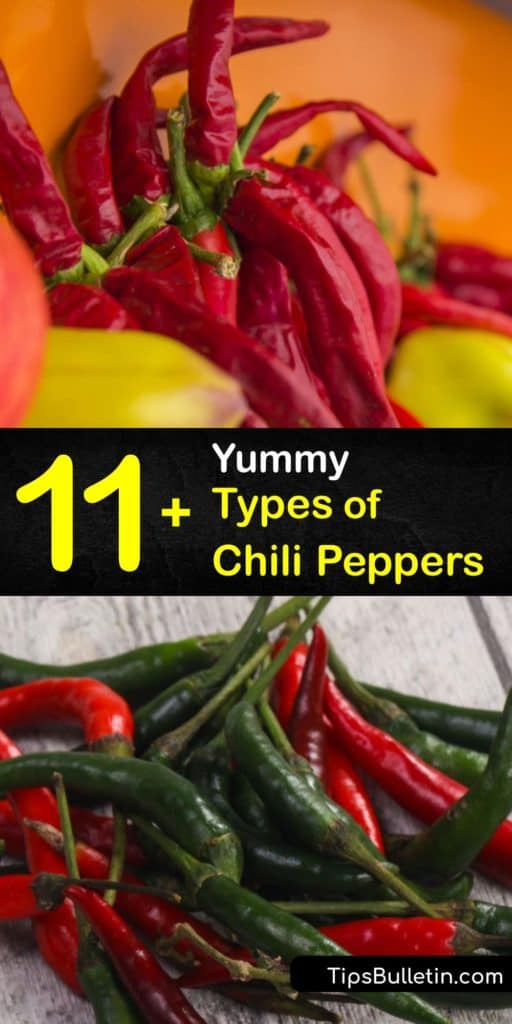 If we answered your question, "What is a chili pepper?" share this article about types of chili peppers with your friends and family members on Pinterest or Facebook.