Discovering a bed bug infestation is enough to strike fear in anyone's heart. These nasty pests leave incredibly itchy bites, reproduce rapidly, and turn your life and home upside down. It's no wonder you want to find out ways to kill bed bugs fast.
A quick Google search turns up plenty of ways to keep bedbugs away and kill them. Unfortunately, many of the methods are slow and time-consuming, such as sprinkling diatomaceous earth.
Even special tools like mattress encasements and bed bug traps do not provide fast-enough action. Though your mind may leap to pesticides, there are several other ways of removing bed bugs quickly, ranging from spraying rubbing alcohol to vacuuming.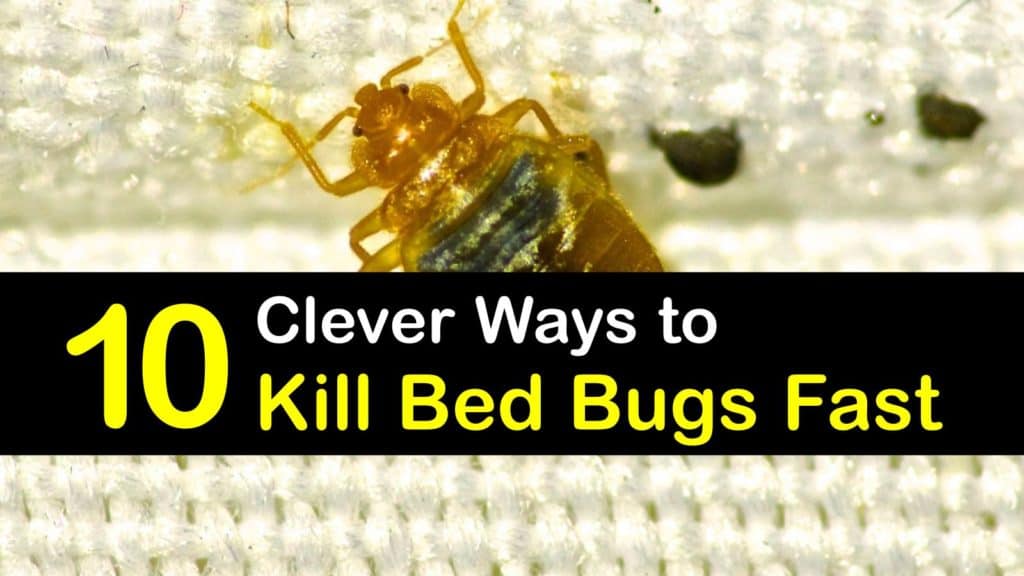 Ways to Get Rid of Bed Bugs Quickly
If you think you have a bed bug infestation, act fast to identify the pests and implement bed bug treatment strategies. A single female could lay up to 200 eggs during her lifetime of approximately one year.
Stay realistic about timelines—home remedies for bed bugs often require more than one application. If your infestation gets too severe, strongly consider calling the pros. An exterminator has years of experience with bed bug control.
Vacuuming to Get Rid of Bed Bugs
Vacuuming is perhaps the easiest way to get rid of bed bugs. It does not eliminate all bugs but does decrease their numbers significantly. Vacuum frequently wherever bed bugs hide.
Some of the pests' favorite hiding places are cracks and crevices, the gap under baseboards, the bed frame, and the mattress and box spring.
You may also find them in the carpet, under couch cushions, and behind electrical outlets. They tend to stick near the bedroom, at least to start.
Before using the vacuum cleaner, loosen bed bug eggs with a stiff brush. Use the vacuum's crevice attachment for hard-to-reach spots like mattress seams. When you've finished, throw out the sealed vacuum bag in an outdoor garbage can.
Easy Ways to Kill Bed Bugs Fast: Washing Fabric Items on High Heat
Bed bugs and their eggs die at 113℉ if exposed for at least 30 minutes. Regularly run all fabric items—including clothes, bedding, pillows, rugs, and stuffed animals—through the laundry on the hottest possible setting.
Set the temperature for your washer to at least 140℉. The hot water kills bed bugs at all stages of their life cycle. Run the dryer for at least 60 minutes.
Store clean clothes in a sealed plastic bag or bin for the duration of the infestation. Don't forget to clean the laundry container regularly.
Use a DIY Heat Treatment to Get Rid of Bed Bugs Fast
You won't achieve a hot enough temperature to kill bed bugs by turning up the thermostat. However, try using a hair dryer on the hottest possible setting to kill bugs hiding in cracks and crevices.
Another option is sticking small items outside in black plastic bags on a hot day. These ways to kill bed bugs fast won't eliminate a bed bug infestation, so use them combined with other bed bug elimination tricks.
One of the Best Ways to Get Rid of Bed Bugs Quickly
What kills bed bugs instantly? Rent or buy a clothes steamer to kill bed bugs and their eggs on contact. Make sure the device reaches at least 130℉. Most go up to 245℉.
Run the steamer very slowly over furniture items, your mattress, and the bed frame, including the headboard. The heat penetrates several inches into soft surfaces. Keep the airflow gentle to avoid making the bed bugs scatter.
Use the steam cleaner every few days. Avoid electrical outlets and be careful since steam damages some finishes.
Mix a Spray to Kill Bed Bugs Fast
If you're looking for DIY ways to get rid of bed bugs quickly, why not try to make a homemade bed bug spray? Use essential oils to keep bedbugs away and give the mixture a pleasant scent.
One way to kill bed bugs at home is to combine the ingredients in this recipe in a spray bottle. Squirt it on your bedding to make your sleep a little easier and bug-free.
Keep Bedbugs Away with Essential Oils
The use of essential oils for bed bugs is controversial. Does peppermint repel bed bugs? What about tea tree oil? Some people swear by these oils, while others say they do nothing. It can't hurt to spray the oils as one of your pest management strategies.
Add 20 drops of your chosen oil to a spray bottle, then fill the container the rest of the way with water. Shake well and spray daily onto bed bug hiding places as a natural bed bug killer recipe and deterrent. Spraying lavender oil repels bed bugs and a variety of other pests.
What about cedarwood oil? Does cedar oil for bed bugs work? This oil is often used to repel not only bed bugs, but moths and other unwelcome insects.
DIY Ways to Kill Bed Bugs Fast: Rubbing Alcohol
Like steam cleaners, rubbing alcohol only kills bed bugs on direct contact, meaning that you must spray it repeatedly. It also does not kill bed bug eggs.
Nonetheless, the chemical is a powerful tool to add to your bed bug-fighting toolbox. Use alcohol with a concentration of at least 70% – 90% is better.
Combine equal parts rubbing alcohol and water, then spray the mixture onto furniture and other bed bug hiding places. Avoid beds since this chemical is flammable. Consider wearing goggles and a respirator since rubbing alcohol is harmful in high concentrations.
Eliminating Bed Bugs with Pesticides
Use a pesticide that the EPA has approved for use against bed bugs. The pyrethroid class of pesticides is available as a spray or in insect foggers.
Any entomologist will tell you that some bed bugs have developed resistance to pyrethroids, so also use other treatment strategies.
Follow the instructions carefully, including about protective equipment. Many products are not suitable for use on mattresses. Consider getting an insecticide powder to use around electrical outlets and other spots where a spray would not work.
Pesticides often don't kill bed bug eggs. They also tend to act more slowly than methods like heat treatment, although their effects last longer.
Unless you've installed a mattress encasement, you'll likely need to reapply the spray several times. Bed bugs normally climbup bedposts to bite you while you sleep. To prevent their bites and monitor the pesticides' effectiveness, install bed bug interceptors.
Calling Pest Control: Chemical Treatment
Calling an exterminator is often one of the best ways to kill bed bugs fast. Look for a company with a good reputation and request quotes from several.
Ask prospective exterminators lots of questions, including their treatment methods, success rate, and availability.
Chemical treatment, aka pesticides, is a standard and relatively affordable option. Ideally, the company uses integrated pest management. This approach combines different treatment tactics and uses low-risk pesticides in limited quantities.
Carefully follow the company's instructions for preparing infested areas for treatment, such as removing bedding and clutter. Don't be surprised if the exterminator needs to return for one or more follow-up appointments.
Calling Pest Control: Heat Treatment
Another common approach is heating the infested room to between 135 and 145℉. These temperatures kill bed bugs instantly, although the effects are temporary. Note that this approach also tends to be more expensive than pesticides.
Expect the process to take six to eight hours. The pros use special equipment to heat up the room and monitor the temperature with thermometers.
The heat treatment is one of the most successful ways to get rid of bed bugs quickly since there's no need to find every individual insect.
How to Identify Bed Bugs
The easiest way to recognize an infestation is to identify one of the bugs. These wingless, reddish-brown insects have six legs and are about the size of an apple seed. They're flat but expand significantly after a blood meal.
Another major bed bug proof are stains from their bloody droppings. Look for small, dark spots on your bed. Bed bugs' tiny, white eggs are difficult to spot.
Their papery skins are more obvious. Nymphs—young bed bugs—shed their skin five times. Bed bugs also release a sweet, musty odor, most prominent in a heavy infestation.
Bed bug bites are challenging to identify. They're red, itchy, and slightly swollen, resembling flea or mosquito bites. The bites often occur in exposed areas, like the face and arms, and may be arranged randomly or in a straight line.
How to Keep Bedbugs Away
Bed bugs often enter a house on used furniture and fabric items like clothes and bedding. Inspect secondhand items carefully before bringing them inside.
Bed bugs don't care whether a house is clean or dirty. Nonetheless, reducing the amount of clutter in your home reduces the number of possible hiding places.
Inspect your bedroom regularly for signs of an infestation. Use a flashlight and credit card to poke around your mattress and other areas.
These pests are most common in crowded buildings with high turnover, like hotels and apartment buildings. There are lists online of hotels with bed bugs reported.
Inspect your hotel room upon arrival. Always put your suitcase on the luggage rack—not on the bed. If there's any chance you picked up bed bugs, unpack your suitcase outside when you get home and immediately run your clothes through the laundry on high.
Use interceptors on bed and couch posts as DIY bed bug traps. Once you determine that you have a problem, you can take the appropriate steps to get rid of them quickly.
There are many options to keep bedbugs away and reduce their numbers. Regularly vacuum, wash clothes on high heat and use a steam cleaner. Try, as well, spraying essential oils or rubbing alcohol.
If necessary, turn to pesticides or a professional pest control company. Implement ways to kill bed bugs fast to enjoy restful sleep once again.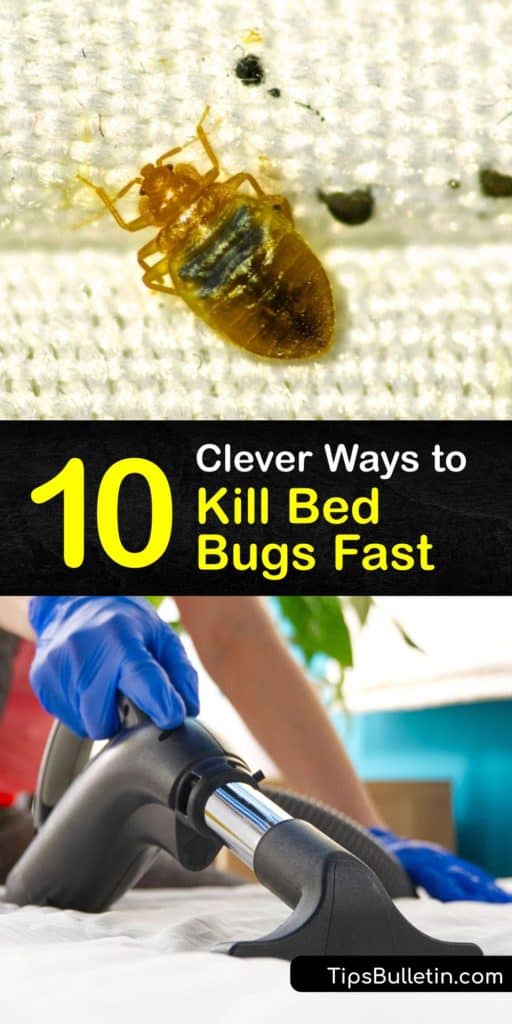 If you found these bed bug elimination tips helpful, please share these pest control tricks with your friends on Facebook and Pinterest.