If you're planning your yearly vegetable garden, cauliflower plants are a great addition. They are cole crops, like broccoli, Brussels sprouts, collards, and kohlrabi, and cauliflower heads are relatively simple to grow. However, this veggie is a cool weather crop, and it's essential to know when to plant cauliflower according to your region.
Who doesn't love a bowl of steamed florets dripping with butter sauce? These veggies taste even better when they are fresh from the garden. They are healthy and delicious, and there are different varieties to plant, from Snowball to Snow Crown, and some of them are self-blanching.
Cauliflower (Brassica oleracea var. capitata) is a biennial grown as an annual that grows well under the right conditions. Unfortunately, it does not tolerate hot weather, and there are specific times of the year when it's okay to plant these veggies. The type of cauliflower you plant also influences the planting time since some are more tolerant than others.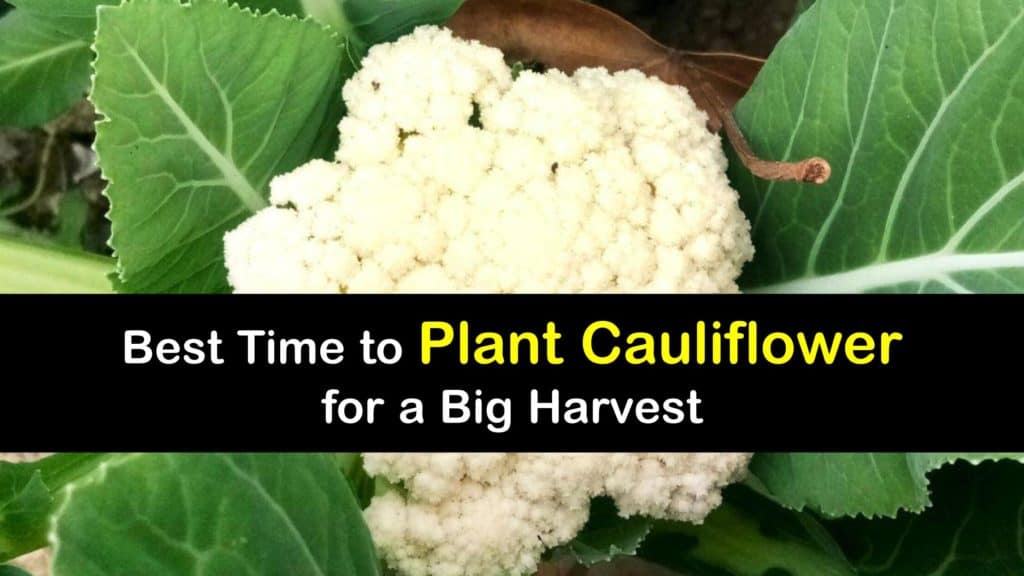 Planting and Growing Cauliflower
The cauliflower growing season varies by region. Some areas of the United States are cooler and have a short season, while other regions are mild throughout the year. You can plant cauliflower in February in some locations and May in others. Therefore, it's wise to understand your hardiness zone before growing cauliflower plants.
Learn how to sow seeds indoors to get a head start on the growing season and when to plant cauliflower seedlings outside. Additionally, find gardening tips to help your plants flourish and a delicious recipe for using your freshly harvested cauliflower.
The Cauliflower Growing Season
The cauliflower growing season occurs during cool weather, and these plants do not tolerate hot temperatures. It's vital to plant them at the right time of year and know when to plant cauliflower in zone 7 compared to zone 4. Discover the different hardiness zones and the best time to plant cauliflower according to where you live.
Cauliflower
Knowing when to plant cauliflower in zone 5 and lower vs when to plant cauliflower in zone 6 and higher goes a long way to producing a healthy and thriving crop of veggies. The United States is sectioned into hardiness zones that range from 3 to 10, with 3 having the coldest average temperature and 10 having the warmest.
If you reside in a cold area, it's wise to plant cauliflower in the early spring after the last frost. However, warmer climates are suitable for planting at the end of summer for a fall crop.
Depending on the variety, it takes months to grow cauliflower so be prepared. Cauliflower takes 50 to 100 days to reach maturity. Check your cauliflower seed packet for the growth rate to understand when to plant.
When to Plant Cauliflower Indoors
The best way to plant these cool-season crops is to start them inside your home while the outside temperatures are still cold. Find out how and when to plant cauliflower seeds to get an early start on the season.
In early spring, about six weeks before winter's last frost, prepare for planting by filling a seed starting tray with soil. Follow the seed packet instructions for depth or sow the seeds a half-inch deep in the dirt.
Spray the surface lightly with water to dampen it without soaking it, and cover the tray with a clean sheet of plastic. Once the seeds sprout in eight to ten days, remove the plastic and set the tray beneath grow lights or fluorescent lights. Keep the dirt damp since seedlings want evenly moist soil to grow.
How and When to Plant Cauliflower Seedlings Outside
In the early spring or late summer, it's time to prepare the garden bed for planting in full sun. Here is when to plant cauliflower seedlings outside and transplant them in the garden with the proper spacing.
Plant cauliflower while the outside temperatures are cool to avoid buttoning when cauliflower grows small button-sized heads instead of a large head or curd. About three weeks before the final frost date, prepare to move your plants outdoors when your seedlings have true leaves.
Harden them off before transplanting – take them outside and place them in an area without wind for an hour a day for about two weeks to help them acclimate to the changing temperature. For a fall harvest, plant cauliflower six to eight weeks before the first frost.
Enrich the garden soil with organic matter, space the seedlings eighteen inches apart with rows 30 inches apart, and water them right after planting. Add a three-inch layer of mulch to the bed and protect the seedlings from cold weather with row covers.
What Do Cauliflower Plants Need to Grow?
Learn what cauliflower plants require for optimal growth to ensure you get the most out of your crop. Explore some of the problems you may encounter throughout the growing season.
Feed your cauliflower a low nitrogen fertilizer at planting and again every four weeks. Give them an inch to an inch and a half of water weekly and keep a lookout for pests like aphids, cabbage worms, flea beetles, and cabbage loopers. If you discover insect activity, remove them by hand or use insecticidal soap.
Like other cabbage family members, you may encounter cauliflower growing problems. Cauliflower is affected by diseases like black rot and clubroot. Performing crop rotation, disinfecting garden tools, and keeping a tidy garden are the best forms of prevention.
Companion planting is another option – it's a good time to plant celery with cauliflower plants. Cucumber grows well with cauliflower. When you plant radish, consider a couple of cauliflower plants nearby, too.
As your cauliflower plants mature and the heads are about the size of a golf ball, fold the outer leaves over the head gently and secure them with twine or a rubber band. This blanching method shades the head to keep it white and tender. Harvesting cauliflower should start when the heads are still compact and large enough to eat.
If you won't be eating your cauliflower right away, the best way to store fresh cauliflower is in the fridge. It lasts for up to five days. Use the freezer for longer-term storage.
Make a Mexican-Inspired Dish with Fresh Cauliflower
One of the easiest ways to prepare florets is to roast cauliflower. However, there are many ways to go about this, and one of our favorites is a Mexican roasted dish. It is zesty and flavorful, and it serves four.
Prepare the cauliflower head by cutting off the base, quartering it into four wedges, and removing the core. Use your fingers to break the florets into pieces and spread them on a baking sheet. Pour olive oil over the veggies and sprinkle with salt, pepper, cumin, and chili powder.
Toss the veggies to evenly distribute and bake in a 425°F oven for 15 minutes. Remove from the oven, toss the florets again, and top with the pepitas. Set the pan back in the oven, bake for ten to 15 minutes, and garnish the cauliflower with cilantro and lime zest.
While some plants love growing during the summer heat, cauliflower plants (Brassica oleracea botrytis group) struggle during hot weather. It's vital to know when to grow cauliflower to ensure you get the healthiest early summer or fall crop. Plant your veggies at the right time, and you're sure to get a great harvest at the end of the season.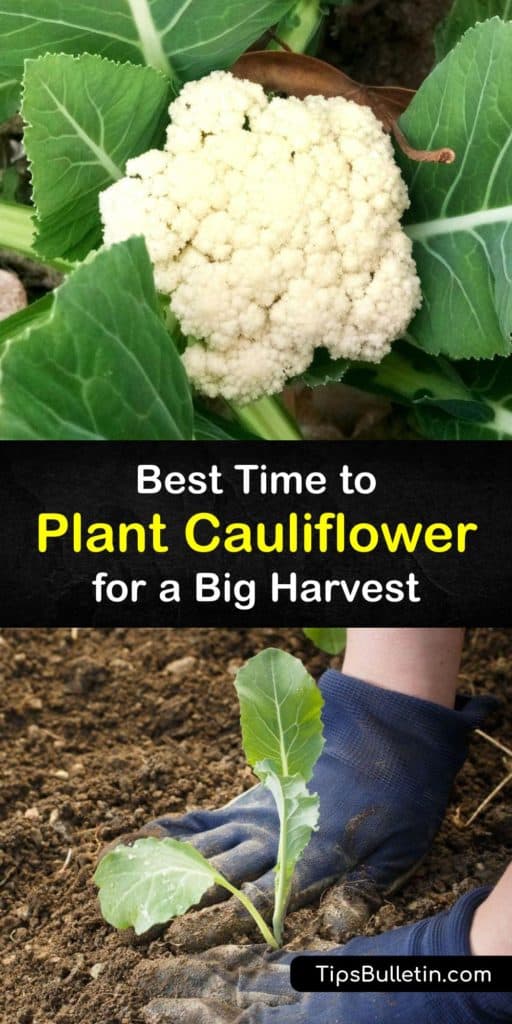 We hope that understanding when to plant cauliflower helps you choose the ideal time to start your garden, and we'd love it if you'd share our cauliflower growing guide with your family and friends on Pinterest and Facebook.