Over the past few years, cauliflower has made its mark in the culinary world. With cauliflower mash, pizza crusts, and Buffalo cauliflower "chicken" wings, learning how to store cauliflower is becoming more critical than ever.
Storing cauliflower properly makes a world of difference in how long your veggies last. Cauliflower is part of the mustard family, although you probably think of it more closely related to broccoli.
The cauliflower's cream-colored head is roughly six to eight inches across and made up of smaller florets that attach to a single stem. Cauliflower is amazingly versatile and quickly absorbs the flavors of other ingredients. Sautee, roast, steam, or fry them.
Make them into a creamy dip or a crunchy side dish. It is a one-of-a-kind veggie, and finding the best way to store cauliflower for your needs helps you enjoy these tasty veggies throughout the year.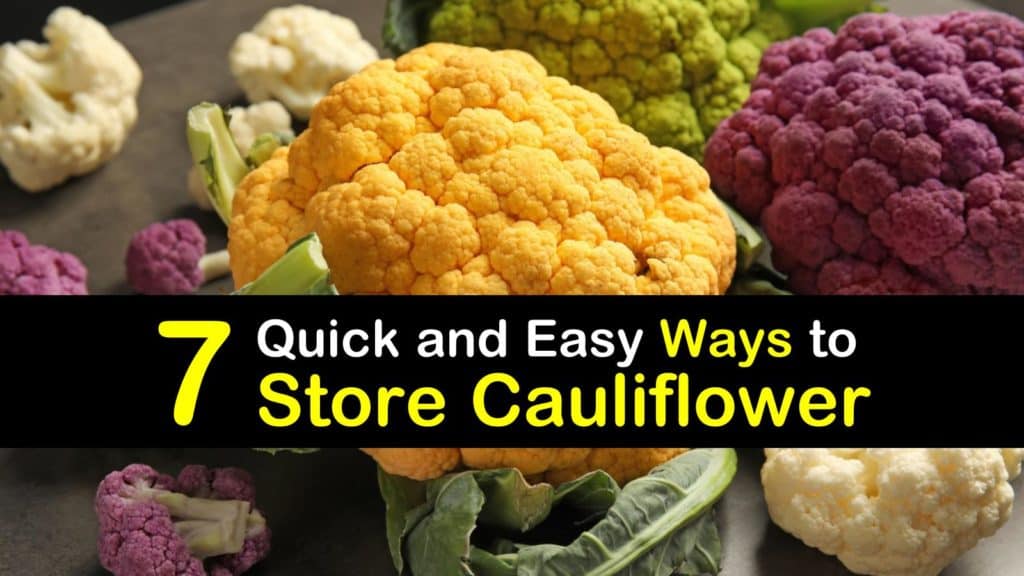 Everything to Know before Storing Cauliflower
Before we tell you where to store cauliflower, consider what you're looking for when purchasing your fresh veggies. Cauliflower grows in shade and is a cool-weather crop. It is usually available for purchase year-round at your local grocery store.
The heat and sunshine bring out more bitter flavors while the cooler weather makes the cauliflower florets taste sweeter. If you're able to purchase this veggie in bulk during the colder months, there are plenty of options to keep veggies fresh for long periods.
Look for creamy-white heads that feel heavier than what you expect. The green leaves around the base and outside of the cauliflower head should look fresh without signs of yellowing or wilting.
How to Store Cauliflower
Despite the many methods for storing cauliflower or even storing celery, the go-to way for consumers is by putting the entire head in the fridge. Fresh cauliflower lasts for a few days in the refrigerator, but there is a simple way to extend it.
Refrigeration is a popular way of preserving vegetables and extending their shelf life. Proper storage allows you longer to enjoy their fresh taste.
Store Cauliflower in the Fridge
Unlike when you want to keep cabbage fresh, don't toss your cauliflower in the fridge and hope it lasts until you're ready to cook with it. You may find it difficult to believe that there is a wrong way to store cauliflower in the refrigerator.
Soak a paper towel in cool water and wring it until it is no longer soaked and dripping wet. Wrap the paper towel around the entire cauliflower head. Place the wrapped cauliflower in a perforated bag.
If you don't have a perforated bag, use scissors to cut a few small holes in a plastic bag. Press out extra air and tightly seal it. Store fresh cauliflower in the crisper drawer for up to seven days.
Remember that brown spots are normal after you store fresh cauliflower. Some browning doesn't mean the veggie is rotten; it merely means that the plant is low in boron.
Storing Cauliflower Florets in the Fridge
Some people like to do their prep work ahead of time. If this applies to you, there is a more short-term way to store your florets.
Wash the entire head of cauliflower in cold water. Chop the head into smaller, bite-sized pieces. Let the florets dry on a paper towel. Once dry, place the florets in an airtight container and place it in the fridge for up to four days.
The Best Way to Store Cauliflower
Frozen cauliflower lasts an extended amount of time and holds the sweetness of the plant. If you're wondering where to store cauliflower or other vegetables, the freezer is always a safe bet.
Fill a bowl large enough for an entire cauliflower head with boiling water. Pour in three or four teaspoons of salt into the boiling water to keep the veggies fresh in the freezer. Stir the liquid to make sure the salt dissolves.
Submerge the head of cauliflower in the salt water and let it blanch for two to three minutes. Once finished blanching, drain the hot water and fill the container with ice water to stop the cooling process and keep the color bright.
Remove the head and let it dry on a stack of paper towels. Once the cauliflower head dries and cools, use a knife to chop the veggie into smaller pieces or florets.
Place the chunks into freezer bags or freezer-safe containers. Label your freezer bags with the date they were prepared and store the cauliflower for up to one year.
The process is similar to store fresh beans and a variety of other vegetables.
Storing Cauliflower in Vinegar
Vinegar is a magical ingredient. Adding veggies to this high-acid liquid gives them a yummy flavor while making them last longer. Don't believe us? This is the best way to store jalapeno peppers, asparagus, okra, and more.
Fill a large Mason jar with cauliflower florets, jalapeños, garlic, and lime juice and set it aside. Fill a small pan with both kinds of vinegar, salt, and honey. Bring to a rolling boil and stir the liquid so the salt dissolves.
Pour the hot pickle brine into the Mason jar until the jar is full, and the florets are covered. Seal and shake the jar to combine all the ingredients. Refrigerate for 24 hours and enjoy this tasty treat for up to three weeks.
This is only one of the many recipes for pickled vegetables to choose from. There are hundreds of others. Pick one with your favorite spices. or experiment with something new.
Canning Cauliflower
Unlike a lot of vegetables, cauliflower doesn't hold up well after being canned. Like broccoli, these are low-acid foods, meaning they must be pressure canned if they aren't pickled.
Unfortunately, pressure canning gets so hot that the texture doesn't withstand the process. Luckily, there are other ways to can cauliflower without losing quality.
In a large Dutch oven, add cauliflower, celery, carrot, water, and vegetable bouillon cube and simmer for 15 minutes. Use an immersion blender and blend for a minute until the vegetables are broken down but still chunky.
In a separate saucepan, melt the butter. Whisk in the flour, salt, and pepper into the pan until smooth. Slowly add the milk, whisking at the same time until the consistency is smooth.
Turn the heat of the burner to medium and cook for two minutes. Stir in the cheddar cheese. Add the cheese sauce to the cauliflower. You're now ready to can the soup.
How to Can Cauliflower Soup
Thoroughly wash some canning jars and lids in hot soapy water. Rinse the jars and let them dry. Pour the soup into the jars, leaving an inch of headspace at the top. Remove the air bubbles and tightly secure the seal and lid.
Place each jar in the pressure canner and can at ten pounds of pressure for one hour. Let the jars cool completely. Remove the canning jars and let sit for 24 hours. Make sure the lids seal properly and store in a cool, dry place for up to two years.
Pre-Make a Deep-Fried Snack
Like most foods, deep frying is a quick way to make veggies taste delectable. Instead of completing the task, however, freeze cauliflower before you're ready to drop them into hot grease.
Stir the flour, baking powder, cornstarch, and salt in a large bowl. Add the water and hot sauce and stir until you have a smooth batter. Dip the florets in the batter and then roll them in bread crumbs.
Place all the drenched florets on a cookie sheet and put them in the freezer overnight. Once the florets freeze, add them to a freezer bag and store until ready to fry.
When frying, heat oil in a large pot to 365°F and fry the florets until golden brown. Season with extra salt and enjoy.
The freezer is also where to store mushrooms that you have stuffed and breaded ahead of a big party or holiday gathering. Prep work ahead of time allows you to enjoy the event and your guests even more.
Make-Ahead Meals
Making your meals ahead makes eating healthier so much easier. One of our favorite ways for storing cauliflower is by throwing a bunch of veggies together so they're ready for a stir fry.
Add cauliflower florets with vegetables like chopped zucchini, mushrooms, bell peppers, and asparagus into a plastic bag and place it in the freezer. Pull the bag out when you're ready and cook it over medium heat with some sauce to make a quick and healthy dinner.
Cauliflower has been growing in popularity and versatility, and it seems like a trend that is only going to continue. This sweet and slightly nutty vegetable has endless benefits.
Cauliflower is high in vitamins B, C, and K and is filled with fiber, omega-3 fatty acids, and magnesium. Learning how to store cauliflower keeps you up on the hottest food trends and improves digestion for a healthier lifestyle.
If this article helped show you how to store cauliflower the right way, please share these veggie storage methods on Facebook and Pinterest.