Unfortunately, it's all too easy to wind up with more fresh goat cheese than we can handle. Goat cheese is too tasty and nutritious to allow it to go bad, so it's crucial that we know how to store it for long-term use. But, can you freeze goat cheese?
When you're looking for a cheese option that gives you massive flavor coupled with practical health benefits, goat cheese, also called Chevre in French, is at the top of the list. You can use goat's milk cheese in any recipe that calls for cow's milk cheese or any soft cheeses and know that you've chosen a delicious and healthy option.
We take a close look at Chevre and the best way to freeze it for later use and show you a step by step through our tried-and-true freezing techniques for different goat cheese types and take you through the thawing process, as well.
We show you how goat cheese provides real health benefits, and we even share our favorite goat cheese recipe. By the time we've finished, you won't ask yourself, "Can I freeze goat cheese?" or "Can you freeze ricotta cheese?" You'll be an old pro at freezing cheese!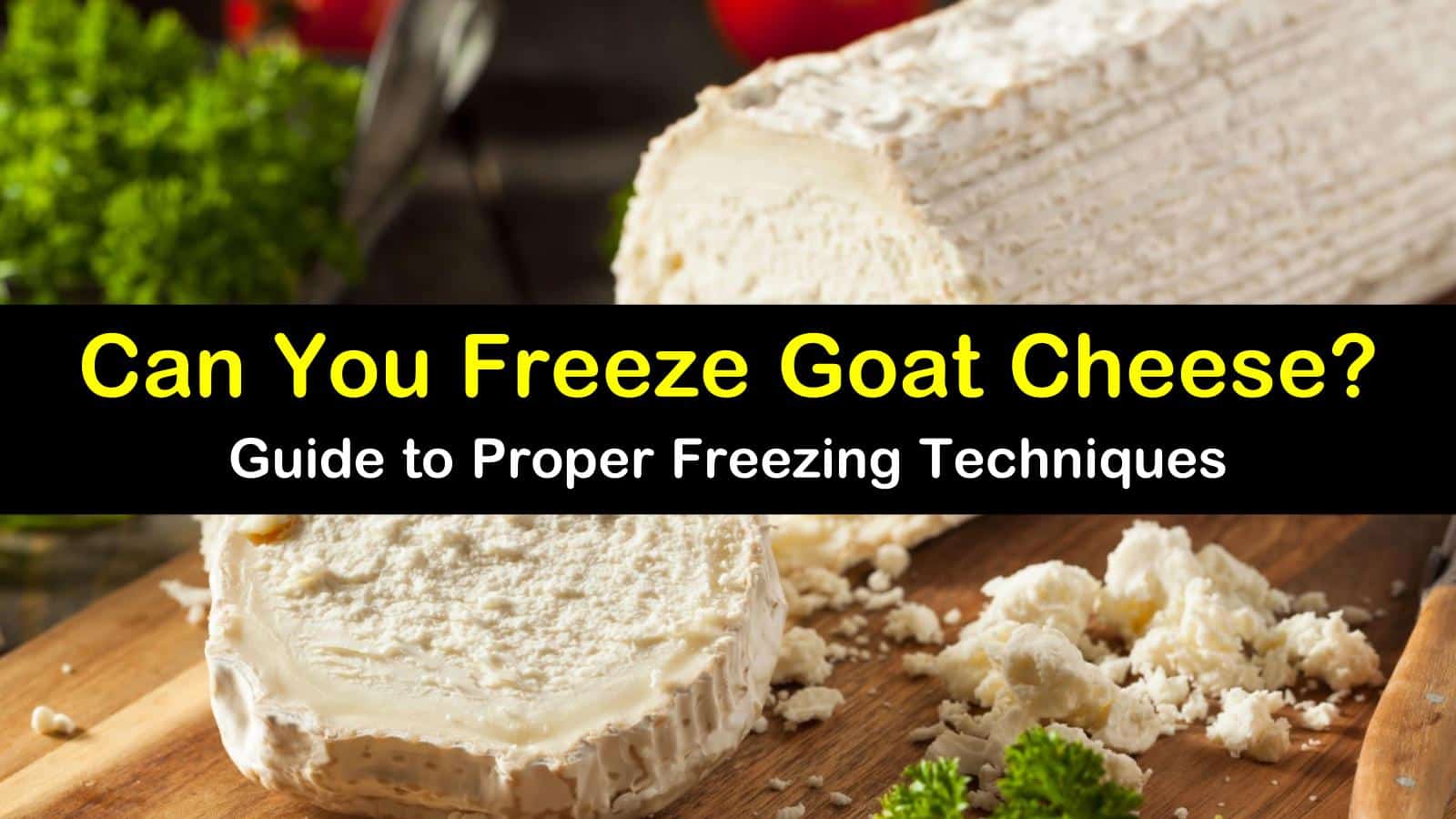 How to Freeze Goat Cheese
You may wonder how long does cheese last after you put it in the fridge. Although the refrigerator is great for short-term storage, freezing cheese is even better.
To start answering the question, "Can you freeze goat cheese?" it's essential to know how to freeze and thaw your goat cheese properly if you want it to stay in good shape. You can add many months of life to your Chevre if you store it correctly, but improper handling and poor packaging can lead to freezer burn and a sad family.
It's equally crucial to take care when you thaw your goat cheese to avoid damaging it before use. Much of the same applies to freezing other food products, as well.
It's important to take the proper precautions and follow directions when freezing cheese and other items to ensure that they not only taste fresh when you remove them from the freezer but that they are safe to eat and drink, too. Learn how to tell when cheese is gone bad so you don't have to worry about food poisoning.
Freezing and Thawing Goat Cheese
This section looks at the best way to freeze goat cheese. We look at the freezing processes for different types of goat cheese and give you some critical tips to keep your goat cheese looking and tasting good.
You can apply this information to freezing mozzarella cheese or other types of cheeses, too. We look at the thawing process and give you some pointers on how to thaw frozen goat cheese to help you make the unfreezing process as painless as possible.
Freezing Solid Goat Cheese
Your method of how to store goat cheese will vary depending on the type of cheese and its moisture content. You can break Chevre into two broad groups: spreadable and solid.
Freezing solid block cheese is a simple process, but before you freeze cheese, cut the cheese block into individual serving sizes. Doing this will let you use the cheese as needed without having to expose entire cheese logs to heat and possible contaminants.
Place each piece of cheese in a freezer bag, making sure to force out all of the air before sealing. Attach labels with the date on them to each bag, and store the bags in a back corner of the freezer. Do not refreeze goat cheese after thawing it, as the texture will change.
Freezing Spreadable Goat Cheese
Spreadable goat cheese is everywhere and you can use it anywhere you'd use cream cheese. Note that freezing cream cheese is easy, too!
Fortunately, freezing spreadable Chevre is a breeze and requires minimal effort on your part. If you purchased a large container of soft cheese, you might want to open the container and place individual cheese portions in small plastic or glass containers.
Make sure to fill the containers to the top to avoid leaving air in them. You can also top off any remaining space with olive oil. Otherwise, leave the original container unopened, and place it in a freezer bag or plastic bag, or cover it in plastic wrap for double protection from freezer burn.
Thawing Goat Cheese
It's no good to have an excellent method for freezing goat cheese but not know how to thaw frozen goat cheese correctly. It's possible to spoil your cheese during the thaw if you don't do it right, so it's wise to have a good thawing process. You don't want to lose your goat cheese so close to the finish line, after all.
You can damage goat cheese if you let it come to room temperature too quickly, so for better results whenever you need a portion of cheese, place the required amount in the refrigerator overnight before you open it. When the cheese is at room temperature, open the container, and stir the cheese to restore its creaminess.
Why Goat Cheese?
If you're unfamiliar with goat cheese, you might be wondering what the fuss is. There are lots of cheeses out there, after all, so why all the concern over Chevre? Well, goat cheese isn't only delicious; it's a versatile food that can fill all kinds of essential health functions.
This section takes a look at the health benefits that goat cheese offers and shows you how substituting goat cheese for cow's milk cheese can change your life for the better. We'll also tell our favorite goat cheese recipe that will have your family and guests applauding your cooking skills.
Health Benefits
One reason why people rave about Chevre is because of the health boosts we get from eating it regularly. Goat cheese not only tastes terrific, but it's easier to digest than cow's milk, which makes it ideal for folks who have trouble digesting dairy products.
Goat cheese is also something of a wonder food when it comes to nutritional value; it's low in fat, calories, and cholesterol and is miles healthier than a slice of cheddar or Stilton.
You'll also get a nice helping of your daily protein when you eat goat cheese, and it provides more vitamins D, K, niacin, and thiamine than cow's milk cheese. Chevre cheese is low in sodium, too, and it gives you the healthy fats you need to have effective and permanent weight loss. It's an incredible food and welcome addition to any table.
Unbelievable Taste and Texture
While goat cheese's health benefits are numerous and undeniable, none of that would matter if it didn't taste incredible. Thankfully, goat cheese is delicious and creamy, with a unique, tangy flavor and a sharp bite.
You can make amazing dishes with goat cheese; although you can substitute Chevre for all kinds of cheese, recipes designed for goat cheese show off its unique flavor profile and highlight the other ingredients.
We especially love the way goat cheese shows off strong-flavored foods such as artichokes, which is why we've included our favorite recipe featuring these two ingredients. You'll love it!
Turn on your oven to 400°F. Heat a single tablespoon of olive oil in a skillet, and sauté the onion until tender and translucent. Add the artichokes, dill, garlic, pepper, salt, and cheese. Toss the ingredients. Combine the panko and one tablespoon of olive oil, and sprinkle the mixture over the skillet contents. Put the skillet in the oven, and bake the mixture for about ten minutes.
We hope you enjoyed this guide on how to store goat cheese and how to thaw goat cheese. Nobody likes to see food as good as goat cheese go to waste, so it's essential to know how to freeze goat cheese so you can enjoy it all the time.
Our guide shows you what you need to know to make your freezing process painless and straightforward. So, can you freeze goat cheese? Absolutely, and you'll never have to throw away goat cheese again!
Thank for reading this goat cheese freezing guide. If you found these tips on freezing goat cheese beneficial, please share our tips on how to freeze goat cheese on Pinterest and Facebook.