One of the best things about a new car is the fresh car smell. Unfortunately, the scent diminishes as you use your car more, and your car starts to take on a unique smell. If your car smells moldy, it could mean mildew is growing inside, a sign that your car needs a deep cleaning.
The car carpet and seat upholstery in the car's interior generally hold onto foul smells that fill the car. However, the mildew smell in your vehicle may come from floor mats, door panels, and the car AC vents.
Although it's common to smell mold or mildew in older vehicles, even new cars develop a mold odor if they aren't correctly cared for. Cars exposed to the elements often begin to smell like mold as moisture from rain and snow becomes trapped in the carpet or seat fabric. After running the air conditioner in your car, mold may form in the air vents of your car's AC system.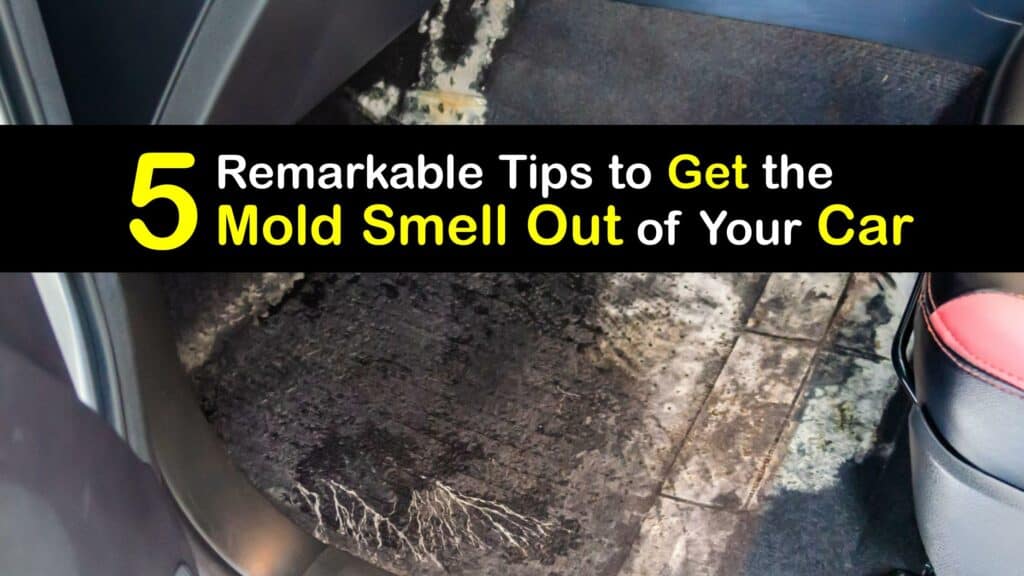 How to Remove a Moldy Smell From Your Car
The best way to get rid of moldy smells in a car is by cleaning your vehicle. Professional, detailed cleaning of your car is expensive; however, it is possible to remove the source of the smell and deep clean your vehicle to remove all traces of musty smells.
What Are the Reasons Your Car Smells Moldy?
Forgetting to roll your windows up before a storm results in water getting inside your car, but running the air conditioning system may lead to excess moisture.
The evaporator coil in your car becomes wet when you use the AC, but this moisture typically drips outside the vehicle. If this tube becomes clogged, water from the evaporator coil leaks inside the car, soaking into the carpet.
If the recirculate button is on in the car, your car's AC system moves the air from inside the vehicle through the system, cooling the car down quickly. The major downside to this option is that the evaporator core does not completely dry off. The moisture leads to mold spores on the evaporator and the cabin air filter.
Once you understand how your car develops a bad smell, it's time to figure out how to remove a moldy smell from your car.
Vacuuming to Remove Food and Other Debris
The first step to cleaning is to vacuum the car interior thoroughly. Vacuuming removes any food that causes odors or the ashes from cigarettes that contribute to the smell of cigarette smoke in your car.
Use a vacuum attachment to clean inside door panels, under seats, and between cracks where small trash and debris hide. Although vacuuming alone won't clear moldy air if your car smells musty, it effectively removes the sources of any bad smell inside and stops them from returning.
How to Get the Mold Smell Out of a Car With Vinegar
Like baking soda, distilled white vinegar is acidic and known for its ability to neutralize strong odors. Although the sour smell of vinegar is not pleasant, using the right amount helps when looking for solutions for how to get the mold smell out of a car, as well as for a moldy dishwasher or appliance like the fridge.
Use water to dilute vinegar in a spray bottle and spritz areas around your car where the mildew odor is the strongest as one way to get a bad smell out of your car. The vinegar odor will dissipate when it dries. Clean and dry your car seats with vinegar for lasting freshness. To avoid overpowering your car with the smell of vinegar, roll the windows down to allow fresh air in.
Vinegar is also an ideal cleaner for stains. Take care of spilled coffee on car seat or carpeting, as well as a host of other unwelcome stains.
Using Baking Soda for Car Odor
Baking soda is a versatile kitchen ingredient, most commonly used in the refrigerator to neutralize food odors. The power behind baking soda comes from its neutral pH and ability to cancel out unpleasant smells from acidic sources.
Aside from eliminating foul odors and a great way to get smoke smell out of a car quickly, baking soda helps remove stains and build-up from some of the hard surfaces in your car.
To use baking soda against foul odors in your car and eliminate smoke odor from your car, sprinkle baking soda on the seats and floors, focusing on areas where the smell is worse. Leave the baking soda to sit for 15 minutes before vacuuming.
Use baking soda to make a long lasting car air freshener. Add some baking soda to a Mason jar and poke some holes in the lid. Set the jar in one of the cup holders to absorb odors from the car. Replace the powder every couple of months.
Cleaning Interior Fabric With Detergent
To learn how to remove a moldy smell from your car, clean moldy car interior with laundry detergent. Using detergent and a scrub brush makes getting rid of a mold smell in a car easy by thoroughly cleaning your car's upholstery.
Pour water into a bucket and add a teaspoon of detergent. Stir the water to incorporate the soap without making too many bubbles. Wet your brush with the water and use it to clean your seats. After you clean the seats, use a clean towel to wipe the area.
Tackle the mats and flooring next. Some detergent with a little non-chlorinated bleach or vinegar and water are great ways to get a mildew smell out of car carpet. Be sure to soak up any excess liquid and allow the material to dry thoroughly.
Cleaning the Engine Bay
Because unpleasant smells can come from under the hood of your car from a build-up of grime, it's essential to care for the engine bay of your car. The smells from dirt or mildew that form under the hood pass through the car's air vents and allow them to settle on door panels and other surfaces inside the cabin.
When looking under the hood, inspect your car's air filter. If the old filter is dark with lots of dirt between the pleats, your filter needs replacing. Use a container of compressed air or a leaf blower to remove dry build-up and dust or debris inside the engine bay.
Once the inside looks clean, use a commercial degreaser to spray the exposed surfaces under the hood. Steam clean the engine bay to remove the degreaser while avoiding electrical components. Wipe your engine with a microfiber cloth to leave the area looking clean and free of build-up.
Dealing With Other Smells in Your Car
The filter in your car removes dust and debris but doesn't always filter out smells. While being unable to block unpleasant smells may seem like a design flaw, being able to detect certain odors helps car owners notice when something is wrong with their car.
Issues with your car's fuel pressure regulator may result in a gas leak and fumes coming from your car's system. If you notice a smell like burnt toast or burnt paper coming from your vents, it could signal electrical shorts or burning wires.
The smell of burning rubber doesn't mean you need to shop for tires at your local car shop. Smelling rubber from your vents may indicate an issue with the car's compressor, which causes a belt in the car to drag.
Smelling rotten eggs in your vehicle means there is likely an issue with the transmission fluid. If you smell these while operating your car, it's best to get your car to a shop as soon as possible.
When removing the mold smell from a car, skip hanging an air freshener to mask the smell. Without tackling the source of the problem and deep cleaning to remove spores, the smell of mold won't leave. Prolonged mold exposure can lead to respiratory issues like lung infections, wheezing, and skin irritation.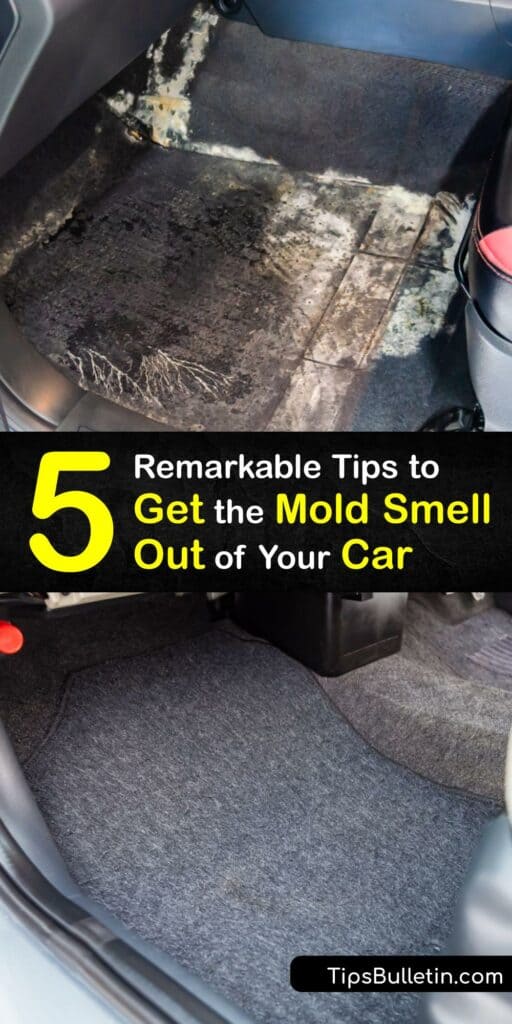 If you learned why your car smells moldy from our article, please share our tips on how to get the mold smell out of a car with your friends on Facebook and Pinterest.