Our homes are breeding grounds for mold and other dangerous agents. All it takes is a damp surface to allow mold spores to set up shop in your kitchen or bathroom. There's bound to be mold hiding in dark corners and wet areas in your house, and knowing how to clean mold can help you deal with it.
Having a reliable method of dealing with mold will keep your home beautiful and your family healthy and free of allergic reactions. This article shows you the best way to clean mold from any surface. In our guide, we look at simple cleaning approaches, more advanced techniques, and some heavy-duty options to use when things get tough.
You'll find out how to get mold out of drywall, car surfaces, furniture, and many other areas of your home. Before long, your home will be mold-free and safe for you and your loved ones.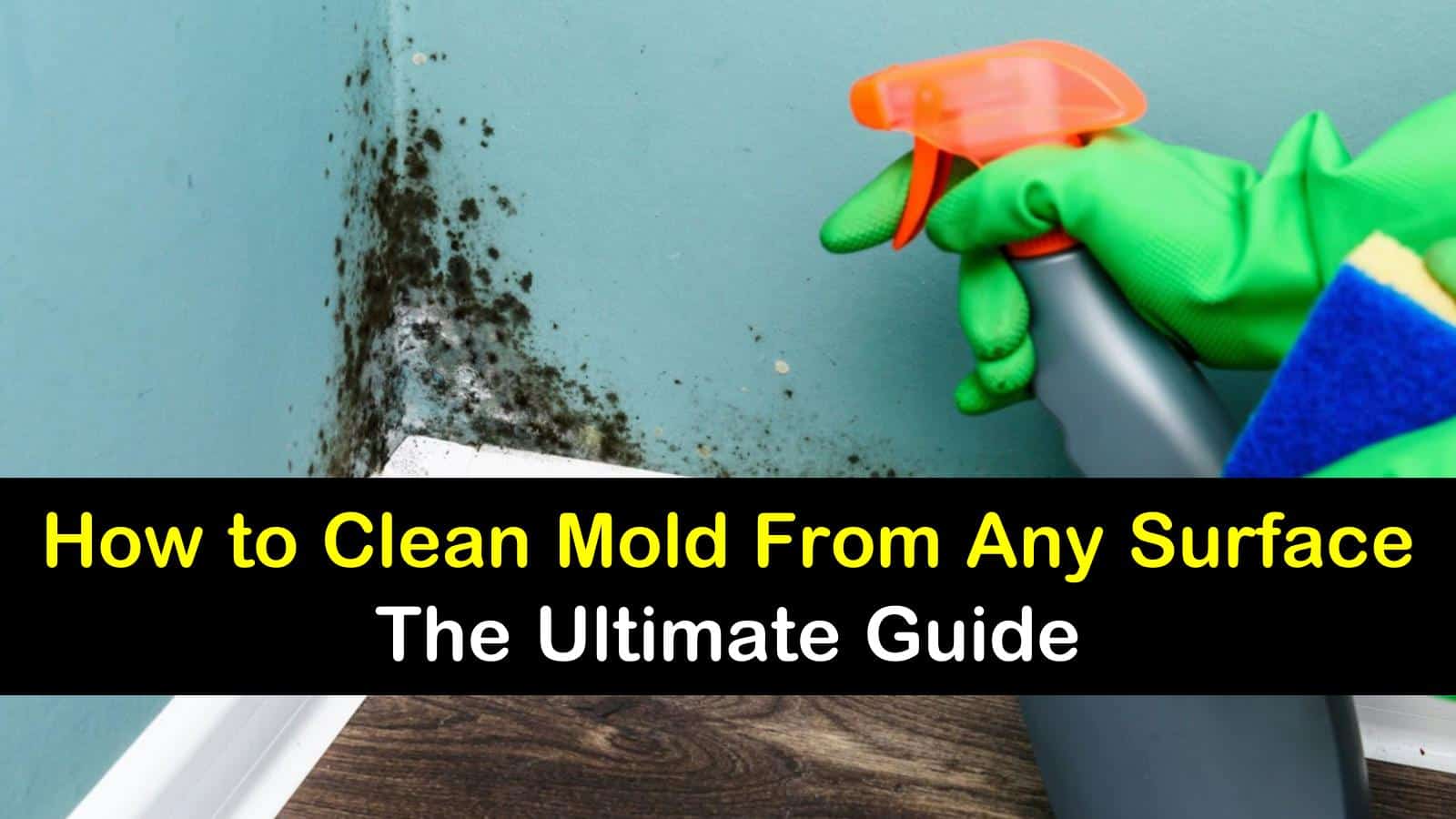 The Best Way to Clean Mold – Basic Cleaning Recipes
When you set out to start mold remediation, you should take a minimalist approach to your cleaning recipes. Try to use only as much cleaning power as is necessary to get the job done and no more; powerful cleaners can harm the surface you're cleaning. That's why it's best to begin any attempt at getting mold out of carpet or other surfaces with a gentle cleaning recipe.
This section covers basic recipes on how to clean mold. You'll discover methods that remove most mold, including black mold, from your concrete, grout, walls, and other areas. Before moving on to stronger mold removers, give a few of these recipes a try. You might wind up taking care of your mold problem without damaging your tiles or siding in the process.
Use Hydrogen Peroxide
Hydrogen peroxide is a versatile and useful homemade tile cleaning solution that is also useful for all sorts of different cleaning tasks. Many home remedies for cleaning grout and other surfaces include peroxide. Hydrogen peroxide is most often associated with medicinal purposes but also has some real cleaning power behind it.
Use it in place of bleach to get rid of mold and other nasty stains and smells. You can bleach your hair with peroxide or use it to get coins looking like new, and it'll clean away all kinds of grime.
Peroxide is also a great natural mildew remover and will get your bathroom or kitchen looking beautiful. It's in the running for the best way to clean mold and it doesn't have a significantly harsh smell so, in that way, it's much better than bleach.
To make this easy homemade mold cleaner recipe, don the gloves, and combine the liquid ingredients in a spray bottle. Spray any surfaces that contain mold, and allow the liquid to sit for a minute or two. Scrub the affected area with a nylon scrubber. Wipe the area clean with a dry cloth. Repeat as needed.
This is an excellent solution and alternative way to get rid of mold without using bleach, which can be dangerous to touch and breathe.
Hit the Mold with Liquid Dish Soap and Water
When you want to clean household items of all sorts, liquid dish soap is one of your best friends. Dish soap is a potent cleanser, and when you dilute it with water, it makes an excellent mold removal agent and it also works for how to get rid of mold mites that may be feeding on the fungus.
Soap and water are especially useful in bathroom and shower areas, and they make a dynamite homemade vinyl siding cleaning solution, too.
Combine the water and dish soap in a spray bottle. Spray down any moldy surfaces with your soap and water solution, and scrub at the sprayed areas with a nylon scrubber. Wipe down the area with a cloth to remove debris as you go. When all the mold is gone, give the surface a final wipedown.
This recipe is a great first start to tackling any black mold in the dishwasher. If it doesn't do the trick you can move on to more intensive cleaning remedies.
Clean Your Mold with Borax
Borax is a handy household cleaner that you typically use in laundry, but it'll also kill mold and leave surfaces looking pristine. Best of all, Borax is non-toxic unless ingested, which makes it the right choice to clean mildew and mold from surfaces that families use a lot.
Give our Borax recipe a try the next time you want to clean mold from your basement or wood surfaces, or any other area in the house that shows mold or needs cleaning.
Don the gloves, combine the Borax and water in a spray bottle and spray all affected areas. Let the Borax mixture sit on the mold for a few minutes, and scrub at the spot with a nylon scrubber. Wipe the spot clean with a cloth or paper towel. Repeat as needed.
Knock Out Mold with Tea Tree Oil
Tea tree oil gives you the best of several worlds. Not only do you get a potent cleaner that will remove mold from porous surfaces and leather, but it leaves any cleaned surface smelling fresh and clean. Use a tea tree oil solution on porous materials or any surfaces that need a scent upgrade along with mold removal.
Fill the spray bottle with the liquid ingredients. Spray the tea tree oil mixture on moldy spots, and let it sit. The mold should melt away. Tea tree oil is a natural mold repellent and discourages future mold growth, so you don't need to wipe the cleaning solution away when you finish cleaning. This solution is ideal to remove mold from a drywall ceiling or one with a popcorn finish.
Use Laundry Detergent
Laundry detergent has a lot of advantages going for it when you stack it up against mold. Clothes get moldy all the time. All you need is a damp pile of laundry for mold to spread and take over.
When this happens, turn to laundry detergent to attack fungus in your fabric. Run your moldy clothes through a hot wash cycle with liquid laundry detergent. The detergent should clean the mold out without harming most fabrics.
Pre-treat any especially moldy spots with a dab of detergent before the wash. Hang the cleaned clothes to dry outside for extra mold removal power.
Cleaning Mold with Vinegar and Baking Soda
If you've given the basic recipes a shot but still have issues with mold, it's time to move on to some more robust cleaning options. There are lots of advanced mold removal solutions you can use to clean away mold that include vinegar, baking soda, or both. Cleaning mold off the ceiling with vinegar and baking soda is easy.
Both products are perfect mid-level mold cleaners and clean mold away without harming the underlying surface. This section looks at advanced cleaning recipes that include the use of baking soda or vinegar.
In this section, you'll find fantastic recipes for mold cleaners that take advantage of the cleaning power of these two household superheroes. After trying them for yourself, you'll wonder how you managed without them.
Make the Mold Vanish with Vinegar
Vinegar is one of the best cleaning products you have in your pantry. It is perfect for cleaning because it contains acetic acid, a mild acid, which is an agent that slowly eats away at organic matter.
That makes vinegar perfect for your battle against mold. It's the best way to clean mold off all kinds of surfaces. The best way to remove mold from the bathroom ceiling with vinegar is spraying it from a ladder.
Combine the liquid ingredients in a spray bottle, and spray down any moldy areas. Let the vinegar work on the mold for at least five minutes, then scrub at the mold with a nylon scrubber. Wipe the surface clean when the mold is gone. Repeat as necessary.
Reduce or eliminate the water in the cleaner to make a more powerful agent. You can also use this cleaner as a post-shower spray. Just spray your shower tiles after you use the shower each day to protect them against new mold growth.
Mix a larger batch of this cleaner and add it to your pressure washer to kill mold on wood decks and patios. Scrub with a pole brush. Rinse well.
Try Grapefruit Seed Extract and Vinegar
Vinegar by itself is a beautiful cleaning agent, and it gets extra oomph when you add grapefruit seed extract. The extract cuts through mold like butter and aids the vinegar in getting your fabrics and drywall mold-free and ready for the showroom. The grapefruit seed extract also adds a lovely citrus scent to cleaned areas
Put on the gloves, and combine the ingredients in a spray bottle. When removing mold from sheetrock walls, spray the mold, and let the solution work its way in for a few minutes. Then, scrub the moldy spots with a nylon scrubber.
Wipe the area clean using a cloth as you go. Repeat as needed until the mold is gone.
Hit the Mold with Borax and Vinegar
We've already seen how Borax can handle mold by itself in our basic recipes section. That's not all Borax can do, though.
When you add vinegar to Borax, you create a mold cleaner that can deal with almost any mold you send its direction. Use our Borax and vinegar cleaner recipe to tackle stubborn mold on grout and tiles.
Don the gloves, and combine the ingredients in a spray bottle. Spray down any mold spots, and let the mixture soak in for a minute or two. Use a nylon scrubber to clean the mold off the surface. Wipe the area clean to remove debris as you go. Repeat as needed.
Use Baking Soda and Water on the Mold
Baking soda is a fantastic household agent that has a million uses. You can brush your teeth with baking soda, wash your laundry with it, or use it as an ingredient in cakes and cookies.
It's also the best way to clean mold from the kitchen or bathroom when you want to leave a clean scent after you finish. Give this baking soda and water recipe a try to eliminate all kinds of mold.
Combine the ingredients and pour them into a spray bottle. Spray the mold, and let the baking soda solution work its way in for at least five minutes before you continue.
Use a nylon scrubber on the moldy spots, and wipe the area clean with a cloth as you proceed. This recipe is especially useful for dealing with moldy refrigerators.
Attack the Mold with Vinegar and Baking Soda
Baking soda and vinegar are powerful cleaning agents in their own right, and both do a great job against different types of mold. When you use them together in a single recipe, you get a cleaner that can get rid of mold no matter the type.
Cleaning mold with vinegar and baking soda is a great option when you need to know how to kill mold without risking your family's health. Use this recipe to deal with stubborn mold on concrete.
Add the baking soda to the vinegar, wait for the reaction to subside, and pour the mixture into a spray bottle. To get rid of mold on concrete block walls, spray down any moldy areas thoroughly, and let the solution sit for a few minutes.
Scrub at the mold with a nylon scrubber to get the surface clean. Respray as needed, and wipe down the surface after you obliterate the mold.
How to Clean Mold – Heavy-Duty Recipes
Perhaps you're dealing with a stubborn case of surface mold that won't go away in spite of your attempt at cleaning mold with vinegar and baking soda or another household cleanser. When you need to know how to clean mold in severe cases, you can always turn to more powerful cleaning options.
This section takes a look at heavy-duty mold cleaning recipes that you can use to get your home back to like-new condition. In this section, we walk you through dealing with stubborn mold in paper and sunk deep into drywall. Before you walk away from this article, you'll be ready for any mold emergency you encounter and will be able to handle the worst and nastiest mold blooms.
Get Mold Out of Clothes with Oxygen Bleach
If you're dealing with an item of clothing that stays moldy no matter how many times you send it through the wash, give bleach a try. Chlorine bleach is exceptionally effective against mold, but it will discolor and damage dark clothing.
Oxygen bleach is your friend in these circumstances and will clean away mold without risking your clothes. Use it to remove mold from any non-white fabric.
Mix the oxygen bleach and water in a large container. Soak the moldy clothes in the bleach solution for at least eight hours. Then, send the clothes through a hot wash cycle. Dry the fabric on the line to kill any remaining mold. Repeat as needed.
Get Mold Off Paper with Sunlight and Peroxide
You might not regard books as vulnerable to mold, but bound paper documents are some of the most at-risk elements in your home. Mold can ruin books and result in lost documentation. Fortunately, you can use Mother Nature and hydrogen peroxide to nip any mold in the bud before it damages your books.
Sunlight is an excellent disinfectant and is one of the best mold cleaners around. Never work on a piece of paper that has lingering dampness; always allow any paper to dry before attempting to clean it.
Don the gloves, and bring the book outside to sit in the sunlight. Use a paintbrush to brush any loose mold from the pages. Slide a sheet of wax paper behind the page you're cleaning to protect the rest of the book.
Barely dampen a cloth with peroxide, and wipe the page down carefully. Let that page dry in the sunshine before moving on to the next page.
Burn Off Mold with Chlorine Bleach
Chlorine bleach, also called household bleach, is a caustic and highly effective cleaner that you use for all kinds of tasks. Bleach will kill ants and sterilize countertops, and it rips through mold and leaves clean surfaces behind.
Chlorine bleach is the best way to clean mold in bathrooms and areas that need to stay as germ-free as possible. You won't find a more effective mold cleaner this side of cleaning mold with vinegar and baking soda.
Combine the ingredients and pour them into a spray bottle. If you need to add more cleaning solution later, stick to a ratio of about one part bleach and ten parts water. Don the gloves, glasses, and respirator, turn on any exhaust fans and open all windows.
Spray the mold with the bleach solution, and let it work for a few minutes. Scrub at the mold with a nylon scrubber if you need to add some elbow grease to the mix. Wipe the surface as you clean.
Cut Out the Mold
You might not always be able to clean away the mold with cleaning solutions. This scenario mainly occurs when you discover mold in your drywall or carpeting.
Drywall mold can extend into the wall and spread beneath the surface, and nothing you do will be able to get it out. In these cases, you're better off cutting out the moldy material and starting fresh with new drywall.
Don all safety gear, including a respirator. Turn on exhaust fans, and open all windows to avoid breathing in dangerous mold spores as you work.
Use the Exacto knife to cut out any moldy areas. Double bag and tape all moldy drywall or carpet to prevent it from spreading. Make sure to cut the drywall or carpet back far enough to remove all traces of mold before you begin to repair it.
Wipe Out Mold with Ammonia
Ammonia is a potent and useful household agent that works wonders against mold. When you have to deal with severe and insidious mold, you'll be glad you have ammonia on your side in the battle.
You'll be amazed at the way mold melts away when exposed to ammonia. You'll have to exercise caution when you work with ammonia, though, and must never combine it with bleach for safety's sake.
Put on safety gear, open all windows, and turn on all fans. Combine the liquid ingredients in a spray bottle, and spray down moldy spots. Let the ammonia work on the mold for a few minutes before you proceed.
Scrub the mold with a nylon scrubber, and wipe the area down with a cloth to remove debris as you clean. The mold should clean off without much trouble.
How Can I Stop Mold from Coming Back?
It's not enough to clean the mold off of your home's surfaces. If you want to win the ongoing battle against mold, take steps to prevent future mold growth. You won't be able to eliminate mold from your house, but you can make your residence a less inviting place for mold to put down roots.
Take care of much of your mold issues with a dehumidifier to dry out your environment and make it less mold-friendly. Mold remediation, whether DIY or professional, needs to include humidity checks.
Water damage is mold's best friend, so make sure to check your walls, including crawl spaces and attics, to ensure that you don't have water-logged drywall inviting mold to come live in it. Your laundry room should be the driest spot in your house as much as possible to counter the constant addition of damp clothing; keep a window open or a fan running if possible.
When Should I Contact a Professional?
Your instinct as a homeowner is to take care of any house-related issues on your own. Being a self-sufficient homemaker is a fantastic skill to have, but there are times when you need to nod to reality and call for a professional for assistance.
Mold, especially dangerous varieties such as black mold, can be hazardous. There is a special way to clean black mold, particularly in large areas that requires specific safety knowledge that only the pros can provide.
It's essential to understand when you can clean on your own and when it's okay and even necessary to call for help. The amount of mold with which you're dealing has a lot of influence on whether you can handle it by yourself or not.
A general rule is to remember that ten square feet of mold is the cutoff. If you encounter a patch of mold stains larger than ten square feet, or are concerned about your health, give the pros a call.
We hope you had a good time checking out our mold cleaning guide. Knowing the best way to clean mold will help you keep your kitchen and bathroom looking like new.
Our guide helps you find the perfect mold cleaner recipe for your situation. With our options for cleaning mold with vinegar and baking soda and other amazing tips, you'll be ready to take on the worst moldy spots and come out on top.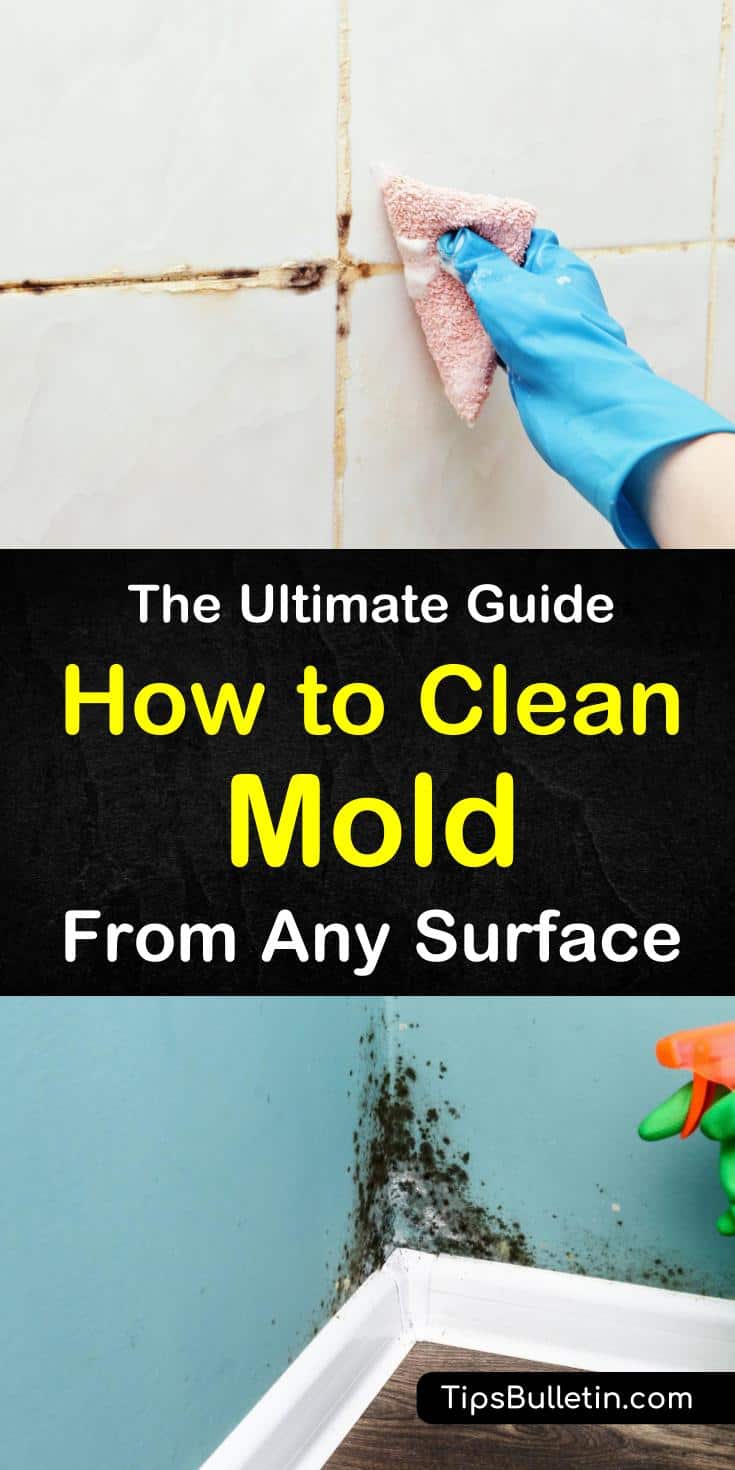 Thanks for reading our mold removal tips. If you found our guide on cleaning mold helpful, we'd love it if you'd help us out by sharing our suggestions on how to clean mold with your family and friends on Pinterest and Facebook.