Known for its low level of calories, high water content, and other health benefits like improving digestion, celery makes a delicious stir-fry ingredient or snack. It's also easy to buy too much. If you have a bunch of celery sitting at the back of your crisper drawer, you may find yourself wondering, "How long is celery good for?"
The shelf life of celery depends on several factors, including the quality of the vegetable that you bought at the grocery store or farmer's market. The stalks should be light-green and firm, with fresh leaves.
Buy organic if possible since celery plants tend to have many pesticides applied. Celery stalks that have gone bad are soft and bendable, lacking this vegetable's characteristic snap. They may turn whitish and hollow, release a foul smell, or even go slimy and rubbery. Another possible sign of celery spoilage is if the leaves turn brown.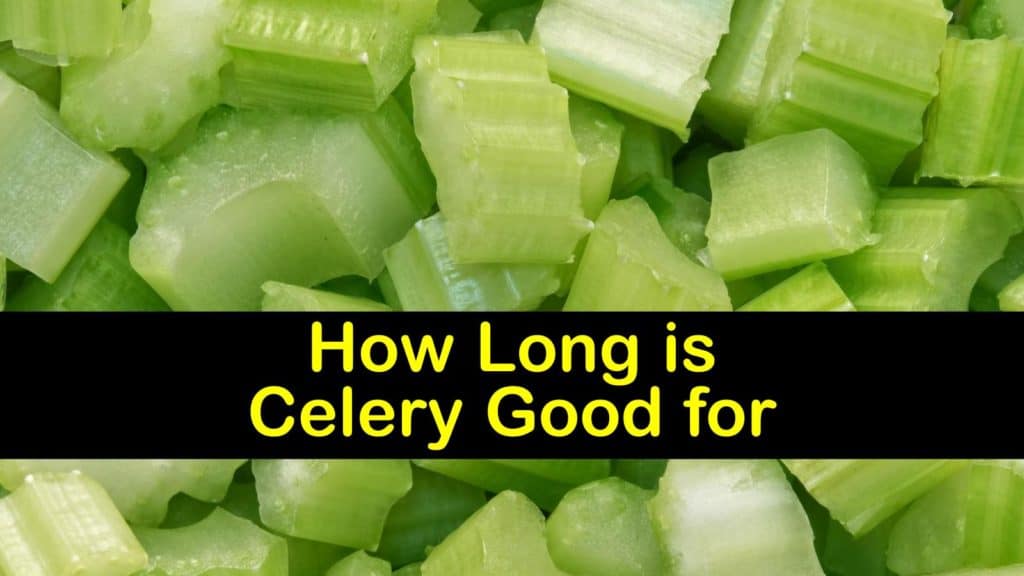 How Long does Celery Last?
Celery is one of those veggies that can be used in multiple recipes. Whether you grow your own or buy it, keeping celery fresh is important. Growers know the best time to plant celery so you have bright crisp stalks on grocery store shelves.
Of course, if you grow celery at home, you know you will have fresh crunchy celery almost all the time.
Like most celery types and other produce, though, celery does not display a sell by date or best before date. The amount of time that the vegetable lasts depends on the food storage location and method. Make celery last for a longer period by storing it correctly in the fridge or freezer.
How to Keep Celery Fresh in the Fridge
Avoid storing celery at room temperature since it quickly loses its crispness. The best way to refrigerate a head of celery is to wrap it in aluminum foil in the vegetable drawer. Plastic bags trap ethylene gas, making the celery ripen faster.
Aluminum foil, on the other hand, lets the ethylene escape while retaining moisture. The best way to keep celery fresh is to wrap the celery tightly but not so tight that it gets crumpled. Save the piece of aluminum foil for other bunches of celery.
Alternatively, wrap the celery in damp paper towel. Secure the towel with a rubber band, then place the bunch in a zip lock bag.
To store-celery ribs, remove leaves, and cut the ribs in half. Put them in a glass bowl in the fridge, covering them with clean water. Seal the bowl with plastic wrap, change the water daily, and rinse the celery before eating it.
If you're feeling adventurous, make some pickled celery sticks to keep in the fridge. There are many recipes available for quick pickled celery.
Does Celery Go Bad?
How long are fresh green beans good for? What about celery in the refrigerator? Raw celery kept in aluminum foil or water lasts for several weeks.
Celery wrapped in foil can last for up to four weeks in the fridge. Note, however, that you should eat celery within five to seven days of purchasing it to obtain the most nutrients, just like green beans.
When does Celery Go Bad?
Cut celery kept in the fridge is safe to eat for one to two weeks, while those little celery snack packages only last for two to three days. Once you cook celery, it keeps for about a week in the fridge.
Freezing celery extends its shelf life, although it's then only suitable for use in cooked dishes. After blanching it, celery is edible indefinitely in the freezer. For the best quality, use up your frozen celery within 12 to 18 months.
How to know when celery is bad is easy. The celery is limp, a dull greenish-white color, and often slimy.
How Long is Celery Good for in the Freezer?
Stop yourself from wondering, "When does celery go bad?" by sticking it in the freezer. Can you freeze fresh celery? Sure! Freeze chopped celery for up to a year and a half for adding to soups, casseroles, and more. Try freezing fresh celery leaves as well.
How to Freeze Celery
To freeze the stalks, wash them individually under running water. Chop the celery the way you intend to use it, then cook the pieces in boiling water for three minutes. Blanch them by transferring them to a bowl of ice water.
Dry off the celery and spread it on a baking sheet. Freeze the tray for at least a couple of hours until the pieces are hard. Transfer the frozen celery to a freezer bag, label it with the date, and place it in the freezer.
Add frozen celery directly to a pot, frying pan, or blender, or thaw it for several hours in cold water or the fridge.
What to do with Limp Celery
It's okay to eat limp celery as long as it doesn't show signs of spoilage, like a foul smell or whitish color. Add wilting celery to cooked dishes, though—use crisp celery for snacking and salads. Try adding limp celery to broth, juice, or smoothies.
To revive celery that's past its prime, remove the leaves and slice the vegetable into strips. Put them in an airtight container of ice water. They should turn crispy again after soaking for a few hours.
Celery strips in ice water last two to three days in the fridge before getting waterlogged. Make sure to rinse the celery well before eating it.
Make Vegetable Stock with Celery
If your celery is getting a little old—or even if it's not—it makes a flavorful addition to stock. Use this broth as the base for delicious soups.
Chop the onion, celery, and carrots into one-inch chunks. In a stockpot, heat the oil, then toss in the onion, celery, carrot, green onion, garlic, parsley, thyme, and bay leaves. Cook the vegetables for five to ten minutes, stirring frequently.
Add the salt and water and bring everything to a boil. Lower the heat and simmer your stock, uncovered, for 30 minutes. Strain and discard the vegetables.
Answering questions like "When does celery go bad?" and "How do I stop celery from going bad?" require some culinary know how. If you toss celery in with the other veggies in its plastic bag from the store, it won't last long.
However, if you carefully wrap your celery in aluminum foil before placing it in the vegetable bin in your fridge, expect to enjoy fresh celery for several weeks.
The answer to "How long is celery good for?" depends on the storage location. If you don't think you'll be able to finish the bunch of celery within the next few weeks, try freezing it to extend its lifetime by many months.
If you found this celery information helpful, please share these produce storage tips with your friends on Facebook and Pinterest.