Whether you have black canvas shoes, satin shoes, or other fabric shoes, loose dirt or a salt stain is unsightly and difficult to remove. Find out how to clean black fabric shoes without any fuss with this tutorial of quick and easy tips.
Use things you already have around the house and learn how to get stains out of black fabric shoes without fading or fraying the fabric. These shoes look great, from Vans to suede boots but may be daunting to maintain and clean.
It's easy to remove stained spots or do a complete clean with these simple tips for how to clean black fabric shoes without causing wear or fading the color of your favorite pair. Whether you have access to a washing machine or plan to clean them by hand, find out the best ways to clean black VansⓇ shoes quickly and easily using the tools and ingredients you have available at home.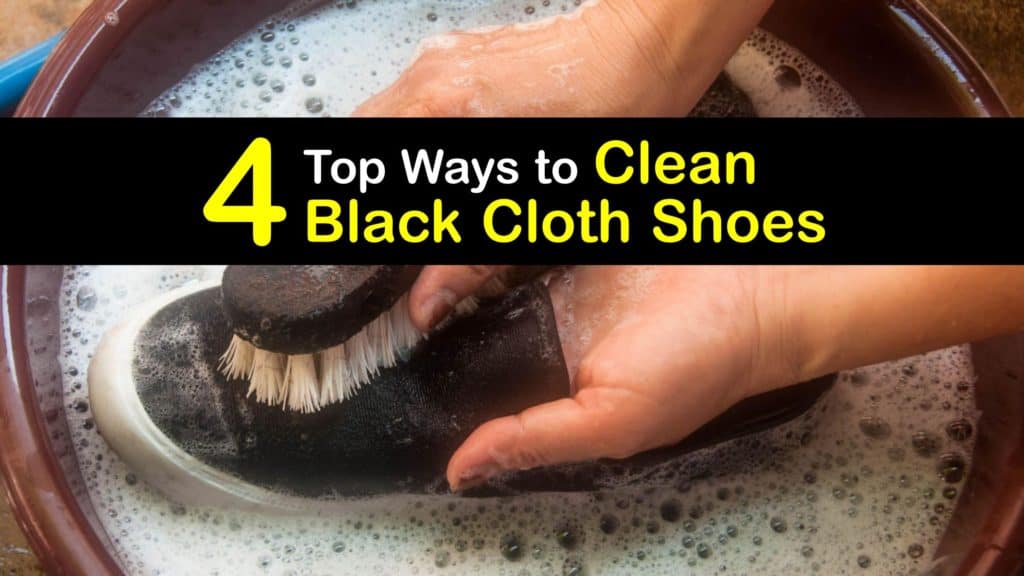 Easy Tips for How to Get Stains Out of Black Fabric Shoes
These easy methods work on canvas sneakers such as Converse shoes, suede boots, or other fabric shoes. The best way to wash canvas shoes and remove tough stains without degrading your black shoe is easily achieved with the right combination of ingredients.
How to Get Stains Out of Black Fabric Shoes with Baking Soda
Baking soda is a powerful cleaning agent to lift tough stains and give you clean white shoes or black ones.
Mix the baking soda and water until they form a thick paste. Scrub tough stains and any rubber parts on the fabric shoes with a small toothbrush or scrub brush in small circular motions.
Use warm water to rinse your canvas shoes thoroughly. Pack paper towels into the toe areas to soak up excess moisture, and set the shoes out to dry in a warm place.
Baking soda is ideal to remove yellowing from your shoes if you find some on the sides and soles. Use care on dark shoes.
The Best Way to Clean Black Cloth Shoes in the Washing Machine
The washing machine is a simple way to clean your black suede Vans® or even white canvas shoes. Note that you can wash Vans® in the washer but hand-washing is the best cleaning option.
Using laundry detergent to break down dirt and grime is essential; however, choose a natural and mild detergent that will not fade your fabric shoes with harsh chemicals.
Adding white vinegar to the washer water helps lift stubborn stains and disinfect the shoes, removing any bad-smell-causing bacteria while they go through the wash.
Add the detergent as usual, then add the vinegar to the detergent tray. Add a similar colored dark towel and wash on a regular cycle. Once the wash cycle is complete, allow your suede sneakers to dry naturally.
How to Clean Black Fabric Sneakers with Dish Soap
Dish soap is a quick and easy way to remove a stubborn stain from your black fabric shoes, and it's safe for white shoes, too. Dish soap is also a great option for cleaning black leather sneakers or cleats. It cleans all types of grime without causing fading.
For a safe and easy way to get your footwear clean, use simple dish soap to clean shoes and sneakers to get your footwear back to looking like new.
Take a clean cloth and dunk it into the solution. Wipe down your fabric shoes or wash colored mesh shoes while rubbing with the damp cloth lifts loose dirt and stains.
Pat your shoes dry with a paper towel and place them somewhere warm to allow them to dry completely. If you need to stretch and soften fabric shoes, dry them by putting a shoe tree into the interior of the shoes. It's a gentle and safe way to ensure a better fit.
Spot Cleaning Black Cloth Sneakers
Use these methods for an isolated area of loose dirt or a salt stain to spot clean without washing your whole shoe.
For marks and dirty spots on the rubber soles of your shoes, try a Magic Eraser. Get the Magic Eraser damp and use it in a circular motion to lift any dirt – this also works well for white sneakers and won't wear out your shoe.
A baby wipe or a few drops of nail polish remover on a damp cloth will also spot clean minor stains and can be the best way to clean black cloth shoes with a small dirty area.
This method works best if used soon after the boots get dirty. Use circular motions to scrub the fabric with the wet cloth or wipe and quickly lift loose dirt. Use a suede brush to buff and restore black suede sneakers or other shoes after spot cleaning.
If your shoes have leather or patent leather accents, use a paper towel and some shoe polish to keep them looking fresh.
We hope this tutorial helps you learn the best way to clean black cloth shoes. Many household products you already have do a great job of keeping your fabric shoes looking nice without degrading them.
If you found this article on how to clean black fabric shoes helpful, share these handy tips for cleaning black canvas shoes with your family and friends via Pinterest and Facebook.