Black sneakers are a sleek addition to many outfits, whether you're wearing them casually or for sport. Although they are not as susceptible to dirt as clean white shoes, black mesh shoes show scuffs and stains quickly. Knowing how to clean black mesh shoes is essential to keeping your shoes looking nice.
Black shoes are a common choice for parents looking for shoes that can handle rough use by kids and even for adults for their stylish appearance. While black shoes don't show dust or dirt as quickly as lighter-colored shoes, it doesn't mean they don't get dirty.
Unlike white shoes, cleaning black shoes involves staying away from common cleaners like bleach and other products that may cause colors to lighten or fade. Still, keeping your black mesh shoes clean is easy, and with regular cleaning, you'll never have to worry about your shoes being too dirty to wear again.
Cleaning Black Mesh Shoes
Shoes are often made with various materials, combining rubber, nylon mesh, and sometimes plastic to create one set of shoes.
Black shoes scuff easily, but cleaning scuff marks off black shoes and dealing with stains is simple with basic household cleaning supplies and standard cleaning methods that work for all types of material.
Continue reading for several essential cleaning tips for ways to keep black shoes clean and keeping your shoes looking pristine.
How to Clean Black Mesh Sneakers with Baking Soda
Baking soda is an everyday household staple due to its multi-purpose uses in cleaning. When combined with water or vinegar, it creates a homemade shoe cleaner for black VansⓇ that effectively removes build-up and stains.
However, baking soda does contain a bleaching agent that may fade colored shoes.
Unless you need to clean white mesh sneakers, we do not recommend using it directly on black mesh sneakers. Instead, use baking soda to clean the white portions of your shoes.
Create a paste by combining the ingredients in a bowl. When vinegar and baking soda mix, it creates a bubbling effect. Wait for the bubbling to stop before using your old toothbrush to apply the paste to your shoes.
Once applied, the mixture may dry out quickly, so work the paste into the white portions of your shoes quickly. Wipe away any excess and rinse your shoes before allowing them to dry.
Cleaning Black Mesh Shoes with a Magic Eraser
Magic Erasers are extremely handy for cleaning surfaces in your kitchen, shower, and even parts of your black mesh shoes. It's one of the easiest ways to clean black sneakers, whether canvas, mesh, leather, or a pair of cleats.
Use a paper towel to clean any excess or loose dirt before you clean black mesh tennis shoes by wetting a Magic Eraser and rubbing it along the sides and soles of your shoes to remove stains and dirt.
For tough stains, add laundry detergent to a bowl of water to dip your Magic Eraser. Detergent adds to the cleaning strength when removing a stubborn stain on golf shoes or canvas shoes.
A Magic Eraser is also an excellent choice for cleaning black leather shoes. If you're trying to clean a suede sneaker using a Magic Eraser, ensure it is not dripping with water before applying it to your suede shoes. Be ready to brush out the nap with a brush.
How to Clean Black Mesh Sneakers Using Detergent
Although washing your mesh shoes in the washing machine and drying them effectively cleans your entire shoe, the process can be time-consuming. To avoid this, create a cleaning solution to clean your mesh sneaker.
Add detergent to your water and mix. Remove the shoelaces from your sneakers and place the laces in the bowl to soak.
Use a microfiber cloth to apply the cleaning solution to different areas of your mesh shoes before scrubbing with your brush.
When finished, use white paper towels to wipe away any remaining detergent before rinsing and allowing your shoe to dry.
When cleaning mesh sneakers, insert a shoe tree to help the shoe maintain its natural shape during the cleaning process and drying time.
This technique works well for black leather shoes due to leather shoes being sturdier than mesh.
How to Clean Black Mesh Shoes with Dish Soap
An easy method for cleaning black mesh shoes involves going no further than the kitchen sink. Create an effective cleaning solution using dish soap and water to clean mesh fabric shoes.
To make this made at home shoe cleaner, create a soapy mixture and use either a soft cloth or an old toothbrush to scrub dirt or scuff marks from your shoes.
Depending on the type of shoe you're cleaning, like athletic shoes or canvas sneakers, removing dirt may require a bit of elbow grease.
Using the Washing Machine to Clean Sneakers
If your shoes are filthy and in need of a deep clean, a spin through the washing machine may be necessary for overall cleaning.
Remove as much excess dirt as possible using a brush or old towel before placing your shoes in the washing machine.
Start by removing the laces and placing them in a garment bag to avoid them becoming tangled around your shoes or wrapping around moving parts inside the machine.
Wash your insoles separately to prevent them from becoming waterlogged in the washer.
Place your shoes into a separate mesh bag to prevent them from banging around inside the washer and potentially causing damage to your machine.
Add a few old towels to the wash to balance the load and wash on a delicate cold wash cycle.
Remove your shoes from the bags and leave them out to dry. Stuffing your shoes with newspaper helps absorb excess moisture to speed up drying.
While it's sometimes possible to wash shoes in dishwasher, the temperature often gets too hot and can damage your footwear. Reserve this option for emergencies and your sturdiest shoes.
Other Ways to Clean Black Shoes
Aside from the conventional options for cleaning your shoes, many unique items around your home may surprise you but help get your shoes clean.
Cleaning with Toothpaste
You may find that the best way to clean black shoes lurks in the bathroom. Use a brush to remove loose dirt from your shoes. Apply a small bit of non-gel toothpaste to an old toothbrush or a soft cloth before applying it to your shoes.
Rub the brush or cloth onto your shoe to remove scuffs and clean remaining dirt. For the white portions of your shoes, sprinkle baking soda to remove stains or oil marks. Thoroughly rinse your shoes and wipe them with a paper towel.
Using Shaving Cream to Remove Stains
Shaving cream has use beyond shaving and, when applied to your shoes, can quickly remove stains from fabric. Dampen the stain on your shoe with warm water and apply a small bit of shaving cream to the spot.
Rub the shaving cream into the stain on your shoe for ten minutes before rinsing away. Repeat this process as needed until all stains are gone from your black sneakers.
Black sneakers only remain a sleek part of your outfit if they stay dark and clean, so we hope that our tips for cleaning your shoes help prolong their use.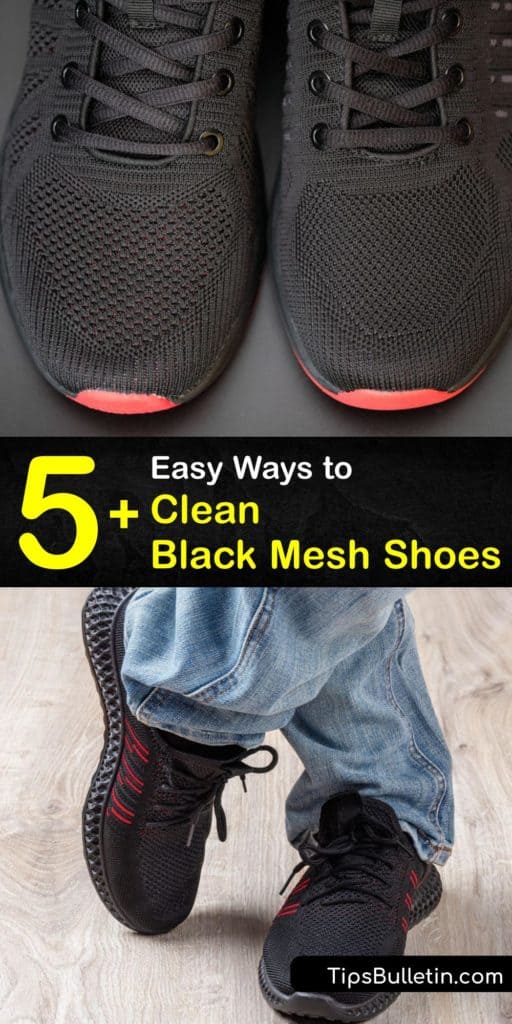 If our guide on how to clean black mesh shoes helped you, please share our tips on how to clean black mesh sneakers with your friends on Facebook and Pinterest.