Cleaning your home's walls should be part of your spring cleaning process, and this is especially true for kitchen walls. Walls attract fingerprint smudges and grime, while baseboards attract scuff marks. We'll show you how to clean painted walls to remove stubborn stains without using harsh chemicals.
There are many reasons that walls may become stained. Kitchen walls are a magnet for splattered food, a children's bedroom walls may have hidden crayon marks, hallway walls attract scuff marks, and entryway walls may have dirty handprints. Some paint finishes attract dirt more than others.
Home improvement often involves home renovations, floor waxing, and furniture arrangement, yet cleaning the walls is often overlooked. Occasional spot cleaning and yearly wall cleaning can brighten a room and bring life back to those painted walls.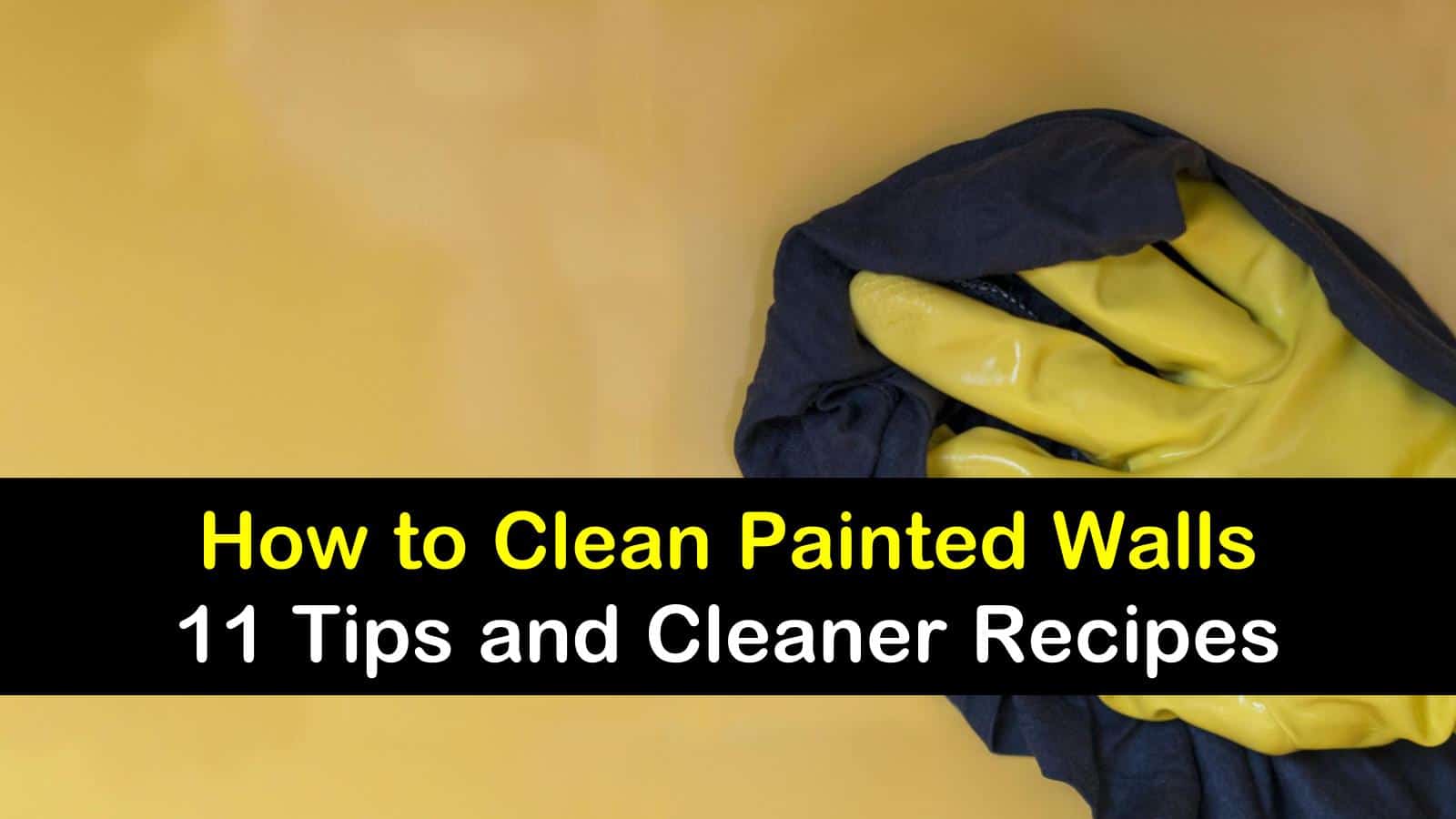 How to Clean Painted Walls
Walls are generally painted using eggshell, semigloss, latex, or flat paint. Each type of paint has a characteristic that requires a particular kind of cleaning solution. Once you have established the kind of paint that is on your wall, you can easily clean its surface using one of our cleaning recipes.
1. How to Prevent Dirty Walls
Regular maintenance of the walls prevents the accumulation of dirt. This can be completed in a few easy steps, and it will make your annual wall cleaning process easier and quicker.
Dirty Wall Prevention
Use the brush attachment on a vacuum cleaner to vacuum the walls to remove dust and cobwebs. Alternately, you can use a long-handled duster for dusting the walls.
Use a damp sponge to wipe away fingerprints, scuff marks, or dirt as soon as you notice them. Take this opportunity to do any paint touch up to areas that have scratches or scuffs.
2. How to Prepare a Wall for Cleaning
Before you clean the walls for the first time, there are a few things you need to do to make the job easier. Take this opportunity to figure out what type of paint is on the wall so that you'll know which cleaning method to use.
Cleaning Wall Prep
Start by inspecting the wall paint. If the surface of the wall paint is flat and dull, then it is probably a flat or eggshell latex paint. Eggshell finishes are not very durable and can be damaged if you use the wrong type of cleaning method. If the paint surface has some shine to it, then it is most likely a semi-gloss or enamel paint and can withstand more abuse.
Before cleaning, make sure that the walls are dust and cobweb free. Use a duster or a vacuum brush attachment to clear any debris and cobwebs from the walls. Start at the top of the wall and work your way down. Finish up by laying towels or sheets along the baseboards and floor to absorb any water drips that may occur while cleaning.
3. How to Clean Walls with a Flat Finish
Eggshell and flat finishes are less durable and tend to stain easily. This type of paint finish also gets scratches often, so special care is needed when cleaning. The following will show you how to clean walls with flat paint.
Cleaning Flat Finish Surfaces

Mild detergent
1 gallon of warm water
Bucket
Microfiber cloth
First, try to clean the walls using a microfiber cloth and clean water. If plain water doesn't do the trick, move on to something a little stronger. Mix the warm water and a couple of squirts of mild detergent into the bucket.
Use the microfiber cloth to clean sections of the wall using the soapy water. Clean one area at a time using a circular motion. Wipe each section clean using fresh water. Dry the wall with a towel after each section is cleaned.
4. Cleaning Walls with Latex Paint
This non-abrasive wall cleaner is an excellent choice for use on latex paint. The small amount of vinegar in the solution will help to safely break down old stains and dirt without scratching the paint.
Latex Paint Wall Cleaner

1 gallon of water
3 tablespoons white vinegar
Bucket
Sponge
Mix the water and vinegar in the bucket and use the sponge to apply the solution to the wall. Start at the top of the wall in sections and work your way down. Pay special attention to areas around corners, doors, and windows where there is a higher chance of dirt. Wipe the wall dry using a towel.
5. How to Clean Walls with Oil-Based Paint
Oil-based paints can handle a little more work than flat paint, so you'll be able to give this wall type a bit more deep cleaning. The following method also works well for textured walls that tend to capture more dust and debris.
Oil-Based Paint Wall Cleaner

1 gallon of warm water
8 ounces Borax
Bucket
Sponge
Mix the Borax and water in a bucket and use a sponge to clean a section of the wall. Use a damp cloth to wipe away soapy residue and finish by wiping the area with a dry towel. Wring both sponges and repeat in a new section.
6. Cleaning Painted Walls with an All-Purpose Cleaner
This cleaner recipe is an easy solution for cleaning painted walls without having to lug around a messy bucket. By using a cleaning spray, you'll be able to quickly remove dirt and grime from all areas of the wall.
DIY Painted Wall Cleaner Spray

1 quart of warm water
1/4 teaspoon white vinegar
1 teaspoon dish detergent
32-ounce spray bottle
Sponge
Mix the water, vinegar, and soap in a spray bottle and shake gently. Spray the cleaner onto the wall, paying attention to areas that may attract more dirt, and allow it to sit for ten minutes. Use a wet sponge to wipe the cleaning solution and grime away. Follow by wiping down the area with a dry cloth.
7. How to Wash Painted Walls
If you have some seriously dirty walls that need deep cleaning, give this cleaning recipe a try. These steps show you how to wash painted walls that are built up with extra dirt and grime.
Dirty Wall Cleaner

1 gallon of warm water
1 cup ammonia
1/2 cup white vinegar
1/4 cup baking soda
Bucket
Sponge
Add all the ingredients to the bucket and stir to mix the solution well. Use the sponge to apply the cleaner to the wall in sections. Scrub each area using circular motions to loosen up the dirt. If you have nasty stains on the wall and the paint is an oil-based finish, try a scrub brush that has soft bristles to remove stubborn stains.
After each section is clean, use a clean sponge and fresh water to wipe away all of the residues. Make sure that you wipe down the walls with a dry towel after cleaning to prevent water marks.
8. Removing Tough Stains from a Wall
Even after your wall has been cleaned and looks as good as new, there may be a time when it gets stained. The following is ideal for use on small stains and wall blemishes. Because baking soda is a mild abrasive, this method should not be used on a flat finish painted wall.
Wall Stain Cleaner

Baking soda
Water
Soft sponge
Make a paste using a little baking soda and water. Apply the cleaning mixture onto the stained area of the wall using the soft sponge. Gently rub the stain away and then rinse off with clean water. This is also an easy way to clean baseboards and remove scuff marks and dirty handprints around doorways, too.
9. How to Clean Painted Kitchen Walls
Most kitchens are painted using semi-gloss paint. The vinegar in this solution acts as a mild degreaser and can do wonders for removing splattered food, grease stains, and other messes that may have stuck to the kitchen wall while cooking.
Kitchen Wall Degreaser and Cleaner

1/4 cup dish detergent
1 gallon of warm water
1 cup white vinegar
Bucket
Sponge
After mixing all ingredients into a bucket, use a sponge to apply the cleaning solution to the wall. Do this in sections for the best results. Clean each area using a circular motion.
Follow by using a clean sponge and some fresh water to remove the dirt and soap residue. Wipe the area dry with a cloth and repeat the steps in the next section.
10. How to Clean Crayon Marks Off a Painted Wall
If you've got kids, then you undoubtedly have some crayon decorations on a wall somewhere in your home. Can you blame them? When you've got a box full of colorful crayons and a giant, blank canvas to fill, the temptation is just too great. Not to worry, we have several tips for removing crayon from the wall.
Cleaning Crayon Off a Wall

Pencil erasers
Mayonnaise
Toothpaste
Baking soda
Mr. Clean Magic Eraser
No, you don't need all of these ingredients to remove that crayon from the wall, you only need one of them. We just wanted to give you several options. Some of these techniques are not recommended for flat finishes because of their abrasive quality.
Use a pencil eraser or Magic Eraser to rub away crayon marks. If you'd prefer the old stand-by, baking soda, dab a wet cloth into some baking soda and rub the crayon away.
If you're out of baking soda, try dabbing some mayonnaise onto the crayon markings and let it rest for several minutes before wiping. Toothpaste is also an abrasive similar to baking soda. Apply the paste to the marks and scrub them away.
11. Cleaning Walls without Removing Paint
If you have smaller wall areas to clean or you're doing a little spot cleaning, then this method will work the best. This straight-to-the-point and straightforward recipe is one of the easiest to use for cleaning walls. Best of all, it's in a spray bottle, so you will have less mess to clean afterward.
Painted Wall Cleaner Spray

3 drops dishwashing detergent
Warm water
Spray bottle
Sponge
Mix the water and dish detergent into a spray bottle and shake gently. Spray the cleaning solution onto stained areas and use the sponge to work the stain away.
If you are cleaning an entire wall, then start by spraying a section at the top and work your way down. Wipe away leftover residue with a damp cloth and dry thoroughly with a towel.
While cleaning painted walls is not something you want to do every day, it should be included in your annual house deep-clean. By knowing the type of paint that is on your walls and using the right cleaning solutions, you can keep those walls looking newly painted. If you need to clean a concrete wall, you can use a homemade concrete wall cleaner to remove tough stains.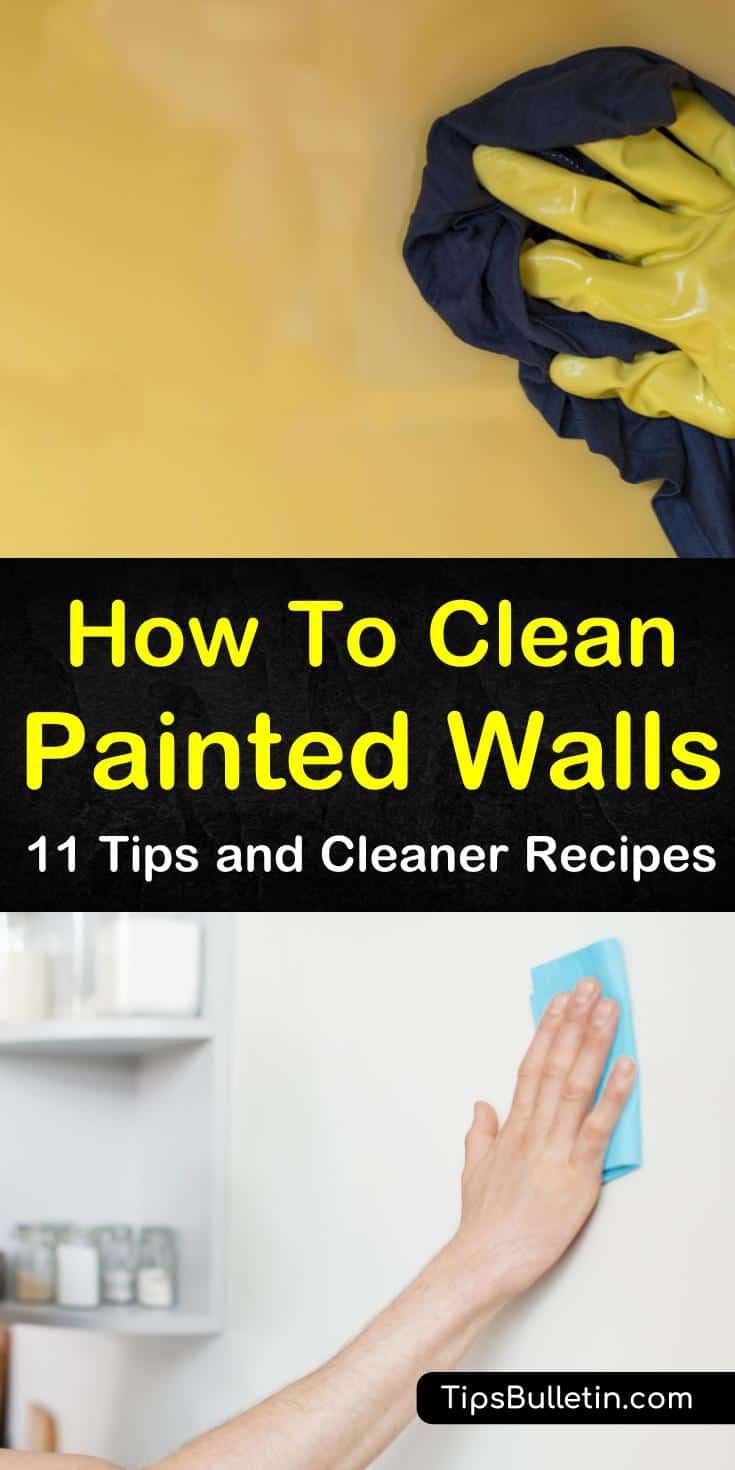 We're happy we could show you how to clean painted walls using the right cleaning products, and hope that you'll share our wall cleaning tips with your family and friends on Facebook.