As home improvement devotees, we want to keep our walls and baseboards clean and unscuffed. A home with dirty walls isn't really clean, no matter how many times we scrub the bathroom and kitchen. If you want to have a well-kept house, you need to know how to clean walls and baseboards.
Having a few DIY wall-cleaning recipes ready to go allows you to relax and enjoy your home, confident that you can handle any cleaning challenges you encounter. This article looks at how to clean walls without removing paint, damaging stone, or harming the wood.
In our guide on how to clean walls free of crayons and grease, you'll find recipes for cleaning painted walls, unpainted walls, and stone walls. You don't need to live with stained and dirty walls in your home. We can help you find the ideal cleaning solution for your situation.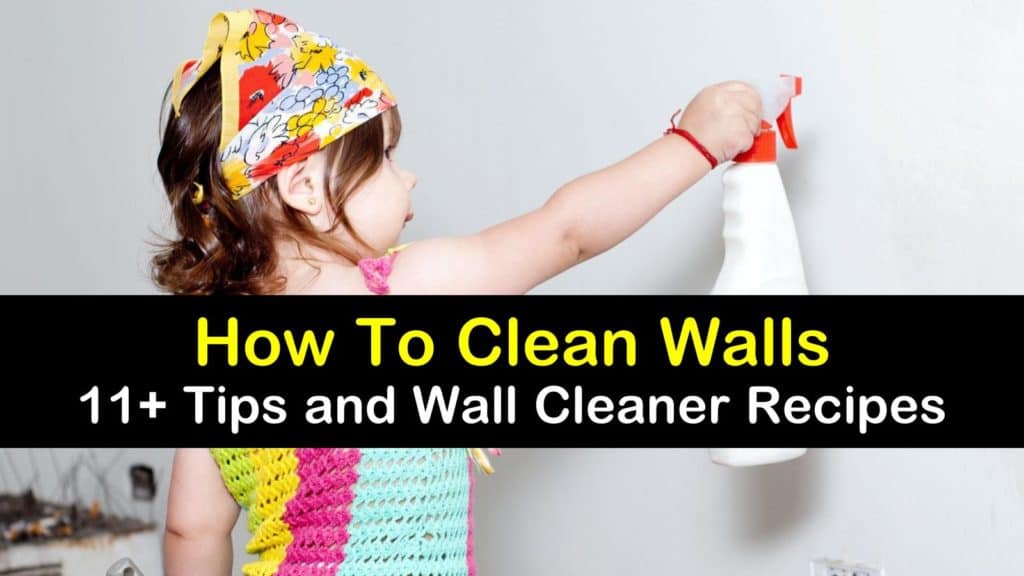 Clean Walls without Removing Paint or Wallpaper
Most of us live in homes with painted or wallpapered walls. Paint and wallpaper come in many different varieties, though, and it can be challenging to determine which cleaning solution is correct. Knowing how to wash bathroom and kitchen walls free of grime when they're painted or papered is essential if you want to have a clean and orderly home.
This section looks at how to clean walls without removing paint or wallpaper. We designed these cleaning tips to deal with wallpaper and different types of paint and paint finishes.
You'll find cleaners for gloss finishes and other cleaners that you can use on delicate eggshell finishes without harming the paint. These recipes are just what you need to get your home looking its best.
Of course, if you have wallpaper that you just can't stand anymore, know that you can use a steamer to remove wallpaper and have nice fresh walls for a pretty new coat of paint.
Clean Away Dust and Dirt with a Broom and Vacuum
Before you decide upon the perfect cleaner for your wall type, you need to do some initial dusting. All walls accumulate dust and dirt over time, and there's no sense spending extra time blotting at those dirty spots with a rag. Thankfully, it's much faster to sweep up regular dust than cleaning sawdust off walls after a construction project.
A broom and vacuum are all you need to prepare your walls for deep cleaning. You can also use a feather duster if you have one handy.
Go over the entire wall area with a broom. Pay special attention to the corners, where cobwebs gather if left unattended.
After you've pulled down as much debris as you can with the broom, switch to a vacuum. Run the crevice tool or brush attachment along the walls until you've removed as much dirt as possible.
Use a Magic Eraser on Stains
The Mr. Clean Magic Eraser seems almost custom made for cleaning stains off painted walls. The Magic Eraser and other abrasive sponges gently scrub away dirt without damaging the surface underneath. Use a Magic Eraser to pretreat your walls and remove tough stains.
Test your Magic Eraser on a hard-to-see spot before you use it on the entire wall. Wear gloves as you work to avoid leaving new smudges on the wall. And, always follow the manufacturer's directions in case you need to reach out to them for support.
Use Warm Water and a Damp Sponge on Flat Paint
Latex paint is durable and works well on your interior walls and ceiling, but different paint finishes require different cleaning approaches.
A flat finish lends an air of class and quality to a room, but it is more delicate than other finishes and requires a gentle touch. The first thing to remember when you want to know how to clean dirt off walls is that you need to wash flat paint walls with care.
Don the gloves. Mix the oil and water in a bucket, and wet the sponge. Before you begin to clean, wring out the sponge until it is barely damp.
Clean with a circular motion from the top of the wall down to the floor, and don't apply too much pressure as you scrub. Replace the water when it starts to get dirty. You can also use this recipe for cleaning bathroom walls.
After vacuuming as much as you can, use this remedy for cleaning drywall dust left on walls or the floor.
Get Your Satin and Eggshell Walls Clean with Liquid Dish Soap
Satin and eggshell finishes are a little tougher than flat finishes, but you'll still need to take care and select a gentle cleanser for getting rid of oil marks on walls to avoid damaging the paint.
These delicate finishes are a challenge when you want to know how to clean walls without removing paint, but our liquid dish detergent and water recipe is useful as a mild degreaser without being too hard on the finish. It makes an excellent vinyl wall cleaner, as well.
Combine the ingredients in a bowl, put on the gloves, and wet the sponge in the cleaning solution. Wring the soapy water out of the sponge, but leave it a bit damper than the flat paint sponge.
Clean your walls starting at the top and working your way to the bottom. It's okay to apply a little pressure as you clean, but keep an eye on the paint to make sure you aren't marring the finish. Replace the cleaning solution when it gets dirty.
Get Your Wallpaper, Gloss, and Semigloss Walls Clean with Vinegar
Most homes have walls with durable paint or wallpaper that holds up under tough cleaning. Semigloss and gloss finish paints can take lots of abuse and still come out smiling, and you can use more powerful cleaners to get them clean.
Vinegar is one of the most effective cleaners around, and it's perfect for cleaning your wallpaper or glossy finish walls.
Combine the ingredients in a bucket, don the gloves, and wet the sponge. Scrub at the walls from top to bottom, making sure to catch any drips before they hit the floor. Replace the water when it starts to get dirty. Wipe the walls with a dry cloth when done.
Tackle Tough Stains on Painted Walls with Baking Soda
Baking soda is far more than a food additive and an odor controller. It's also one of the most useful cleaners in the kitchen cupboard.
When you dilute baking soda with water, you create a powerful cleaner that can take on the dirtiest walls and come out the champ. Use this cleaning method to clean a nasty shower, too. To make an even more dynamite shower wall cleaner, use both baking soda and vinegar to eliminate soap scum and get rid of hard water stains in the bath or to get water streaks off painted walls. It's highly effective for cleaning sinks and toilets, as well.
Mix the ingredients in a bucket, put on the gloves, and wet a sponge. Scrub your walls from top to bottom, and make sure to clean the baseboard crevices and corners where the wall meets the ceiling. Change out the water whenever it gets too dirty.
Try Toothpaste for White Walls
If you have white walls with a little scuff mark or other stain, try using a dab of white toothpaste to gently scrub at the discoloration. The slight abrasiveness of the toothpaste with just a bit of elbow grease may be enough to lift the spot free.
How to Clean Walls – Cleaning Unpainted Walls
Your walls might not all be painted and ready for cleaning, of course. Wood walls are popular and add appeal to any room, but it can be tough to know how to clean walls of wood. Wood can be porous and difficult to work with, so you need to know how to choose the right cleaner.
Knowing how to wash walls when they're wood will give you extra confidence and ensure that all parts of your home stay clean. This section looks at how to clean walls made from wood.
We include specially designed recipes so you can remove blue sticky tack from walls and get your wooden panels, baseboards, and drywall back to like-new condition. Our cleaning solutions will leave your wooden walls shining with a vibrant, warm glow and will enhance your home's beauty.
Use Undiluted Vinegar as a Stain Remover on Wood
Because vinegar contains acetic acid, it loves to eat away at organic materials such as spills and other stains.
Use this to your benefit and create a tough stain remover that you can use to get your wood walls stain-free and ready for a wash. This recipe will clean stains off your wood baseboards and walls without breaking a sweat.
Slide on the gloves, and wet a sponge in the bucket. Scrub at any stains with the sponge until they lift away. Replace the vinegar when it gets dirty.
Clean Your Finished Wood with Mineral Oil
Wood walls require more than a simple cleaning to bring out their beauty. Wood needs additional polishing to create a deep, warm tone and color to the walls. You can use a mineral oil-based cleaner to get your wood walls clean and leave them looking fabulous.
Combine the liquid ingredients in a bucket, don the gloves, and wet a sponge. Use the sponge to scrub the walls, and change out the cleaning solution when it gets dirty. After the walls are clean, buff the wood with a microfiber cloth to remove water marks.
Try this solution for particularly stubborn stains, like for how to remove permanent marker from a wall. You may be surprised at the excellent results.
Treat Unfinished Wood Walls with Olive Oil
Unfinished wood is especially tricky to clean. Wood will soak up any liquid with which it comes in contact, which requires you to carefully consider which ingredients to use. Olive oil is the perfect answer and will get your unfinished wood back to showroom condition.
Add the ingredients to the spray bottle. Spray the wall with a fine mist, and use the sponge to carefully clean the surface. Use a microfiber cloth to buff the wood when you've finished cleaning it. Repeat as needed until the wall is clean and glowing.
How to Wash Walls Made of Stone
Knowing how to clean painted and unpainted wood and drywall is a big step in the right direction, but your home might have walls built from other building materials. People have been building with stone since prehistory.
There's a decent chance your fireplace wall or another wall in your house is stone.Here, we'll look at how to wash walls made of stone and leave them looking gorgeous.
In this section, we show you some tried-and-true cleaning options, including a can't-miss recipe and instructions on how to clean with hot water and elevate the look of your home.
Get Your Stone Walls Spotless with Baking Soda and Vinegar
The winning combination of baking soda and white vinegar makes for a potent cleaner that will eat through all sorts of stains and spills on stone walls. Use vinegar and baking soda for cleaning walls free of even the nastiest gunk without trouble. This is one of the best natural ways to clean dust off almost anything.
Give cleaning concrete with vinegar and baking soda a try, too. It's a sure-fire way to clean stains off the stone and will clean grout, also.
Combine the ingredients in a bucket, put on the gloves, and lay rags along the bottom of the wall to catch runoff. Get the sponge wet with water. Saturate the stone to allow the cleaner to work on the surface without being absorbed.
Wet the brush in the cleaning solution, and begin scrubbing the wall. Scrub the stones and mortar, and don't forget to clean the underside of each stone as you go. Rinse the stones with clean water when you finish.
Scrub Stones with Boiling Water
Because natural stone sucks up any liquid with which it comes in contact, use boiling water to clean moss off retaining walls and get the exterior of the stone as clean as can be. Pure water is all you need for this recipe, and it will make your stone surfaces look like new. This option is as close to a steam cleaning for your stone wall as you can come without damaging the material.
Line the rags along the bottom of the wall to catch runoff. Don all safety gear, and dip the brush in the water. Scrub at the stones until the water runs clear. Replace the water when it gets dirty and repeat until the stones are clean.
We hope you had a lovely experience looking into our tips on how to clean walls without removing paint. Our walls can get dirty and bring down our home's appeal if we don't take care of them.
This guide shows you how to wash walls and bring your home back to showroom condition. Before long, your walls will be as attractive as the rest of your home.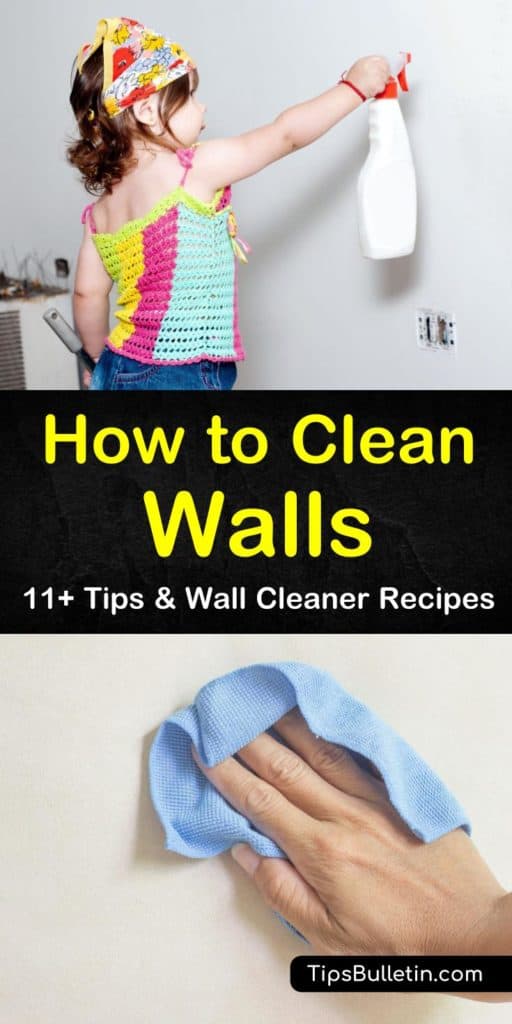 Thanks for reading this wall washing guide. If you found our tips on how to clean walls helpful, please share our guide on how to wash walls with your family and friends on Pinterest and Facebook.