Have you ever had a moment of alarm after you spilled grease onto the floor? You may wonder how to get grease out of carpet. It often happens in slow motion, too. You see the inevitable happening yet can do nothing about it.
You're not alone in this scenario. We've all been through something similar at one time or another. Unfortunately, grease is one of the trickier substances to remove from a carpet because it clings to the fibers. Scrubbing carpet stains with water does not do the trick.
Before calling a professional, there are a few things you can try yourself. While your first instinct may be to buy expensive carpet cleaning products, we have compiled ten recipes and tips that show you how to remove grease from carpet. You might want to attempt these first.
How to Remove Grease from Carpet without a Machine
Carpet cleaning equipment can be cumbersome and awkward, not to mention, time-consuming. Are you wondering how to remove grease from carpet without lugging around that heavy equipment? We've got a few tips for you.
The first step, no matter what method you use, is to remove as much of the grease as you can without spreading it. Pour some baking soda over the stain to absorb the grease and blot as much of the stain as possible. Once that is accomplished, you can use one of these DIY cleaning methods to clean carpet without a machine.
Easy Grease Stain Removal
This is a quick and easy method to remove a grease spot using household items. All you need is one item from your kitchen and something from your bathroom. The combination of ingredients will loosen and absorb the grease from the carpet fibers.
Mix the salt and rubbing alcohol into a paste. Using a damp cloth, gently rub the mixture into the carpet. Make sure to rub in the direction of the nap, while being careful not to spread the stain. Allow the spot to dry completely and then vacuum up the residue. Repeat if necessary.
If you accidentally get a paint spill, you may find that this remedy will clean paint out of carpet, as well. Work from the outside of the stain inward.
Easiest Carpet Degreaser
You're cooking an evening meal only to discover that you have splattered grease onto the kitchen carpet. No worries. Here is a degreaser recipe that is by far the easiest recipe for removing those grease spots from your carpet.
Sprinkle some corn starch onto a dry sponge and work the sponge in a circular motion onto the grease spot. Continue until the grease is absorbed.
This also works well in large areas. Sprinkle corn starch over the entire rug and let rest for a few hours. Finish up with a good vacuum.
Vinegar Degreaser
Vinegar has many uses that go beyond cooking. It's also an old stand-by often used for removing grease spots. Fortunately, this is a staple you may already have in your kitchen! For quick and easy cleaning of those small grease spots, grab a bottle of white vinegar.
To make this simple but effective homemade degreaser spray, lightly dab the grease stain with a damp sponge. Make a solution of wet spotter by combining the dishwashing liquid, glycerin, and cold water into a spray bottle.
Add a few drops of white vinegar and a generous amount of the wet spotter to the grease stain. Cover the spot with the absorbent pad and apply pressure to soak up the stain. Repeat the steps using a new pad until the stain is gone.
This recipe also works well for removing grease from cabinets in the kitchen, although it is easier just to spray the cleaner and wipe the grease from the cabinets rather than dabbing at them. Your kitchen cabinets will shine again in no time.
Homemade Grease Spot Remover
There are times when you may get a grease spot on the kitchen area rug while cooking. It happens to the best of us. This homemade carpet spot remover is ideal for cleaning those small grease stains by using items you may already have in your home.
Use this simple remedy for one of the ways to clean carpet without a machine. After blotting up as much of the oil as possible with an old cloth or paper towels, sprinkle some cornmeal liberally over the stain. After the cornmeal has absorbed the grease, use the stiff-bristled brush to break up the stain and the cornmeal.
Combine the dry-cleaning solvent and coconut oil. Use the absorbent pad to cover the stain. The pad will break up and remove the stain as you pad the spot.
Auto Grease Rug Cleaner
If you recently had some work done on your car, you may have discovered that the mechanic accidentally left grease and oil stains behind after test-driving the vehicle. Believe it or not, you may already have a handy grease removing tool in your garage or under the kitchen sink.
Use this simple recipe as a homemade car carpet cleaner for the flooring or for the car upholstery to get rid of unsightly and smelly auto grease in your vehicle.
Spray the affected rug area with some WD-40 and let it rest for a few minutes. Make a solution of warm, soapy water and clean the area with a sponge. Repeat if necessary. Vacuum the area once it has dried.
A Mild Grease Remover
Here is a grease removing solution that is ideal for removing fresh stains. With just a few basic ingredients and a little patience, you can remove that stain without the use of harsh chemicals and abrasives. This solution also works well to remove stains from upholstery.
Mix the ammonia, dishwashing liquid, and hot water in a bucket. Immerse the sponge in the solution and gently blot the stain. Use a dry paper towel to lift the stain.
Repeat as needed until the stain is gone. Once the stain has been removed, clean the area with a damp cloth to remove any residue. Use a white cloth to ensure that all of the grease is gone.
You can also try this recipe to get slime out of your carpet. Remove as much slime as you can and follow the directions above. Your carpet will be slime or grease-free in no time.
How to Get Grease Out of Carpet with a Carpet Cleaner
If you prefer a machine to do most of the work for you or you have a large area of carpet to clean, you'll probably want to use a carpet cleaner. Store-bought cleaning solutions can get pricey. Here are some recipes for a DIY carpet cleaning solution for machines that can be used to clean grease from the carpet.
Carpet Cleaner for Synthetic Carpets
Not all carpets are created equal. Neither are the cleaning solutions. This cleaning mixture is ideal for use on synthetic carpets without the use of harsh chemicals. It will not only get those tough grease stains out but will leave your carpet fresh and clean.
For the perfect homemade carpet cleaner substitute, mix the water and vinegar, and add to your carpet cleaner tank. Start by using the cleaner over the most affected areas and work your way out.
Use the handheld cleaning tool attachment for targeted cleaning. Repeat the cleaning process using clean water to remove leftover residue.
Carpet Cleaner For Natural Fiber Carpets
This solution has the same ingredients as the synthetic carpet cleaner, but the ratio of water to vinegar is significantly different. You can expect to have a fresh, clean carpet by simply using good old fashioned water and vinegar.
Combine the water and vinegar, and add to your carpet cleaner tank as instructed by the manufacturer. Clean your carpet as you would using a store-bought cleaning solution.
Use the hand cleaning tool attachment to clean tough grease spots. Repeat the cleaning process using fresh water to remove any residue.
Carpet Cleaner Solution For Tough Stains
This cleaner is an ideal carpet degreaser for rugs that need extra attention and heavy-duty cleaning. The combination of ingredients ensures that your rugs will get the cleaning they deserve without added chemicals.
Mix the ingredients in a bucket. Try to avoid agitating the liquid so that you won't end up with a bucket full of suds. Carefully pour the solution into the carpet cleaner tank. You can now clean your carpets as you normally would when using store-bought solutions.
Carpet Cleaner for Heavy Duty Messes
Here is a carpet shampoo that can get out even the toughest stains, including grease. Similar to the store-bought brands, this cleaner is meant to be stored and used as needed. The solution will be added to the tank water so you'll be able to get several cleanings from this solution.
Mix all of the ingredients into a storage container or large jug. Follow the manufacturers' instructions that came with your carpet cleaning machine to determine the amount of cleaning solution to add to your tank.
Grease Stain Removal Tips
Before washing, try lifting as much of the grease solids from the carpet as you can by using a dull knife or toothbrush.
While cleaning the stained area, avoid smearing and spreading the stain further by using blotting and dabbing motions.
When you have finished cleaning the area, remove soapy residue by cleaning with clean water. This prevents the area from attracting future dirt.
Foaming shaving cream is ideal if you are in a pinch. Spray some of the foam on the stain and let it set. Blot the stain away using a clean cloth.
Consider adding some essential oils to the DIY carpet cleaning solution. This will not only benefit you during the cleaning process but will also leave your home smelling fragrant and fresh.
As you can see, not all is lost if you've spilled or tracked grease on the carpet. There are many ways of getting grease out of carpet without having to call in a professional. You also don't need to bring harsh cleaning chemicals into your home.
Many of the ingredients we've listed are mild. They are probably sitting in your kitchen cabinet right now. It's just a matter of knowing which items to use and how to use them.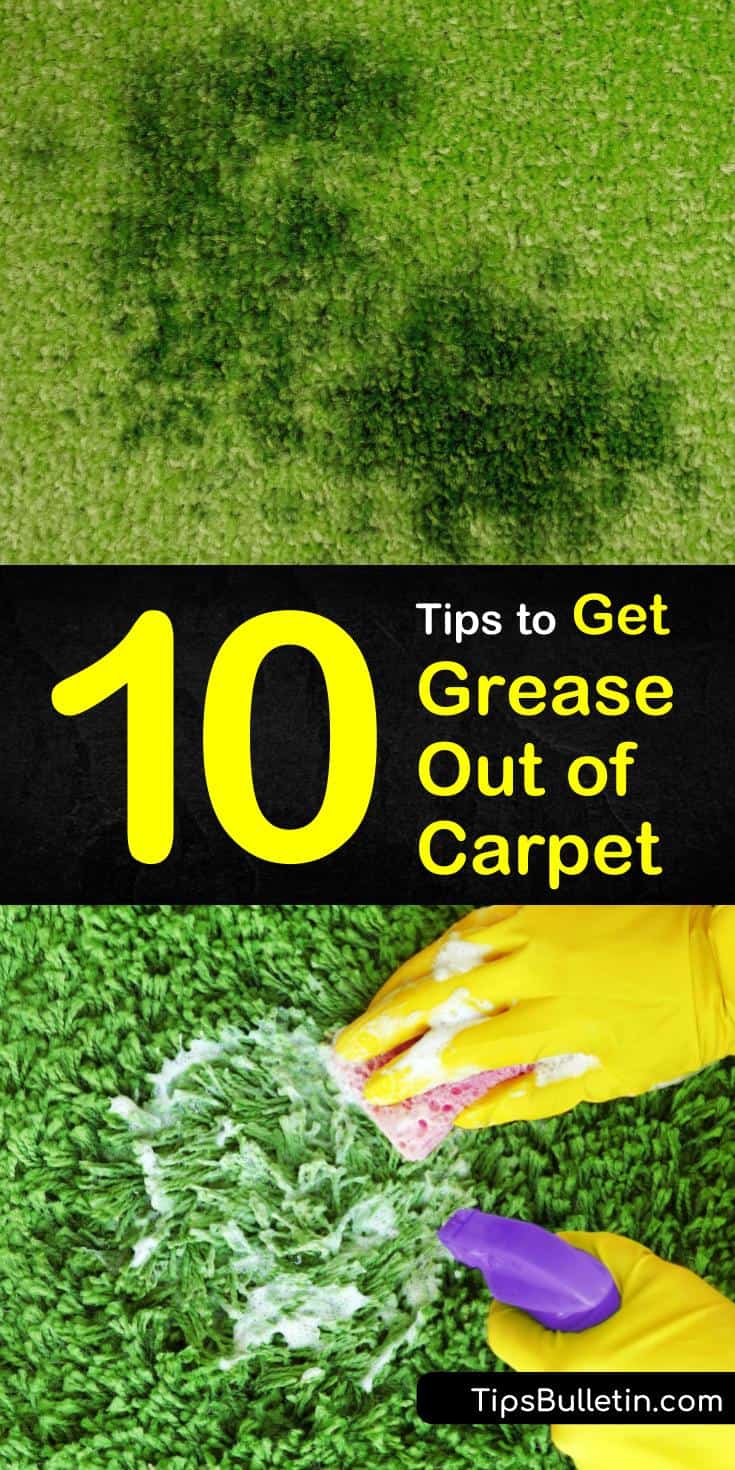 We hope this article helped you with your grease stain mishaps and carpet care needs. Accidents happen to the best of us, after all. Don't forget to share these tips on how to get grease out of carpet with friends and family.