Scallions are a popular member of the allium family, just like chives, leeks, and shallots. Whether you call them green onions, bunching onions, or spring onions, these veggies have a white base, green tops, and a fresh onion flavor. Find out how to harvest scallions to enjoy a delicious garnish on soups, salads, and stir-fries.
Scallions are often the leaves of regular onions (Allium cepa) before the onions form large bulbs. In terms of when to harvest scallions, pick the green shoots from immature onions.
Alternatively, grow perennial non-bulbing onions, like Allium fistulosum. Have you been wondering which season is best to pick green onions in? Pick leaves as needed, or harvest the entire plant and start a new one from seeds or bulbs.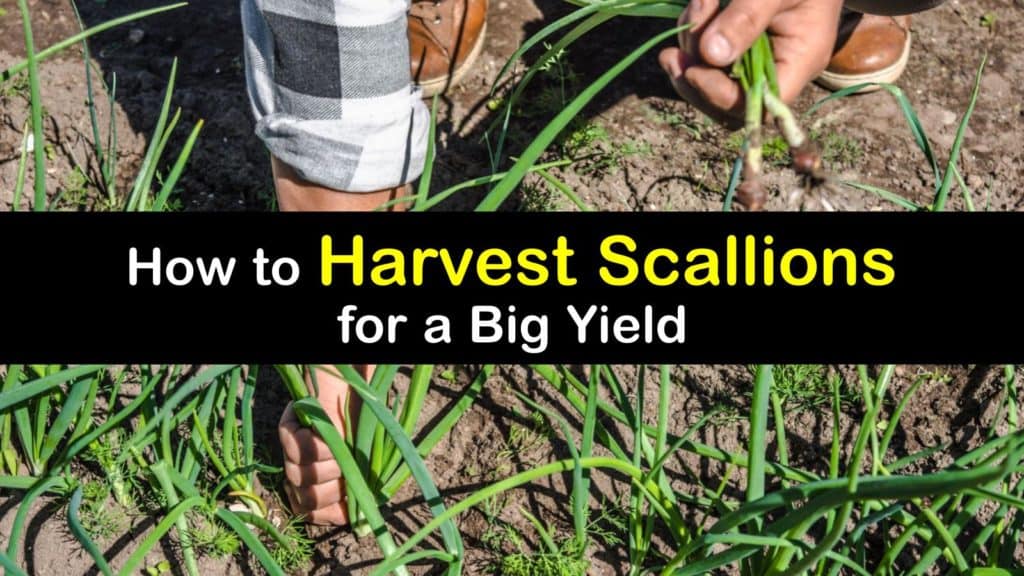 Tips for Harvesting Scallions
Scallions thrive in USDA zones 5 to 9. Sow the seeds in early spring, or regrow the vegetable from scraps in a jar on a windowsill as a DIY project. Ensure that the scallion plants receive plenty of sunlight.
How long does it take for scallions to grow after you plant onions? When are onions ready to harvest? The exact scallion harvest time depends on the onion variety. When deciding when to harvest scallions, look for green stems of the appropriate width and height.
When to Harvest Scallions: Days to Maturity
Green onions and scallions are the same thing. They typically take 60 to 80 days to mature, depending on the variety. White Lisbon only takes about 60 days to reach maturity, while Evergreen takes up to 120 days.
If you're growing green onions as a perennial, avoid harvesting the first year. Give the onion plants a chance to establish and encourage them to produce a larger yield in future years.
Determining When to Pick Scallions
When are scallions ready to pick? The best time to pick onions is when they're six to eight inches tall, starting with the largest leaves.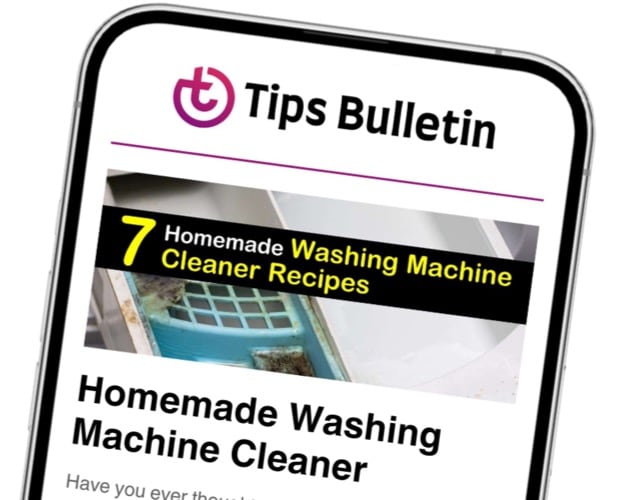 Finally, an email that Transforms Your Home.
Get the latest home and garden tips from our experts, delivered straight to your inbox.
The ideal diameter is a quarter-inch to a half-inch thick. Thicker scallions aren't as tasty since they have a tougher texture and sharper flavor.
Look for scallions that are solid green and upright with a white bulb starting to swell underground. If the stalks are turning yellow and flopping over, you've waited too long.
How to Harvest Scallions
One option for harvesting scallions is digging up the entire plant. Try to pull up only a few plants to allow other plants to develop.
Loosen the surrounding soil with a spading fork, carefully digging under the scallions' roots. Pull on the scallions near their base. Be careful since the stalks on young onions break easily.
Toss any damaged, discolored, or rotten leaves. Snip off the scallions' roots with a small pair of scissors.
Alternatively, pick green onion leaves as needed. The leaves grow back quickly, so you should be able to harvest a few times during the growing season. The best time to harvest green onions and scallions is when they're fully grown and before the greens become too dry. Use this approach if you regrew green onions from scraps.
Storing Scallions
After you grow green onions from cuttings or seeds, your green onions last for one to two weeks in the fridge. Store them unwashed in the crisper in a resealable plastic bag with a damp piece of paper towel. To prepare scallions, trim off the bottom of the white part and the top two inches of the green part.
To extend scallions' shelf life, freeze or dry them. First, rinse the scallions and lay them out to dry. Slice the dry scallions into rings of the desired size.
Freeze scallions in an airtight container, freezer bag, or glass jar. Shake the desired amount directly into a dish.
Dry scallions using a dehydrator or the oven on low heat. For a dehydrator, use a tray liner if you have one to prevent rings from falling through. Scallions dry fast, so check them often.
Dried green onions last for months in glass jars or resealable plastic bags.
How to Sow Scallion Seeds
Direct sow green onion seeds in early spring for a summer harvest. Wait until there's no risk of frost. Sow seeds every three to four weeks to enjoy a continuous harvest.
You can also start seeds indoors six to eight weeks before the last frost date. Transplant the seedlings outdoors when they're 8 to 18 inches tall and about the width of a pencil.
Use fertile, sandy, loamy, well-draining soil with a pH between 6.0 and 7.0. Mix in organic matter like compost or aged manure before planting. Although scallions tolerate some shade, the ideal is full sun—at least six hours of direct sunlight daily.
Sow scallion seeds a quarter-inch deep in rows a few inches apart. Keep the soil for scallions moist until germination, which should take one to two weeks. Thin the seedlings to one to two inches apart.
How to Care for Scallion Plants
Are green onions scallions? The two plants are actually different but have similar growing and harvesting strategies. Water scallions regularly due to their shallow root systems, providing one inch of water per week. However, avoid leaving the onion bulbs sitting in wet soil since that could cause root disease.
Side-dress with all-purpose fertilizer four to five weeks after planting. Feed the scallions liquid fertilizer, such as comfrey tea or fish fertilizer, every few weeks during the growing season.
Keep the area free of weeds, which compete for water and nutrients. Mulch helps prevent weeds and retain moisture.
If you're growing green onions as perennials, spread a thick layer of mulch in the fall to protect them against the cold. Remove the mulch from the onions in the spring after the soil warms.
Preventing Pests and Diseases on Scallion Plants
A few different pests and diseases may plague green onion plants. Crop rotation is vital for preventing several diseases, including Botrytis leaf blight, downy mildew, and white rot. Avoid planting at a site that has held alliums within the past few years.
You may find that companion planting keeps unwanted pests away. At the same time, learn what not to plant with onions to get the best crop.
Other commonsense tips include not using infected seeds and ensuring that the soil drains well. Destroy any plants that become infected with Botrytis leaf blight.
Install row covers to protect the scallions from allium leaf miner eggs. If thrips are an issue, hose the leaves in late morning or coat them with insecticidal soap.
Scallions are easy enough to find at the grocery store. However, eating store-bought green onions is less satisfying than harvesting them fresh from the garden.
Scallions are simple to grow from seed. When deciding when to pick scallions, look for healthy green tops and small white bulbs. How to harvest scallions involves either digging up the entire plant or snipping off leaves as needed.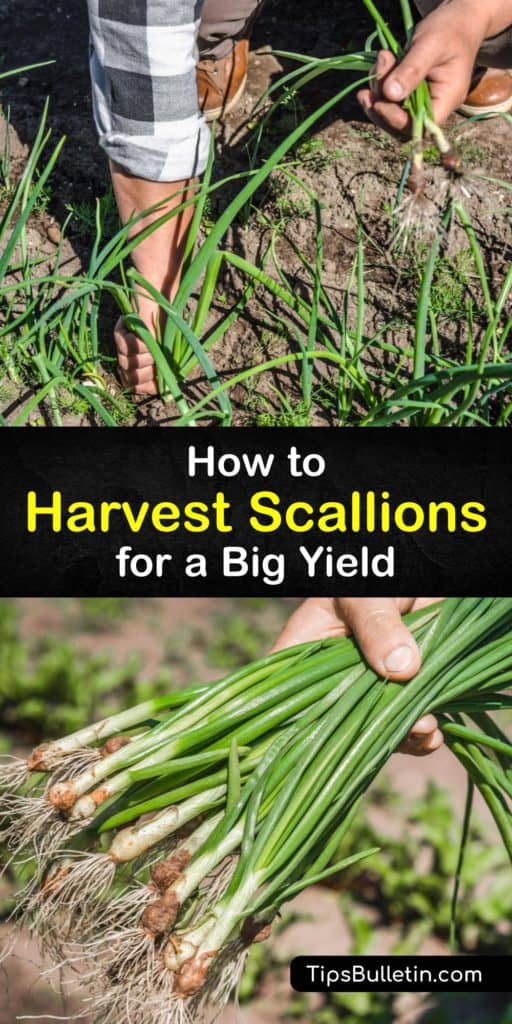 If you found these tips for growing green onions helpful, please share this vegetable harvesting information with your friends on Facebook and Pinterest.