There's nothing quite like harvesting homegrown food at the end of the growing season to make you appreciate what nature has to offer. Planting onions is easy, whether you plant red onions, yellow onions, or white onion varieties. Learn how and when to pick onions of all types and use your onion crop to prepare a tasty dish.
We love the sweet and tangy flavor of onions, and they're even better fresh from the home garden. There are many types to grow, from strong and pungent onions to mild and sweet onions, and a healthy harvest keeps your pantry well-stocked for months. However, it's essential to know when to plant and pick these alliums to ensure you get the best crop.
Onion plants (Allium cepa) grow ideally during cool weather, and harvest time varies depending on whether they are long-day or short-day onions. Long day onion cultivars like Walla Walla are perfect for growing in northern regions, while short day onion sets are suitable for planting in mild winter climates.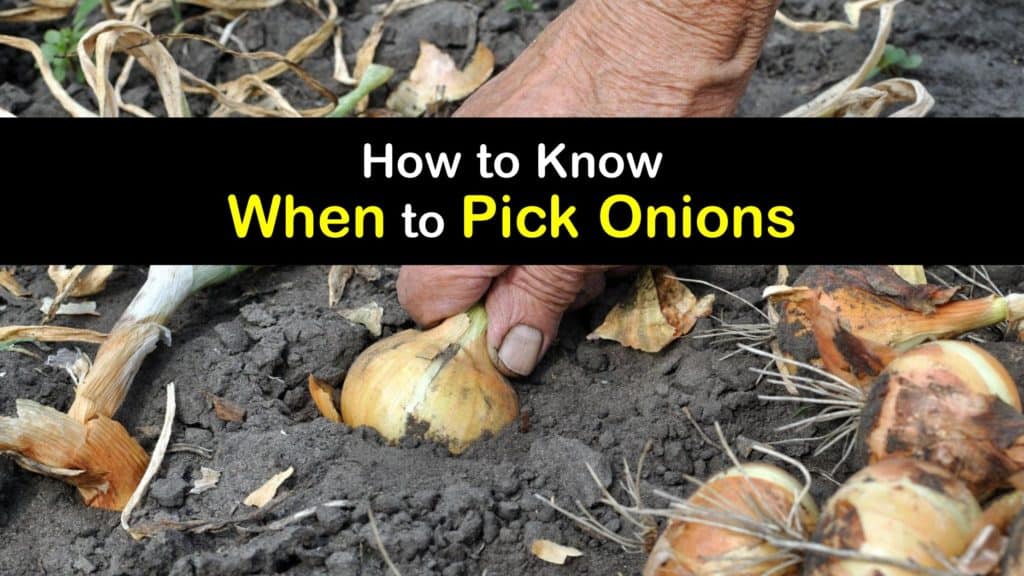 Planting and Harvesting Onions
How long do onions take to grow? Shallots, chives, spring onions, leeks, bunching onions, and green onions or scallions are all onion family members, and they do not take long to grow before you harvest them. However, bulb onions have a longer growing season – harvest long and short-day varieties at different times of the year.
When are onions ready to pick is a common question for new gardeners. Learn when to harvest onions according to type and find out when to plant your onions, give your plants care as they grow, and ways to tell when your onions are ready for picking.
How Long do Onions Take to Grow?
An onion's growth rate varies since there are many varieties. It also depends on how you start your onions. Learn about the different ways to grow onions, which types grow the fastest, and how long do onions take to grow.
There are two ways to start onions in the garden. The first is onion seeds. It takes weeks for an onion to grow – about 100 to 120 days – to grow from seed to a whole bulb. Use your hardiness zone as a guide for when to plant shallot seeds and other types of onions.
The second way to grow onions is onion sets, which are small onions grown from seed the previous year, and they only take 40 to 60 days to reach maturity.
Are Onions Easy to Grow?
While they need a good amount of sunshine and the right environment to flourish, onions are relatively simple to grow at home. Discover when and how to plant onions based on type and clues to look for to determine when they are ready to pick.
We recommend planting onion sets instead of seeds since they take less time to grow. Prepare for planting long-day onions in the early spring and short-day onions in late summer. Choose a garden spot that gets full sun and ensure the soil is well-drained, fertile, and loose to encourage a healthy root system.
Dig a trench two inches deep and three inches wide, and add an inch of compost to the rows. The best way to plant onion bulbs is to plant the sets two to six inches apart and position them with the pointed end facing up. Cover them with no more than one inch of dirt and water right after planting.
When are Onions Ready to Pick?
It depends on the onion type as to when are onions ready to pick. If you live in a cold winter region and plant long-day onions, when to pick shallots and onions is in mid to late summer. It is also time to harvest tabasco peppers and some other veggies.
Short-day varieties grown in a warmer region are ready to pick in late spring or early summer, like when many tomatoes are ready to pick.
Caring for Onions in the Garden
After choosing the right onion for your region and planting it in the garden, it's time to give your onion plants the care they need to produce healthy onion bulbs. Water and feed your onions properly to get a good harvest at the end of the growing season.
After the onion bulbs begin to develop, spread a half-inch layer of straw or mulch over the bed to suppress weeds, retain moisture, and allow air circulation. Plants require less watering if you apply mulch, and generally, they only need an inch of water per square foot each week, including rainfall. For sweeter onions, water them more.
To grow large bulbs, feed your plants with a nitrogen fertilizer every few weeks, and stop feeding them when the bulbing process starts and the onions push away the soil. As tempting as it is, don't move the dirt back around the onions since the bulbs must emerge above the ground.
Common Problems When Growing Onions
Unfortunately, onion plants may encounter a few problems as they grow, and it's vital to know what to look for to ensure your onions stay healthy. Here are some common pests and diseases that affect onion plants and how to prevent them from ruining your crop.
Bolting is common with onions. Drought and severe weather fluctuations fool onions into growing flower stalks and setting a seed head sooner than usual.
To stop this from happening, try to keep the conditions consistent. Keep them well-watered during dry spells, cover them with floating row covers if you expect a cold snap, and remove flower heads before they bloom.
Garden pests are another issue to deal with when growing onions. Thrips are tiny bugs that feed on onion plants, leaving white blotches and streaks on the leaves, and they are challenging to see.
To determine if your plants have thrips, hold a dark piece of paper by the plant and knock the onion tops against it to catch their tan-colored bodies on the paper. Eliminate these pests by applying a couple of treatments of insecticidal soap.
Onion maggots are another onion pest. They lay eggs on the plant's base, and the larvae feed on the roots. Cover the emerging crop with mesh netting and secure it to the soil to prevent onion destruction.
Various fungal and bacterial diseases affect onion plants, from black mold, leaf blight, and downy mildew to rust, purple blotch, and pink root.
The simplest way to prevent them is to plant disease-resistant onion varieties, such as Chianti, Red River, White Castle, Brundage, Stanley, and Quick Start. Other ways to prevent disease are performing crop rotation, removing plant debris, and sterilizing garden tools after each use.
How and When to Pick Onions
Unlike other garden veggies that grow above ground, onions develop beneath the soil, so how can you tell when to pick an onion? Find the ways to tell when onions are ready for harvesting and how to pick them for long-term storage.
Onion Harvest and Storage
As the onions mature, the green leaves turn yellow and fall over. Press the foliage down and loosen the soil around the bulbs to encourage drying and speed up the ripening process.
Once the onion tops turn brown, use your hands to gently pull the bulbs out of the ground. When you harvest yellow onions, use care since slight bruising on the outer skins encourages rot, and try to pick the onions on a dry day for better curing.
Next, it's time to cure the onions. Cut off the roots, clip the tops back to an inch or two, and leave the bulbs on the ground for a couple of days if the weather is dry. Otherwise, take them to a protected area.
To store onions, braid them together or hang them in mesh bags and keep them in a dry, cool, well-ventilated place where the temperature is between 40 and 60°F. Avoid storing onions in the refrigerator, as the conditions are too damp. Check them periodically for rotting on the outer layers or sprouting and remove them.
There is an easy way to tell if a white onion is bad. Smell, appearance and feel are the best indicators.
Make Sweet Relish after Harvesting Onions
There are many ways to prepare onions after a bountiful harvest, from roasting to caramelizing. However, using extra onions from the garden to make a sweet onion relish is a nice change. This recipe makes three cups, and it only takes 35 minutes to prepare from start to finish.
Dice the yellow onions into small pieces and saute them in a medium-low heat skillet for ten minutes until translucent and caramelized. Add the brown sugar, cook until dissolved, and then deglaze the pan with wine vinegar, balsamic vinegar, and red wine.
Simmer the onions on medium-low heat for about 15 minutes until the liquid evaporates. Allow the relish to cool, spoon it into an airtight container, and keep it in the fridge.
Red, white, yellow, and sweet onions are easy growers and great additions to the vegetable garden. However, long-day and short-day onions have different planting and harvesting times, and understanding their differences ensures you grow and harvest the perfect onion for your area.
Now that you know how to grow and when to pick onions for the healthiest crop, why not share our onion growing and harvesting guide with your family and friends on Pinterest and Facebook?