Cilantro comes with a multitude of health benefits that include crucial vitamins like A, C, and K and other helpful nutrients in the form of folate and potassium. Commonly used in small quantities to garnish and flavor everything from chimichurri sauces to salads and salsas, there is always quite a bit leftover after completing your culinary masterpiece. Rather than wasting the remnants, save them for another day by learning the proper steps for how to keep cilantro fresh.
The strategy for keeping cilantro fresh varies depending on how long between uses you need to preserve it. It also changes based on whether that yummy bunch of cilantro is straight from the grocery store and in ripe condition or has been partially used before storing.
In most cases, many of these techniques implemented to keep food fresh regularly also apply to cilantro, whether it has already been chopped or washed. We also offer you a delicious way to use that leftover cilantro with a tasty new recipe.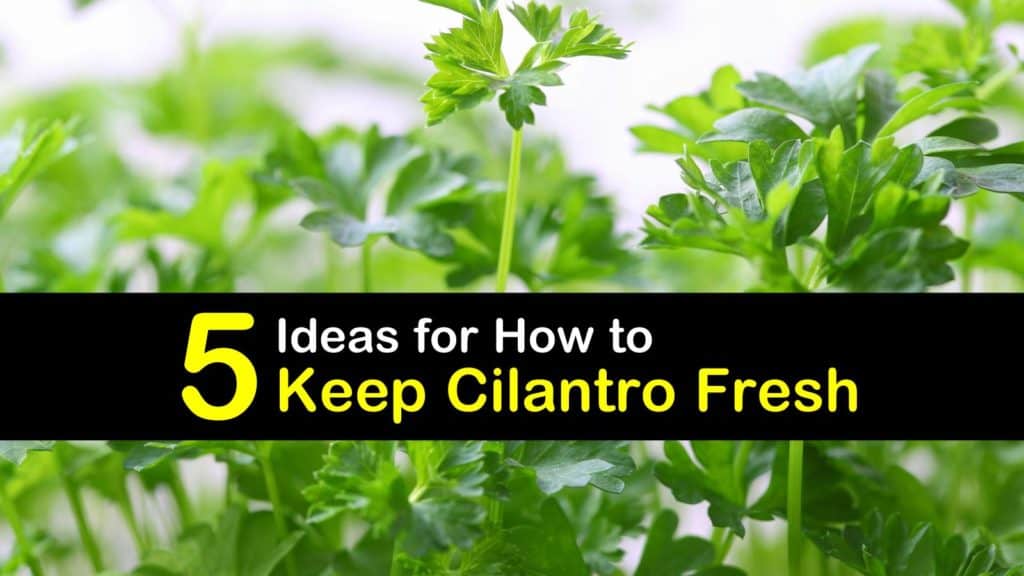 The Most Successful Methods for Keeping Cilantro Fresh
There are many questions about food safety and how long different foods last in varying conditions. How long does chicken salad stay fresh? What about milk?
The ideal way to keep cilantro fresh is to learn the way to grow cilantro indoors so you always have a fresh supply. However, planting cilantro and keeping it on the windowsill is not always possible.
How long does cilantro last in the fridge, on the counter, or in the freezer? Is parsley and cilantro the same regarding storage procedures? How do you know the ideal time to use which cilantro preservation process?
We cover the pros and cons of each procedure, including how long they keep your veggies fresh and full of flavor.
How to Keep Cilantro Fresh on the Countertop
Many of us are avid cilantro users or make plans to use it numerous times during the week we first purchase our bundle of leafy greens or if we are growing cilantro at home.
In this case, the most effective means to retain the crispness and taste of your fresh cilantro is by placing it on the counter for short-term storage.
It keeps the flavor perfectly preserved by not shocking it for extended periods with the refrigerator's cold temperature.
Your cilantro lasts about a week in its airtight container when kept on the counter, so make sure to use it within that time frame. Though it may persist a little longer than that, it may begin to brown or wilt.
For ideal results, store these fresh herbs in a clean, cool place with little moisture, such as your pantry or basement, until you are ready to use them.
Does Cilantro Last in the Fridge?
Most people know that the ideal way to keep salad fresh is in the refrigerator but what about individual ingredients? Another idea for keeping cilantro fresh is by placing it in the fridge. If you don't plan to use it within the same week that you purchased it but still intend to use it in the near future, this option is the best solution.
Under most circumstances, the cilantro remains fresh and tasty for up to a month when kept in the refrigerator. Start by washing them in a colander or vegetable spinner, and then pat the cilantro stems dry with a paper towel.
Clip off the base of the stems to allow a better flow of moisture to seep into the stalks, then place them in an inch of water inside a Mason jar, in a similar fashion as the best way to keep green onions fresh in the fridge.
If the container is large enough, twist the cap over the top and seal it. If not, place a plastic bag over the opening and close it with a large rubber band.
How Long Does Cilantro Last in the Freezer?
When it comes to a longer-term storage solution, freezing is the best way to preserve cilantro. Your fresh herbs remain that way for up to six months when kept in the freezer.
Plus, there are numerous ways to store cilantro or for storing basil leaves, such as whole or pureed, for easier access.
It's important to note that both result in a not so aesthetically pleasing veggie at the end, but still leaves the cilantro open for use in smoothies or as a secondary ingredient in a dish.
Place the fresh herbs in freezer bags after removing the stems. It's as simple as that, as long as the container seals completely. The next technique includes a blender and a set of ice cube trays.
Blend the cilantro into a smooth puree by adding a little bit of olive oil to the mix, then pour the resulting blend into the cube trays. Once you're ready to use the frozen cilantro, plop them back into the blender to add to a smoothie or place them in a pot for a delicious stew.
Can Your Cilantro for Long Term Storage
An alternative for convenient storage of your cilantro is to can what you have left of your cilantro into a fabulous new salsa recipe. It's possible that you may not have heard of tomatillos. What is a tomatillo? This tangy green veggie looks a lot like a tomato but is a different vegetable that really adds some flavor and color to this salsa.
Not only does it use up those leftover scraps of veggies and herbs, but it also remains safe and palatable in your pantry for up to 18 months. The total time attributed to making this salsa canning recipe is just over one hour.
Prepare a handful of your ingredients ahead of time by chopping up the peppers and onions. The peppers may be all one variety or an assortment of your favorites. Mince the cilantro and garlic and sterilize the Mason jars you intend to use.
Heat your oven to 500 ℉ and line a baking sheet with three-quarters of your tomatillos. Hold onto the rest until later in the process. While the tomatillos roast for 20 minutes or so, add those scrumptious peppers and onions to a saucepan.
Once the tomatillos take on a slightly charred appearance, they are ready to be removed, cooled, and chopped with the remaining raw ones. Add these freshly cut veggies to your saucepan and sprinkle in the spices, vinegar, and lime juice.
Bring the concoction of appetizing foods to a boil, lower it to a mild simmer for at least 12 minutes. Add your cilantro at the very last minute. Once your salsa verde mixture is complete, gently scoop it into your jars.
Securely fasten the Mason jar lids and add the container to a boiling water bath. Let the jars sit there for 15 minutes, then retrieve the jars and permit them plenty of time to cool. Once the lid pops downward, you know it is ready for storing.
Mouthwatering Creamy Cilantro Chicken with Lime Recipe
Once you've come up with the best system for preserving your cilantro, the next step is to find a yummy new recipe to use up the leftover bits. While you may have a favorite, here is a delectable lime chicken meal to tantalize your taste buds.
Heat the oil of your choice in a large saucepan or skillet. Add seasoning to your chicken and fry it for approximately eight minutes or until the chicken cooks through. Remove it and cover with some foil to keep it warm.
Add your onions to the now-empty skillet, brown for one minute, add in the remaining seasonings, broth, and lime juice. Bring all the ingredients you've added thus far to a boil for several minutes, then introduce the heavy cream to the mix.
Substituting this cream with sour cream or Greek yogurt is also a great way to incorporate a unique, delicious change of flavor.
Turn off the heat and return the chicken to the sauce. Garnish the top of your masterpiece with even more cilantro and serve it with some flavorful, steamy veggies. Bon appetit!
Now you know just how long does cilantro last under each condition and have several different ideas for how to store those tasty pieces.
If you aren't sure when you plan on making your next cilantro-based meal, the best plan is freezing what you have left. That way, they stay fresh, and you don't risk losing your cilantro in the process.
If you benefited from these cilantro storage tips, please remember to share your favorite method for how to keep cilantro fresh with friends and family on Facebook and Pinterest.