There are a few reasons you may want to kill grass on your property. These can include unwanted grass growing in your flower bed or vegetable garden, crabgrass taking over your lawn, or a yard of unsightly patches of grass. Our methods show you how to kill grass naturally without using harmful chemicals.
Most homeowners dream of having a weed-free lawn, lush with perfect grass. Perhaps even garden beds filled with desirable plants and blooming flowers.
While it may take a little bit of effort on your part, this doesn't have to be a dream. Using the right weed killer recipe, you can kill weeds and unwanted grass naturally to restore your lawn to a healthy state of natural beauty.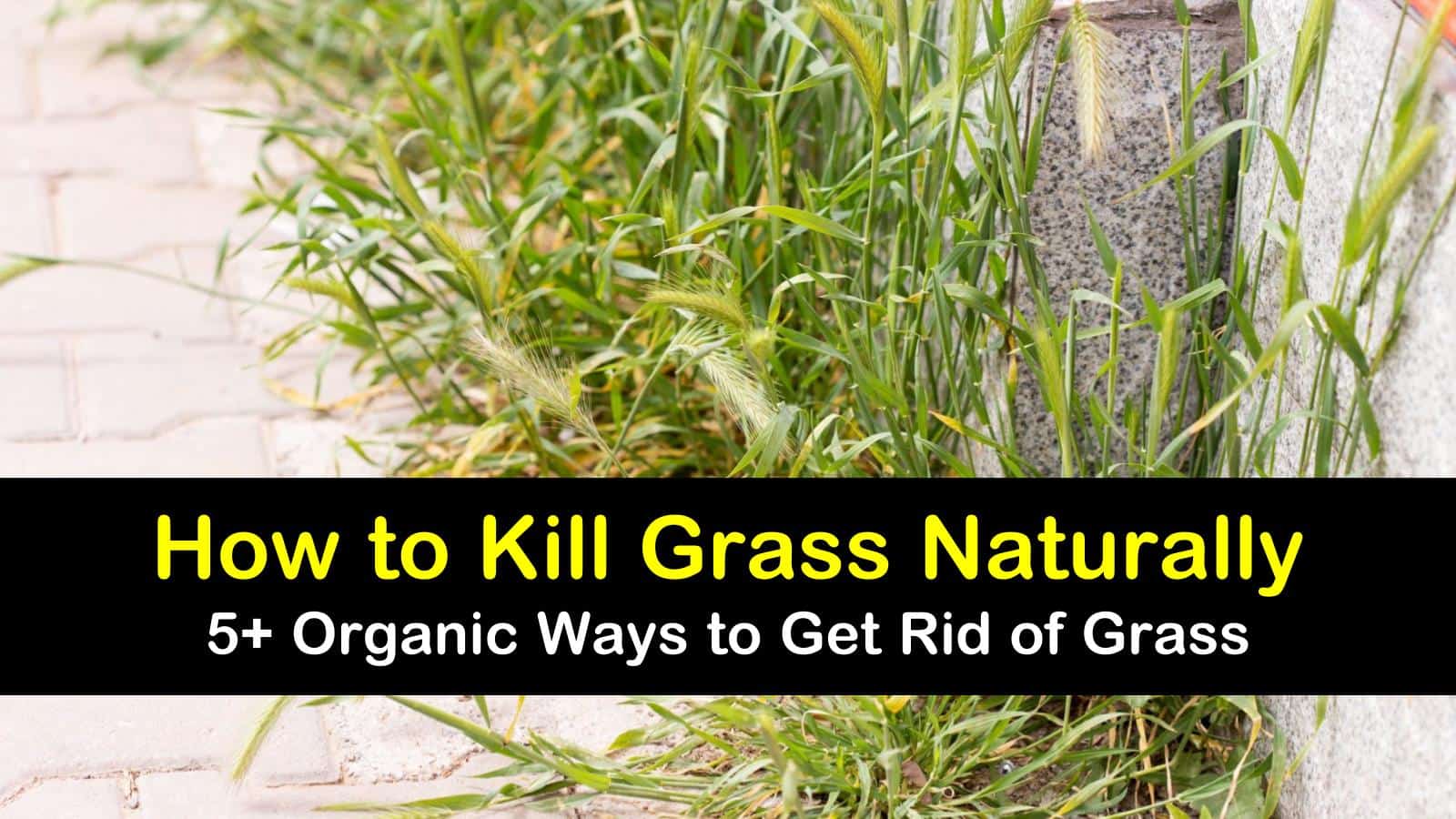 Killing Grass Naturally
More and more people are embracing environmentally friendly ways of handling household tasks. Not only can you clean your home with safe products, but you can also kill grass without chemicals. There are many natural ways to kill grass and remove unwanted plants through weed control.
Understanding which methods work for removing grass is the first step. Knowing how to apply this knowledge to the removal of those plants without harming nearby vegetation is also vital. We show you how to kill grass naturally in a few easy steps.
Getting Rid of Grass in Large Areas
If you plan on reseeding an area with new grass, or you're putting in a large garden bed, you need to remove the old grass first to provide a healthy living space for the new plants. This simple solution shows you how to get rid of grass in large areas by using the power of the sun. This is also the best way to kill crabgrass if you have sizable patches of it spread throughout the yard.
Solarization works best when done during the hottest months of the year during the summer. Begin by mowing the area of grass using the lowest setting on your mower.
Lay the black plastic sheets over the grass or weedy areas and secure them down at the edges with rocks or bricks to burn the grass and kill the root system. After a few weeks, the roots should be dead, and you can use a shovel to remove the dead sod.
This solution is also ideal for how to remove quackgrass if you have it in extensive patches in your lawn. Actually, you can remove any type of weed with this remedy as long as you have the time to wait for it to work.
What Kills Grass and Weeds Permanently?
There may be areas where unsightly weeds and grass persist despite your efforts. When wondering what kills grass and weeds permanently, you may come across a variety of herbicides such as Roundup. While this may do the trick, it is harmful to the environment.
The following method shows you how to get rid of grass naturally while turning garden weeds into a fertilizing compost and mulch. It is also a great way to recycle old newspapers and cardboard.
Sheet Composting
For the perfect organic weed killer, begin by mowing or weed-whacking the area of grass and weeds. Lay down several layers of newspaper (not the glossy sections) and cardboard over the area and then spray it with water to moisten.
Spread a nice layer of mulch on top of the cardboard and papers. The cardboard and paper smother the grass while the mulch breaks down the cardboard to create a rich and loamy soil.
While it does take some time for the process to develop, the result is worth the effort. The area is now ready for replanting with grass seed or for making a garden bed for flowers or your favorite veggies.
Killing Grass and Weeds with Water
For smaller patches of grass or weeds that need removal, you can use water, but the trick is to boil it first. The following shows you how to get rid of weeds naturally using boiling water. This solution is ideal for grass growing between bricks or pavers or growing up through gravel driveways.
Hot Water Grass and Weed Killer
To remove grass from the yard in places where you don't want it to grow or as a way to get rid of nutsedge and other unwanted weeds, boil some water and carefully pour it into a watering can.
Pour the hot water onto the grass and weeds, making sure to get both the blades or leaves and roots wet. Boiling water is what kills clover best, as well as dandelions and other unwanted plants.
The grass blades and weed leaves brown pretty quickly after treatment, but this doesn't mean that the roots have died, so you'll have to repeat this process daily for a few days to ensure that the plant is affected down through the roots and completely eliminated.
How to Kill Grass and Weeds with Alcohol
Alcohol breaks down the wax cuticle on the leaves of weeds and blades of grass. Without this protection, the plants will become dehydrated in the afternoon sun, leaving them to die. This recipe works well for getting rid of grass growing in flower beds in sunny locations.
Combine the alcohol, water, and a few squirts of dish soap into a spray bottle and give it a gentle shake to mix. Be sure to label the container for safety purposes.
Spray the alcohol solution directly onto the grass and weeds that need eliminating during the mid-day sun, making sure to avoid desirable plants. Use this remedy as a way to kill nutsedge or other pesky unwanted plants in smaller areas. Repeat daily until the grass or weeds die.
Make a Homemade Weed Killer
This all-natural grass killer is simple to make and easy to use. Best of all, you've got everything you need in your kitchen. This natural weed and grass killer recipe works well for targeting smaller areas of grass and weeds that need removal.
Combine the white vinegar or acetic acid, dish soap, and salt into the bucket and mix well to make this effective vinegar based weed killer. You can substitute rock salt for table salt if you have any leftover from the winter months if you prefer.
Use a funnel to pour the vinegar, salt, and soap solution into a spray bottle or lawn sprayer and label the container for future use. Stir well to ensure that the salt dissolves completely or it will clog the sprayer.
Use the stream setting on the sprayer and spray the weeds and grass with the natural nutgrass weed killer until they are completely saturated.
This process works even better on a hot and sunny day. What kills weeds naturally may also harm your favorite plants, however, so make sure to avoid spraying any desirable plants or vegetation in the vicinity.
If you do accidentally spritz your favorite flowers while taking care of the weeds, rinse them off with clean water as soon as possible. You may be able to save them if you act quickly.
The Down and Dirty Way of Removing Grass
Sometimes the quickest way to get a job done is the hardest way. If you have a small area of grass that needs removal or you want to kill weeds without killing grass nearby, you may have to roll up your sleeves and remove it by hand.
You'll need a shovel or spade for this method, which you can find at your local garden center. The following is also the most straightforward home remedy to kill dandelions.
Give the area a proper watering a couple of days before you plan on removing the grass to make the soil easier to work. Plunge the shovel into the dirt and pry the grassroots and dirt upwards.
Use a spade or shovel to cut through the grass area in sections. Once the area is cut, use a trowel to pull the clumps of sod out of the ground. You may want to use gloved hands to remove some of the sod, making sure that you remove all parts of the root system.
You don't have to use herbicides for killing weeds like dandelions and for how to control crabgrass. All you need is a little know-how, the right tools, a little elbow grease, and some time to take care of the weeding process for you.
Maintaining a healthy lawn through proper lawn care by removing weeds and invasive grasses prevent weed seeds from spreading throughout your yard and give you the fresh, green lawn you've always wanted.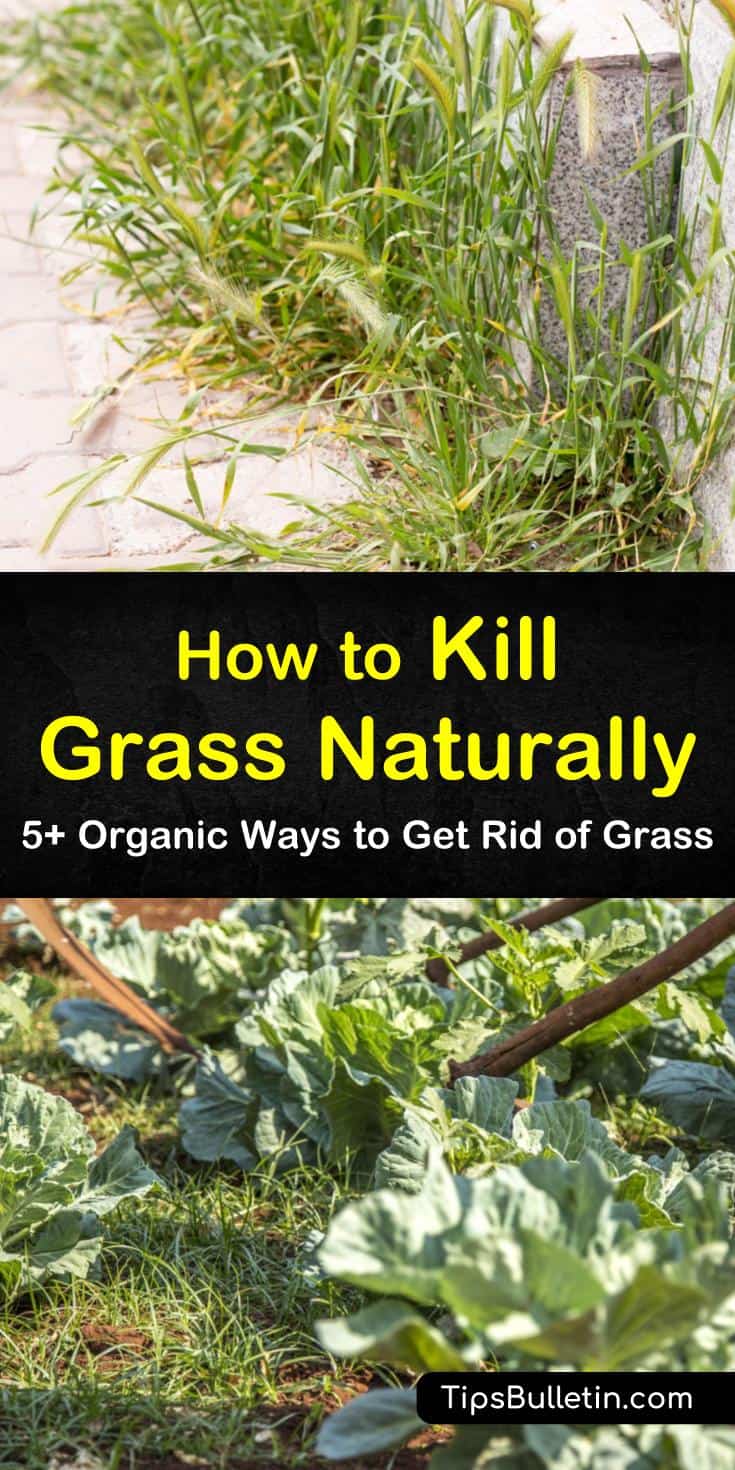 Knowing how to kill grass naturally is not only be healthier for your lawn but better for the environment, so why not share these organic grass removal tips with your friends on Pinterest?