Bush beans are an easy and rewarding crop to add to your home garden. They are generally fast-growing and reward your efforts with a delicious and nutritious harvest of snap beans. In this article, learn everything you need to know about how to plant bush beans and keep them thriving all season long.
Planting bush beans is popular among home gardeners because they tend to be low-maintenance and tolerant of a wide range of growing climates. It's incredibly satisfying to watch these fast-growing plants sprout and flourish.
Another excellent reason to plant bush beans around your vegetable garden is to fix valuable nitrogen in the soil.
While most other plants cannot absorb atmospheric nitrogen, legumes like beans and peas form a symbiotic relationship with soil bacteria that convert nitrogen from the air into ammonium nitrates, which get taken up by plants roots.
For this reason, they make exceptional companion plants for most other crops.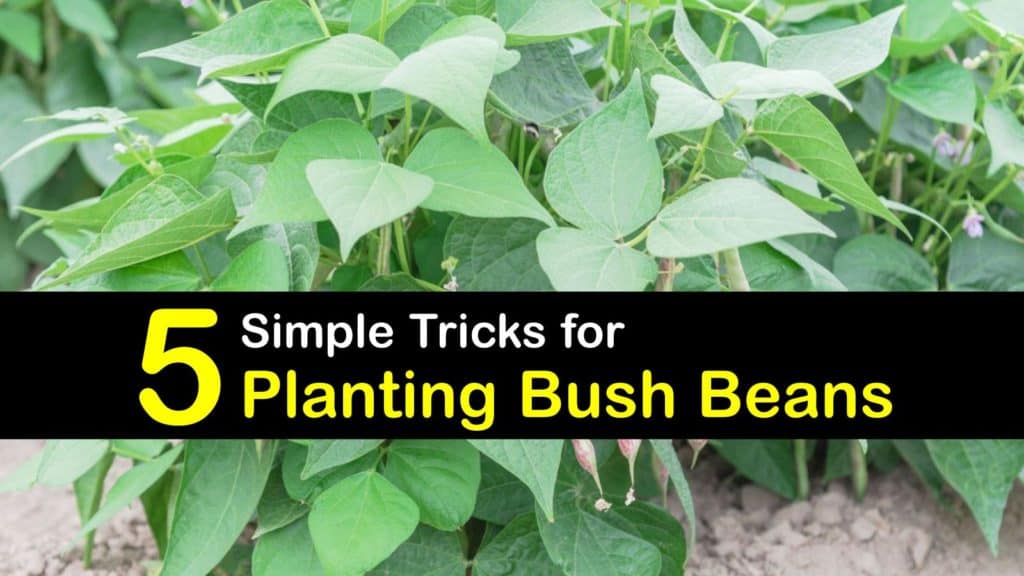 Best Tips for Planting Bush Beans
Green beans, also called filet beans, string beans, or snap beans, are a tender annual plant with a relatively short growing season.
Although they're called string beans for the long fibrous string that grows along the length of the bean pods, most types of bush beans grown today are stringless.
While they both go by the botanical name Phaseolus vulgaris, it's essential to distinguish between bush beans and pole beans when selecting bean varieties to grow.
Bush bean, whether you are growing pinto beans or green beans, stay relatively compact and upright, reaching about two feet tall. They don't need trellises or staking. Meanwhile, pole beans require support from a trellis or teepee stakes for their long vines, which sometimes grow ten to 15 feet long.
Runner beans, or Phaseolus coccineus, sometimes get confused with pole beans. They produce larger edible pods and are cultivated as an edible crop and for their ornamental flowers.
The way to grow pole beans or bush beans is about the same. Bean plants thrive with full sun and warm, well-draining soil that's rich in organic matter. It's beneficial to grow them in several different locations around your garden to utilize their nitrogen-fixing capabilities.
Are beans legumes? Some beans are legumes, but not all of them. Keep your legumes and beans away from members of the Allium family, which includes chives, garlic, leeks, onions, scallions, and shallots. These two plant groups reportedly stunt one another's growth.
How to Plant Bush Beans from Seeds
For best results, the best way to grow bush beans is to sow bush bean seeds directly in your garden bed. When growing black beans or other bush beans, the young seedlings have fragile roots that are easily damaged when transplanting. After germination, they grow quickly enough that there's no significant advantage to starting them indoors.
Plant bean seeds one inch deep in the soil with the eye facing downwards. Germination takes four to ten days. Spacing between plants should be approximately two inches.
When choosing which bush bean varieties to plant in your vegetable garden, look for traits that suit your growing climate.
Some crucial factors to consider are growth habits, disease resistance, when to plant bush beans in your zone, and drought or heat tolerance.
When to Plant Bush Beans Outdoors
Since bush beans don't transplant well and must be directly sown in the garden bed, you may be wondering when to plant bush beans outdoors.
When planting bush beans from seed, timing is essential. If planted too early, the bean seeds don't germinate in the cold, damp soil and may rot.
Cover your planting area with a generous layer of dark-colored mulch or a sheet of black plastic to warm the soil before planting. Sow bean seeds after the average last frost date for your area or once the soil temperature is consistently above 48℉.
If mid-summer temperatures in your area regularly exceed 80℉, choose heat-tolerant varieties. For a continual harvest throughout the growing season, plant bean seeds every two weeks.
When considering how far apart to plant bush beans, decide if you'd like to practice succession planting. If so, leave twice as much space between the plants.
Ideal Growing Conditions for Bush Beans
Bush beans grow best with plenty of water and sunshine. They require full sun, which means at least six hours of direct sunlight per day. While pole beans can tolerate partial shade and cooler temperatures, bush beans are more suited to warmer climates.
It's critical to water your bush beans regularly. Provide them with about two inches of water per square foot each week.
Be careful not to overwater, as bean plants are susceptible to fungal diseases like anthracnose and powdery mildew. For this reason, it's best to use drip irrigation to avoid getting the leaves wet when watering.
A few weeks before planting, apply a generous layer of compost or well-rotted manure to your garden bed. Since beans aren't heavy feeders, they may not require additional fertilizer throughout the growing season.
If necessary, apply organic fertilizer with higher levels of phosphorus and potassium than nitrogen after the plants bloom and begin forming bean pods.
Since they have shallow roots, bean plants suffer when competing with weeds for water and nutrients. Take care when weeding, so you don't damage their sensitive roots. Use a thick layer of mulch to minimize weed growth and hold in moisture.
During periods of hot weather, bean plants might drop their blossoms. Protect the plants by using row cover or shade cloth and keeping the soil consistently moist.
Harvesting Bush Beans
Bush beans usually set all of their pods at once. Try succession planting for a continuous harvest.
There are two options for harvesting beans. Pick them before the seeds fully develop for tender green beans. The pods should be about the same thickness as a pencil.
Alternatively, wait until the beans are fully mature for shelling beans. They're ready to harvest about six weeks after the green bean stage. Be sure to pick your beans before the first danger of frost.
Remove the outer shell, cook mature beans fresh or refrigerate for up to four days. Can you freeze green bush beans? Definitely. Blanch them first and freeze them for future use.
To dry them for storage, let them dry on the vine if the weather allows, or remove the whole plant and hang it upside down in a cool, dry place. Keep dry beans in an airtight container at about 70℉.
Common Pest and Disease Problems for Bush Beans
Although beans are generally easy to grow, they sometimes suffer from a few pest and disease issues. Stressed plants are more susceptible to attacks from insects and pathogens. Ensure adequate amounts of light, water, and nutrients.
Aphids, Mexican bean beetles, and spider mites are some of the most frequent pests for bean plants. Plant bush beans with tomatoes to keep bugs away from both plants.
Otherwise, eliminate aphids and spider mites by spraying all plant parts with an organic insecticide like neem oil or insecticidal soap. Diatomaceous earth kills Mexican bean beetles, which look like yellow ladybugs.
Many plant diseases stem from overwatering. Powdery mildew and anthracnose are two of the most frequent fungal diseases for beans.
Mosaic virus spreads via aphids, water droplets, and contaminated seed stock. To prevent brown spots on green beans, ensure that your plants have adequate air circulation, and try not to splash the leaves when watering.
Bush beans are easy and satisfying to grow in the vegetable garden, making them perfect for beginners and experienced growers alike.
Enjoy a bumper crop of delicious green beans this summer by following a few simple gardening practices like providing nutrient-rich soil and using mulch to suppress weeds, insulate the soil, and retain moisture.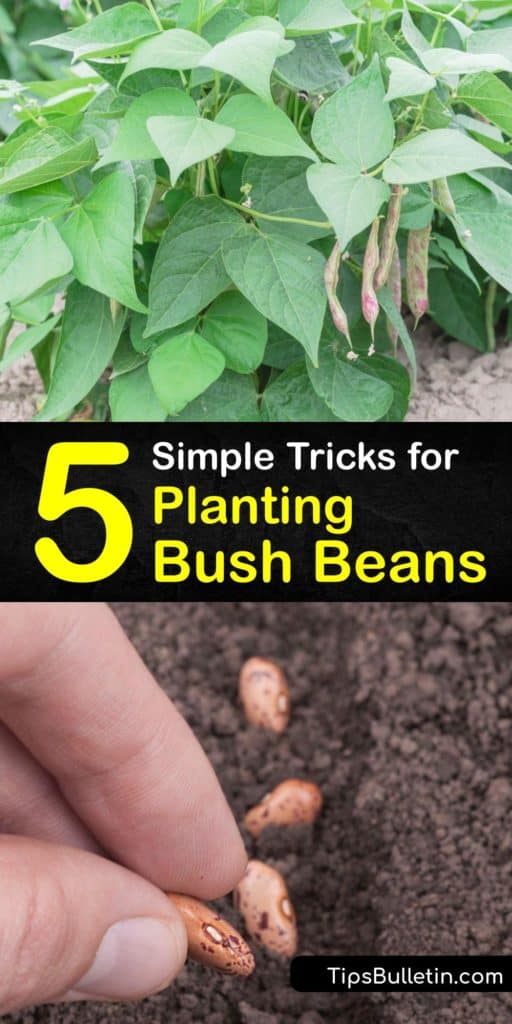 If you enjoyed learning about planting bush beans, please share this article about how to plant bush beans with your fellow gardeners on Pinterest and Facebook.