You've probably spotted elderberry supplements and syrup in the vitamin aisle of your local store. They are a popular choice for fighting off colds and flu, but did you know that you can grow your own elderberry shrub in a planter? Find out how to grow elderberries in a container in the proper conditions, give your plant care as it grows and make a homemade syrup to keep you healthy.
Elderberry shrubs grow dainty pink flowers, white flowers, and clusters of dark purple, black berries, which add interest to the yard, but there are more reasons to grow them than just their aesthetic appeal.
They are also a medicinal plant, and both the fruit and flowers of black elderberry plants are packed full of vitamins like vitamin C, an antioxidant to help boost your immune system.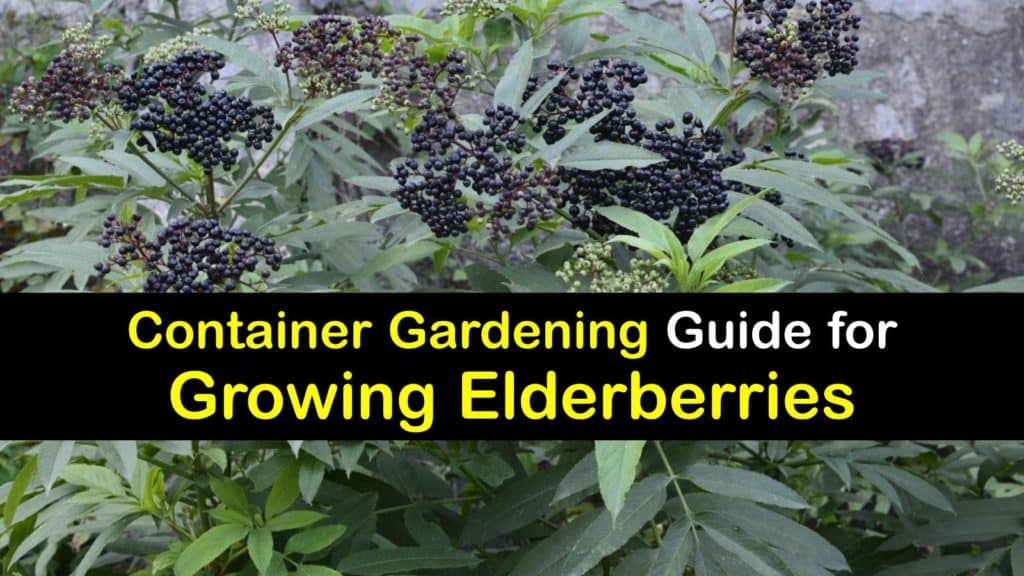 Container Gardening with Elderberries
There are two main types of elderberries, the European elderberry (Sambucus nigra) and the American elderberry (Sambucus canadensis), native to eastern North America. European varieties grow quite tall, while American elderberry types are smaller, making them ideal for growing in containers.
Growing elderberries in containers is a great way to add beauty to your outdoor space and enjoy a harvest of flowers and berries in the early fall to make tea and fruity drinks and boost your health. They are also easy to grow and attract pollinators and birds to the yard.
With all the benefits these shrubs have to offer, it's no wonder you're thinking about growing them around your home. Learn what elderberry shrubs require for optimal growth, how to care for your plants while growing elderberries in pots, and use the berries in a recipe.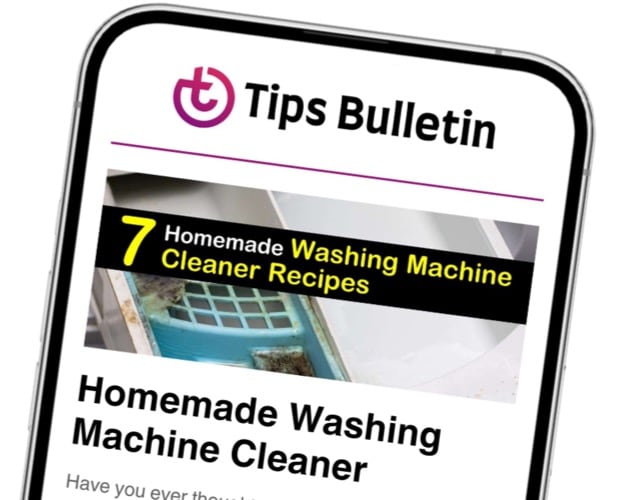 Finally, an email that Transforms Your Home.
Get the latest home and garden tips from our experts, delivered straight to your inbox.
How to Prepare for Growing Elderberries in Containers
Growing elderberries in containers is fairly straightforward, but there are some essential things to know before getting started. Learn about the different cultivars of elderberries and the growing conditions they need to thrive.
Before planting elderberries in containers, it's a good idea to choose the perfect one. There are different elderberry varieties, like Black Lace with purple-black foliage similar to a Japanese maple tree, Adams with large purple berries, and Nova with creamy white elderflowers.
It's also important to check your USDA hardiness zone when choosing a plant to grow at home. Where do elderberries grow best? Elderberries prefer growing in zones 3 through 7. How much sun do blackberries and elderberries need? They prefer growing where they receive full to part sun. They enjoy growing in moist soil that is well-drained with a pH of 5.5 to 6.5.
To plant them in containers, choose one at least 24 inches wide and 20 inches deep since elderberry shrubs have shallow roots, and make sure it has drainage holes.
How to Grow Elderberries in a Container
Growing elderberries at home is a wonderful way to create attraction in the yard and the best way to produce organic berries. Discover how to grow elderberries at home from seedlings or bare root plants in the early spring.
Elderberries grow best if you plant them from a nursery seedling or bare-root or propagate them from a mature plant rather than from seeds. Growing elderberries indoors is possible, but these plants require full sun throughout the day to produce berries. They are one of the best shrubs for containers in full sun.
To grow-elderberries, like when you grow strawberries in a container, fill a suitable container with potting soil and organic matter, position the seedlings in a hole in the center, slightly larger than the plant's base.
Cover the roots and bottom stem with dirt. Water it immediately, cover the soil with mulch and set it in a sunny area of your yard or patio.
Elderberries are self-pollinating, but planting two different elderberry shrubs within 50 feet of each other increases the chance of cross-pollination for a larger crop. Elderberries make great companion plants for blueberries.
Elderberry plants produce berries the first year, but the crop increases in the second year and third year. They begin fruiting in late summer.
Even though you grow elderberries in containers, you can still take advantage of what to plant with elderberries in other pots or nearby. Grow them beneath white pine trees or with bee balm to attract pollinators and take advantage of the shade of the tall trees.
Caring for Your Plants While Growing Elderberries in Pots
After planting your seedlings, it's vital to give them the right care while growing elderberries in pots. Explore their watering and fertilizing needs, how to prune them, and things to watch for as they grow.
After you plant elderberries in a pot and set them in a sunny location, it's time to give them some TLC. These plants love getting about an inch of water each week from the time they begin blooming until after you harvest the berries. When are elderberries in season? Knowing when to pick elderberries is important. Pick your berries in late summer.
Note that container plants dry out faster, so check the soil daily and water it if it's dry.
Pruning is essential to keep the container plant's shape, prevent powdery mildew, and encourage better fruiting. Prune the elderberry shrubs in the late winter or early spring by removing canes that touch the ground or cross each other and clip away third-year canes.
When is the best time to fertilize elderberries? Fertilize your plant the second year onward with a balanced fertilizer and keep an eye out for elder shoot borers, the larvae of the red-brown moth. If you encounter this problem, eradicate them by pruning back the infected canes.
Building Your Immune System with Elderberry Syrup
After growing elderberries in a container, reap the benefits of the flowers and berries after they ripen. Learn how to make a homemade elderberry syrup to keep you and your family healthy through the winter.
The first step is to dry the elderberries. Remove the berries from the stems, rinse them under cool water, and spread them on the trays of a food dehydrator. Dry them at 135°F for twelve hours.
To make the syrup, pour three-quarters of a cup of dried elderberries into a large pot. Add the water, ginger, cinnamon, and cloves and bring the mixture to a boil. Turn the heat down, cover, and simmer for 45 minutes or until the liquid reduces by half.
Pour the elderberry syrup through a fine-mesh strainer into a Mason jar and press all the liquid from the berries with a spoon. Add the raw honey, put the lid in place, and shake the jar to mix it well. Set it in the refrigerator and use it when needed for up to two months. Adults take one tablespoon daily, and children take one teaspoon.
Elderberry plants are simple to grow and the perfect addition to a container garden. Give your elderberry bush the right amount of sunshine, water, and plant food, and it rewards you with beauty and immune-boosting flowers and berries year after year.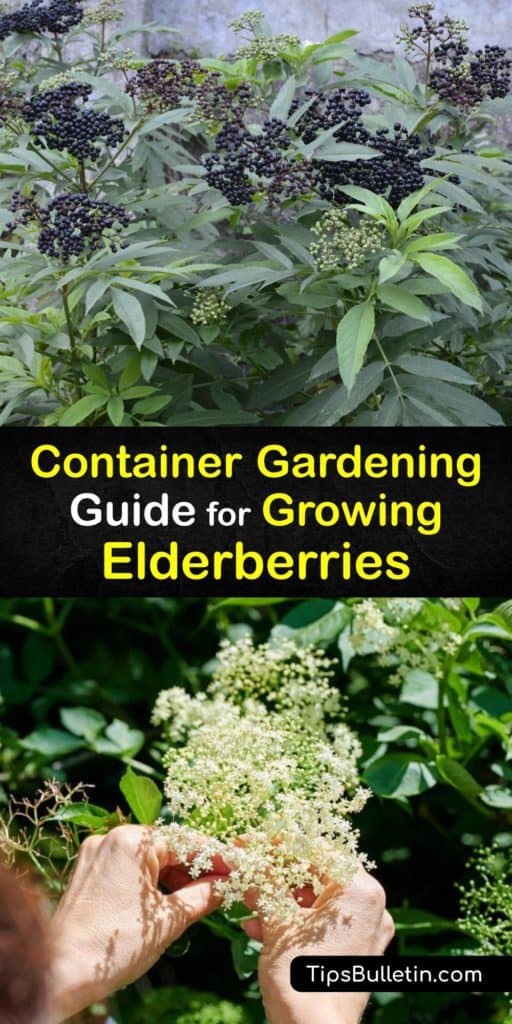 We hope that learning how to grow elderberries in a container adds beauty to your outdoor space and keeps your body healthy, and we'd love it if you'd share our elderberry gardening tips with your circle of friends and family on Pinterest and Facebook.